The Big Cottonwood marathon is two weeks away! It's TAPER TIME!
What does that mean? After several months of hard work, the taper is the weeks before a key race where you cut back your mileage and let your muscles repair. Your body recovers from all the hard work you have been putting it through during training. You focus on replenishing all your glycogen stores in preparation for race day. Generally, a taper is between 2-3 weeks. My coach usually has me do a 2-week taper.
When you back off on training, often your immunity is compromised and you're more likely to get sick. So for me, tapering also means that I will become a bit of a germaphobe to avoid getting sick (the curse of the taper.) I put my trust in Sound Probiotics to get me to the starting line healthy but in addition this, I will be focusing on sleep and hydration. Nothing new, no extra strength training, no making up for lost time. Hay is in the barn!
I'm linking up again this week with Jess at Jess Runs Atlanta to share my weekly recap. Please check out this post for more information on the link-up and join us. We are doing the link-up every week from Sunday to Tuesday!
Monday: 20 mile long run in San Francisco. I counted this in last week's recap, since it was really the previous week's long run.
Tuesday: Flight home from California. I ran 5.5 miles as soon as we returned home. I was tired from the long run the day before and from sitting on a plane all day, but I loosened up after a mile and felt better afterwards (like always).
Wednesday: 9 easy miles before work. 5 miles after work with Matilda (the vizsla). 14 miles total.
Thursday: Short speed workout in the morning: 2 mile warm-up, 15x200m sprints with 45 second recovery, 2 mile cool down. 7 miles total.
My friends Monica and Christie joined me for some of the miles- great company! I had plans after work, so I had to squeeze in my second run over lunch. I did an easy 4 mile lunch run followed by a very fast shower at my office. 11 miles total on the day.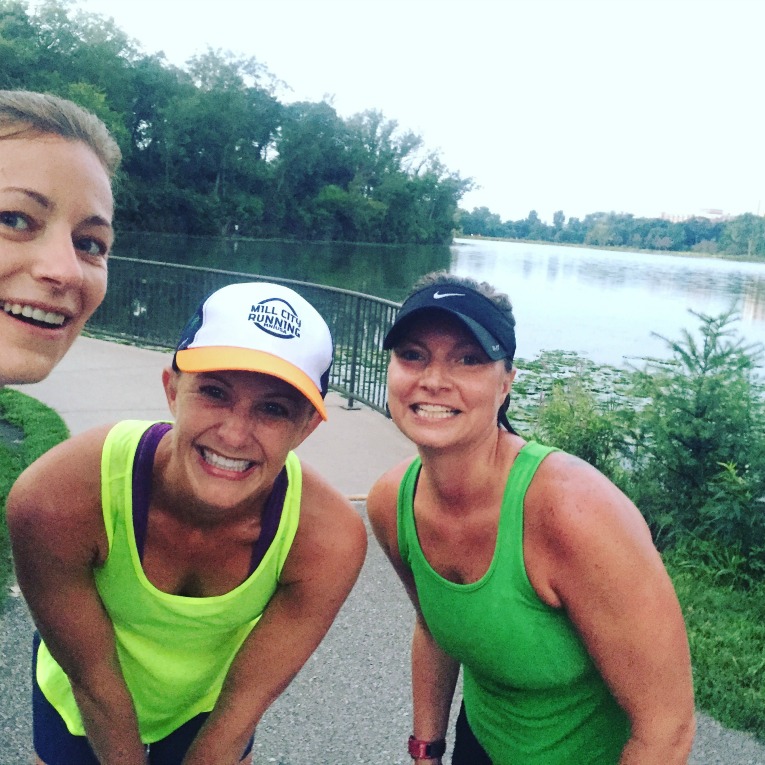 Friday. Complete rest. This was actually not a planned rest day, (I was supposed to run a few easy miles) but I needed one. My coach gives me a customized schedule and I almost always follow it exactly. But sometimes I still have to do what feels best for me; I was exhausted in the morning, yet we were hitting the road right after work for a wedding, so it had to be a rest day.
Saturday: 22 mile long run in Grand Rapids, MN! We drove up Friday night to stay at the Sugar Lake Lodge for our friends David and Anna's wedding. The information packet for the resort actually included a map for a 5, 10, and 11 mile running route.
Awesome– I had 22 miles to run, so I did the 11 mile loop twice!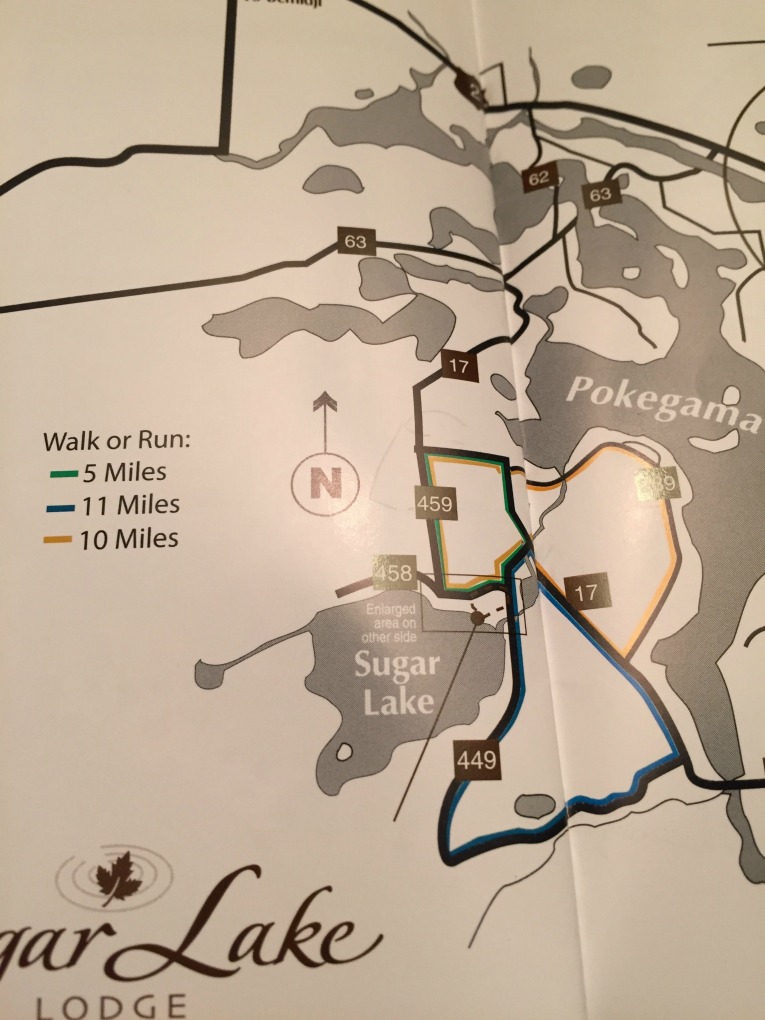 Dustin and I had originally planned to do an out-and-back of 11 miles, but two loops allowed us to stop by the cabin for Gatorade at the halfway point. It took me a good 4-5 miles to warmup, but once I did, we kept a steady sub-9 min/mile pace. I felt way better than expected- must have been that extra rest day! The weather was overcast for most of the run too, which helped.
All the run clubbers who attended the wedding did their long run that morning as well (different distances for everyone.)
Post run, we grabbed breakfast in Grand Rapids at Dottie's Cafe, a local diner. Between the run and eating, we didn't have a ton of time to enjoy the amenities at the lodge, as the ceremony started at 2 pm at a nearby church. But even though we didn't fully use the lodge, we did fully enjoy the wedding!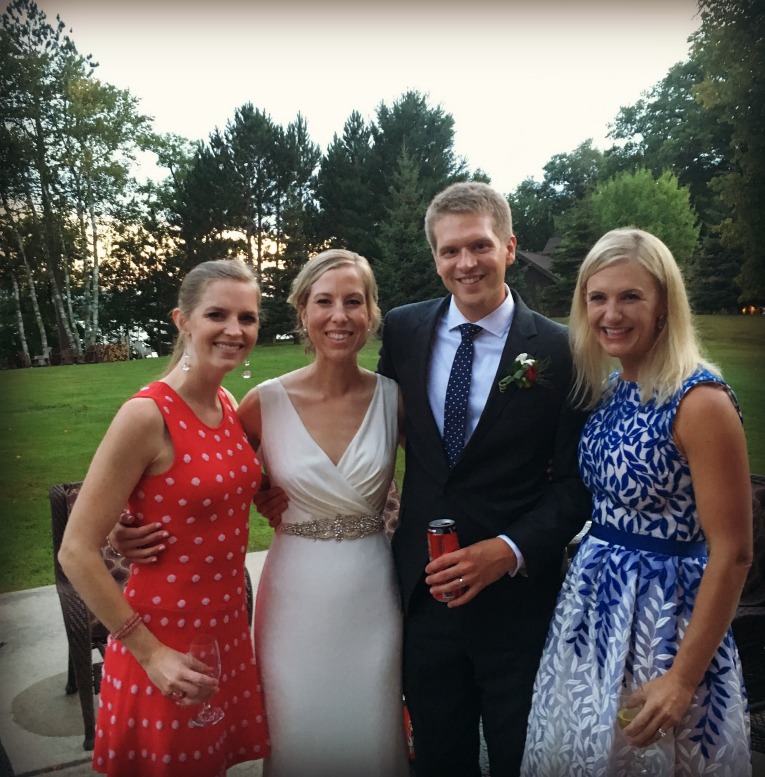 What better way to recover from a 22 mile run than dancing all night, right? Ha! I was surprised that I managed to stick with the party until about 11. It was a beautiful wedding!
They embraced the cabin/rustic charm in many ways including these cute favors.
One highlight of the evening was that one of the ushers is a nationally ranked free-style "yo-yo" er. I had no idea that this was a thing, but he was very good and so entertaining to watch! There was another yoyo'er at the wedding, so the two of them would go back and forth throughout the night – a YO YO OFF! I loved it!
Dustin and our other friends stayed up much later than me out by a bonfire behind our cabin. (Pictured below- bonfire from earlier in the day.)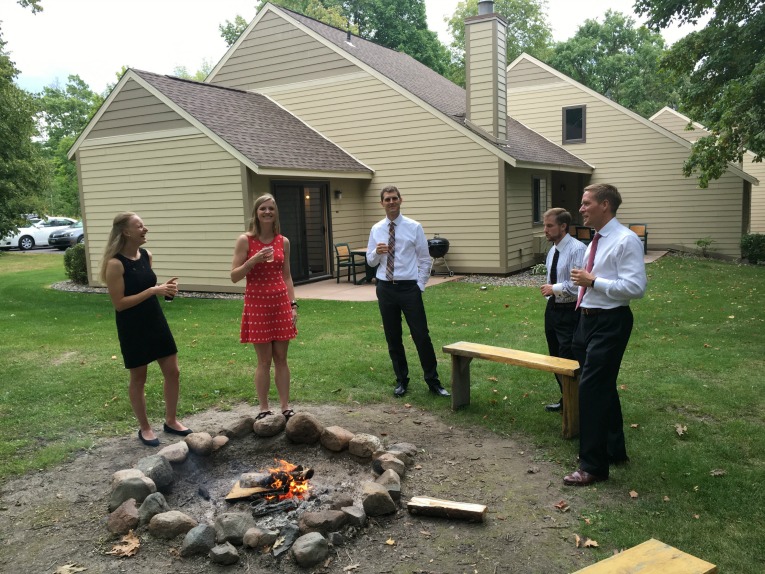 But I went straight to bed right after we walked back after the wedding reception (I love my sleep…).
Even though they stayed up later, they all were up and ready to run by 8:30 am! We covered an easy 5.5. miles before heading back to Minneapolis. I had another 5 miles later in the day, which I took VERY easy and keep my heart rate around 130.
By the way, Matilda stayed with our friends with the vizsla puppy Scarlet (who we have dog-sat in the past). They kept us updated on the dogs' shenanigans. Matilda had a really fun weekend; she's now passed out on the couch from all the fun!
Summary: About 64 miles.
Even though I had my longest run this week, it was still the beginning of the taper. My mileage decreased from last week's 74 miles to 65 this week. I didn't have time for any solidcore or strength training classes, which was disappointing, but it happens, especially with travel and double runs.
Honestly, my legs were pretty dead this whole week. I think it's because even though I counted Monday's 20 miler on last week's recap, technically I did cover that mileage within a 7 day period. My BODY didn't know that the San Francisco run was last week's long run, i.e. if I add that mileage to this week, I technically covered 84 miles over 7 days, which is a lot. This taper will be very welcome. I will be tapering VERY hard 🙂
LINK UP WITH JESS AND ME!
(Visited 342 time, 1 visit today)