Two weekends ago, I was in Napa Valley with my sisters, husband, and two brother-in-laws for a 40th birthday celebration.
I had to be flexible with my training schedule, so I moved my long run to Monday. Dustin and I added two days on the end of the trip to spend in San Francisco and that city seemed like a good place to run 20 miles.
The run was a lot of fun; I feel like we saw just as much as a biking tour or a bus tour, but we saw it while running!
Our experience got me thinking about what you need to have a successful long run while traveling.
There are a few things that you need to do a successful long run 'on the road.'
1. A Route.
Dustin has spent a lot of time in San Francisco (he considered moving there at one point before I knew him), so he took care of figuring out our route. I wanted to run across the Golden Gate Bridge, so we planned the route to include that.
The first mile from our hotel to the shore was through rush hour traffic downtown, i.e. lots of stop and go at lights. But once we hit the Bay Trail, we were able to run freely. There weren't a ton of tourists early on a Monday morning when we headed out.
2. Fuel and Hydration
Dustin wore his Ultimate Direction Race Vest (like this one, but with the soft bottles) with water. I carried three GU's in my SPI belt. We were able to refill the hydration pack on the return trip at a fountain near the Presidio.
3. GPS or a Map
Even with a well-planned route, you might get lost. It's important to have GPS or even a printed map so you can find your way without adding on too many extra miles! With that, I also suggest bringing along some extra money JUST in case you do get lost, you can take a cab home.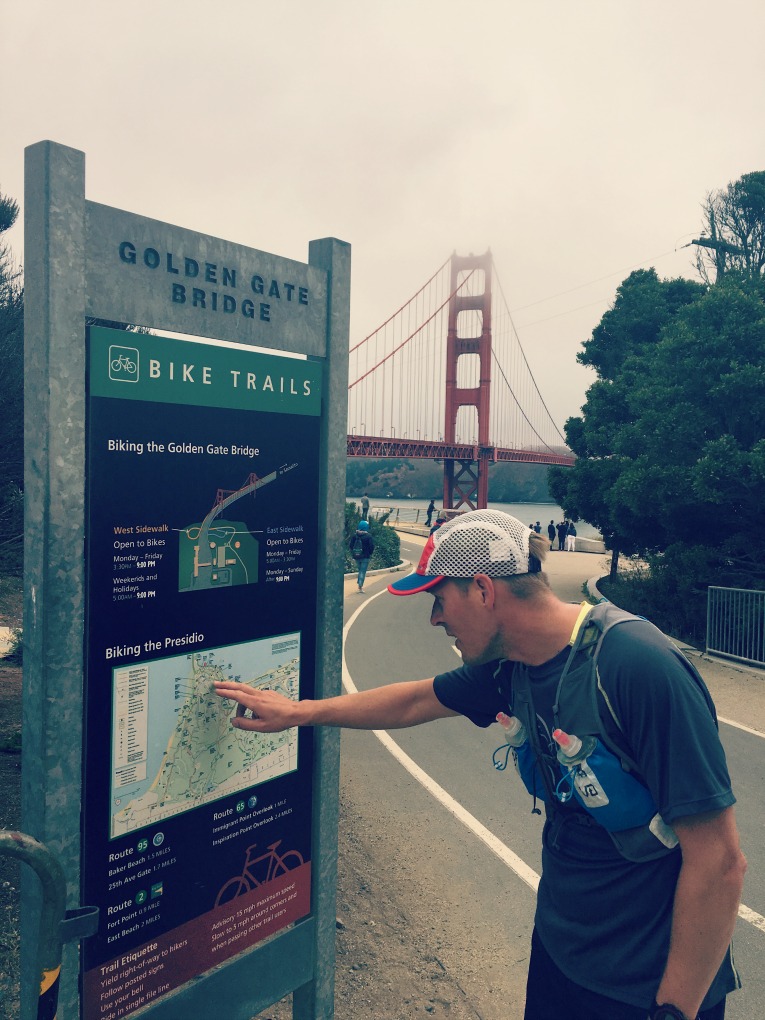 4. A Buddy!
It was really nice to have Dustin to run with me in San Francisco. If you are in a new area, some hotels have running guides available. You could also check out one of the City Running Tours or google around for a local race to get in some of your miles.
I understand that a running buddy isn't always possible when traveling. I have done plenty of long runs in an unfamiliar location on my own (like in Singapore). Having a buddy is obviously safer as well as more fun. But you CAN manage on your own.
A buddy is a bonus! A buddy is definitely on this list as it helps…Having a buddy, especially an Instagram Husband (ha!) allows you to get a few action shots too! Which brings me to #5.
5. A Camera!
Even after my iPhone snafu last weekend when running in the rain, I still brought my phone along on this run. I just put it in a plastic ziplock baggie in my SPI belt.
Without a camera, I never would have these awesome photos of the Golden Gate Bridge!
BONUS ITEM:
A post-long run treat to get you through the miles!
The 20 miler in San Francisco was FUN, but it wasn't totally easy. My schedule called for the final four miles of the 20 miler to be at Goal Marathon Pace (8:10). This is supposed to get me ready for what it will feel like at the end of the marathon- i.e. tired legs.
I had to change the plan slightly; I did miles 16, 17, 18, 19 at goal marathon pace because I knew that the final mile back to our hotel would be back through downtown again (lots of stoplights). I managed to hit the paces.
And you know what helped? Having something to look forward to at the end!
I knew that after we finished, we were going to get acai bowls at BOWLD ACAI, a food truck nearby our hotel.
The acai bowls were a refreshing treat!
Whatever it is that keeps you motivated, plan to have THAT for the end of your run.
Let me know if you have any other things that have helped you get in a long run on the road!
(Visited 246 time, 1 visit today)