I love sharing my weekly recaps of training here on the blog and a lot of you do the same on your blogs! I feel like it keeps me accountable and is a helpful journal of sorts to use when reflecting on a training season. I hope that the recaps are helpful to any readers who are also training for a race and find value in other athlete's training plans, challenges, and (hopefully) successes!
Together we are launching an exciting new weekly linkup for other bloggers to share their weekly training recaps. This is a great opportunity to reach a new audience of other athletes who blog about training!
Here are a few general guidelines for linking up with us:
1. Linkup opens Sunday night and closes Tuesday night.
2. Only "week in review" posts are part of this link up
3. Must reference in your post that you are linking up with us.
4. Try to visit as blogs many as possible. Commenting not required, but is encouraged!
5. Add a link to your recap here: An InLinkz Link-up
6. Add the html below to add the image to your recap post.
Looking forward to reading your recaps!
Okay, time for me to recap my week of training for the Big Cottonwood Marathon on September 10th!
Monday: I slept in so I had to do my tempo workout after work. I headed to run club with Dustin (who paced me!), which was a nice change (they meet at 6 pm). My workout was a "broken tempo"- 1 mile warm-up, 3 miles at a 7:30 pace, 5 minute jog, 3 miles at a 7:30 pace, 1 mile cool down. 8.5 miles total. The first set of 3 felt pretty good, but the second set was really hard and my times crept closer to 7:45.  It was a tough workout for me.
Tuesday: Easy 6 in the morning, another easy 4 in the evening (so hot for the second run) 10 miles on the day.
Wednesday: My friend Lindsey and I headed to a local high school track in the morning, but unfortunately it wasn't open to the public. We tried to find a way in, but it was locked up tight! We both had different workouts, so we parted ways and did them on the lakes. I had 2 miles to warm-up, 5 x 1000m, 2 min recovery in between, 2 mile cool down. 8.5 miles total. I was supposed to hit close to a 7 min/mile pace for the 1000m repeats, but it was so, so hot and humid. I couldn't do it. Then my Garmin totally died on me! It was a bust….I generally knew the total distance though, which was 8.5 miles.
In the evening, I ran the last of the Endless Summer Trail Run Series, the Hyland 7 mile trail run. I sound like a broken record, but it was so hot and humid. I had planned to take the run easy, but I took it even easier than planned! I walked a ton and averaged over a 10 minute mile. These fun races end with pizza and beer. But this time, the mosquitoes were just too much! I couldn't hang out after the race as I was getting eaten alive. But it's a good thing we didn't stick around, as a nasty storm rolled shortly after we left.
About 16 miles on the day.
Thursday: Much needed REST from running! I went to [solidcore] at 5:30 am with my friend Monica. Great class as always.
Friday: Dustin and I were to drive to Wisconsin for my grandma's funeral on Saturday, We took Friday off to make the drive to Milwaukee where we stayed with my sister.
(Tilda loves it there- this big bean bag chair is her favorite!)

Anyways, since we had the funeral on Saturday, we did our long run together early Friday morning before we started the drive. I had 3 miles to warm-up, 12 miles at goal marathon pace (8:10-8:15), 1 mile cool-down for 16 miles total. It was crazy hot and humid (again) and I really struggled to hit that marathon pace. Dustin did his best as a pacer; I was somewhat on pace for about 12 miles, but not quite.
No better way to recover from a tough long run than going straight to the car for 5 hours right? Wrong! I tried to drink a ton of water and stop to stretch as we could, but sitting in a car was not ideal.
Of course, it was all worth it to be there with my family. We made it to Milwaukee in time join my sister, brother-in-law, and nieces at the Milwaukee Brewers game. It was a blast!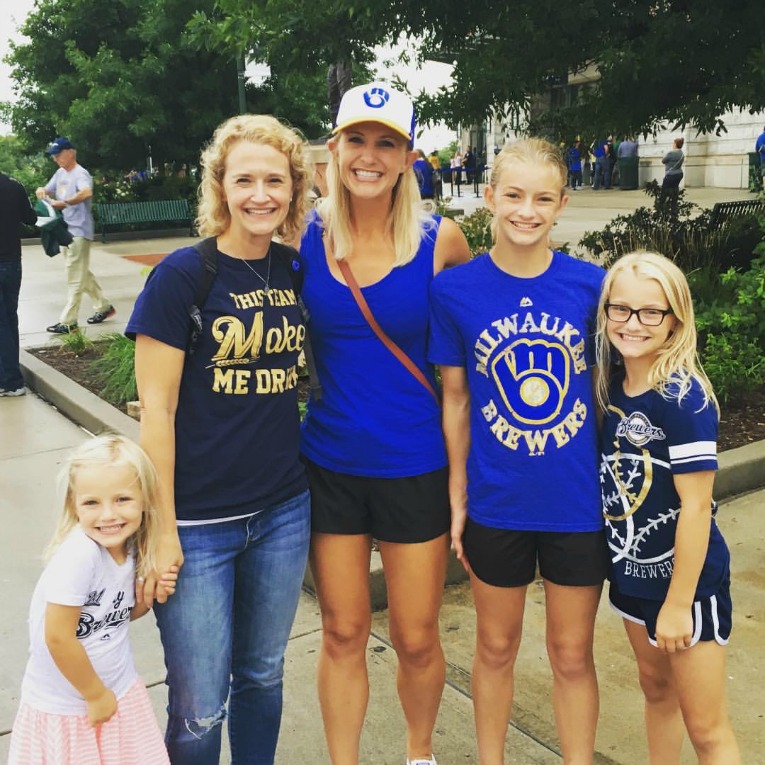 Saturday: I was up early to get in my 8 mile recovery run before the funeral. I brought my phone (for safety), carrying it in my shorts pocket (it fit into a pocket of my Strider Pro Patagonia shorts.) When I started running, it was cloudy and humid, but not raining. But at 4 miles out, it started pouring….and then there goes my phone. Ugh! It actually was still working- i.e. it was still vibrating when I received text messages, but the screen was completely black. We tried the old rice trick, leaving the phone in a bag of rice for the rest of the day, but it didn't start to work again all weekend (No phone all weekend- it was a struggle!)
I have an appointment tomorrow at the Apple Store. Hoping they can fix it! (I did pay for Apple care, so I think it's covered.)
Saturday was spent at the funeral and then at a dinner with my extended family. We also drove around my hometown a bit to reminisce, checking out the house we grew up in, my high school, and other old stomping grounds. It was a nice walk down memory lane.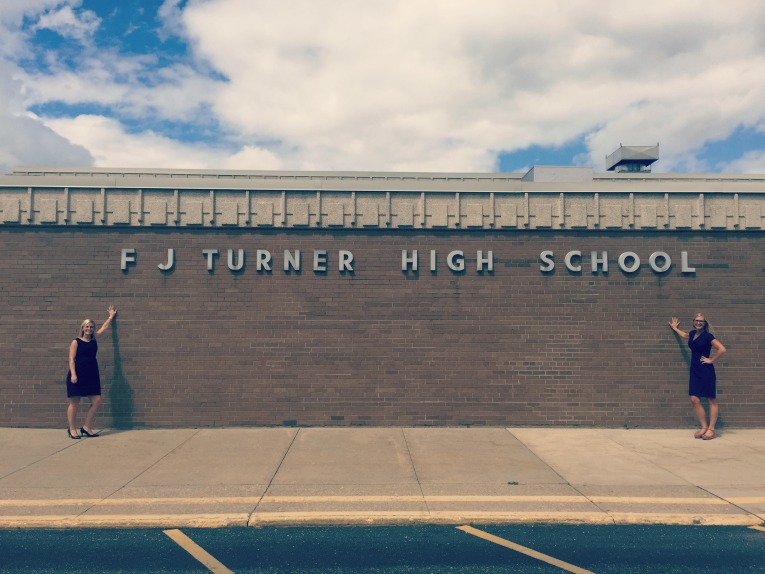 Sunday: 7 mile run with Dustin and Matilda. Hot and sunny!
After the run, we were back on the road again. It was a lot of driving for a short weekend, but you gotta do what you gotta do. We finally arrived back in Minneapolis around 5 pm, and I had another run on my schedule. 5 more easy miles for 12 miles on the day.
Total: 70 miles, 1 strength class (solidcore),  a few other strength days (with the exercises my coach gave me). It was a big week in training; Cottonwood will be here soon!
Be sure to share your training recaps with us via the link-up! Looking forward to checking out new bloggers 🙂
If you have a link-up recap, add it here:
Loading InLinkz ...
If you copy the html from below, you can include this image on your blog to share that you are linking up with the Jess's!
5
(Visited 353 time, 1 visit today)