Shortly after I ran the London Marathon in April of this year, I wrote a post about things you can expect to see at an international marathon.  In addition to the differences between marathons in the US and abroad that I highlighted there, I have noticed several differences between how Americans talk about running vs. people from the UK.
I reached out to my blogger friend Allison from the Running Princess and we worked together to bring you this post- US vs UK Running Lingo: A User Guide!
(Read Allison's version of this guide HERE!)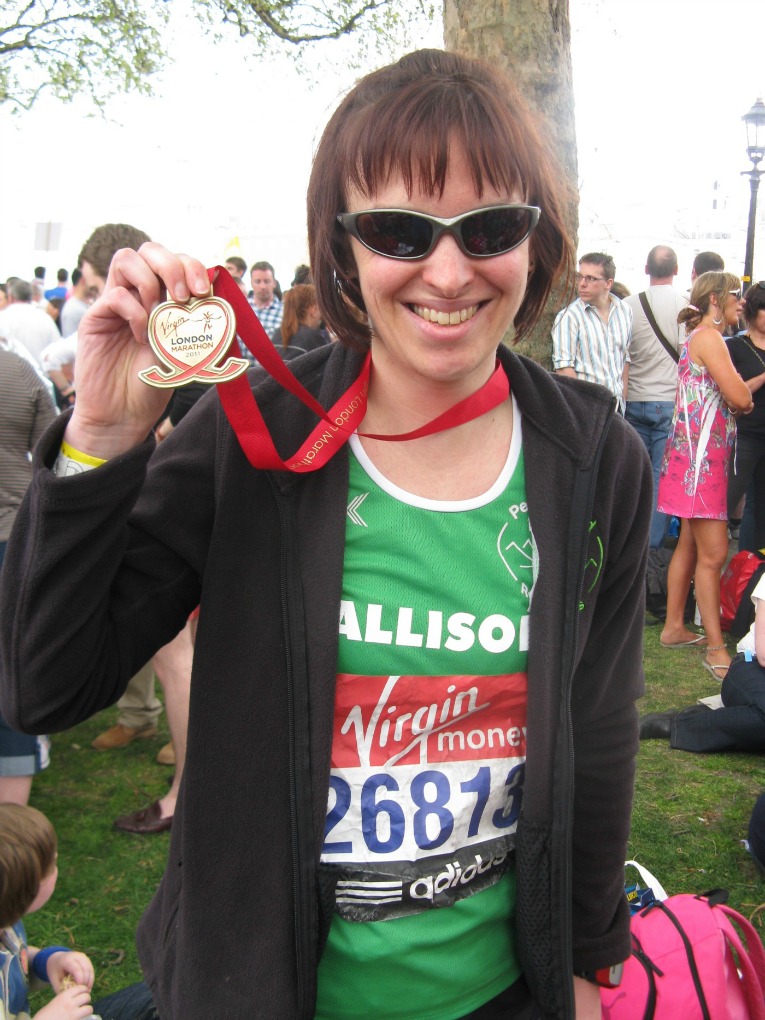 Running Apparel vs. Kit:
In the UK, you lay out your running "kit" for a race. I think that term is great! I am thinking we should bring it to the US, where we just call it a "running outfit" or "race gear." Boring 🙂
Here's one of my marathon running "kits!"

PR/PB: Personal Record vs. Personal Best!
I may hear some Americans call it a PB, but generally it seems that PR is our preferred noun to discuss a personal record. PR is even used as a verb: "She PR'ed at Boston!"
Allison tells me that PB's are the lingo in the UK, including as a verb: "She PB'ed in her race!"!
Here's Allison at the Paris Marathon, where she ran a "PB!"

Tank/Vest:
When I think of a vest, I think of a down winter vest, not a tank top. But in the UK, "vest" is your tank top!

Sneakers/Trainers:
I actually really love the term "trainers" and I'm hoping to bring it to the US! Yet currently, if I mentioned trainers to my friends, they'd think I was talking about a personal trainer who's helping me with strength training, not the Brooks on my feet!

Gear check/Bag drop:
We drop off our post-race stuff at Gear Check. In the UK, it's bag drop!

Packet pickup/Registration:
At the expo, you head to packet pickup ahead of a race. In the UK, you just head to registration.

Boston (and BQ)/London (and GFA = Good For Age):
Allison commented on this on my "What it Means to Run Boston?" post that in the UK, Boston isn't the big deal. Rather, the "big" deal is the London Marathon, and there, you want to run a "Good for Age" time in another marathon in order to get in. In the US, it's all about the "BQ!"

Bib/Race number:
To non-runners, the term bib probably means something a baby wears when eating in a high chair, but to US runners, the "bib" is what you pin on your "vest" with your race number. Allison just calls it a race number!

Corral/Pen:
In the US, we have our starting corrals. Which corral you end up in depends on your qualifying time or your predicted finish time, but in the UK, it's the starting pen!

Sweatpants/Trackies (tracksuit bottoms):
Chilly before a race? Americans don their sweats. You put on your trackies or trackie bottoms in the UK!
Portapotty/Portable Toilet:
If you remember from this post, you might see Female Urinals abroad! But even the regular porta-potties have different lingo; UK runners usually call them Portable Toilets. Allison tells me that in the UK, they have to be careful there, as "We tend to call them "portaloos" but that's a brand name and they once emailed another blogger asking her to change all the references in her blog!"

Spandex/Lycra:
Those tight fitted booty shorts? I call them spandex. Allison calls them Lycra.

Register/sign up for a race, vs. ENTER a race:
In the US, we register for a race or we sign up.  In the UK they enter a race!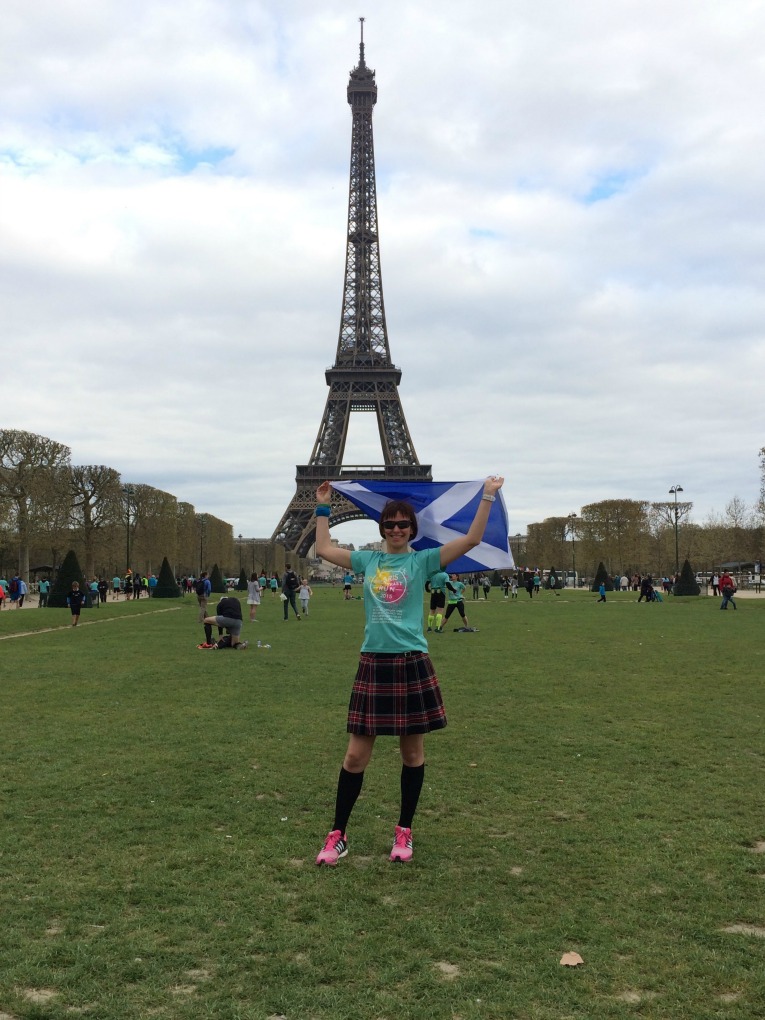 OTHERS:
Allison from the Running Princess has family that lives 50% of the time in Florida, so she has run plenty of races in both the UK and the US.
(Here she is at one such Florida race with her husband)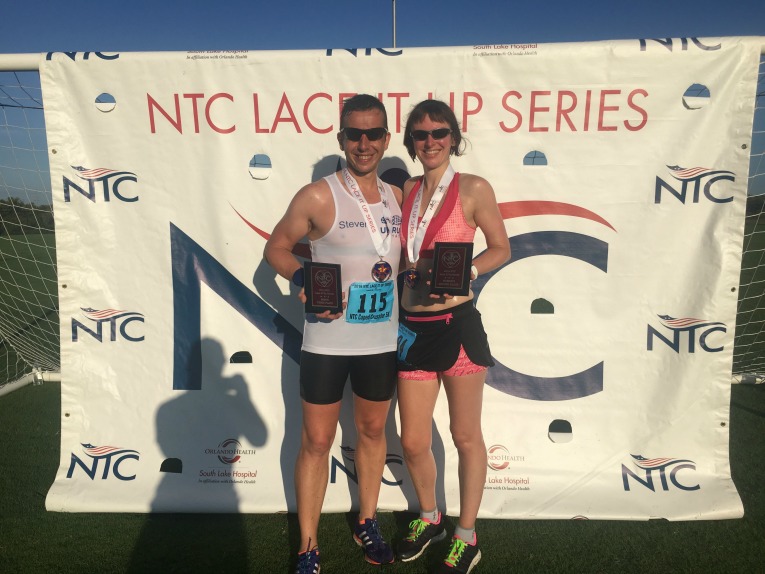 She noted that at almost every race she's done in the US, the national anthem is played at the start. There's nothing like that in the UK, it's just any announcements from the race director, then you're on your way.

I've noticed from following Allison's blog as well as a few other UK runners on Instagram, that Parkrun is huge there.  From my understanding it's a free 5k race held every Saturday at a public park. When I ran the London Marathon, I saw a sign that read "Wave if you love ParkRun!"
I felt "in the know" because I knew what ParkRun was from Allison's blog! I guess you could say that the UK has ParkRun and the US [well, Minneapolis] has Flapjack Friday!

One last difference- Post Race Food:
I thought this last difference that Allison highlighted was really interesting and best told in her own words:

"There tends to be a difference in post-race food. I don't mean in the goody bags [or SWAG bags] but the food laid out. We really only have food laid out if the race has been organized by a running club and it will likely be sandwiches (in the UK sandwich means the filling is between slices of bread. If it's what the US calls a "bun" then we call it a filled roll, which is also often laid out) and home baking (cakes, biscuits [that's "cookies" in the US, we only call them cookies if they have chocolate chips!], etc)  and any fruit is pretty much bananas or maybe apples whereas races I've been to in the US lay out a lot of BBQ, potato chips [called "crisps in the UK"] , pretzels, watermelon, etc."
I think that's definitely true. I noticed it at the London Marathon. The post-race food wasn't quite as extensive as I see at US marathons. Though they did have Jack Link's beef jerky (straight from Northern Wisconsin!)

Thank you so much Allison for helping share your thoughts for this fascinating post!

If you haven't started following Allison, definitely do so. And with the helpful lingo in this post, you'll actually know what she's talking about, ha!
You can follow Allison on BlogLovin and Instagram and check out her blog HERE!
(Visited 639 time, 1 visit today)