It might be Friday night for you, but its lunch time on Saturday for me! I was up early to do my 15 mile long run.  I made it back just in time too, as now its pouring again.  So my afternoon activities will be dictated a little by the weather today. Shopping, perhaps?
Technically this is not my first long run in Singapore, since I ran here four years ago, but it's my first long run of the trip! It wasn't easy either. I am definitely still adjusting to this heat and humidity. It's a struggle to keep my normal long run pace. I'm trying not to be too hard on myself, but I do hope it gets a little easier. I think today was about 87% humidity and 87 degrees. My running clothes were drenched!
I ran 10 miles and then came back to my apartment for water and a GU, and then I was back out there for another 5 (well, it ended up being almost 6 more due to my looped route.)
I brought my camera along and stopped to take pictures as I went. I was happy that I actually remembered where to go. I ran down to the esplanade and then past Merlion park to Marina Bay Sands. Marina Bay Sands is the quintessential Singapore picture that I keep posting of that boat-looking hotel on top of the three pillars.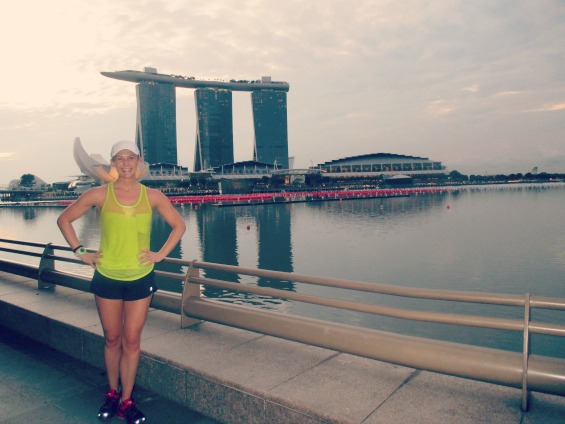 There is a huge mall at Marina Bay as well as the hotel, with every high-end brand you can think of. In fact, there is a floating Louis Vuitton store out front on the water. It's nuts. And this is just one of so many other huge malls. Orchard road takes it to a whole other level (that is where I might head this afternoon).
I crossed over the Helix bridge as well on my run. That's the Singapore flyer in the background.
There were signs up for the marathon tomorrow. Singapore is so condensed, it's hard for me to imagine what the marathon course will be like. I have looked at the course map and I think I will go watch towards the finish area.
One of the highlights of my run was running into an Australian woman and her two vizslas, Melinda and Ollie.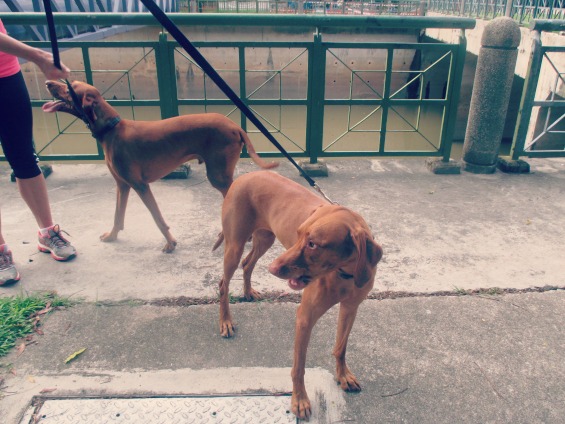 I basically chased this woman down so I could meet her dogs. What can I say, I needed some vizsla love.
We chatted for a bit about how her vizslas like it here. She said there are very limited dog parks and the ones that do exist are very small. She said that instead she usually walks them really early and lets them off-leash anyways, even in places they aren't supposed to be.
She said that most Singapore locals are extremely scared of Melinda and Ollie because they are SO big. Vizslas aren't even that big!
I also asked her about the isolation period when bringing them into or out of the country. Surprisingly she said that for Australia, they have go through a 10-day isolation going back to Australia but no isolation at all coming into Singapore. She said the rules vary based on the breeds though and vizslas are low-risk. Interesting! I thought it was different coming to/from the United States, as I heard about someone bringing their beagle over and it had to be isolated for 6 months. However, I read here that now its only 30 days (which would still be a long time to me!)
Anyways, it really warmed my heart to see these two Matilda look- alikes. I was tempted to ask the woman if I could stop by every couple of days to walk Melinda and Ollie. Would that be weird? Ha!
Seeing those adorable vizsla faces did give me a wave of homesickness. Similarly to how I think that the Minnesota motto is that you have to experience the cold to appreciate the warmth, I think you have to go away to be able to come home. I'm sure you have experienced this feeling too, on a study-abroad, a long trip, or something else. Being away makes you appreciate the life (and the love) you have back home so much. I miss the companionship of my little family back in Minneapolis already.
Sorry, wow- I'm already getting sappy and it hasn't even been a week! Lordy, I don't want to know what will happen over Christmas or towards the end of the six weeks. I'll try to keep it to the Fitness and Fashion folks!
Have a GREAT weekend! I will be back tomorrow for a weekly recap of my first week of fitness in Singapore.
(Visited 337 time, 1 visit today)