Happy Sunday! Did you notice my Run MSP tank from Gear in the picture? Representing Twin Cities in Singapore!
Keeping up with my normal weekly recap tradition…Here's what happened in fitness at the Right Fits last week:
Monday/Tuesday: REST.  My first flight left at 7 am so there wasn't time to workout before I left (you need to be there two hours early for international, right?). I basically "lost" Tuesday on the way here due to the time difference. I'll get a day back on the way home though!
Wednesday: First run in Singapore, nice and easy. 6.3 miles.
Thursday: Speed workout on the treadmill: 2 mile warmup, 15 x 1 minute sprints, 45 second recovery, 2 mile cool-down. 7.3 miles total.
Friday: Easy run, 4.7 miles, 1 hour barre class at Upside Motion on Orchard Road.
Saturday: Long run: 15.8 miles.
After my run, I took my time recovering, enjoying the free breakfast downstairs and just lounging a bit trying to rehydrate. Eventually I took the bus to Orchard Road for some shopping. It was like the Mall of America on Black Friday. The crowds were INSANE. I wandered around for about 5 hours and was exhausted by the time I finally made it back to my apartment. I did buy a few things (mostly from TopShop) but mostly just browsed. I made a stop for lunch at a dim sum place where I just randomly picked a few things and hoped for the best. It didn't turn out so bad!

Sunday: Easy run 5.65.  I ran to the finish line of the Singapore marathon, cheered for the runners for 30 minutes or so, and then ran back.  I plan to share more pictures from the marathon in my next post. I don't want to overload you with too many pictures, ha!
Summary: 40 miles, 2 rest days, 1 barre class
So..what about "support" you might need when running in Singapore?
Bathrooms? Yeah..this is a valid concern for me (and for a lot of runners). Sorry if its not what you want to read about, but I am definitely worried about this being an issue. After all, I've been eating unfamiliar foods from questionable sources. So far, I have been okay, but the last time I was here, I wasn't as lucky. I ended up stopping at one of the many fancy hotels along my route and just pretend to be a guest there. I guess if you walk in as though you belong, they'll assume you do! Fake it 'til you make it! Act like you know exactly where the lobby bathroom is….
I'm not saying this would work every time, but it's worth a shot. It's not like I have Minneapolis Running  giving me a map of all available public bathrooms! I do think there were some public bathrooms in the Marina Bay Sands mall too, as long as its open when you need it.
I have not seen any water fountains either. Bring your own.
Moving on…let me tell you the highlight and lowlight of this week in fitness:

Highlight: Trying out a barre class in Singapore!
The class at Upside Motion  followed the Xtend barre method.
Xtend is a chain/method that I have seen in a lot of different locations (though not in Minneapolis). The owner was super helpful giving me bus directions from the office to their studio, which was tucked away on Orchard Road in a location I would never have found on my own. BIG thank you to the owner for being so helpful! I bought just one drop-in class for now, which was 40 SGD.
Of course, I didn't pack any barre socks, so I had to buy a pair too, though now I have a built-in souvenir to remember my time in Singapore!
The studio was nice, with personal lockers, a changing room, water, etc. They also do aerial yoga classes there, so the equipment was hanging from the ceilings. The format of the barre class was quite similar to a typical barre class in the US.  It started with a warmup, then an arm workout, pushups, legs/butt, core, and then a stretch. The instructor was Australian and of course the class was in English. I think there were 8 of us in the Friday night class, all female.
Though I could feel the burn during the class, I thought I would be more sore afterwards. I hadn't lifted or done any non-running workouts in over a week. However, I wasn't sore at all. I guess that means it wasn't as hard as my favorite studio back home, the barre, because I am always sore after their classes! It was still a good workout and I'm glad I checked it out. It felt a little more like home since I was taking a barre class, just like I would be in Minneapolis! I haven't decided if I will be back again during the next 5 weeks. I think barre is GREAT for runners, so I would like to fit it in if I can, but I also want to try out other studios too.
After I left the class, it was insanity out on Orchard Road with all the Christmas shoppers. I didn't make it back to my apartment until 9 pm. I think if I try to take classes during the week, it will make for late nights.
Lowlight of the week in fitness:
Here's the thing about Singapore. It's pretty safe. There isn't a lot of crime, the unemployment rate is close to 0%.  Gum is illegal. Most people won't litter as the fine is quite high. You can't eat or drink on public transportation or you will be charged a fine of 1,000 SGD. In fact, on the bus for lunch the other day, there was a man who was drunk and eating, and everyone in my team was very upset and told the driver, who I'm assuming told the police. It's as though everyone is looking out for the safety and cleanliness of the country as a whole. And it IS clean; for a city as congested and densely populated as Singapore, I think it's pretty darn clean.
So you can imagine my surprise at what I encountered on during my easy run on Friday…
I crossed over the canal to run the other side first. There is a short section that is part of the construction for the train.  At that point,  I was hyper-aware that I was alone because it was a bit isolated. I came upon a youngish man standing on the side of the path staring at me. I did a double-take to discover that he was exposing himself to me…just showing it ALL to me and staring right at me. I was shocked.
It totally freaked me out and I sprinted off very quickly. Naive Minnesota Jessie is not accustomed to that sort of thing. That is not something I have encountered before on a run; it was definitely more of Singapore than I care to see!
I have decided I will only run on MY side of the canal in the morning, at least until the sun comes up. On the way back, I could see across the river to where he had been and there were plenty of runners passing by; it was probably not a common occurrence. But either way, I was really appalled and it made me really uncomfortable, especially since I had to pass by him. I have mentioned it to a few people (not my coworkers though) and they said I should have told authorities. I will if it happens again, which I hope that it does not.
P.S. I am wearing a RoadID every time I run while I'm here. I am not always great about doing this back home, but I plan to be going forward. Dean Karnazes would be pleased. (I blurred out my contact info below)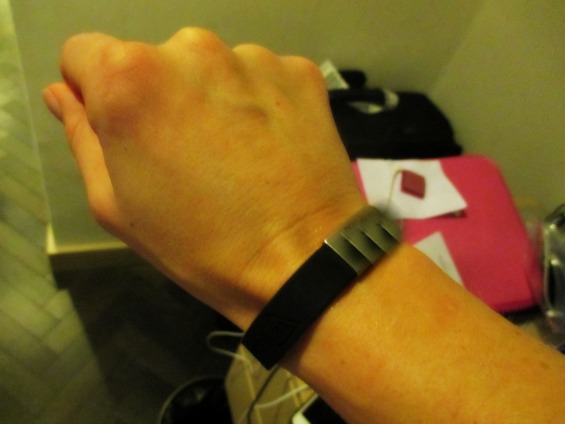 Please tell me- have you ever encountered anything like that on a run? I hope not!
Also, do you wear a RoadID? Do you carry some other type of identification? I can't very well carry my passport along on every run, so I think the RoadID is my best bet.
(Visited 325 time, 1 visit today)