On Sunday morning, I let myself sleep in a bit before heading out for an easy run down the canal to watch the Singapore marathon.
The marathon actually started at 5 am (yes, 5 am! That's how hot it is here). The half marathon started at 6:30 and the 10k started at 7:15. I planned my run to the finish line area (Esplanade Park) around the 3 hour mark for the marathon. I missed the winners (2:16:40 to Kenneth Mugara for the men and 2:46:53 to Waganesh Amare for the women) but I was able to cheer for a lot of others as they made their way to the finish line.
I cannot imagine running a marathon here. It was so hot! Even for my easy 5 miler, I was sweating like crazy.

53,000 runners participated in the marathon-related events on Sunday, though only 13,000 of those were full marathoners. As a spectator, it was a little challenging for me to tell which runners were which, as the marathon finishers were coming in with the 10k runners and their bibs were quite similar. I can imagine that would be frustrating for the marathoners as they probably came up on the slowest 10k runners. The half marathoners actually were re-routed slightly at the finish.
There seemed to be a good number of spectators cheering where I was, though it's hard for me to know what the rest of the course was like.
So, in the US, if a marathon has a forecast of 87 degrees and 87% humidity, it is usually cancelled or at least shortened. Not in Singapore! In fact, the runners I saw didn't even seemed to be struggling that much! I guess your body really does adjust…
The finish line area seemed pretty well organized. I was surprised though at how close I got to the podium to take pictures of the winners. There was no crowd at all cheering for the women as they received their awards.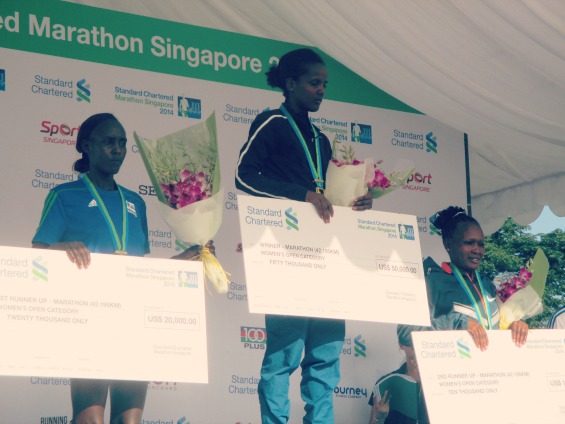 Although I know that I would have melted in the heat, I do think it would have been pretty cool to participate in this race while I was here. I suppose I'll have my moment in 11 weeks in Japan!
I really enjoyed cheering for this marathon. How fortunate that it happened to be while I was here!
Do you speak running?
I wanted to take a moment to write about the international language of running. It's like the language of love- it's universal!
Runners across the world are really very similar. It's just one big runner's world! I have experienced the same sense of "community" that I have at home, here, in Singapore, thousands of miles away. Since arriving here, I have found the other runners to be just as welcoming and friendly as the runners in Minneapolis. Every morning, there's the same nod and wave along the running path. There's the same feeling of "way to go YOU" as I cross paths with other runners out there, getting in their miles (I mean kilometers!) in the Singapore sun.
I was welcomed with open arms into a Facebook group for Singapore runners even though I am only here for 6 weeks. In that group, I posted questions about where I should do my hill workouts, and I was pleasantly surprised by all the helpful responses. In fact, one runner took upon himself to send me a TON of information about local tracks where I could get my workouts in (though I think he thought I was an actual competitive runner. He seemed a little disappointed when I told him about my marathon goals!) I now know that I will be able to do my hill workout at Fort Canning, which is just a short warmup run from where I am living. I also was given tips on where to cheer for the marathoners on Sunday. I was encouraged to join the teams for a run (though I don't think I will because they run at 6:30 pm- that just doesn't work for my work schedule.)
And while cheering for the marathoners on Sunday, I saw the same struggles and the same pain on their faces that I know only too well. It's no different at the Singapore marathon than it is at the Twin Cities marathon. Running is the same around the world.
On my run back from cheering for the marathoners, I ended up chatting with an Australian man about the half marathon he had just completed. He was doing his cool down, so he was at my pace. We talked about the challenges of running in the heat and humidity. We talked about other marathons we have done and we talked about where to run in Singapore. I love that running allowed me to  have this instant connection with a complete stranger in a country very different from my own.
It's truly remarkable that no matter where you go, running is there and it's the same. Running is an international language. In a world where we often focus so much on our differences, running gives us a common ground.
Do you have an example of when you felt that running was an international language? Or am I talking crazy here?
(Visited 317 time, 1 visit today)