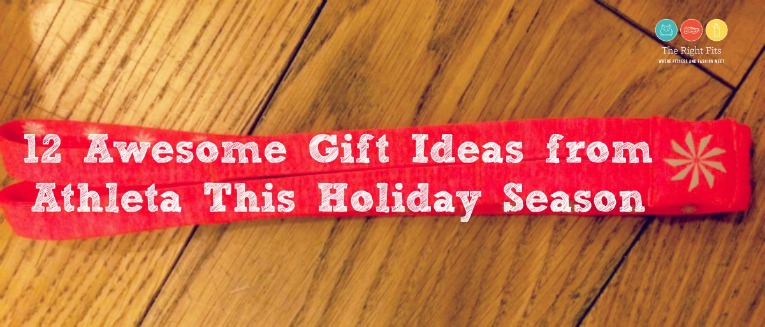 It's the most wonderful time of the year- holiday shopping time!
As I mentioned in this article, when people ask me for my holiday wish list, I just point them to some of my favorite athletic apparel stores- stores like Athleta!
I have been seeing a lot of different gift idea lists but most of the time, those lists include items from multiple stores. I'm going to make it easy on you today and give you a list of 12 awesome gifts from Athleta for ALL the different types of athletic ladies on your list!
Ladies, share this post with your men. Guys, take notes!
I have paired up with the lovely ladies at the Mall of America Athleta to put together this list of some of our favorites. These "right fits" will be modeled by a different Jessie. This Jessie works at MOA Athleta, and we put together a list for you that includes ideas for the yogi, the runner, and the gym enthusiast. No matter your gift list, we've got you covered!
I have also included a special invitation for all of you to a private party at the Mall of America Athleta this Sunday December 14th. RSVP details are below.  I so wish I could be there, but I'll still be in Singapore. You have to go and have fun for me, okay?
Okay, on to the list!
What to buy the girl who loves….YOGA!
Tux Chaturanga:
These tights are new to the line and super versatile! The tuxedo inspired stripe makes it easy to go from the studio to street, and they are very slimming! Just try them on and you'll see what I mean.
Heartbeat Inner Goddess:
Perfect for any yogi (or barre-ista!). This tank has built in support and a super cute back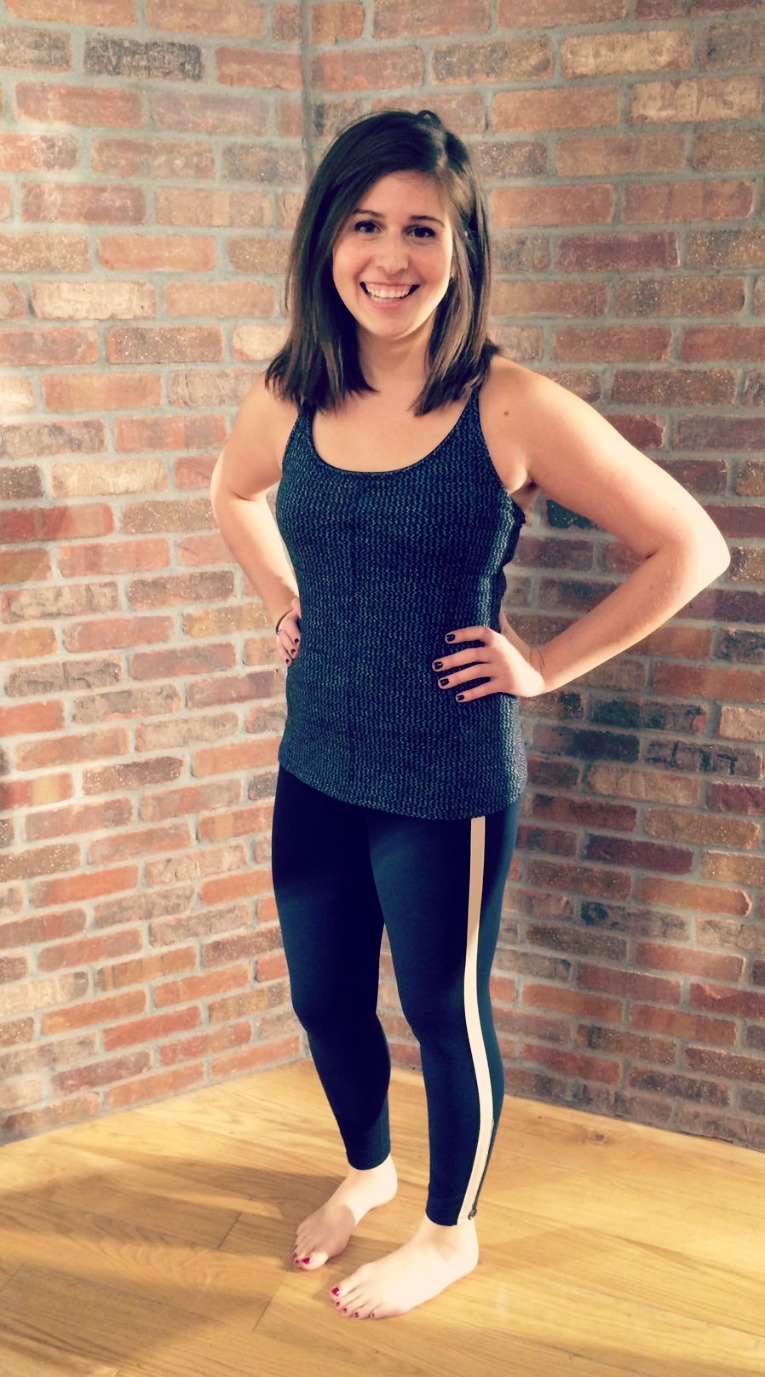 Studio Scoopneck:
The is the perfect top for post workout! It covers the bum, it has a soft fuzzy inside, and of course, thumbholes. I LOVE THIS TOP! I want it in all the colors.


BONUS Stocking Stuffer for the yogi:
Swell Water Bottle For those hot yoga classes- got to stay hydrated!

What to buy the girl who loves…TO RUN!
Powerlift Tight:
I love the Polartec Tight, Athleta has now updated it with the Powerlift. THESE ARE AMAZING! They have compression so they hold you in super well, reflectivity and of course the fuzzy fleece that will save you from a Minnesota winter.
Frontrunner Jacket:
I have been lusting after this one. It seems like it would be a versatile piece to get you through every season of running!  360 Reflectivity, packs into a pouch. Yes please!

Metallic Downalicious Vest:
I have this vest in orange from last year and its one of my favorites. The Downalicious Vest is so warm NOT BULKY. I can workout in it or wear it around town.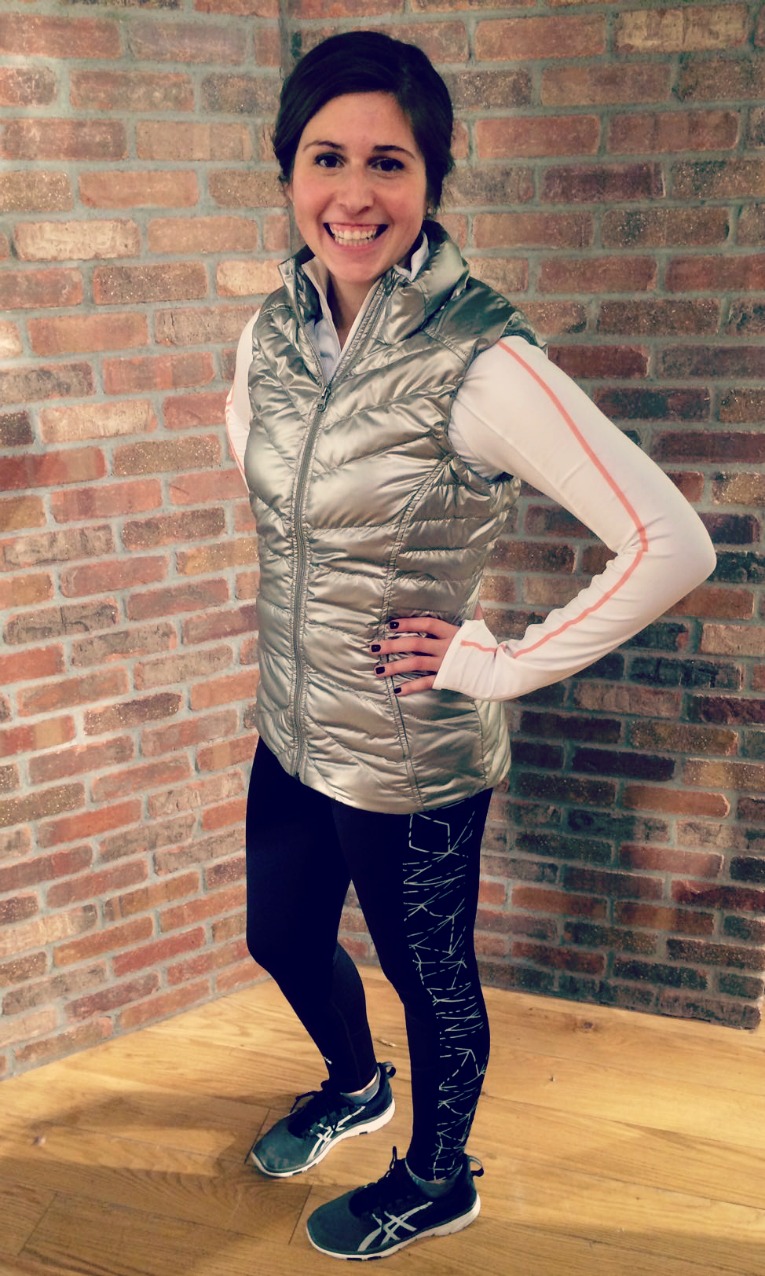 BONUS Stocking Stuffer: 
Nathan Strobelight- I mentioned Nathan products in this post about running in the dark and you don't have go any further than Athleta to get one of these strobe lights that will help you see and be seen! Perfect stocking stuffer for an early morning or night runner (basically any runner during the Minnesota winters, right?)

What to buy the girl who loves….TO HIT THE GYM!
Verbier Jacket:  This jacket is absolutely perfect. It is so flattering on everyone who tries it on. Cozy inner lining will make it your favorite jacket for winter.
The gym enthusiast would also love the downalicious vest- so cute!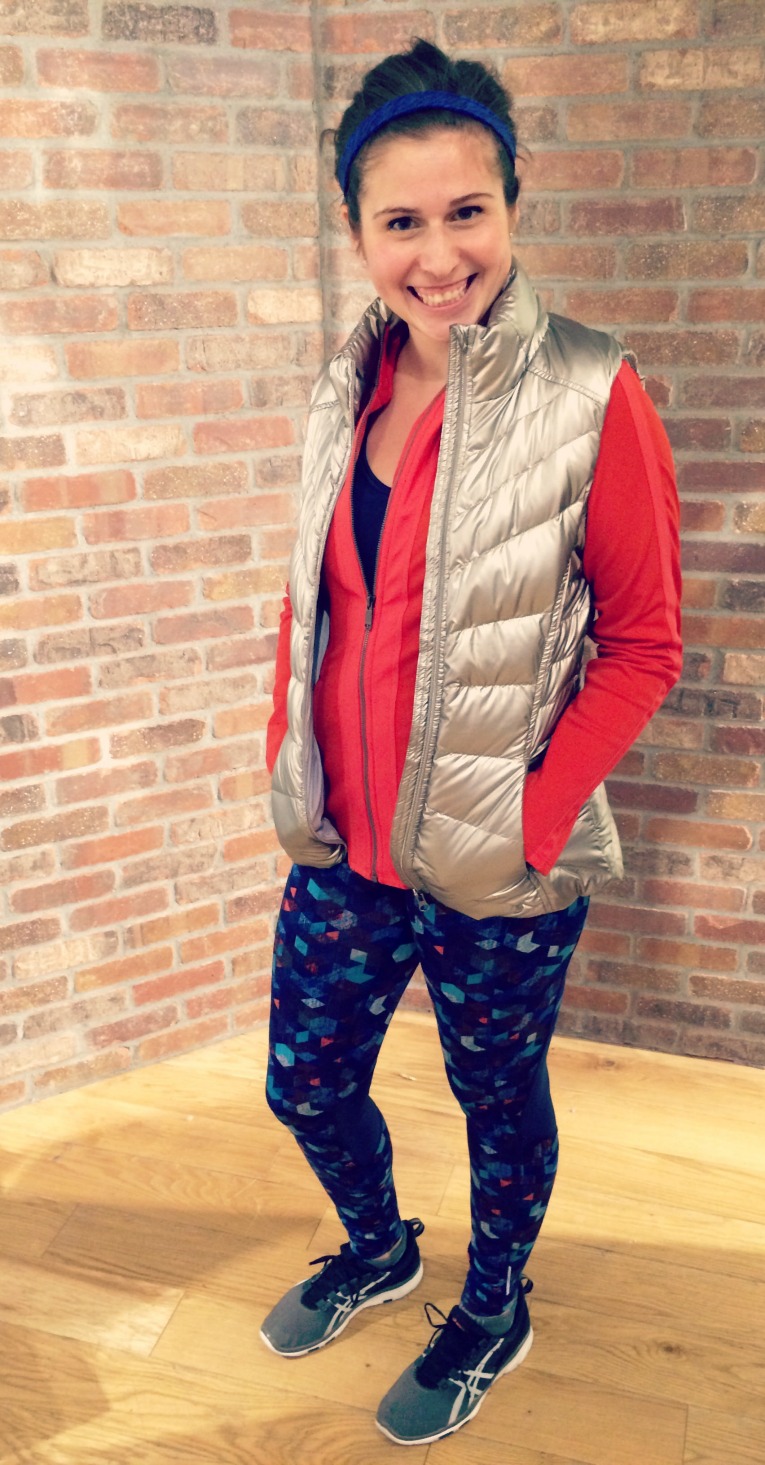 Triangular Be Free Tight:  Are these not the cutest tights ever? Lightweight, pocket in the back and two pockets on the side! The pockets will fit most cell phones so you can listen to music and lift weights. Love the pattern.
Chi Tank: Ultra lightweight, perfect for everything and unstinkable technology!
BONUS Stocking Stuffer:
Band on the Run Headband. This headband is great; its got the grip on the inside so it stays on really well!
I'm so excited about this list you guys. I want to buy it all…
In fact, I think I'm going into Athleta withdrawal…They aren't in Singapore yet, so to help me out, please go check out this party on Sunday and tell me about the cool stuff you buy!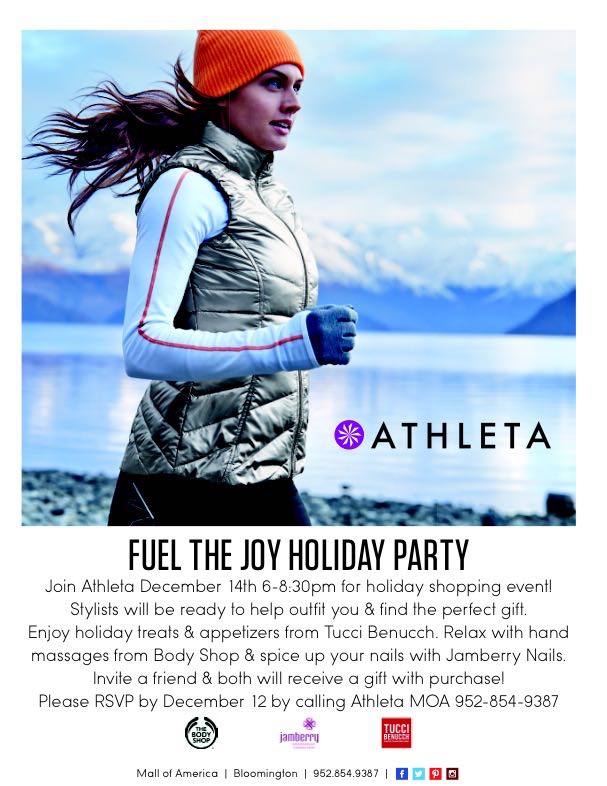 And if you can't make it to the party, you can still take advantage of the gift with purchase. Just print out the below coupon and bring it with you to the Mall of America Athleta before December 24th. Only 14 day of shopping until Christmas. Good luck!
(Visited 1,187 time, 1 visit today)