If you're a morning runner like me, you have probably noticed that it's pretty dark out there in the early hours these days. I don't think the sun even rises until 7:30 am! So if you are fitting in your run in before work, you're probably running in the dark.

How can you stay safe when running in the dark?
Though I can (and will) write a whole other post with safety tips for running in the dark, today I'd like to focus just on some useful gear that you may want to purchase to ensure you can run safely in the dark.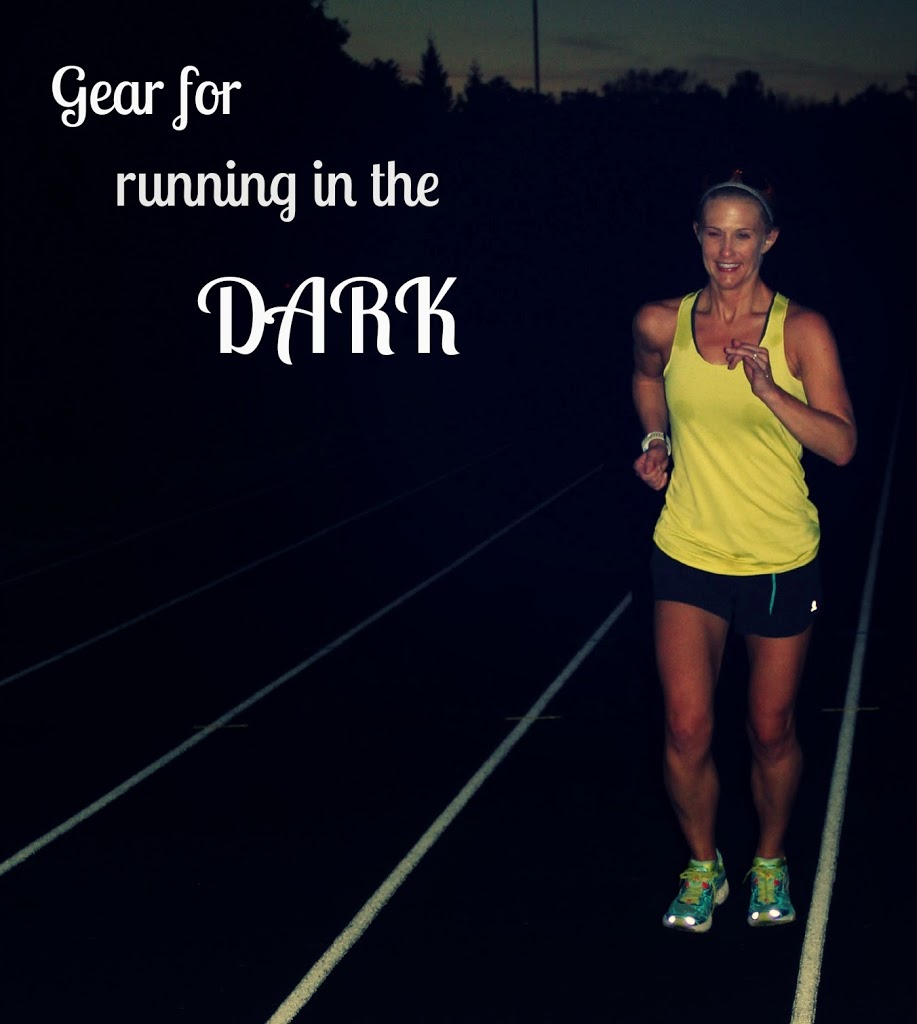 You Need a Light Source!
One of the most important pieces of equipment for running in the dark is a light of some sort. Now, you could just carry a good old fashioned flashlight. I see plenty of people doing that. But there are two other good options that will allow you to keep your normal running form and still see where you're going.

#1 Headlamp
You can purchase one like mine at REI or most other outdoor/camping stores or at RoadRunnerSports here. Most headlamps will have a couple different settings- bright, dim, and strobe (blinking.) The light is attached to an adjustable strap and you wear the light right on your forehead.
#2- Knuckle Lights
A headlamp works just fine, but my personal preference for dark running are the knuckle lights. These lights come in a pack of two and you wear them around your hands. (Buy them here.)
I never need both knuckle lights. Just one is bright enough for me. What I like about the knuckle lights is that you are able to aim them at the ground to see where you're running, or if someone is running towards you, you can aim them towards to the ground so as not to blind the approaching runner. The knuckle lights also do not give me a headache like the headlamp does.
Reflective Accessories:
Nathan Sports is one of the top reflective gear makers and they sell a number of options for helping you light up the night- belts, ankle/arm bands, and more! The purpose of these items is not to help you see, but to help you BE seen.

Reflective Clothing:
One of the most important pieces of gear for night running is reflective clothing. There are a ton of options in this arena.

For example, the Nike All Over Flash Jacket is an extreme version of reflective gear and an expensive one too. I think it's nearly $500! The Shield Flash Jacket is the only one I could find online and its still $350. It similar to the All Over Flash Jacket except it's only reflective on the bottom half of the jacket. (All  Over Flash Jacket pictured below)
Athleta makes a somewhat cheaper version with the Reflective Running Start jacket for  $298. I have been eying this option, but still think that $298 is a lot to spend.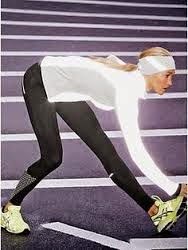 As cool as these jackets look for running in the dark, you don't need to spend that much to light up the night. Brooks Running has their NightLife line of jackets and vests that might not be quite as reflective, but they get the job done. The Nightlife Essential Vest is one of my favorites: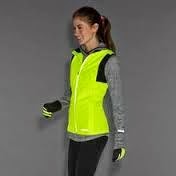 Nathan and Amphipod both make L.E.D. vests or reflective vests like those shown below.
A vest works well since you can wear it over whatever layers you prefer depending on the weather.
Reflective Shoes:
Most running shoes these days have some reflective stripes, but many brands are taken it even further with a separate line of extremely reflective shoes.
Asics
is doing this with their
Lite-Show line
, and Brooks is doing this with their
NightLife line
. Pictured below are my running shoe of choice, the
Brooks Ravennas
 from that Nightlife line. They are totally reflective and basically one step down from glowing in the dark!

Don't Forget About Your Headband..
SweatyBands makes a reflective headband that is quite reflective too. Buy one here.
A few bonus tips for running in the dark:
Ditch the music. You need to rely on all of your senses, including your sense of sound. Be aware of your surroundings!
Run against traffic. Even if the cars can't see you, at least you will see them and be able to move off the road if necessary.
And though this piece of gear is not about being seen, I still suggest that you carry pepper spray if you're running alone in the dark.
I have read that some runners are against carrying pepper spray. They believe that you're more likely to spray yourself than spray a perpetrator. I'm on the other side of that debate though, as I feel safer carrying it. What do you think?
Those are just a few of the right fits out there for running in the dark.
Do you have any other tips for running in the dark? Please share in the comments!
(Visited 1,354 time, 1 visit today)