I had been eying the Athleta Reflective Running Start Jacket for months, so I was so happy when it finally went on sale! The full price tag of $298 was a bit high for me, but you can snatch one up now for just $119 here for the black version, or $179 for the silver version. The reviews I read online said that the silver one is more reflective than the black, but that the black one still works well. I went with the silver version and I absolutely love it!
from Athleta: "Groundbreaking reflectivity takes shape with stealth reflective panels that only shine when light hits them, plus wicking Plush Tech that insulates you from the cold."
In my opinion, the jacket is well made and it looks stylish with a flattering fit.
The nice quality leads me to believe that this jacket will last for many, many Minnesota winters of running.  Definitely worth the price!
I love the fit of the jacket, but my favorite quality of the jacket is of course the reflectivity! Whether I run before or after work these days, it is in the dark. I have written about the importance of safety when running in the dark HERE and one of my primary tips is to wear reflective gear. This jacket does the trick.
If you are also running in the dark, you need this jacket! I have been told you can see me coming from "miles" away…I'd say its more like 1/4 mile, but the reflectivity is pretty impressive. I don't need to wear any other reflective accessories or lights with this jacket. People WILL see me coming!
As for sizing, I originally purchased a small but it was a bit snug. I knew that I would want to layer underneath it for the cold Minnesota winters. I exchanged it for a medium, which is a much better fit for me.
The windblocking material really works; the jacket is surpringly toasty. I usually wear a dry-fit base layer and maybe a thin second long sleeve underneath on 20 degree runs and I feel quite warm.
Let me know if you have questions about this jacket. I definitely recommend it!
More information from Athleta:
Plush Tech (Polyester/Spandex)/Nylon/Spandex
Plush Tech traps warm air in its loft to keep you insulated from the cold
Sleek, silky outer shell layers well with others
Machine wash and lay flat to dry.
Eye-catching 360° reflective panels ensure you never go unnoticed
Full front zip, draft flap stops cold from sneaking in, zipper garage won't chafe your chin
Princess seams slim you out, curved high-low hem for added coverage
2 front pockets to stash your stuff
Do you have a favorite winter running jacket? Is it reflective? What other gear do you wear for dark running?
By the way, my headband is THIS ONE from Sweaty Bands. Also very reflective!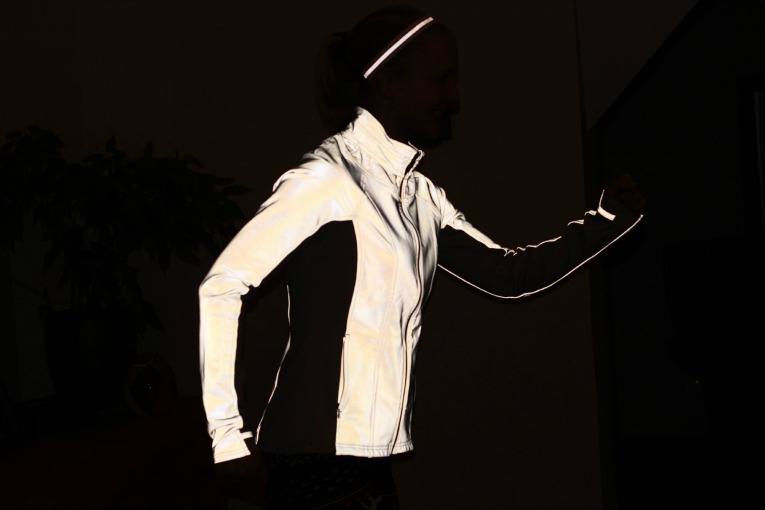 (Visited 1,994 time, 1 visit today)