Happy President's Day! I hope you were able to enjoy a nice 3-day weekend.
Here we are, just a week before the Tokyo Marathon. Actually, I have less than a week. The race is Sunday morning at 9 am, but since Tokyo is 15 hours ahead of Minneapolis, I'll be starting my 26.2 mile tour of Japan's capital city at 6 pm (for most of you) next Saturday night.
I will of course bring my laptop with me and I hope to blog about the trip as we go. We rented "pocket wifi" devices, which will allow us to use our iPhones while we're there, so I will stay in touch! My suitcase is basically packed; I had to reference THIS LIST while I put my things together. We leave on Wednesday!!!
Let me give you a recap of how week 12 went training for the Tokyo Marathon:
Monday: Threshold workout: 8 sets of 0.62 mile at a 7:50 pace. This was my "tempo" workout of the week, with "1,000m" (i.e. 0.62 mile) repeats. 2 mile warm-up & 2 mile cooldown for 8 miles total. I felt pretty good for this run. (PS- a woman actually stopped her car to ask me where I got my glow-in-the-dark jacket!)
Tuesday: Easy 4 miles with Matilda the vizsla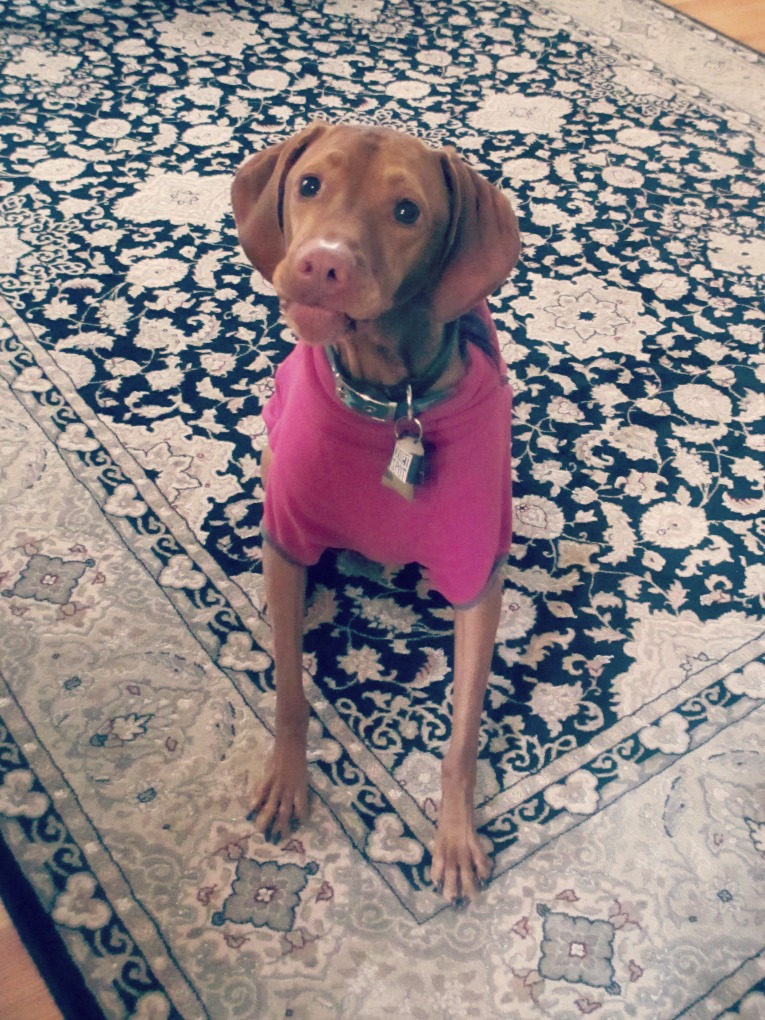 Wednesday: Marathon Pace workout- 1 mile warmup, 2×3 miles at goal marathon pace, 1 mile cool-down, 8 miles total. I did this run in the morning with Matilda.  pure barre class after  work.
Thursday: Complete rest
Friday: 4 miles easy on the treadmill
Saturday: 10 mile long run on the treadmill. With a high around 0 degrees and windchill near -20, I decided to just do this "short-ish" long run on the treadmill. I zoned out with Parenthood on Netflix (everyone has been talking about it- I feel like I should give it a chance). The miles went by pretty quickly. I took a water break at 6.5 miles and then only had 3.5 to go- it seem to fly by, considering I was on the treadmill! I think I made the right choice as it sounds like the run was pretty brutal out there.
Sunday: Dustin and I headed out for a run with Matilda, but it was nearly as cold as the day before.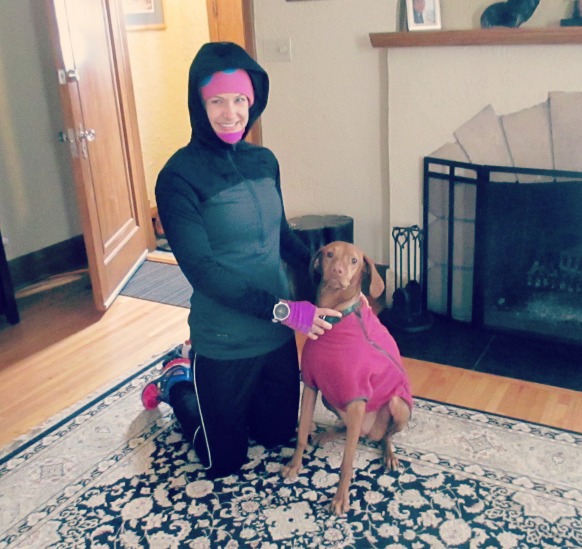 Poor Tilda was not having fun…It was just too cold for her and we don't want to force it, so Dustin turned around with her after a mile and I went on for my easy 4 miles alone. Please let it be spring by the time I get back from Japan!
Total: 38 miles of running 1 barre class, 1 rest day.
Monday (today): Technically this run is part of "this" week, but we both had the day off of work for President's Day. Dustin agreed to run with me for one last marathon pace workout. 2 mile warmup, 2×2 miles at goal marathon pace, and 2 mile cool-down, 8 miles total. We were lucky that we ran earlier in the morning as the snow was coming down all day; by the afternoon when we took Matilda for a walk, the trails were super slick. I think I'll stick to the treadmill tomorrow and Wednesday; it would be pretty crappy to slip and hurt myself now, just a few days before the marathon!
I have really enjoyed running with Dustin more frequently this training season! Actually, I was thinking about how for the past few marathons, my primary training partner has changed…
For the Newport, Oregon marathon, I did a lot of my training with my friends Kelly and Abby.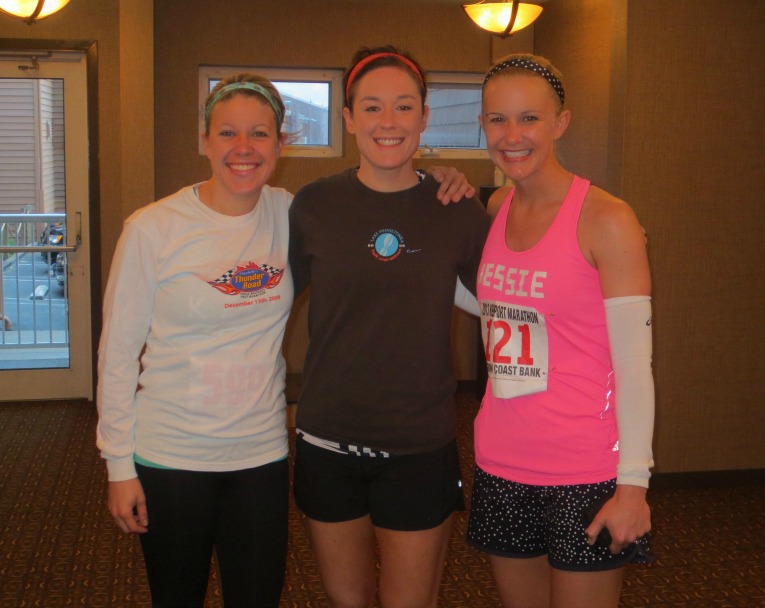 For the Berlin marathon, I did a ton of my long runs with my friend Jehan and the CBRC.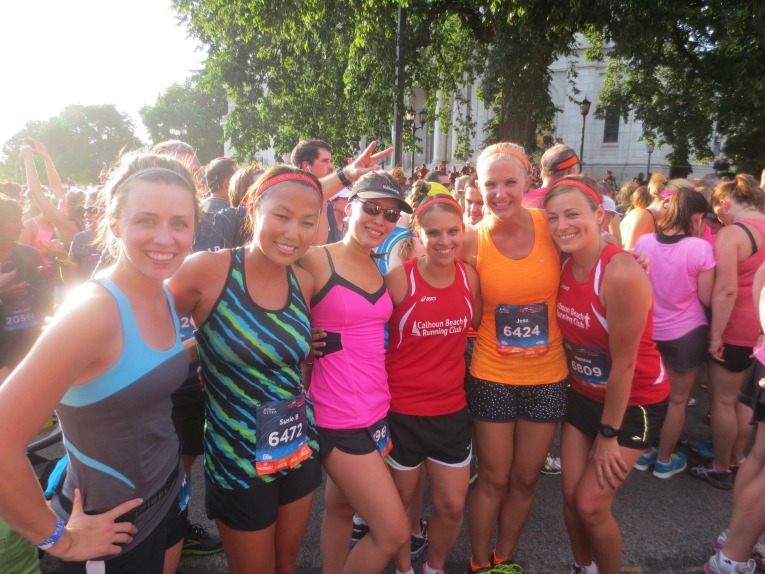 For the Flying Pig marathon, I did the bulk of the training with Kelly again, as she was planning to pace me at the race.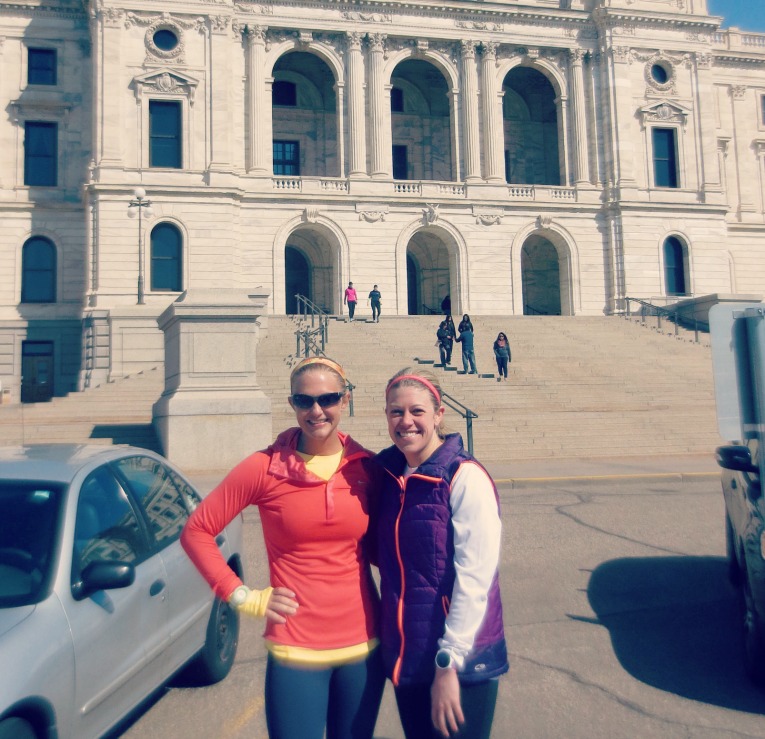 For the Outer Banks marathon, most of my miles were actually logged with my dog, Matilda. She trained hard that season!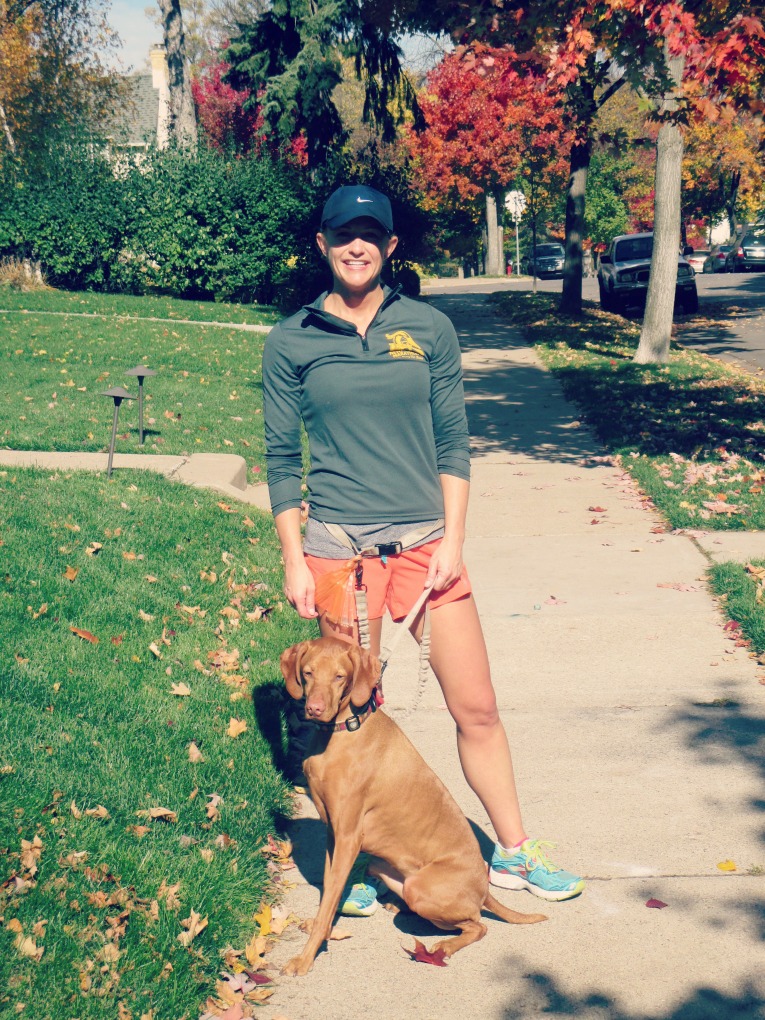 And for Tokyo? Well, most of my miles have been logged alone, primarily because I was training for 6 weeks in Singapore. Nearly every day when I was in Singapore, I had to get my butt out of bed and go run by myself- no company whatsoever!
Then, after I returned, Dustin was pretty much the only person who ran with me. I would show him the details of my workout from my coach, and he would do his best to pace me and keep me on track. Of course, my workout days were his easy run days, but it was still a nice change to actually run together this training season. I think we were making up for lost time after I was gone for so long!
And now..training for Tokyo is basically done. The race is just the icing on the cake. I love the training, but the race? The race is the FUN part! It's time to GET EXCITED to run 42 kilometers of TOKYO!
(Visited 282 time, 1 visit today)