Hi friends! I'm logging in to write a (hopefully) quick marathon recap while I'm sitting here at Crater Lake Lodge in Crater Lake National Park, enjoying views like this:
So I ran my 14th marathon on Saturday, and checked Oregon off the 50 state list as my 12th state. My official time was 4:00:57. It was nowhere near what I had hoped for, but it was still such a fun race. I'm not going to be down about the time on the clock. Honestly, after all the IT band issues I had this training season, I'm happy to be healthy and to be able to successfully complete 26.2 miles with a smile on my face.
Oh wait, I did not have a smile on my face….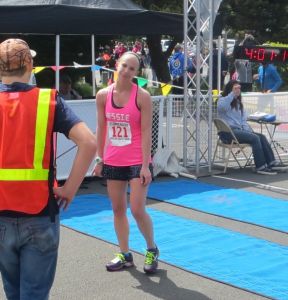 But I finished. And I hope to train harder this sumer and make up for it in Berlin in September!
So onto the recap and review: We flew into Portland on Thursday night and then drove the 2 hours 45 minutes to Newport on Friday. We stayed at the
Hallmark Inn
right on the beach in Newport.The Hallmark Inn was perfect. We had a large suite with a lovely seating area and balcony overlooking the beach.
It was also in a good location for the marathon, as we could walk to the start line in the morning. I highly recommend the Hallmark Inn if you plan to run the Newport Marathon!
On Friday, we arrived in Newport with plenty of time to settle into our room, go to the grocery store, hit up the expo, and even drive the 26.2 mile course.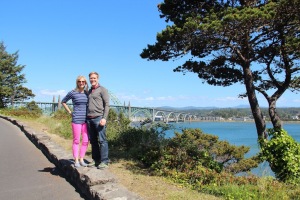 checking out the course on Friday: the start line at Yaquina Park
Do you think its a good idea to drive the course ahead of time?
Sometimes I think I'm better off not knowing what's coming…By driving the course, we knew that there was an evil hill at mile 4, and again at mile 25. Mile 25 is an awful place for a hill! 
We also spotted the oyster farm that would be handing out oyster shooters at mile 11 and mile 20 during the marathon. And yes, I did take one at mile 20! You had a choice between plain or with Tabasco, and I went with the plain. Did it come back up? No. But I could definitely taste it for a few miles.
(FYI- the record oysters for a marathoner during the race is 100 oysters! WOW!)
We carbo-loaded at the Savory Cafe in downtown Newport. We drank our waters, and gazed longingly at Abby's husband Andrew's frosty mugs of beer…
Race day! The marathon started at 7 am, so we were out the door and headed to the start line at 6 am.
It was less than a 1/2 mile walk to the start line from our hotel.
At the start line at Yaquina State Park
with the race director at the start
The marathon is not big. I think it's capped at 900 runners, which is small, but I liked the size.  I definitely prefer a marathon event where the marathon is the main (only!) event, and this was true for the Newport Marathon. There were no half marathons, 10ks, etc- just the marathon.
The course: 
The course was primarily an out-and-back along the coast, albeit with a quick tour through town for the first four miles. The turn-around point was at mile 15.5, which wasn't too bad since you knew you didn't have quite as far to go on the way back in! I was concerned if there would be enough room on the road with runners going out and back in, but there was plenty of space, and it was actually really nice to be able to see Dustin, Kelly, and Abby as they came back around. We were able to cheer for each other!The course was mostly flat, with some rolling hills (and that aforementioned hill that we hit twice- once at mile 4 and once at mile 25). The downside of the course was that although the coastal highway was gorgeous, unfortunately it was cambered, which wasn't very kind to the IT band. Abby complained about the same thing, and we both heard other runners complaining about how hard the slant was on the legs.
Though personally we were able to walk to the start line from our hotel, it might have been stressful for other runners since the start line and finish line were in different locations. Luckily, Abby's husband was there to pick us up at the finish. I guess there was a shuttle back to the start line, but the logistics of it all was confusing to us at the expo, and we didn't get a ton of clarity there.
The marathon itself was chip timed, but it was quite odd that there were no chip mats anywhere on the course (except at the start and finish). In fact, there weren't even any clocks on the course, which was strange. Most runners have Garmins these days, but it would have been nice to see your splits at some point. I also thought that it would have been too easy for someone to cheat, since there was no chip mat the turnaround point! There was also no online runner tracking for your at-home supporters. That's pretty common for a smaller race though, and I wasn't all that surprised.
The expo:
The expo was held at
Embarcadero Hotel
 on the Friday before the race, from 3-9 pm. It was pretty tiny, but quick and easy. There was no flair or extra swag, so don't go there expecting to stock up on your GU packets. Just the basics at this expo: pick up your packet and go.
The finish line:
The finish was downhill (after that nasty hill at 25), but it included a sharp right turn into a bank parking lot. The sharp turn made it difficult for spectators to see who was coming towards the finish chute.The finish line goodies were great though. They had ham sandwiches, peanut butter and jelly sandwiches, watermelon, oranges, bananas…and best of all? Clam chowder and Rogue beer!
clam chowder and Rogue beer!
At the finish line, you could also immediately go to the results booth and receive a printout of your finish time/place/pace, etc, which was really rewarding.
Medals:
The medals were glass handmade in Newport. They were ranked as one of the top marathon medels recently in "Marathons & Beyond" magazine. Though they are a little difficult to read, they are definitely unique, and very "Newport."
Spectators:
Due to the nature of the out-and-back course, there weren't a ton of spectators. Unfortunately those that were out there weren't particularly enthusiastic. Kelly and I both wore our names on our shirts, and we both were surprised at how few people cheered for us by name, which hasn't been  the case in larger marathons when we wore our names on our shirts.
There was a spectator bus taking people around and around the loop, dropping them off at support stops and picking them up again as necessary. Abby's husband was able to bike the course very easily, cheering for all four of us runners at multiple locations. Since the out-and-back was only on one side of the highway, it was easily accessible via bike, and he commented that it was a perfect course for a bike-riding supporter.

Post-Marathon Celebration:
Immediately after the race, we soaked our legs in the freezing cold Pacific ocean…brrr!

Newport is a charming town, and there were plenty of unique restaurants for a post-race celebration. For lunch we went to a funky seafood place on the south side of the town- "Southbeach Fish Market" I believe it was called. Dustin had the steamers, I had the crab sandwich, and the others had fish and chips. So good!
And later that night, we hit up the Rogue Ale House for some more "fuel."
Overall Experience:
I asked Kelly and Dustin what they would give this race as an overall experience. Dustin said he'd give it an 8, and Kelly said she'd give it an 8.5 (she did have an AWESOME PR, so maybe that's part of the reason for the higher score). Even though my finish time wasn't stellar, I would still rate this marathon an 8.5 as well. I love the smaller size and the unique touches (the medals, the oysters, the finish line goodies), and the course was stunning. I really like a Saturday marathon (vs. Sunday). Yes, the out-and-back wasn't perfect, but overall, it was a positive experience, and I would recommend it to friends.
Score: 8.5 out of 10!
My personal performance:
I went into this marathon battling a cold and with the unfortunate timing of a visit from "my special friend." (You're welcome for that tidbit of TMI) so I was a little worried that I might have issues (excuses, excuses!). My plan was to stick around 8:45 min/miles, and hopefully have some gas in the tank at the end to pick it up. I was confident for the first 15 miles that I would have a PR. Unfortunately, this did not happen. I clearly hit a wall, and struggled at the end, finishing with some 10 min/miles.What could I have done differently? What should I have learned from this marathon? 
I'm still trying to figure that out…I definitely hit a wall, and I don't want that to happen again.
Next on our Oregon tour is Bend! Stay tuned for some "Fits on the Road"- both shopping and athletic activities. Yes, we did lots of hiking in the two days after the marathon, and our legs are feeling great!
(Visited 1,220 time, 1 visit today)