Hey, did I mention I got a PR at Grandma's Marathon? Yes? I already mentioned it a hundred times? Well, sorry, here's a whole other post about it and my reflections on what I did differently this time that got me there.
If you're new here, here's a recap of all my previous marathons and finish times (you can also check out the 50 States/ 50 Marathons tab)
2004: DNF (Did Not finish, ended up in the hospital for dehydration)
2005: Twin Cities Marathon 5:02:03 (with my sister Laurie)
2006: Rock 'n' Rock San Diego, CA 4:23:46
2006: Grand Rapids Marathon, Michigan 4:21:35
2007: Chicago Marathon 5:17:19 ( sooo  HOT)
2008  Twin Cities Marathon 4:20:19
2009  Big Sur Marathon, CA 4:30:21
2010   Rock 'n' Roll Seattle, WA 3:55:32
2010    Lakefront Milwaukee Marathon, WI 4:00:23
2011    Go! St. Louis, MO 4:30:37
2011    St. George Marathon, St. George UT 3:57:34
2011    St. Jude Marathon, Memphis TN 4:05:25
2012   Marathon-to-Marathon, Marathon, IA 4:20:19
2012   Steamtown Marathon, Scranton, PA 3:55:17
2013   Newport Marathon, Newport, OR 4:00:57
2013   Berlin Marathon, Berlin Germany 3:59:39
2014   Flying Pig Marathon, Cincinnati, OH 4:11:46
2014   OBX Marathon, Outer Banks, NC 4:10:31
2015 Tokyo Marathon, Tokyo, Japan 3:54:22
2015 Grandma's Marathon, Duluth, MN 3:41:50
I broke four hours for the first time at the Seattle Marathon in 2010 after joining the Calhoun Beach Running Club. That was when I first started incorporating speed training, hills, etc. I was ecstatic at the time.
But then I was stuck right under 4 (or over!) for quite a while.
The Tokyo Marathon was my first time training with Antonio Vega of Zoom Performance. Though my time of 3:54:22 wasn't indicative of a vast improvement, my Garmin said I ran a 3:46. Of course, I know that my Garmin means nothing on a certified course, but I ran the tangents really poorly at that race. I felt so great at Tokyo that I took away a lot of confidence in the paces my Garmin told me I was capable of. I felt that I was already faster than the 3:54 time that the clock read. So I built off that confidence and that base, and I continued to train with Antonio for Grandma's Marathon 2015.
Here are some of things that I did differently for Grandma's Marathon 2015.
1. A Whole Lotta Miles.
I ran a crapload of miles. I mean, A LOT, including occasional double runs, or two-a-days.  I know that there are a lot of proponents of the "Run Less, Run Faster" type theories and those training plans, and I am sure that they work for some people. But that type of plan did not work for me. I tried that method for the Flying Pig Marathon in 2013, barely reaching 50 miles/week maximum during that training cycle. Come race day, my endurance just wasn't there. I needed more miles.
For Grandma's this year, I hit over 70 miles three times. I don't know that this method would work for everyone (especially if you are injury prone), but I believe that it worked for me. Other than the broken pinkie toe that had nothing to do with running, I had less injuries than when I was running a lot lower mileage.  The higher weekly mileage was hit by running a lot of "junk" miles; in fact, at least 80% of my weekly miles were slower than 9 minutes, (sometimes up to 10 minute miles) or 1 minute to 1 1/2 minutes slower than my goal marathon pace.  In addition to the "junk" miles, I would have two workouts a week as well as a potential Goal Marathon Pace workout within my long run, see #2.
2. Goal Marathon Pace within my long runs.
This one was huge. I totally understand the theory behind running your long runs slow and easy and QUITE a few of my long runs were really slow and easy. But there were also a number of significant long runs where my coach incorporated a warm-up, a number of miles at my goal marathon pace, and a cool-down within the long run. This actually seemed to be a pretty common theme among my running girlfriends who used other coaches this season as well. I needed to gain confidence holding that 8:30 pace within my long runs and doing this in the middle of my training long runs on tired legs gave me that confidence.
I really think Goal Marathon Pace in my long run was a big change that helped me a lot.
3. A two-week taper.
I did a two week taper for the Tokyo Marathon  as well, but previously all my marathons included a 3-week taper. I was a little worried the first time my coach suggested this, but he quoted several studies that said that 10 days is the magic number for a taper. It seemed to work! My legs felt rested and ready to race by marathon day.
Other changes I made race day or the leading up to race day:
Outside of my control, but I thought I should mention it anyways. The weather! The weather at Grandma's could have been way worse. If it had been the 80 degree day that was originally forecasted, there's no way I could have PR'd. The weather was very fortunate; even though some would say downpours aren't perfect,  the rain did keep it cool.
1. Sound Probiotics.
I  believe taking this daily probiotic helped keep me healthy leading up to the starting line. I never once even caught a minor cold this entire year. My "gut" wasn't perfect on every run, but it was healthier than it was previously. I think my immunity was boosted by Sound Probiotics. Getting to the starting line healthy is sometimes the hardest part, right?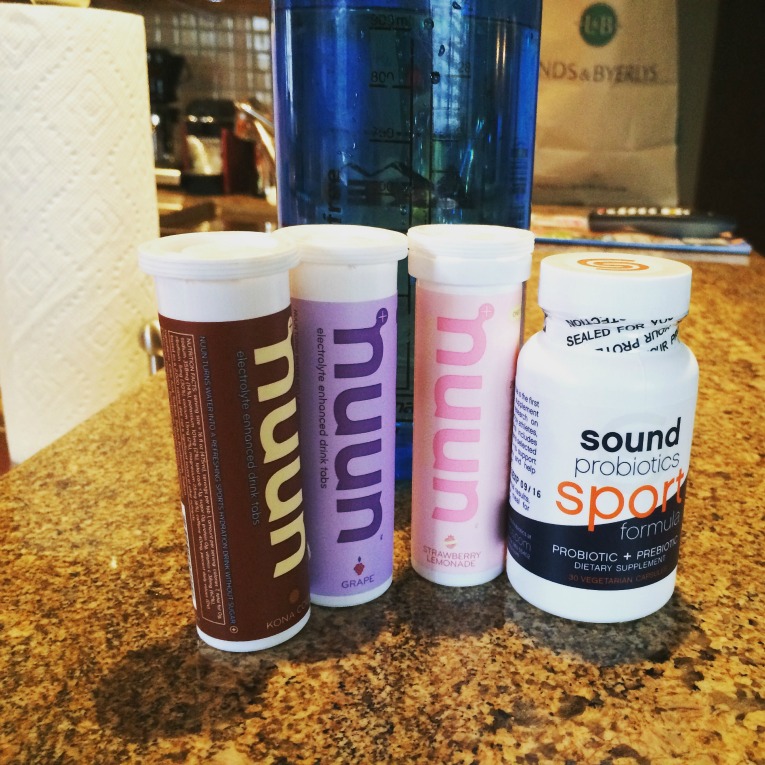 2. Hydration/Increased Salt.
Leading up to the race, I drank A LOT of Nuun. I made more than my normal effort to stay incredibly hydrated. The morning of, I added a lot more salt to my normal pre-race meal of a bagel with peanut butter and a banana. I also ate half a Cliff bar; in total I had a lot more calories than I historically would consume.
3. Fuel
I had never taken a GU before a race, but I did this time, about 45 minutes before Grandma's started. I had planned to take them more frequently than in the past, at about 45 minutes each. In reality, I took them even MORE frequently. I took a GU (salted watermelon) at mile 5, mile 9, mile 13,  mile 15, mile 18, mile 22. I took a LOT of GU's during this marathon.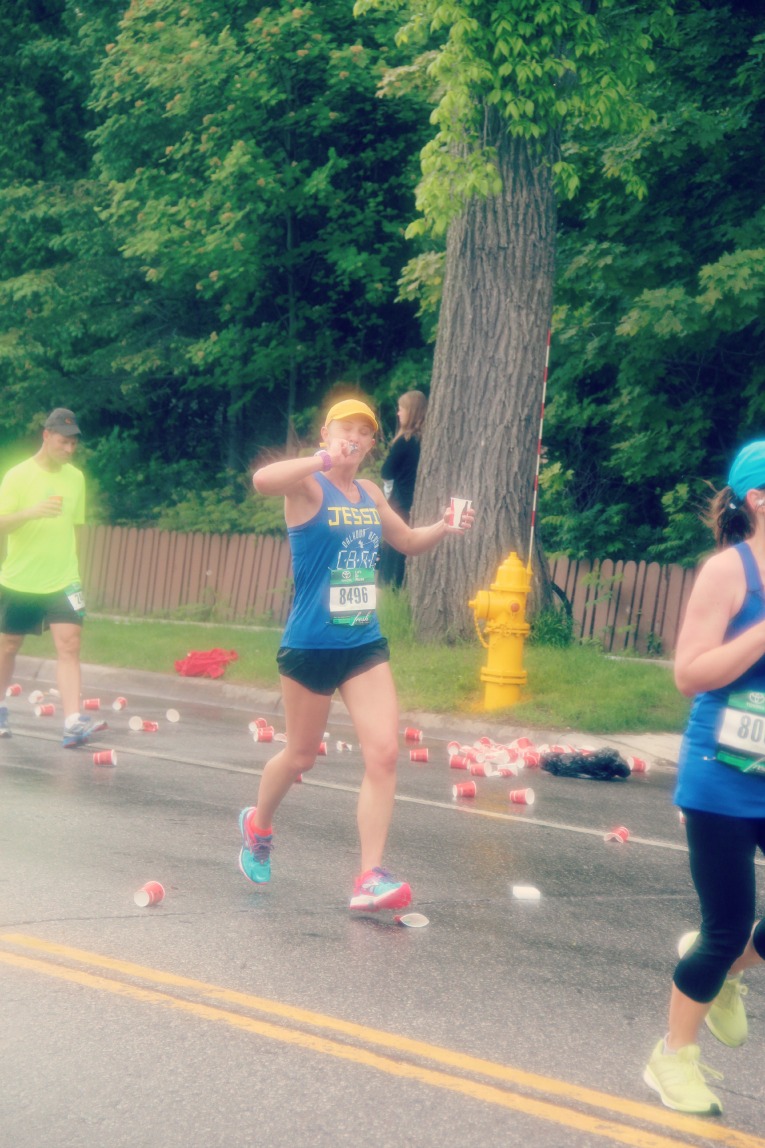 4. My mental game
I was seriously talking out loud to myself with positive mantras. "I believe in you. I believe in this pace." Any time a negative thought tried to find its way into my head, I consciously pushed it out by saying "You are strong. You trained for this." I smiled throughout the race and felt strong. When a spectator would cheer,"You look good!" I would take that to heart and tell myself, I DO look good. And I felt good. By focusing on positive thoughts ONLY I managed to quiet that negative nelly who usually plagues me during a race.
In the realm of my rather speedy run club, my time of 3:41 still leaves me as one of the "slow" girls, but to me, this time was a huge improvement. A Boston Qualifying time actually seems within my grasp now.
Those are the things I did differently in my training this time. I can't pinpoint one thing that helped me achieve my goal. I think it was the combination of a lot of different factors.
What will I do differently NEXT time?
I'd like to take a few weeks here to focus on yoga and strength training. Ideally, I would be able to fit more strength training and yoga into my training during the season.

I say this a lot, but I could also make improvements to my diet. Generally, I eat pretty well, but there's always room for improvement!
Will I continue to use my coach?
Most likely. I'm tentatively planning to run a marathon that will be in mid-November, so I have some time to decide. This will be my 20th marathon. You'd think I'd know what I was doing by now, right? Ha!  But seriously, even with 19 marathons of experience, I am still learning. I learned a ton from Antonio and I think he's an awesome coach.  I have enjoyed working with him and definitely have him to thank for training me to this new PR!
And thanks to you guys too for reading and supporting my little blog. I love sharing and connecting with you guys and hope to continue to share many more marathon experiences in the future!
(Visited 1,293 time, 1 visit today)