Yesterday I ran the Outer Banks Marathon. It was a beautiful point-to-point course that started in historic Kitty Hawk.  It's advertised as mostly flat, with two "significant" points of elevation. The first was in the Nags Head Woods Preserve around mile 12 and the second was crossing the  Washington-Baum Bridge leading to Roanoke Island at mile 23.
Let me start at the beginning.
Travel:
At the very beginning, I randomly was sitting across from Dean Karnazes at the MSP airport. I was thinking to myself, "Is that Dean?" Then Dustin, who was sitting right beside me, actually texted me (yes…from right beside me) with "Is that Dean Karnazes?" and then I knew I had to approach him. We chatted for a few minutes about the NYC marathon that he had just run and about other marathons. We talked about Tokyo, which he said was one of his favorites. He wished us luck at OBX and I was sure that this chance encounter was my good luck charm.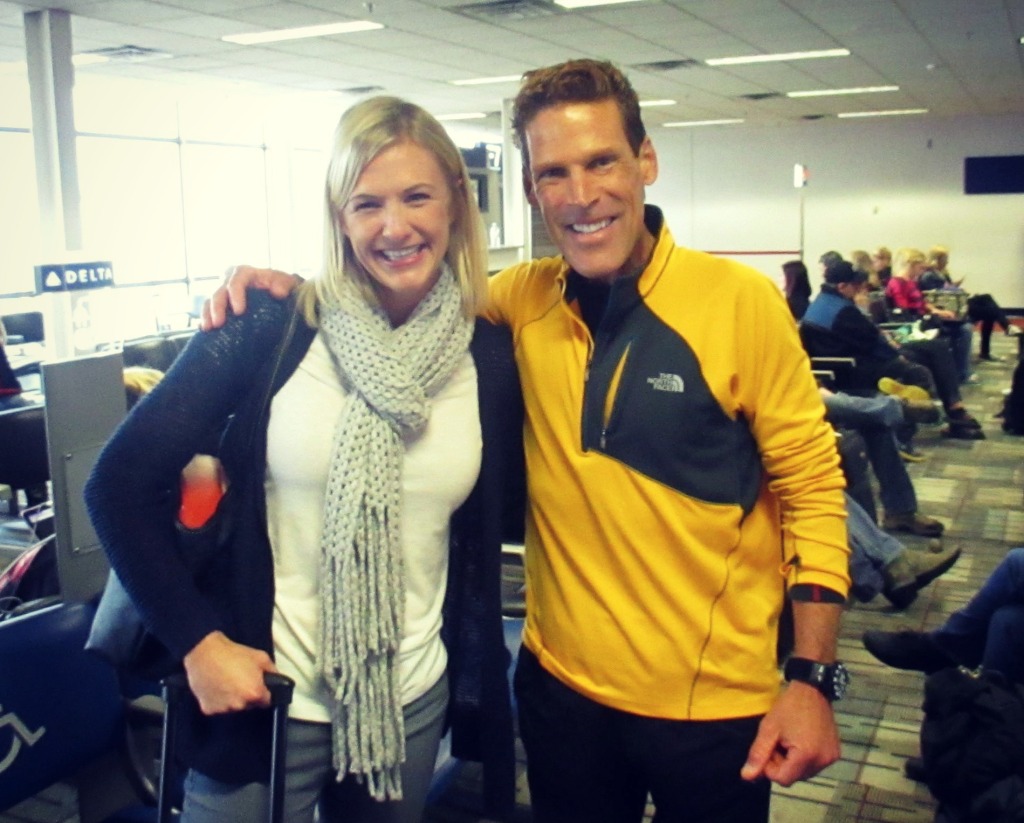 Our flight went from MSP to Detroit to Norfolk, VA, where we stopped on our drive to Nags Head to have dinner with my cousin in Virginia. They hosted us with a perfect pasta dinner and it was a lot of fun to catch up with them on our way to the race.
The Expo
The expo was held at the Dare County Youth Center. We went there on Saturday around 11 am. It was a little crowded but well-organized and you could get in and out pretty quickly.
The expo was relatively small, but cute and sufficient. I bought Dustin and me both knit caps as our marathon souvenirs. Parking was easy and there were plenty of volunteers to answer any questions.
Pasta Dinner:
To make things easy on ourselves, we decided to go to the marathon sponsored pasta feed that was held at the Ramada Nags Head. It was $12/person and was all we needed. The meal before the marathon is never anything special.
Getting to the Start Line:
With a point-to-point course, runners had two options for the start line. You could park at the start line and take a shuttle after the race back to your car, or you could park at the finish and catch a shuttle at 5:45 am to the start. We did the latter, so our alarm went off around 4:20 am. Our hotel, the Surfside Hotel, had a continental breakfast of bagels, bananas, etc, which was just what we needed.
It can be a little scary when you take a shuttle bus from the finish to the start line because it takes about 40 minutes, and you think to yourself, "I have to run this whole thing?"
We made it to the start line around 6:20 am with an hour to kill until the 7:20 start. There were plenty of porta-potties at the start. The lines were never that bad. The temperature was around 57 degrees, overcast and apparently 93% humidity. The high for the day was 67. I kept my fingers crossed that the sun wouldn't come out or 67 would feel pretty warm.
The Start Line:
There were four corrals, A, B, C, and D. Dustin and I were both in A (say what?) and the announcers kept calling the A corral the "elite" corral. Right before the starting gun, they put a rope in between Dustin and me and he was split off with the "elites" and I was in the A corral with the rest of the runners.
Now most everything about this race was well organized, but the start line was a bit of a mess. After the "elite" corral part of A headed out, the rest of us were pushed up to the start line. They tried to get us to walk over the timing mats, even though we had 3 minutes to wait until they let us go! I tried to push back and stay behind the mats because that was just stupid right? Why would I want to have my chip time start before I was even running? I'm sure there were other runners who might have been disappointed by their chip time as there were plenty of people who did cross the timing mats only to wait for three minutes for the second start.
The Course:
The course was flat from its start in historic Kitty Hawk.  The first several miles meandered along the Memorial Trail on the edge of the picturesque Albemarle Sound.  Sea oats, herons, egrets and sound views created a relaxing start.
I felt great-  I was holding back and just settling in, feeling GREAT! I LOVE MARATHONS! I LOVE RUNNING!
Mile 1: 8:44
Mile 2: 8:33- whoops, a little too fast there Jessie.
Mile 3: 8:47- much better.
Mile 4: 8:50
Mile 5: 8:51
Mile 6: 8:50
Mile 7: 8:47
We wove through Bay Drive in a  beautiful residential area (it reminded me of Cape Cod) until making our way to the base of the famous Wright Brothers Monument. Even though I had read Laura's recap and knew that we did not run over the hill at this monument, there was a short moment where I thought we might.
But alas, we ran around the hill.  This Wright Brothers Monument "marks the location of the first flight that took place on December 17, 1903." It was cool to see.
Mile 8: 8:51
Mile 9: 8:46
And then we entered the trail portion of the race in the Nags Head Woods Nature Preserve. I love running trails, but obviously, I don't run them very fast. Things went downhill here (or actually, uphill, since there was a lot of that.) The course was a mix of loose gravel, dirt, and even some single track with what the course guide described as "off-road conditions."
Mile 10: 9:00
Mile 11: 9:08
Mile 12: 9:52 This was the single track uphill portion…When I saw that 9:52 on my watch, it was a huge blow mentally. I felt like there was no way to make that up.
Here the course guide reads, "No one said this would be easy."
Seriously.
After that awful mile, we finally left the woods and were back on pavement and I tried talking myself back into this thing.
Mile 13: 9:13
Mile 14: 9:04
Mile 15: 9:36
Mile 16: 9:00
Mile 17: 9:23
Mile 18: 9:33
My pace was slowing yet I felt like I was working even harder. I was still in front of the 4 hour pacer, but then…
Mile 19: 10:19
Mile 20: 10:08
…And there goes the 4 hour pacer…I thought for awhile I'd be able to stick with him. Nope. I was walking through the water stops and shuffling along as best I could in between.
Mile 21: 10:44
Mile 22: 10:41
I saw the final hill looming in the distance.
It was the Washington-Baum Bridge leading to Roanoke Island at mile 23. It consisted of a 640' climb to the top at a 4% grade. I kept telling myself, "I believe in you. You are fit. You are strong." I tried to convince myself that I would NOT walk up that massive hill. I would run it!
Spoiler alert. I didn't run it. Nope. I walked that thing. It was windy up there and I felt like it would never end.
Mile 23: 11:50. Yikes. That's what walking will do to you.
Mile 24: 10:35
Mile 25: 10:36
Mile 26: 9:51
Final 0.38 9:30
Time: 4:10: 31
The finish line was on Roanoke Island in the charming town of Manteo. Dustin saw me running through the finish shoot and cheered for me. Apparently I gave him quite the face.
 I looked like hell at the finish and the volunteers were quick to come to my aid. Very impressive.  Someone put my medal on me. I grabbed more water and gatorade. There was plenty of other food at the finish but I wasn't ready yet. In fact, there was quite the party going on at the finish with food, drinks, a band, and more. I went ahead and grabbed a beer. I took a sip and nearly threw it up. Fail.
Then I waited in line for a finisher's picture. I faked a smile, found Dustin, and I let myself be a brat for a bit while I cried it out.
Then I got ahold of myself. Dustin also did not achieve his BQ goal yesterday and was feeling just as bummed. We were quite the pair.
I am disappointed only because this isn't what I trained for. I know it's not a terrible time and I really do believe I gave it all I had to give yesterday. It just wasn't what I thought I had in me.
I am thankful that I am healthy and my body allows me to continue to run marathons. Finishing 17 marathons is a feat unto itself, one that I am proud of. Some day all the stars will align and I will have a good strong race that I am really proud of, but yesterday was not that day.
A friend of mine commented on Facebook that running is a privilege and you can't be disappointed about a privilege. This is a wise friend and her comment helped me put it into better perspective. Races don't always go the way that you want them too, but honestly, LIFE doesn't go the way you want it to and you pick yourself up and you keep going.  I have to remember that I "got" to run 26.2 miles of a lovely part of our country; I have an awesome family and husband who support me with this crazy running thing.
I think that is truly the "right fit," eh?
After the mile walk back to our parked car, we drove back to our hotel and decided to take a quick soak in the freezing Atlantic, hoping the "ice bath" would help our legs feel better. So cold!!!
A few "wins" from this race: no bathroom stops and no chafing.
Fitness Fashion:
*Fast-red" Oiselle roga shorts
*A very old Nike mesh running tank: I love this tank so much but they don't make it anymore. It's the absolute best tank for hot weather.
*Moving Comfort Serena sports bra
*Brooks Ravennas
*Lolë mesh hat
*CBRC bic band
How I Fueled:
GU at mile 5, 11, 17, and 22. Water with my GU's, Gatorade at the non-GU support stops. A few oranges along the way that someone gave me.
SWAG:
All finishers also received a shirt, a visor, and a medal. The finisher's shirts are short-sleeved white dry-fit shirts. I'll be honest. I'll probably never wear mine, but Dustin likes his.
Other Races:
There was a half marathon that started halfway down the marathon course a bit earlier that morning. Dustin did run into the half marathon runners during his race. On Saturday, there were a slew of other races like a 10k and some shorter kid's runs. I believe you could do the 10k and either the half or full for a special medal.
In closing, this was a nice marathon. It wasn't in the top 5 of the most beautiful marathons but it was pretty. Its a small marathon with only 1200 finishers in a small tourist town, but they did the best they could to make it a special day. I'm glad we did this one for our North Carolina race.
(Visited 1,959 time, 1 visit today)