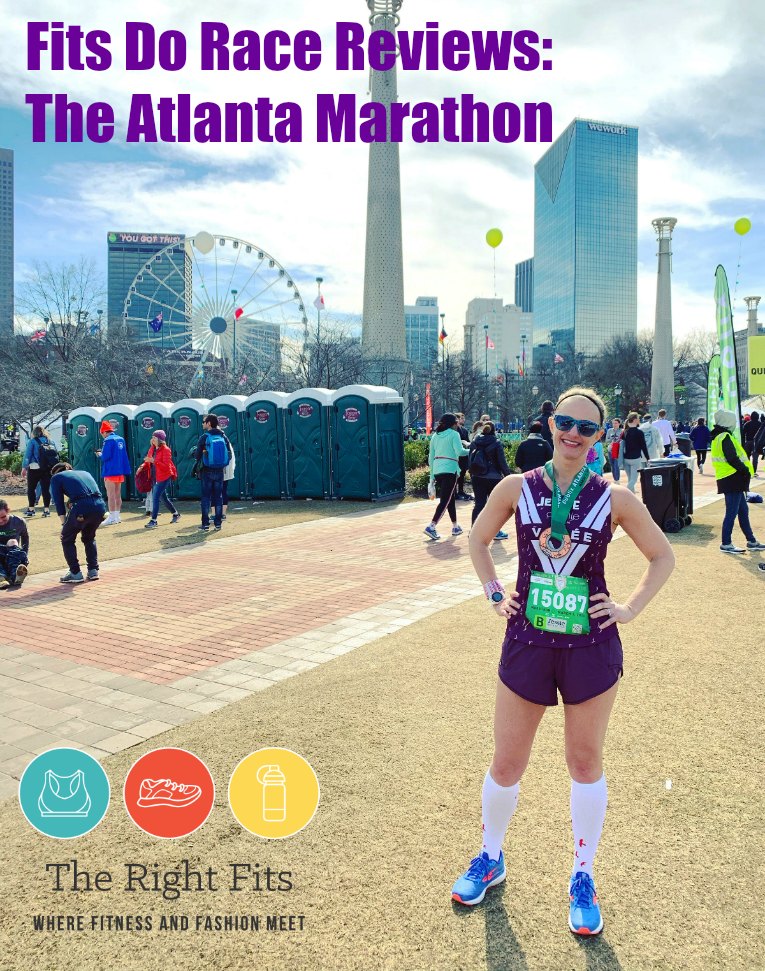 On Sunday, March 1, 2020, I ran my 34th full marathon and checked Georgia off the list in my quest to run a marathon in every state, by completing the Publix Atlanta Marathon.
(See a list of all the states I've completed so far HERE.)
One of the reasons that I chose the Atlanta Marathon is because my husband and I were already considering going to Atlanta to watch the Olympic Marathon Trials the day before. When we found out there was a marathon the next day, that sealed the deal!
We arrived in Atlanta around 9 pm on Friday, and quickly grabbed a Lyft to our hotel, the Hyatt Regency downtown.
Saturday morning, we were up early to jog to the expo; due to the trials that day, the expo was only open from 8-11 am on Saturday. Not a lot of time!
We jogged to the expo, I picked up my packet, and then we ran a few more miles.
(The expo was so dead!)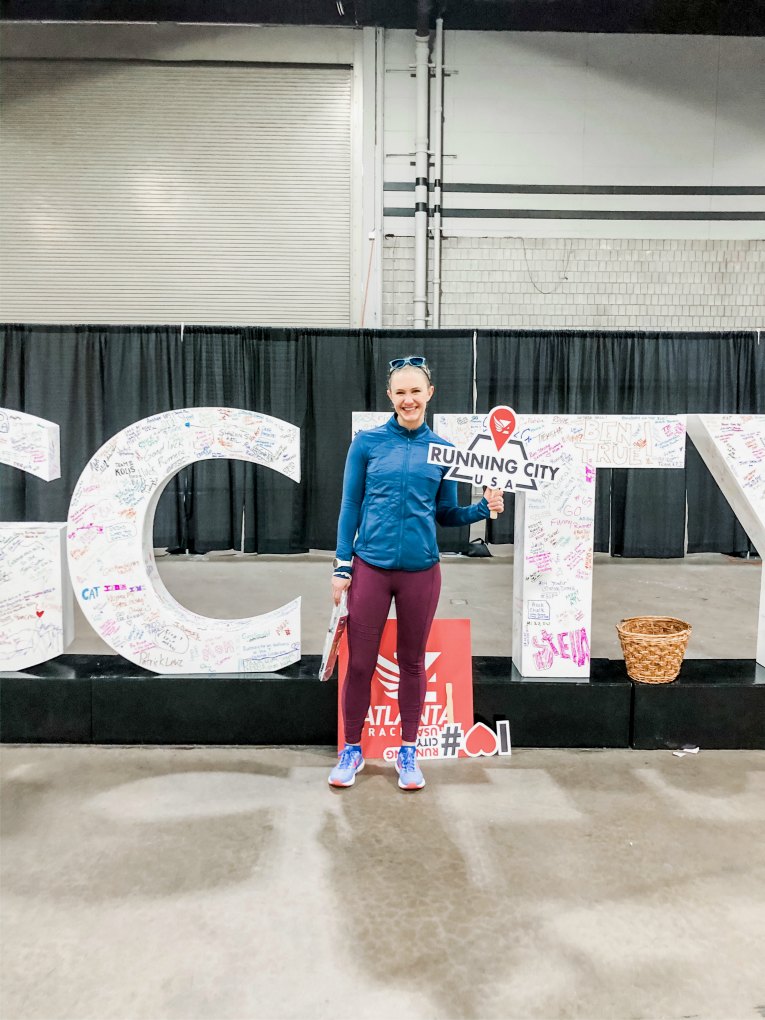 We accidentally ended up joining up with a Kara Goucher shakeout run and even ran into a few Minneapolis friends who had joined that event! There were actually so many Minneapolis people in Atlanta, it was nuts!
I ended with about 4.5 miles.
(Twinning in our Oiselle!)
After the run, we quickly showered and found our friend Christie to find a spot to cheer for the trials.
If you're unfamiliar with the trials, essentially any woman who can run a 2:45 or faster, or any man who can run a 2:19 or faster qualifies for the trials, or gets an "OTQ!" Then, the trials are held and the top 3 male/female finishers get to represent our country at the Olympics!
I may write a whole other post about cheering for the trials, because it was so inspiring and one of the coolest races to watch in person. Here are few photos, but we have so many more!
Even when cheering for Boston, where athletes have to qualify to run, there are still vastly different times, since it becomes easier to qualify as you age. The trials were different in that EVERYONE there had run a 2:45 or a 2:19. Incredible! These athletes are the best of the best. I plan to go watch the trials every time now. 2024, I'll be there!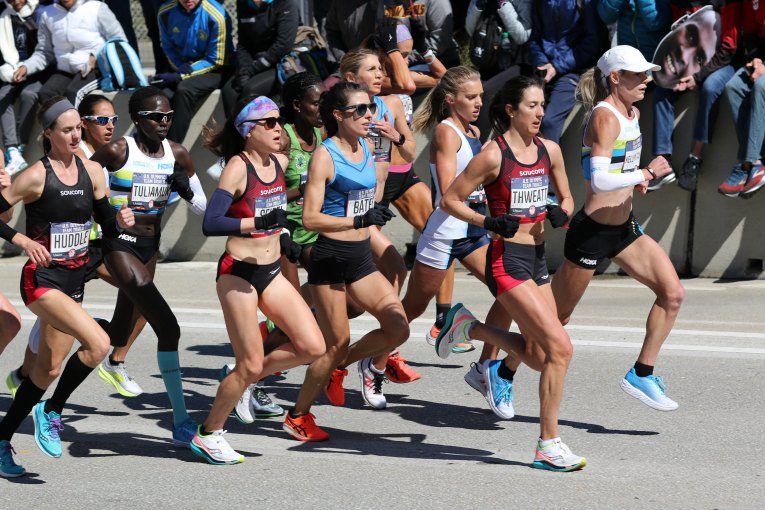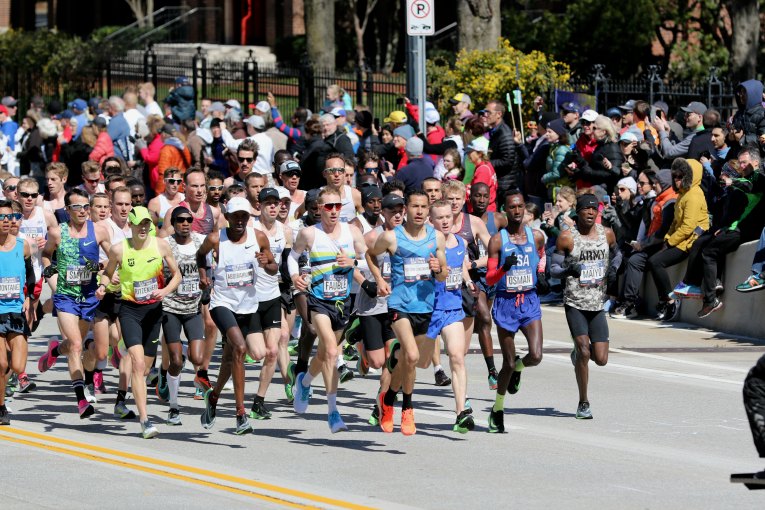 At one point, we were cheering right next to Sara Hall's parents! They were so sweet.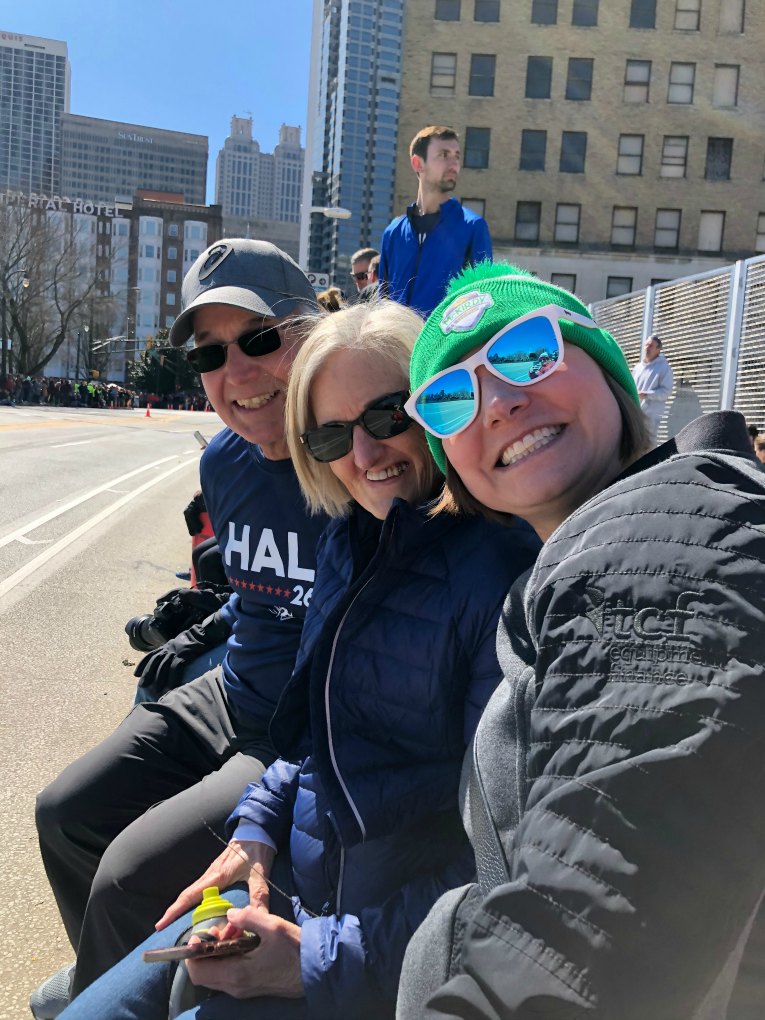 We were out cheering from about 11:30 am until 3 pm, which meant I spent lot of time outside moving around and not drinking as much water as I normally would before a marathon; I'm sure that didn't help my personal marathon performance the next day…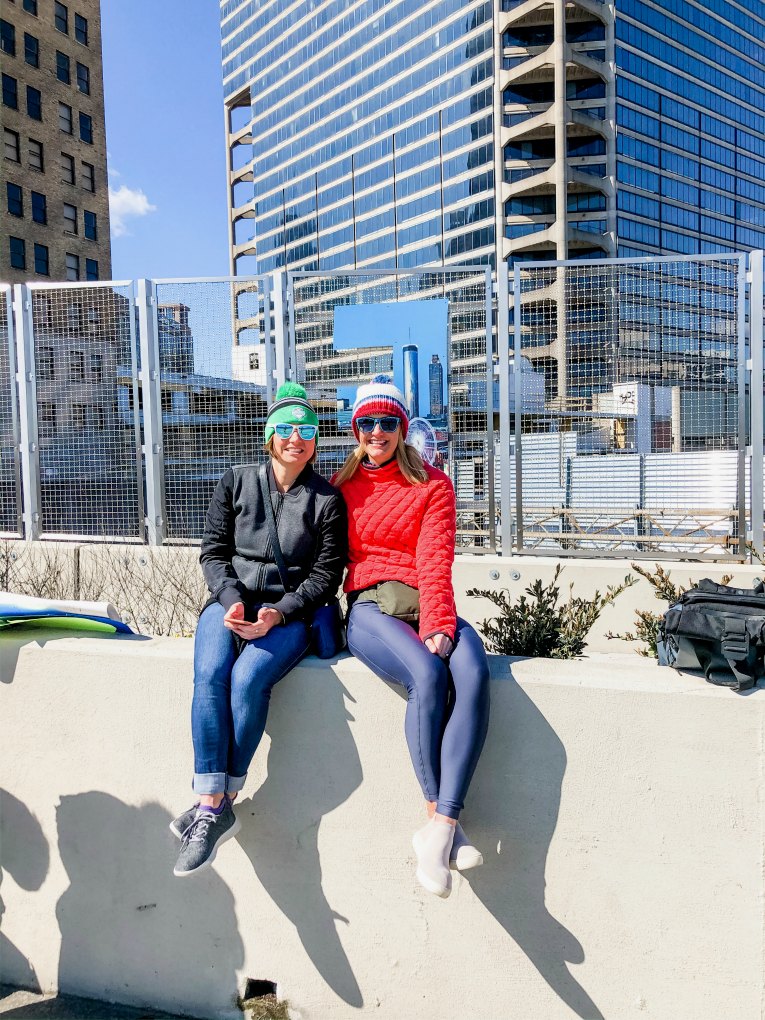 That evening, we grabbed dinner at Amalfi Pizza, which was a short walk away from our hotel. We saw Jim Walmsley and Allie Kieffer; apparently Amalfi Pizza was the place to eat post trials!
I was in bed early after dinner, though Dustin did take advantage of my Oiselle Volee membership and attended a party they held. He got to meet the founder Sally, as well as Kara Goucher, all the Haute Volee who raced in the trials, and Abdi Abdirahman, 3rd place finisher for men at the trials. I was a little jealous that I missed out on the fun Oiselle party, but it was early to bed for me with 26.2 miles on tap for the next morning!
Why didn't Dustin need to go to bed? Well, unfortunately, he wasn't registered for the marathon. He was so sure that he registered, but somehow he wasn't, and since the marathon was full, they weren't able to make any exceptions…which means we will be back to Georgia again sometime soon for him to check that state off the list as well!
Marathon Morning:
My alarm went off at 5 am; I ate a plain bagel with peanut butter, drank some Gatorade, water, and coffee, put on my race kit, and walked over to Olympic park for the start line.

The Right Fit: What did I wear for the Atlanta Marathon?
The temperature at the start was 34, with a high for the day of 60 and sunny. For me, that meant starting the race a little chilly with a few layers to drop.
I wore a new Oiselle Volee singlet; I know, I know, nothing new on race day, but I broke that rule and it did end up with chafing under both arms. Not smart!.
I paired it with a pair of their Flyout Shorts, which I LOVE. Huge pockets on both sides and the back. I also wore my trusty Brooks Ravennas on my feet, Pro Compression socks, a Sweaty Betty Stamina sports bra (still my favorite), Louva arms sleeves, and Goodr sunglasses.
The Start:
The marathon and half marathon started together at 7 am. There were plenty of bathrooms at the starting area and the gear check was easy to find (even though I ended up not checking a bag, since I would have Dustin at the finish.)
Before the starting gun for the race, we were given words of wisdom from all of the Olympians (except Galen Rupp, he didn't show). Then the national anthem, and then I was running!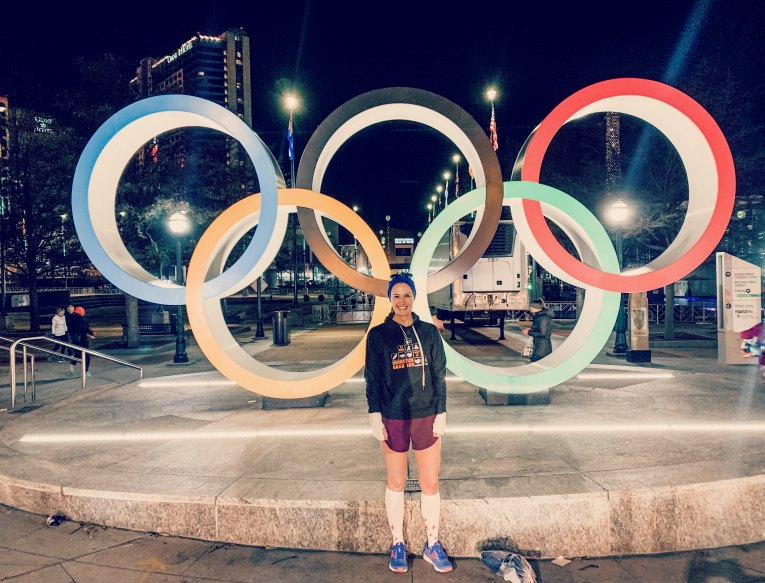 Before I delve into my performance, I have to admit that my mental game was not strong going into this marathon.
So many excuses…
I went into this marathon with a terrible head cold; two days before the race, I couldn't breathe out of my nose at all. I was using the ol' Neti Pot on the regular. So that was no good…Basically, I was sick.
I spent the day before cheering for hours at the trials. Even though we didn't do a ton of walking, we did more than I should have the day before 26.2 miles.
I just didn't hydrate as well as I should have since we were outside all day. 
One more thing that threw me off my game more than I expected was that Dustin wasn't out there running the marathon. Even though we rarely run marathons together, I always know that he's out there on the course and that we'd be able to discuss and share our experiences afterwards. I guess that meant more to me than I realized!
Even with all my excuses going into the race, I still thought I could comfortably break 4 hours. After all, I stayed under 4 at Boston on a hot, sunny disaster of a day. I hadn't run a marathon OVER 4 hours (other than Antarctica or when I was pacing someone) since the Outer Banks Marathon in 2014.
What happened at the Atlanta marathon was humbling.
Here are my splits:
Mile 1: 9:04
Mile 2: 9:05
Mile 3: 9:00
Mile 4: 9:21- a big climb; I kept an even effort and was still doing okay.
Mile 5: 8:57
Mile 6: 8:49
Mile 7: 9:12
Mile 8: 8:48
Mile 9: 8:40
Mile 10: 9:24– another big climb. (But honestly, Atlanta was ALL climbs. Training on the treadmill over a Minneapolis winter does NOT train you for these kind of relentless hills!)
Mile 11: 8:58
Mile 12: 9:56- a bathroom stop, but still feeling okay. This is the third marathon that I have had to stop to pee during (Houston, Indianapolis, and Atlanta.) I need to figure that part out.
Mile 13: 9:09– The first 13 miles were with the half marathoners; we basically dropped them off at the finish and kept going. What a mental mindf*ck!! Turning off to head out for 13.1 more miles was a challenge. And I could see what was ahead of me, which was highways, on-ramps, more hills…
Mile 14: 9:14 – I was supposed to see Christie and Dustin at this mile, but apparently they missed me. At this point, I had taken off my Louva arm sleeves, gloves, ear band, and even my SPI belt and had been carrying them in my hand with hopes to drop them with Dustin. I was a little annoyed to have to continue carrying them. I could have just tossed them, but the Louva arms sleeves aren't sold anymore, so I didn't want to lose them!
Mile 15: 9:52- After not seeing Dustin, I started to let the negative thoughts in. "This is really hard."
And guess what? Another big climb.
Mile 16: 9:20- "Okay Jessie, just 10 more miles. You can run 10 miles. You run 10 miles before work during the week. Just keep moving forward, no matter how slow."
Mile 17: 9:28-.…."Don't give up. You're going to see Dustin and Christie soon. Pretend to run! Fake it til you make it!
Finally I did see Dustin and Christie here. I couldn't help but give them a thumbs down, but I'm pretty sure they already knew that!
Mile 18: 9:10- Maybe some downhill here? Not sure what happened.
Mile 19: 9:30- I started to really lose it. Uff.
Mile 20: 9:05– More downhill. That helped.
Mile 21: 9:52– Uphill. Some walking.
Mile 22: 10:14– I felt like Brittany in Brittany Runs a Marathon. "Am I moving backwards?"
Mile 23: 11:47- Yeah, there was some walking here. I really tried to resist walking as much as possible; generally I was running, just slowly!
Mile 24: 11:28– Longest Mile. Ever.
I saw Dustin and Christie again here. Dustin said "Just finish this thing Jessie!"
(Mile 24 and look at the lack of crowds…)
Mile 25: 11:00– I knew we were getting close to the finish as we were back downtown again, but there was literally no one cheering.
Mile 26: 10:42- So close.
Finish Time: 4:14:59– DONE.
I found Dustin quickly at the finish. I didn't even have a gear check bag for this one, so after grabbing a chocolate milk (which I never drink, but after a marathon it tastes pretty good!) and we made our way back to the hotel.
This marathon was a humbling experience for sure. I was so cocky going into this that I figured I could run under 4 hours no problem
Lessons were learned…
You have to train on hills for a hilly marathon.
Training on the treadmill does not translate well to a hilly marathon.
I need to have a "why" to push myself. The mental part of the race is really, really important. Positive self-talk is incredibly important for me to keep my head in the game.
A sub-4 hour marathon is never a given.
Running with a cold affects your performance (duh!); I ran the Antarctica Marathon sick as well, and that didn't go so well.
But as much as I wanted to quit this one, I didn't. I finished. Marathon 34 complete. State 23. Only 27 states to go!
Right after the race, my feet kept cramping up really badly; I wonder if I was more dehydrated than I thought. It was warm with the sun, but not that hot. I thought I was hydrating enough during, but I definitely came up to each aid station very thirsty. Some of that could have been from the cold medicine I was taking too, but the cramping was no fun.
After a shower, Dustin and I grabbed lunch in the hotel. I'm usually pretty hungry post-marathon, but this time I was feeling nauseous and couldn't really eat.
Shortly thereafter, we joined Christie for the Coca-Cola Museum tour, which was interesting enough to pass the time. At the end, there was the opportunity to taste Coke products from around the world; I tasted quite a few and all that sugar didn't really help my nausea!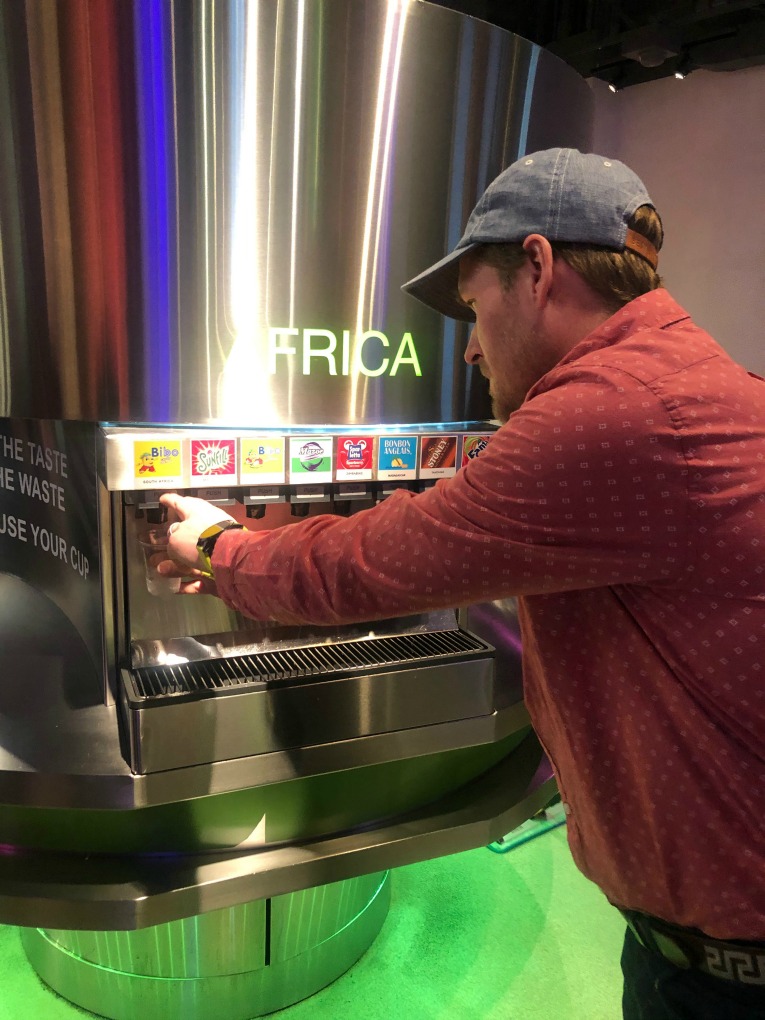 We went back to the hotel after that to rest for a bit, before taking a Lyft to the Ponce City Market (thanks to an athlete I coach, Mansi, for the recommendation!) for dinner and some celebratory drinks.
No better time to indulge in some fried chicken than post marathon!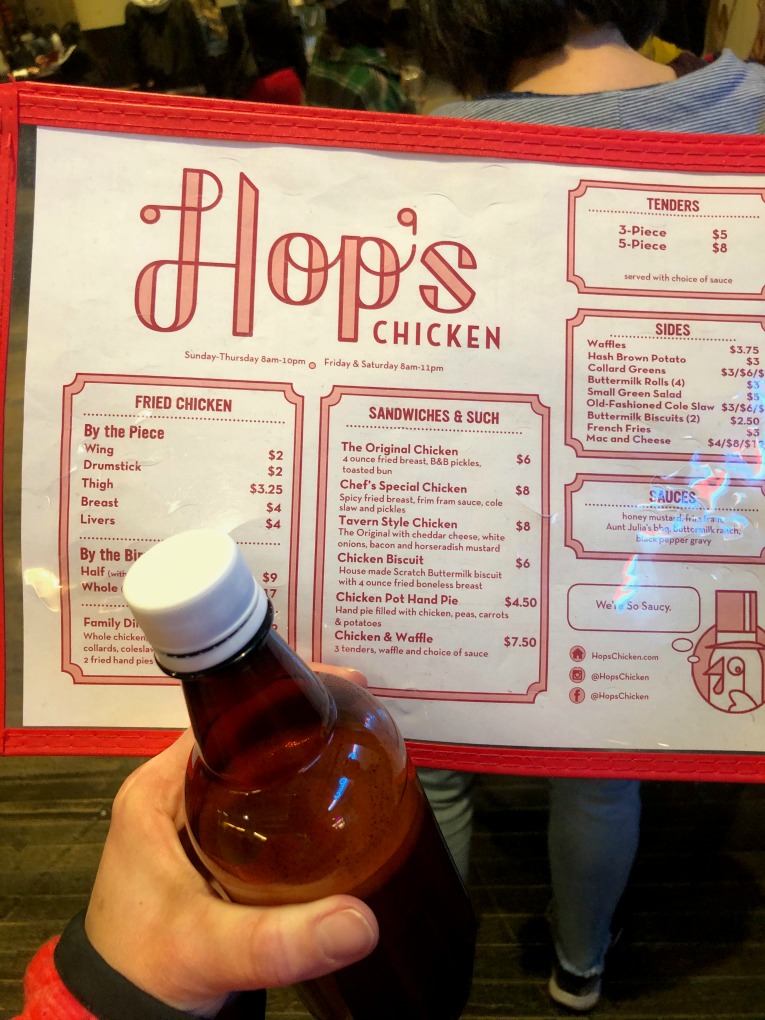 The Ponce City Market and nearby "Murder Kroger" were really cool. I'm glad I got to see that part of Atlanta, as I'm not sure I saw the cool parts during the marathon!
To be perfectly honest, I wouldn't really recommend the Atlanta marathon. It wasn't just my poor performance (though that didn't help). I didn't think the course was very pretty, the crowds were non-existent for a bigger marathon, and the expo was dead.
Atlanta, however, is a fun place; nothing bad to say about Atlanta or the rest of the weekend! The trials were AMAZING. But out of the 34 marathons I have done, Atlanta just wasn't one of my favorites. It felt similar to GO St. Louis or Memphis. Since Dustin didn't run, we will be back to Georgia at some point. Let me know if you have any recommendations for others in this state!
I don't want to close this post on a negative note though: I am still grateful to be healthy enough to run a 4:15 marathon. Running is still my passion. Not all marathons will be magical, not all marathons will be MY MOST FAVORITE EVER. But any time I get to run 26.2, I'm happy!
I'm sharing my Atlanta Marathon review as part of Running on the Fly and Confessions of a Mother Runner 's Weekly Rundown link up party. Check it out!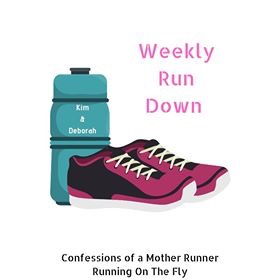 (Visited 937 time, 1 visit today)