I'm linking up today with Kim and Zenaida for their Tuesday Topics: Why I'm Grateful for Running This Year!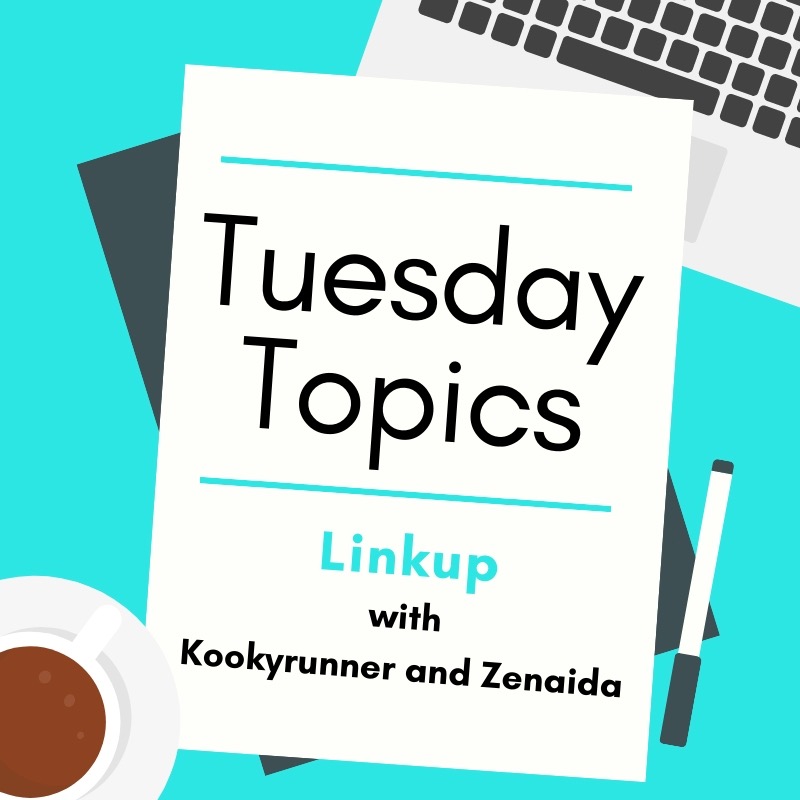 2020 has been quite a year, hasn't it? And it's not even over yet!
I know I've been pretty lucky overall, I completely acknowledge that. But that doesn't mean that there haven't been some lows throughout the year of 2020: the death of my grandfather from Covid was a significant low. Then there were all the cancelled marathons, cancelled travel (Patagonia! Bhutan!), limited time with my family (I haven't seen my parents since August 2019!)
But I have my health, my home, my husband and dogs, my job-
…And I also have running!
I am so very grateful for running through this year, even more than any other year.
Even without the races, even without the marathons and the travel, running is still an ever-present part of my life. It's part of my daily routine.
It's the thing that helps keep me sane. It relieves stress, or at least helps mitigate it during a very stressful year.
I did sneak in one marathon right before the pandemic hit the US, which was the Atlanta marathon at the beginning of March. And there was the in-person 10k on Halloween. But that will be it for races in 2020.
But I don't need the races to be grateful for the running.
I'm running more than ever!
Running is still such a significant part of my life that in the middle of it all, I ran my biggest mileage month ever in July, with 307 miles, including an 80-mile week! Read more about that experience HERE. Without a race to keep me going, I ran, ran, and ran some more!
A small setback:
I did deal with a small Achilles injury this year. But in hindsight, that injury was a learning experience in itself. It was a reminder about how important stretching and even walking- in addition to running- can be. I was fortunate to be able to run through the injury and fortunate to have access to lots of great doctors. I learned quite a bit about dry needling and electro-shock therapy; I found new physical therapists I really liked.
I was given a strong reminder of the importance of doing all the warm-ups and exercises that runners need to do to run, run, and run some more and stay healthy, ha!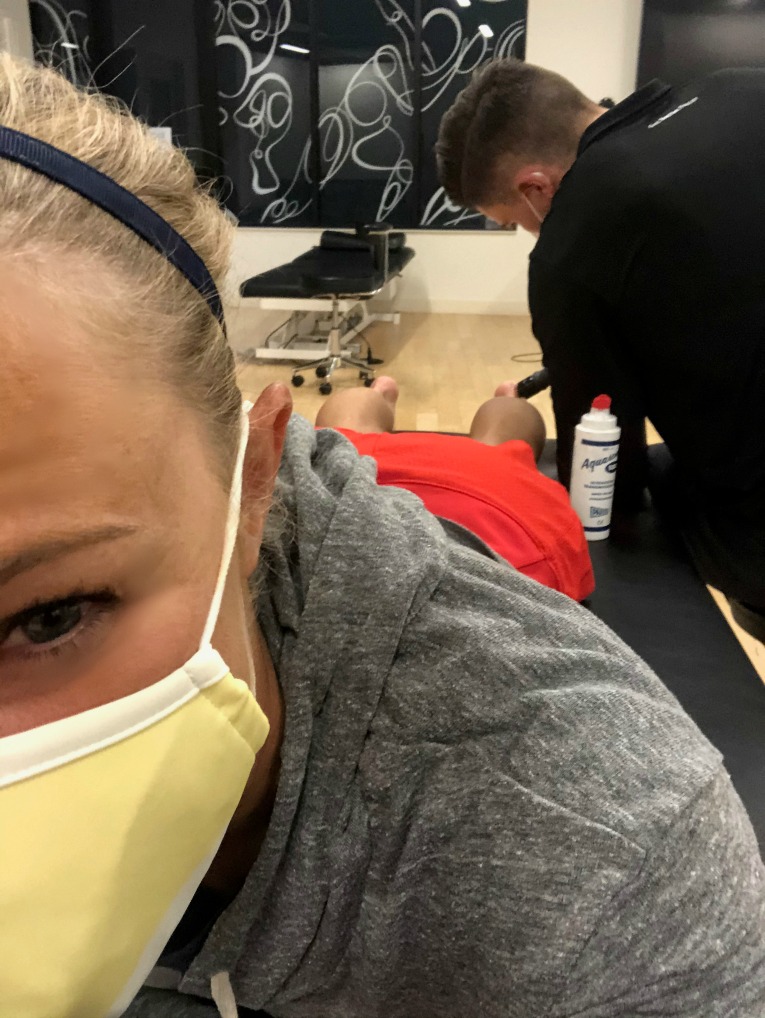 Injury aside, I'm so grateful to have running this year. Running got me out of the house when nothing else really did! We all know how important fresh air and being in nature are for your mental health and running was my way to safely enjoy the outdoors.

Running for a safe social life!
When it was safe to do so, running represented my (very limited) social life throughout the pandemic, with many miles covered with my friends Christie and Julie (when we were allowed to do so.)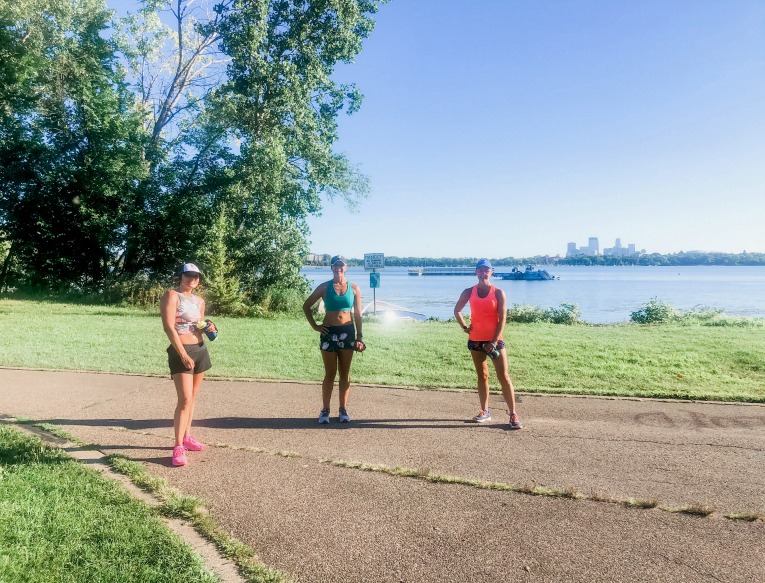 When our city was literally burning this past summer, Christie, Julie, and I met for a long run together, giving us the space to process in our own way what was going on in our city and our country.
I will remember that run for a long time. It was such a dark time but in so many ways, running gave us a safe place to talk through our fears, our anxiety, and our so-many-other feelings.
And as we approached the election?
So much stress, right? But running helped tremendously. I am so grateful for those miles.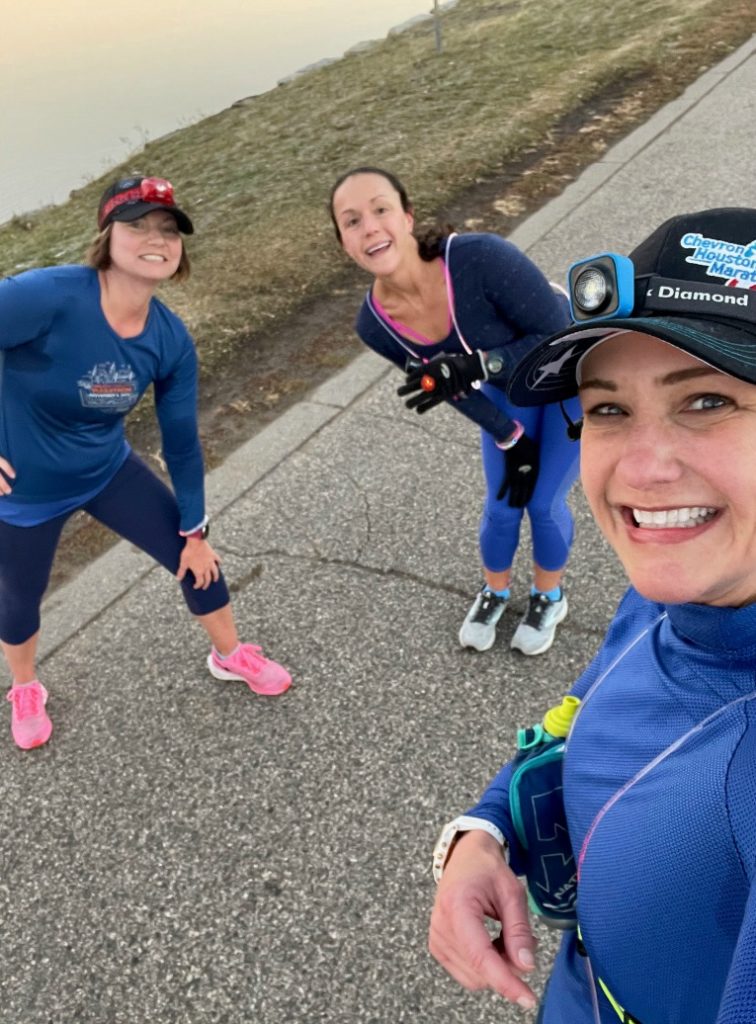 Running also kept my small coaching business going!
Sure, some athletes took time off from coaching, with no races on the horizon. But I still kept a loyal handful or so of clients and truly enjoyed helping them plan out their running schedules during this unprecedented time.
Running with my husband!
When we were discouraged from running with those outside our household, I was running solo most days. But I would also do an occasional run with Dustin. In fact, we had some really nice long runs together; sure, he was running at a very easy pace for him (his normal long run pace is around 7-7:15, and mine is generally around 9 min/miles.)
But even though we were spending more time than ever together, (since we were both working from home and not having a social life), I still really enjoyed these long runs together and am grateful we had them.
Running with Ruth!
The pandemic was also when I first started running with Ruth, our vizsla puppy!
She turned one in May, which is when the vet said it would be okay to start running with her.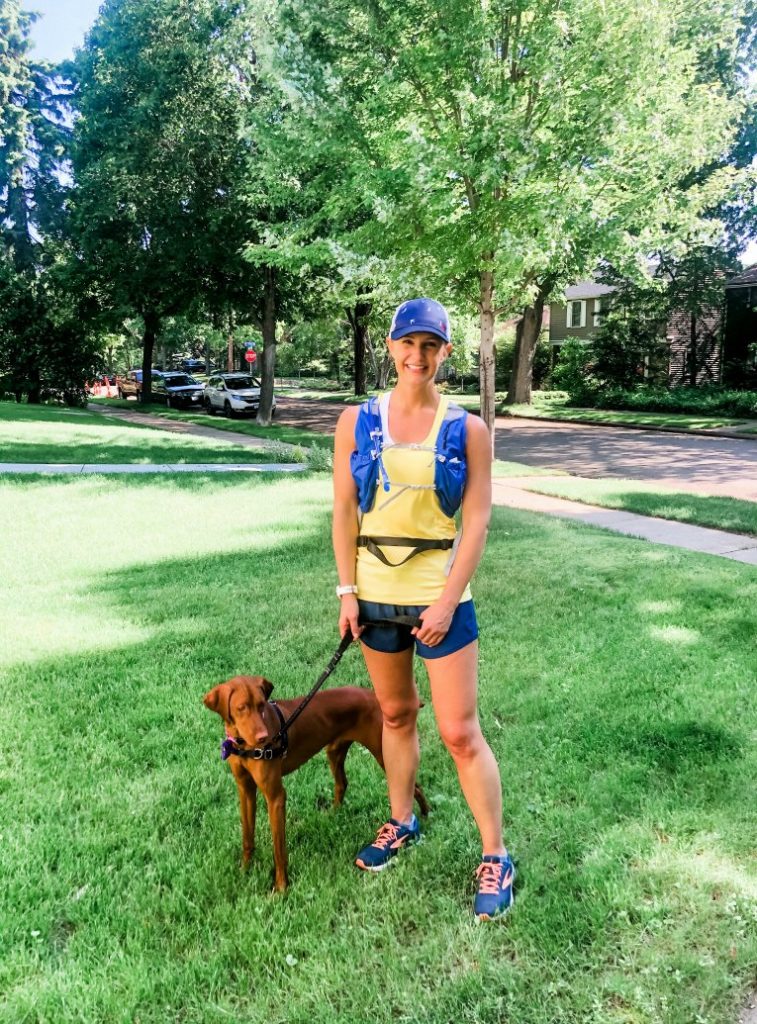 I built up slowly with her from a 1-mile jog at the end of my runs to 3 straight miles with her. Now we are comfortably running 5-6 miles together a couple times a week!
She's actually pretty good on the running leash (as long as there is no goose poop nearby to try to eat, so gross!) She runs pretty quickly with me, pushing my pace to low 8's. When she runs with Dustin, she comfortably runs sub- 7's! She's speedy.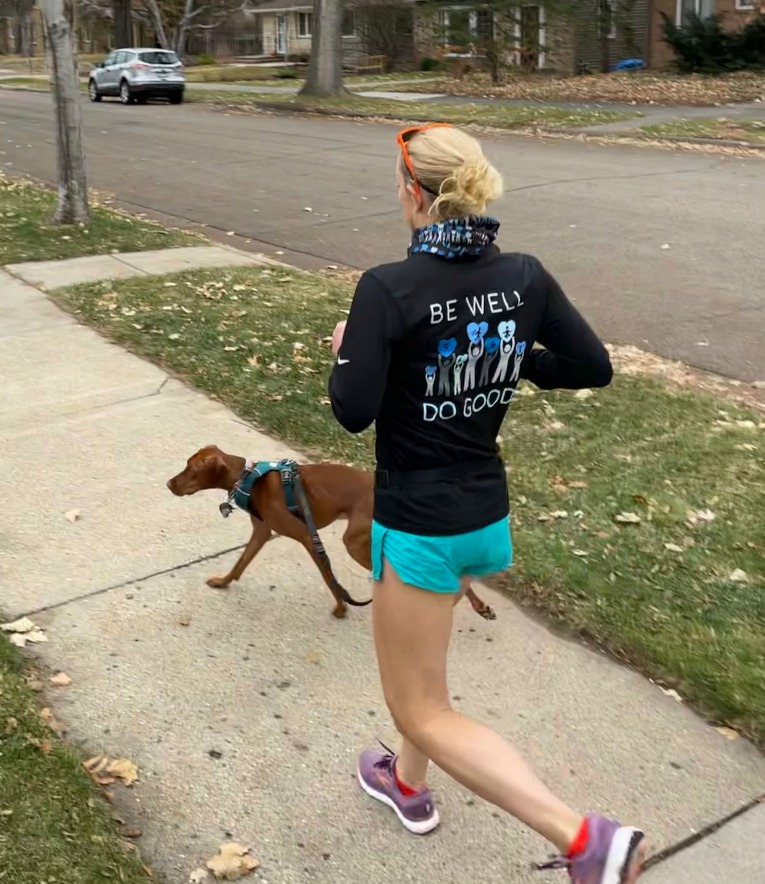 Podcast Running:
Even with Dustin and Ruth as companions, there were still a lot of solo runs this year, more than most years. During these solo runs, I listened to a lot of episodes of Armchair Expert with Dax Shepard. I honestly think I'll look back on this time and feel like Dax and Monica (his co-host) were part of my pandemic experience, ha!
I note this topic, because I really enjoyed those solo runs with my podcasts for company. Running during this year introduced me to running with podcasts, which I hadn't really done that much in the past.
Running for Fitness:
With gyms closed for portions of the pandemic (again now in Minnesota), and not really being comfortable going to a gym even when they were open, I am so grateful to have running as an option for fitness.
Fresh air! Nature!
The outdoors isn't cancelled. Getting outside is so good for so many reasons.
Grateful for the running/blogger community!
I still enjoy sharing my life here on my little space on the internet, and running is what I write about! I'm grateful that people are still following along. Thank for reading and being such a supportive, awesome virtual community during this crazy year!
Why are YOU grateful for running this year?

Please share! And be sure to check out Kim and Zenaida's blogs while you're at it.
(Visited 337 time, 2 visit today)