Happy Thanksgiving!
Kim from Kim Runs on the Fly put together this cute little collage of the bloggers who participate in this link-up, doing our Thanksgiving runs. It's a great little virtual community!
Also, if you missed it, I shared all the reasons I'm grateful for running this year in THIS POST.

My Thanksgiving week included a lot of running; I'm doing a two-week running challenge through work and I have a reputation to uphold, ha! I'm on a team of five randomly selected people; they're counting on me! So I ran lots of miles, no workouts, just easy running.
Here's how it all worked out:
Monday: Early morning 7.5 mile run, 9:25 min/mile average. I went back inside the house to grab warmer gloves and kept my Garmin going, so my first mile was a 12 min/mile, so I do think my actual pace was a little faster. But I needed those warmer gloves!
Virtual 1:1 strength training after work
Tuesday: 8.15 uneventful miles before work
Wednesday: 7 miles before work, Virtual 1:1 strength training after work
Thursday: Thanksgiving! With no Turkey Trot races due to Covid, I just did an easy 9.2 mile jog. (Ruth did not run that far- her longest run so far is just a 10k/ 6.2 miles!)
I took off my gloves post-run and put them on top of our kitchen island…and someone quickly grabbed one and destroyed it!
Ugh, Ruth..you're lucky I still love you.
Dustin and I ordered the "Everything but the Turkey" meal from Young Joni, which included a ton of amazing sides, and then we cooked the turkey. Perfect for a small celebration this year.
We did a Zoom with my immediate family; my sister Emily had gathered fun facts from everyone and did a little powerpoint trivia game. It was so fun!
Friday: Slept in- still so full when I woke up! I eventually made it out for 4 miles with Ruth, 8:15 min/mile, and then a quick 1 mile walk with both dogs. I had the day off of work, so it was a lazy day. I did some cleaning, some baking, and some lounging in front of the TV. Such is the quarantine life!
Saturday: A casual half marathon on a sunny Saturday!
I was actually a little overdressed for temps near 40 and sunshine. I quickly lost the gloves and could have gone without the old Grandma's Marathon jacket. 13.34 miles at a 9:05 min/mile average followed by a 1.5 mile power walk with the dogs, then some Thanksgiving leftovers, some time in the Normatec boots, and a nap!
Sunday: Dustin, Ruth, and I seem to have a Sunday tradition now of a run together, often followed by a short little jog with Matilda (our 11-year old vizsla.) Not complaining! 5.3 miles at an 8:30 min/mile average. 35 degrees but SO windy- yikes! I think there's a cold front moving in. We picked up Matilda for 1.2 more miles around the neighborhood.
Summary: 55.7 miles of running, 2 virtual strength training sessions.
In somewhat running-related news, I recently purchased these two Katie McCollow watercolors, depicting running scenes in the Twin Cities. I learned about her on Gear Running's instagram and am very excited to frame and hang up these new pieces!
I hope you're staying safe and healthy during this crazy time. Wear a mask!
I'm linking up with Running on the Fly and Confessions of a Mother Runner Check it out!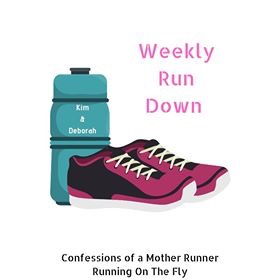 (Visited 207 time, 1 visit today)