After last week's blizzard, this week ended much much milder! It started out cold; in fact on Tuesday's run, it was cold enough to kill my iPhone! But then Halloween was one of the warmest in Minneapolis in quite some time.
But enough on the weather, ha! It was a solid week of running, including an actual in-person 10k- woohoo!
Here's my recap:
Monday: 7 miles on the treadmill, 9:05 min/mile average, PT appointment with dry needling, virtual 1:1 with Discover Strength after work. The trails probably would have been fine to run outside, but I was able to keep an eye on work stuff while running on the treadmill, so it just made more sense based on my workload that day.
Tuesday: Short speed workout before work- chilly out there too, with temps in the teens! My body didn't want to move fast, but I tried my best.

3 mile warm-up, 5x (90sec@ 5k effort, 1min easy, 30sec@ Mile effort, 2min easy), 2 miles cool down. I didn't quite hit the paces my coach had written in for the 5k or 1 mile effort, but I did what I could on the day.

8 miles total at 9 min/mil average.
Wednesday: 7 miles easy before work, 9:25 min/mil average. Nice and easy recovery. Discover Strength virtual 1:1 over lunch, and then a bonus 5 miles with two coworkers after work for a 'networking run', 9:20 min/mile average. 12 miles on the day.
Thursday: Total rest, other than a dog walk or two. Perfect after a very full Wednesday.
Friday: 4 miles with Ruth (8:40 min/mile average) in the dark before jogging to my PT appointment (0.8 mile), then PT, then jog home (0.8 mile) for about 5.5 miles total. I also took a 1:1 virtual strength Discover Strength training session over lunch.
Saturday: My first in-person race since the Atlanta Marathon in March!
The race was the MNy 250 Halloween 10k, which went around Bde Maka Ska and Lake of the Isles, i.e. a starting line less than a 1/2 mile from my house. Perfect!
It was actually the first race I have done, other than the Twin Cities Marathon, that goes around Lake of the Isles! I run that lake all the time, but races rarely are held there. Because this 10k was so small, the road wasn't even shut down to traffic; instead we just ran on the pedestrian paths but it was perfectly fine for such a small event.
Most races run around Bde Maka Ska or even more commonly on Lake Harriet for 5k's and 10k's. 
Look- all the snow is gone. And I'm in SHORTS!
The race was so fun! I plan to share more about the race in a separate post, but overall it was a lovely morning (well, except for some 40 mph wind gusts!) and it felt great to be at a race again.
Twin Cities in Motion, the organization hosting the race, did a great job with Covid-19 safety precautions.
Great job Twin Cities in Motion!
With a 2 mile warm-up, the 10k, then 1.3 mile cool-down, I had about 9.5 miles on the day.
Sunday: Loved that extra hour of sleep! Dustin, Ruth (the 1 1/2 year-old vizsla), and I ran 5.3 miles together, 8:25 min/mile average. Then we dropped off Ruth and picked up Matilda (the 11 year old vizsla) for another 1.13 mile jog around the neighborhood, 10 min/mile.
Matilda seems to enjoy a short easy jog; as long as she's feeling good, I figure it's okay for the little old lady to jog a bit still.
Summary: About 48 miles of running, 3 strength training sessions, 2 PT appointments (with dry needling.)
My Achilles has been feeling pretty good and I'm going to start going to PT just once a week, then hopefully every other week, and then maybe done!
Did you all do anything special for Halloween?
We did not…our neighbors handed out candy on tables outside their houses, but since we don't have kids, we skipped this year and just cooked at home and watched another documentary. God, we're boring. 🙂
I usually love Halloween and spend way to much time coming up with a costume, but not in a pandemic! This year was one of the warmest Halloweens on record, with temps near 60, which is nuts after last week's blizzard, right? But with cases increasing like crazy, no Halloween parties for us this year.
Ruth and Matilda did put on their costumes briefly- Ruth was a demogordon and Matilda was a lobster!
Ruth and Matilda also want to remind you to vote this Tuesday. They were disappointed to learn dogs can't vote. Please make sure you use your vote since they can't!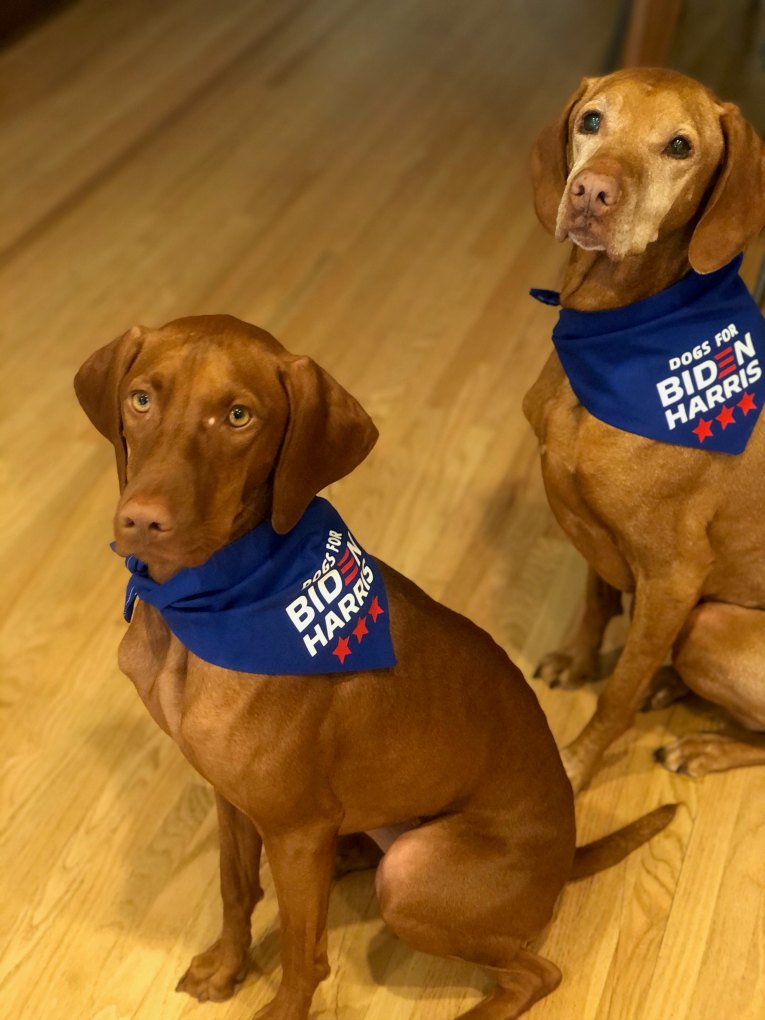 I'm linking up with Running on the Fly and Confessions of a Mother Runner Check it out!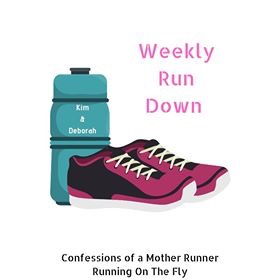 (Visited 264 time, 1 visit today)