Hello everyone! I hope you had a great week.
If you missed it, I shared some of my favorite running brands on Tuesday as part of Kim and Zenaida's link-up. Catch up HERE.
I wouldn't say it was a great week in Minnesota; we're essentially back to where we were in March with sheltering-in-place; restaurants, schools, and gyms are closed. Sporting events are cancelled; there is still some retail open, which is different than our first shutdown, but we are strongly discouraged from spending Thanksgiving with anyone outside of our immediate household. So it will be a Thanksgiving for two this year (four, if you count Ruth and Matilda, who will surely try to steal some turkey if given the chance!)
The new restrictions also mean that the 5k I was planning to run around Bde Maka Ska on Thanksgiving day won't be happening any longer. Though I thought Twin Cities in Motion did a great job with the in-person 10k they held on Halloween, I totally understand why this one needed to be cancelled.
I'll just keep on running for the love of the sport, even with no real goals on the horizon!

Related, stop by on Tuesday for a post about why I'm grateful for running this year!
Here's how things went in fitness this past week:
Monday: 7.3 miles before work. I was treated for my efforts in getting up to run with the most beautiful sunrise over Bde Maka Ska. No filter. Just beautiful sky!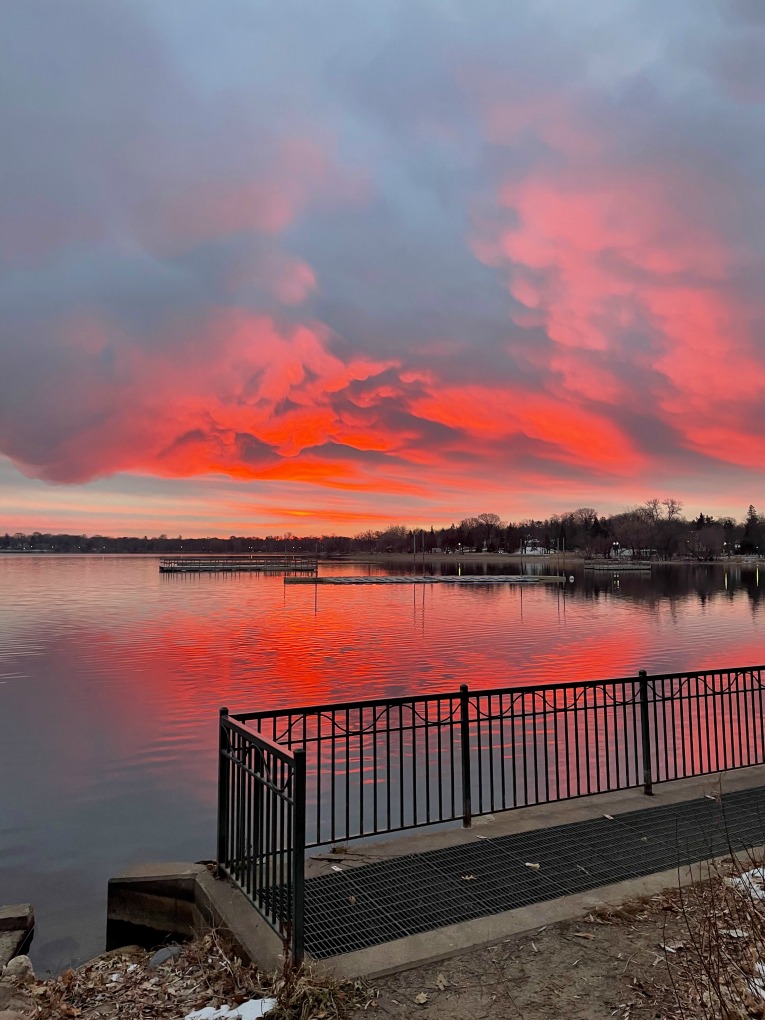 7.3 miles, 9:05 min/mile average.
Virtual 1:1 strength training session via Discover Strength.
Tuesday: Workout Tuesday this week! 25 minutes easy, 8×2 minutes at 5k effort (goal was around 7:15 min/mile) with 90 second recovery, 15 minute cool down to 8 miles, 9:05 min/mile average.
Wednesday: I ran a route I've done many times, but for some reason I thought it would still only be around 7 miles and it ended up being 9.15 miles! Whoops. I felt okay though and still had plenty of time to shower and get ready for work. The joy of working from home!
I wore a new pair of "Chase the Chill" tights from Luluelemon; perfect for a run in temperatures in the teens!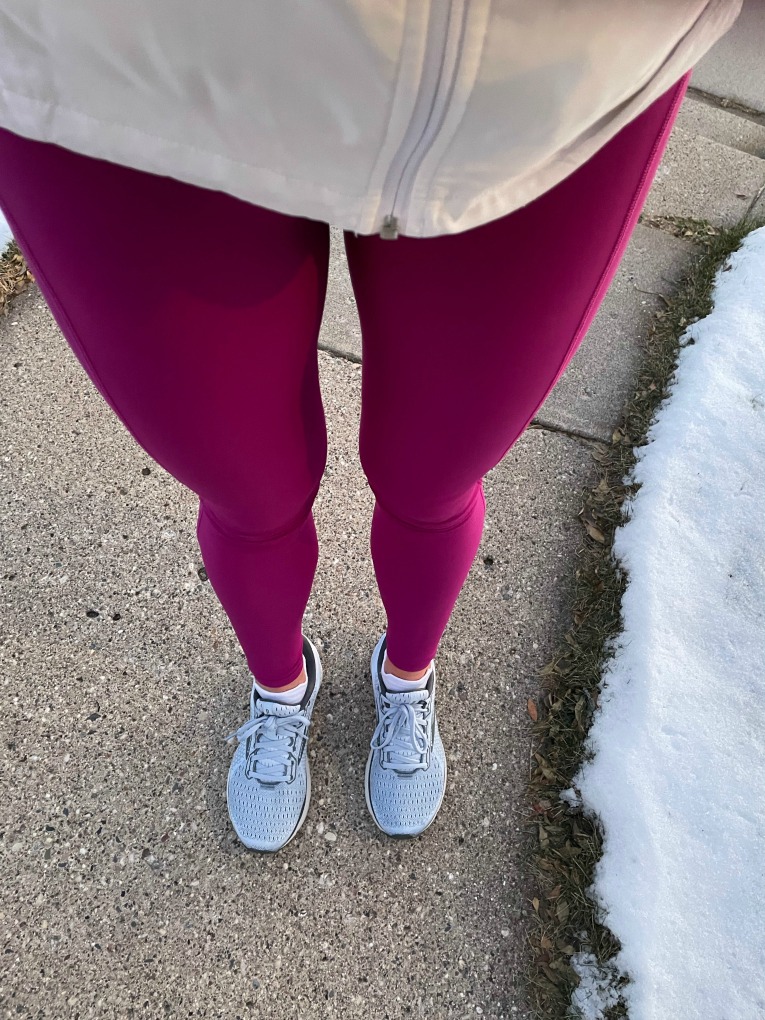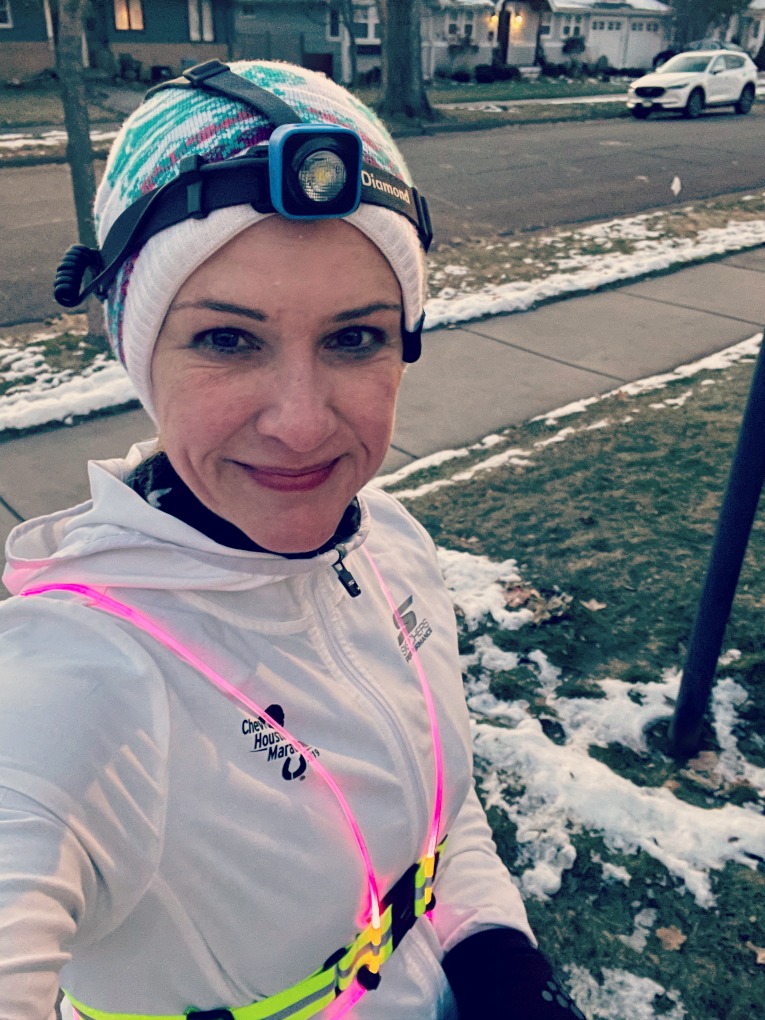 Virtual 1:1 strength training session after work with Discover Strength.
Thursday: Really easy recovery run, 7 miles at 9:42 min/mile. Warm enough for shorts in November; big difference from the day before when my morning run was in the teens!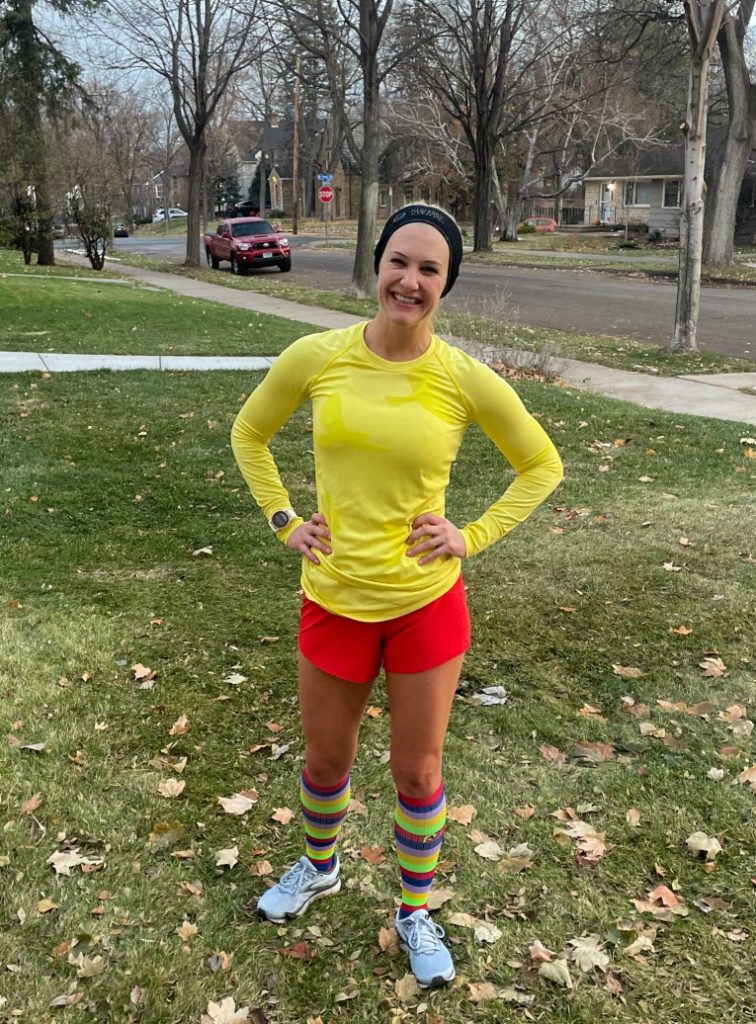 Friday: Early morning PT appointment for my Achilles. It had been awhile since I had one; she still did some dry needling and lots of exercises to keep retraining my glutes. I squeezed in a quick 4 mile run with Ruth afterwards, 8:15 min/mile average. Ruth likes to push my pace a bit!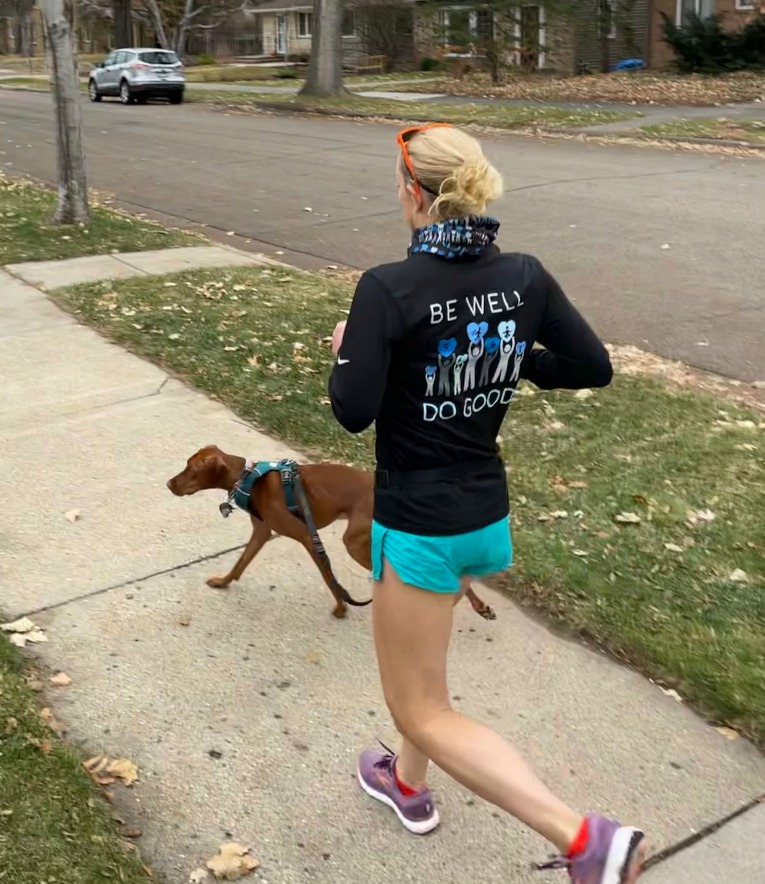 Virtual 1:1 strength training session after work with Discover Strength.
Saturday: My coach originally put an intimidating workout into my long run, but after the 5k was cancelled, I asked her if I could just do an easy long run instead. My office is doing a running challenge and the goal is to run "the most miles" in two weeks on a team of 5 people vs. several other teams. I wanted to just do 12-13 easy instead of a hard workout and my coach was okay with that change.
So I ended up with 13 easy miles, saying hello to downtown Minneapolis (which still has quite a few buildings boarded up from the riots). It was a chilly 22 when I started, but it warmed up to the mid-30's and the sun was shining. The sun definitely helps!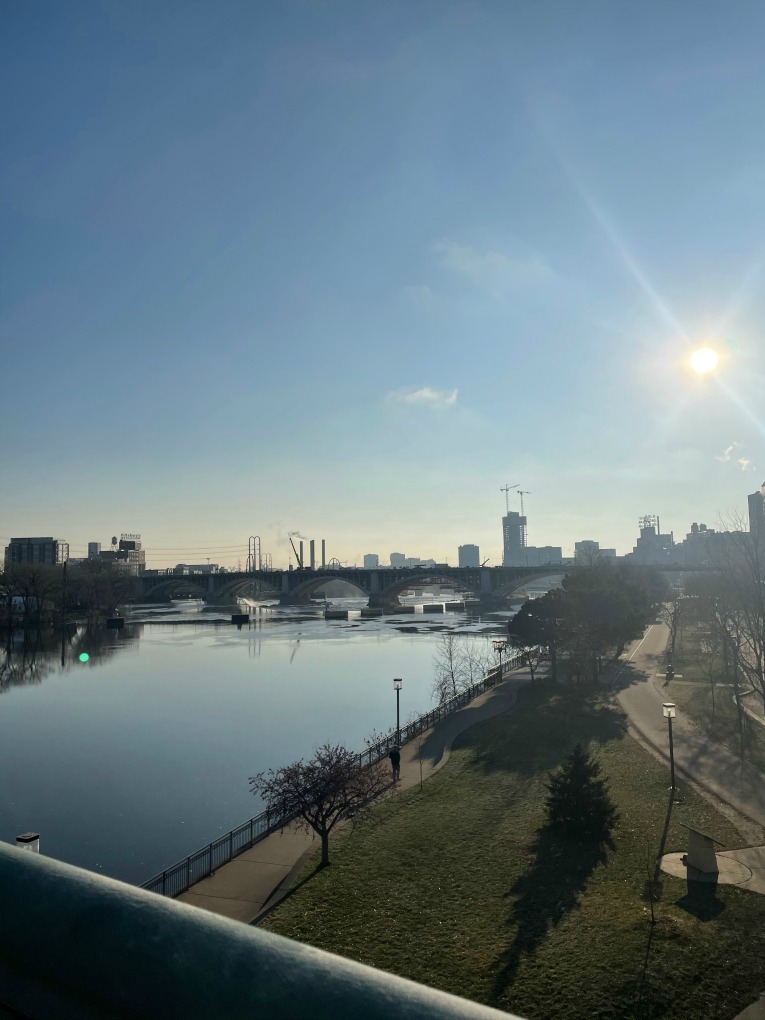 After 13 miles, I stopped home to pick up Ruth for one mile, and then dropped her off and picked up Matilda for one bonus easy mile with her.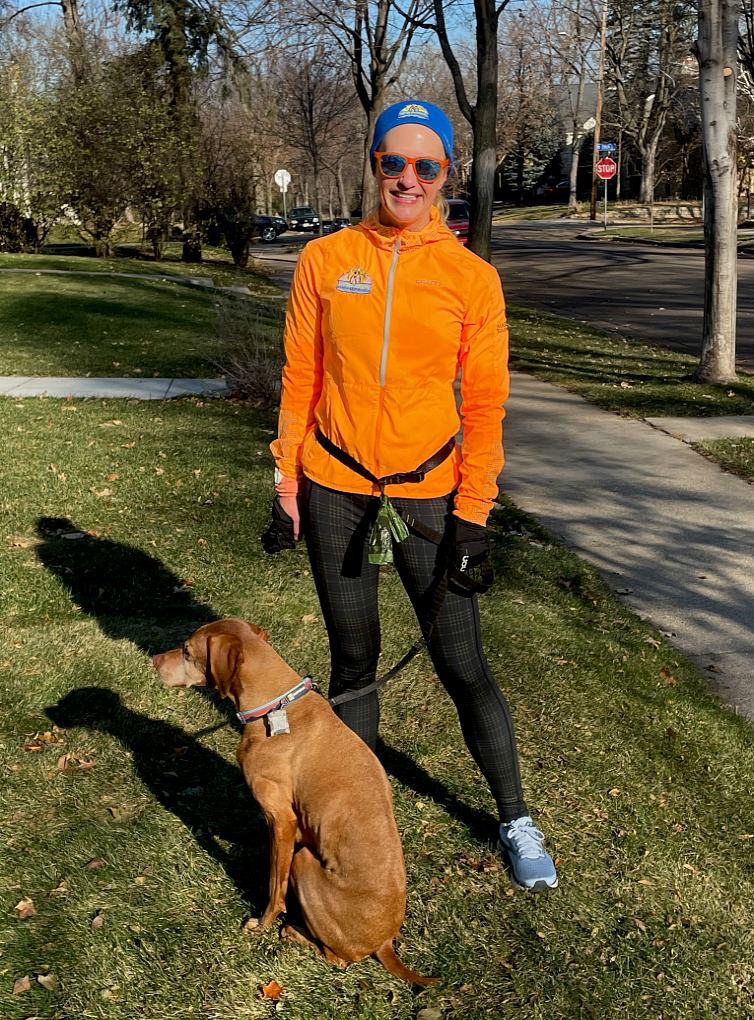 15.3 miles total! Definitely the longest run I've done in quite some time, probably since before the Boundary Waters in August when my Achilles really flared up.
The rest of the day was very low-key; cleaning, organizing, and just hanging out at home the way Dr. Fauci wants us to. 🙂
Sunday: It snowed a little overnight, so we waited until it had melted a bit, and then Dustin, Ruth, and I did 4 quick miles, 8:20 min/mile.
Summary: 55 miles of running! Big week. 3 virtual strength training sessions.
In non-running news, I finished the latest season of The Crown. Loved it. Sparked a new interest in the royal family's style!
And that's a wrap!
I hope you're staying safe and healthy during this crazy time. Wear a mask!
I'm linking up with Running on the Fly and Confessions of a Mother Runner Check it out!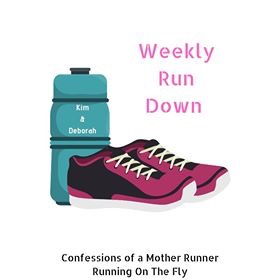 (Visited 225 time, 1 visit today)