Sunday marked one week since the Outer Banks marathon. After a week of no running, I decided it was time to go for an easy run and I brought Matilda (the vizsla) with me.
Now, neither of us had run since winter hit in Minneapolis, as it was in the 40/50's when we left for vacation. But if I was going to run, I was going to have to face the cold….and cold it was! Sunday morning was a windy 6 degrees. I was not ready for that.


Apparently, neither was Matilda. She did the run with me on Sunday, but I don't think she enjoyed it. The next morning (Monday) I got up before work for another run . I grabbed Tilda's leash to head out the door…and she rolled over and said "no thank you." I even tried my super-excited voice, "Tilda! Don't you want to go for a run? It will be SO MUCH FUN!" 
Nope. She wanted to stay right where she was. Inside. Where it was warm.
I know that vizslas are not cold-weather dogs, but usually I am able to run with her through at least Christmas! I suppose she usually has more time to ease into it. I don't blame her. I would have liked more time to ease into it too!
Even though Matilda rejected the morning run, I feel better knowing that she hasn't written off winter running completely. Dustin had the day off of work yesterday and he ended up running with her after the sun was out and it was closer to 20 degrees. He said she seemed to be enjoying herself and gave "no complaints."
However, it did get me thinking about tips for winter running with your dog.
It seems that there are a lot of factors to consider for winter running with your dog.
Breed:
Cold weather running definitely depends on the breed; Huskies, Bernese mountain dogs, and others with thick coats are great winter runners. Breeds with a single coat like vizslas and weimaraners are not great cold weather dogs.
Experience:
A hardy Midwestern dog that is used to the cold is better off than a dog that just moved to Minnesota. If you haven't run in the cold with your dog, be sure to ease into it with shorter runs at first.
Age:
Puppies and older dogs can't handle the cold as well.
Carrying a few extra pounds?
The amount of body fat on a dog will make a difference too. Lean, muscular dogs (like vizslas) tend to get cold faster than those with a few extra pounds for warmth!
There are also a lot of precautions you can take to ensure your dog is safe and comfortable for a cold run.
Put on your winter jacket! 
Dogs have almost as many options as humans do when it comes to winter running gear!  There  are sweaters, performance fleece, and fleece lined jackets to keep them warm.  Tilda has a plethora of options.
She has a fleece: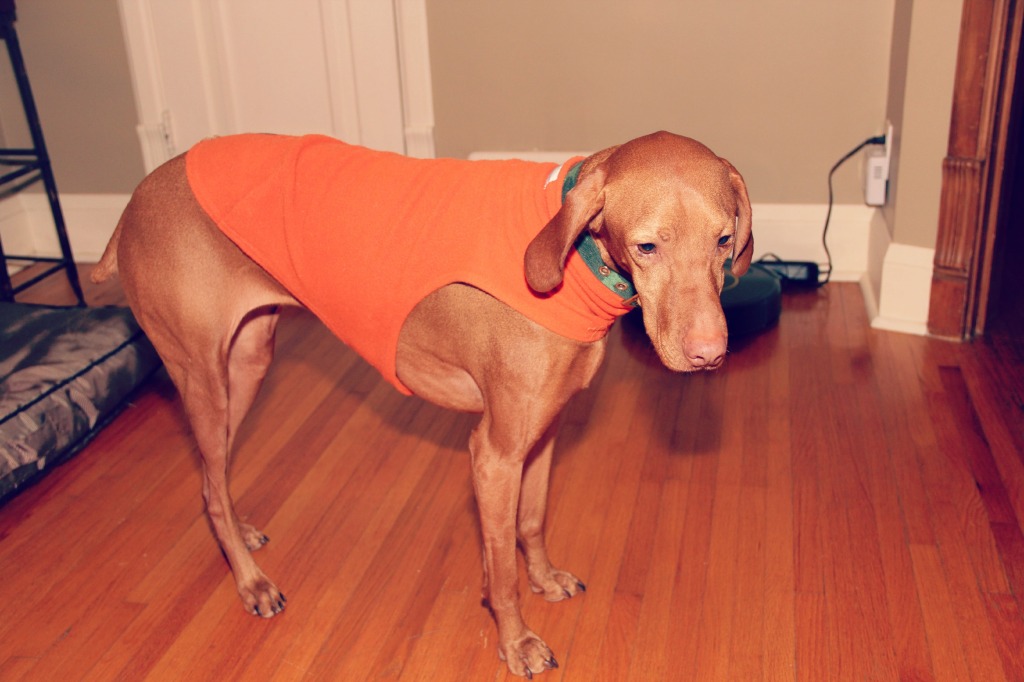 She has a performance jacket:
She also has this very stylish cowl-neck sweater- not for running!

There are a lot of options out there to keep your furry friend warm during the winter.
Protect your paws!
There are a lot of dog booties out there that can help protect your dog's feet from the elements. Unfortunately, we have tried a few different brands and they just don't stay on Matilda's feet when she's running.
We have tried Muttluks:
We have also tried Ruffwear booties:
Between the two options, the Ruffwear boots stayed on better, but neither seem to work that well for Tilda. Also, as you can tell from these pictures, she looks so sad wearing them. I couldn't make her do it…But that's not to say they don't work for some dogs, as I have heard that others have had much better luck.
Instead of boots, we usually use Musher's Secret, which is a salve to put on her paws. It gives them some protection and is supposed to help keep the paws from cracking. It's natural and permeable (for sweat).
For dogs with longer hair, I have read that you should really keep the fur trimmed on the paws to prevent ice and snow from building on them in the winter.
The Right Fit in Dog Booties:
If you do decide to try out booties, you want to find the right fit, just like you want to find the right running shoe for you!  Make sure the booties aren't too small so that there is room to allow her toes to spread out. You don't  want them to be so tight that they cut off circulation to your dog's paws.  Of course, too large and your dog will have trouble getting traction or else the booties just won't stay on.
After Each Run:
Inspect her paws for cracking or frostbite.
Rinse her paws off in warm water, especially if you were running in areas that are treated with salt or de-icer. You don't want your dog licking its paws with those chemicals on them.
Provide lots of fresh water. The winter air can be very drying and even if your dog isn't panting, she probably is getting dehydrated.
Other Tips:
Pay attention to your dog! Is he/she picking up his paws as though in pain? Shivering? Or is he playful, enjoying the snow? Tail wagging and excited to be outside? I listened to Matilda on Monday morning and knew she was not up for running with me in the cold.
Beware of Frost Bite:
It is possible for your dog to get frostbite on its paws, noses or ears. If you think your pup might have frost bite, it may need to be taken to the vet.  You can first try a warm towel or your warm hands to slowly warm the exposed area back up, but when in doubt, consult your veterinarian.
Fuel for Your Dog:
Running in the snow and ice is harder than on a dry warm day, you may need to increase your dog's food to keep her healthy in the winter!
You may want to consider carrying treats for your dog as well.
By following these tips, cold weather running can be an enjoyable experience for you and your dog!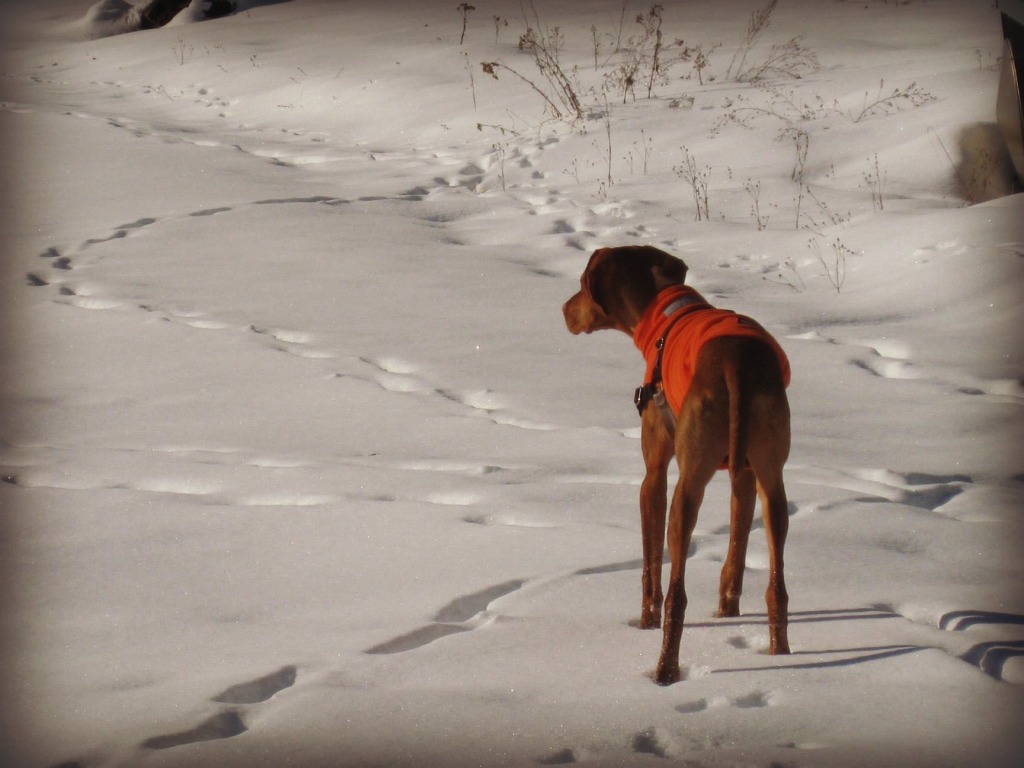 (Visited 889 time, 1 visit today)