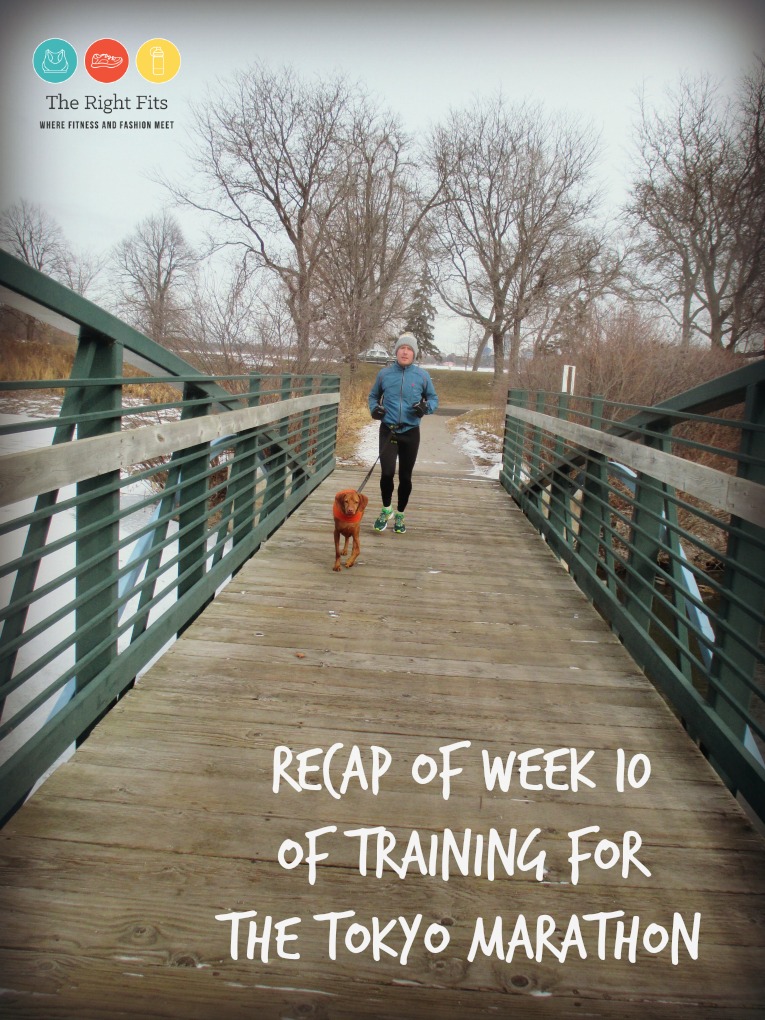 Remember this post, when I first announced that I would be running the Tokyo Marathon? It was a week before the Outer Banks Marathon. It seems like ages ago!
On November 9th, I ran the Outer Banks Marathon after which I took 2 weeks off from training. Then I dove right back in to preparing for the Tokyo Marathon.
Now I am on week 10 of training with only 3 weeks left to go!
Here's how week 10 went down:
Monday: Rest. After 61 miles the previous week, I needed a rest day. My coach had me build up last week with pretty high mileage before cutting back drastically this week. I'll have one more big week next week before the magical taper begins.
Tuesday:  2 mile warmup for 5x1000m (0.62 mile) with 3:00 minute recovery, 2 mile cool down. 9 miles total. I was supposed to do the 0.62 miles at a 7:15 pace. Dustin paced me for this; I was able to do the first 4 on pace, but on the 5th, I slowed down quite a bit and couldn't do it.  I appreciate that Dustin was there; he did his best to keep me on track, but I couldn't keep it up on the last one. 4/5 isn't too bad, is it?
Wednesday: 4 miles easy with Matilda
Thursday: Another speed workout on the schedule. I was supposed to do 15 sets of 1 minute on, 1 minute off, with a sub-7 minute mile pace for the "on" minutes. I did this run in the morning and the trails were pretty slick. That, combined with my tired legs, meant that I definitely did not complete this workout as planned. I ended up with 8 miles total and "best efforts" with the minute "on" as hard as I had in me that day.
Friday: Rest day. I was supposed to do the Great Race Across the Lakes but I decided running across the slick ice in the dark wasn't the smartest thing I could do three weeks before flying to Japan to run a marathon, so I backed out.
Saturday: 16 mile long run. My coach had me run 2 miles to warmup with 12 miles at goal marathon pace and 2 miles to cool down. I ran a few miles before our running club met at 8 am. Then I tried my best just to keep up with two girls who are training for the Boston marathon- they usually run much faster than me on the long runs, but I toughed it out and did the 12 at sub-8:30 pace. (faster than goal marathon pace) It was much harder than a slow, easy pace for a long run, but it was still a success. I was definitely happy to enter that run into my training peaks!
Overall, both of my workouts this week didn't feel very strong, but my workouts  last week were both really good, so I'm not going to let two rougher workouts define how I feel going into Tokyo. Yet it was great to have this strong workout-within-the-long-run to end the week on a stronger note. I understand why my coach does these runs; it helped me to gain confidence in that goal pace for a longer distance.
Sunday: solidcore and then an easy 5.5 mile run with Dustin and Matilda the vizsla. It was so cold and windy out there! It was not fun for any of us.
Dustin actually had to add on more miles after we got home so he dropped us off and kept going. Tilda was pretty stressed out as to why he was still running outside! She kept watching for him out the window. She's definitely daddy's girl!
Summary: 43 miles of running, 2 rest days, 1 solidcore class
Outside of running, it was a busy week at work, with a few nights where I was at the office quite late. Unfortunately, that led to some unhealthy and late dinners and poor sleep. I'm hoping to get back on track this week to ensure I'm getting enough sleep and eating the right foods as I head into the final weeks before the Tokyo marathon.
Another thing I am doing is taking a daily probiotic. Specifically, I am taking Sound Probiotics. This particular probiotic was developed specifically for athletes, with a focus on boosting immunity and improving health. 
Ideally, this probiotic will help get me to starting line healthy. We're still in the middle of cold and flu season, and it would be a big disappointment if I got sick for our trip, so I am taking precautions. Fingers crossed that it does the trick! You can read more about the actual science behind this probiotic HERE.
Do you take a probiotic? Daily vitamin?
(Visited 250 time, 1 visit today)