Happy Sunday! I'm here with my normal weekly recap of training for the Tokyo Marathon. This was a big week for me, though I'm not in the taper quite yet. In the past, I would taper for three weeks, but my running coach is having me taper for only two weeks. I have a cutback week next week in mileage and then one more big week before a 2-week taper. I'm not sure how I feel about a 2-week taper, but I'm just doing what he tells me to do. Trust the expert!
Monday: I returned home from NYC mid-morning. Dustin and I both had off work for the MLK holiday, so he was willing to pace me for a tempo workout.
Workout: two miles to warmup, 5 miles at tempo pace, and 1 mile cooldown.
The tempos that my coach has me do are longer than those I would normally do with the CBRC training; however, they are at a slightly slower pace too. My goal was to stay under 8 min/miles for the 5 mile workout, and I did. Dustin kept me right on track: 7:54, 7:52, 7:48, 7:52, 7:53. I felt strong and was really happy with how this workout went. It felt GREAT to be running outside, in the sun (albeit the cold) and I was grateful to have Dustin keeping me on track. Afterwards, I joined my friend Vicki at solidcore . I love this class! I really want to try to go here at least once a week, which I can do now with my ClassPass! My running coach believes I can fit it in on the same day as a running workout, as long as I do it after the run and then really make sure my easy run days are easy.
Tuesday: Easy 8 mile run with my friend Kelly and Matilda the vizsla.
Wednesday: Easy 5.5 mile run with Matilda the vizsla
Thursday: Lucky me, Dustin paced me again for this speed workout! I was supposed to do 2 miles to warm-up, then 2 sets of 4×400's at a 7 min/mile pace, with 2 minutes recovery between each 400, and 3 minutes between the sets. This was tough for me, but again, Dustin kept me on track and I did exactly what I was supposed to do. It would have been a lot easier to do this workout on a track, but that's not easy to find in the dead of Minnesota winter!
Friday: 4 mile easy run with Matilda the vizsla. My legs were definitely tired from the week's workouts.
Saturday: 22 mile long run. I really lucked out with the weather for this run. It was mid-30's and sunny; late January in Minnesota could be a whole lot worse! I had great company as well with some runners at the CBRC. It felt great to be back at the run club and thankfully, the run felt pretty good. Yay!
Sunday: 5.5 mile easy run with Dustin and Matilda. I was supposed to run 8 miles easy, but we received some icy rain overnight and the trails were super slick. Dustin and I were just trying to stay upright and decided to cut the run short rather than risk broken bones on the slippery trails.
Summary: 62 miles of running, 1 solidcore class
I'm feeling okay, even with the higher mileage, but I want to make sure my IT band doesn't become an issue. Therefore, I went to see Dr. Crabtree at Uptown Natural Care Center for some preventative ART (active release technique) and Graston.  What was unique about my appointment this time was that he suggested that I try kinesiology tape. I have seen plenty of other runners using this in a variety of places on their bodies, but I had actually never tried it.
Dr. Crabtree said RockTape is the best brand.
He set me up with a roll and showed me how to properly apply it for my IT band. Each application should last for about 3-4 days, even if you shower every day. (You just can't put lotion on your legs.)
I had to have Dustin apply it after the first application wore off, as its best to have your leg stretched out when applying for IT band pain.

I don't entirely understand how it works but Dr. Crabtree explained that the idea behind it is that the tape has a lifting effect underneath the skin and between the many layers allowing for greater blood flow to and from the affected area, allowing the body to flush out all the toxins from inflammation and injury. The tape slightly lifts the skin to create more room for all the good stuff to flow through.
It also interferes with painful signals which are directed to the brain. It helps to change how your body interprets pain, turning down the pain "volume" that your body hears. RockTape does so by affecting the nerve endings and different types of receptors in the skin of the injured area.
For IT band pain, you only need to apply one strip from your hip to your knee. The "base" at the hip should be applied without a stretch and then you stretch the tape to the "base" at the knee. I wore the tape for my 22 mile run and it seemed to help…but who knows, it might all be mental!  I figure that its worth a shot, especially if a doctor recommends it. It can't hurt and hopefully it is actually helping.
With that, I'll leave you with a gratuitous picture of Matilda lounging after all her running this week. She takes her rest very seriously!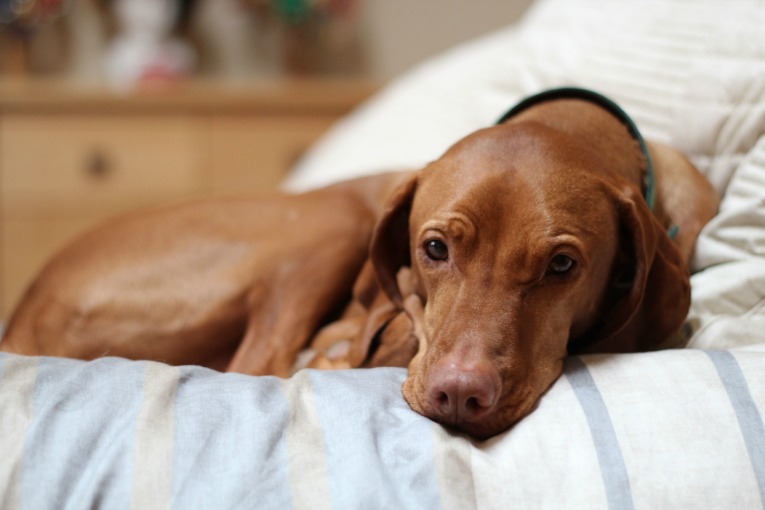 One more thing…are you joining the Great Race Across the Lakes next Friday? Ben from 6run2 has organized a fun run across Lake Harriet, Lake Calhoun, Lake of the Isles, and Cedar Lake this Friday at 7 pm. You can read all about it HERE.  It sounds really fun and very Minnesotan. Hope to see you there!
(Visited 332 time, 1 visit today)