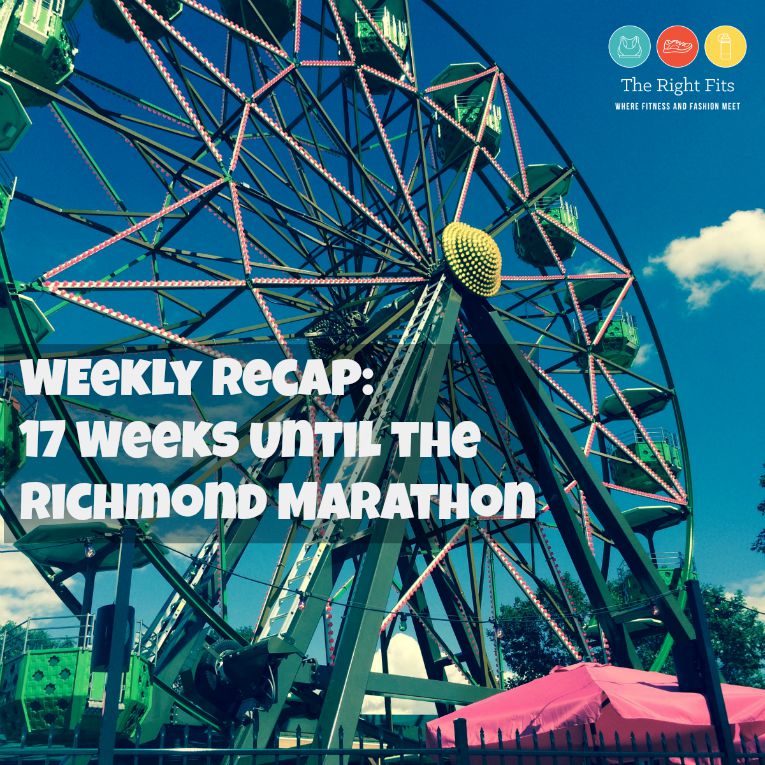 Another week has passed. This summer is just flying by, isn't it?
Another week means it's time for another weekly recap of my training for the Richmond Marathon! Here's how it went down this week:
Monday: I met a few friends before work to beat the heat. I had the following workout: 6x1200m at a 7:40 pace with 1 minute rest in between. 1 mile warm-up, 1 mile cool-down, 7 miles total. This felt a lot better than the same workout the previous week, when I did it after work. What a difference slightly cooler temps can make!
Tuesday: I met another friend for a 7 mile morning run around the lakes. She's quite a bit faster than me, so we definitely were going at a faster-than-easy pace, but it still felt okay.
Wednesday: The Torchlight 5k! I will have a race recap up in a few days. With about 2 miles to warmup, I ended up with about 5 miles total.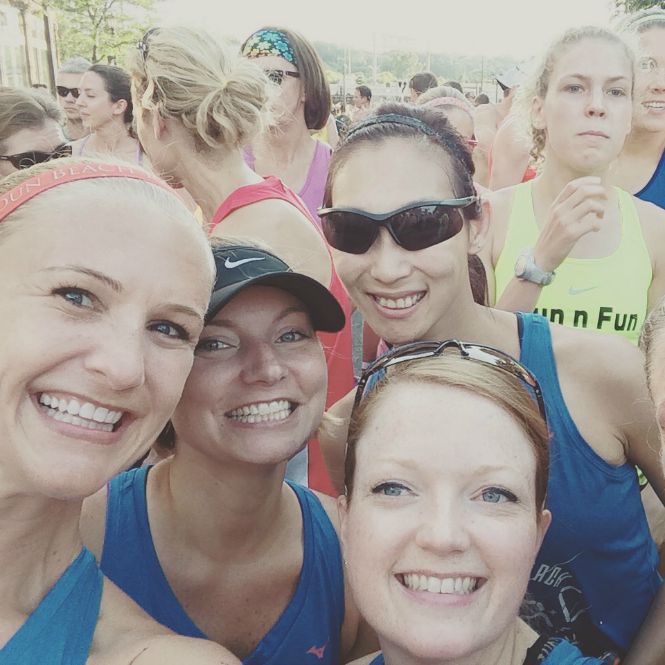 Thursday: Rest! I had an appointment at Orthology over my lunch for a tune-up. I had planned to have them work on my IT band. But when I got there, they had me do a few one-legged squats and I realized the pain was actually in my Achilles! They worked it out SO GOOD (but so bad?) Seriously, their unique method is pretty painful (read more here) but it feels so much better now. They also gave me a few simple stretches to do to stay on top of it to ensure it doesn't get worse! The Achilles is not a tendon you want to injure, so I am going to be VERY diligent about doing the stretches.
They also taped my Achilles with RockTape. It seemed to help, but it didn't stay on very well during my next hot, sweaty run. I have used it before on my IT band, but something about the location of it for my Achilles, it came off right away. I'm not sure what to do! Maybe I still had lotion on my legs or something…
Friday: I was supposed to do a hill workout on Thursday, but Wednesday's Torchlight Run ended up being a late night, so I couldn't get myself up early. But I had an appointment after work on Thursday, so I couldn't do it then. Just not enough time in the day! I had planned to do the hill repeats Friday morning, but there was a crazy storm going on when my alarm went off, so that was a no-go.
Fortunately, I had a half-day of PTO on Friday for some house project meetings. I ended up doing my hills around 3:30 pm, which was pretty much the hottest part of the day! It was a scorcher. But there was a highlight; I ran into our local weatherman, Sven Sungaard on the Harriet/Calhoun connector! We chatted briefly about where to find the best hills in Minneapolis- he was super friendly! He said he always does his repeats in Theodore Wirth park. He told me that one of the neighborhoods near Theodore Wirth, Bryn Mawr, is Welsh for "highest point." This highest point in Minneapolis is in Theodore Wirth! Who knew? 
Saturday: 14 mile long run with the Calhoun Beach Running Club. Another scorcher- humid, hot…The first 10 miles felt okay, but by the last 4, the heat was really getting to me and I had to slow down quite a bit. I also think my legs were tired from having to do my hills so late on Friday- definitely not an ideal recovery between that workout and the long run.
But a highlight! The Greens n Ginger smoothie from Jamba Juice was so refreshing after that hot run.

Sunday: Easy 3 mile recovery run with Matilda the vizsla and then I met my friend Christie for her first [solidcore] class. Man, this class kicks my butt every time, but I love it!
Summary: About 42 miles and 1 [solidcore] class
The rest of our Sunday was spent doing lots of Minnesota summery things…We took Matilda for a walk to get iced coffee and a quick stop by Gear for a gift for a friend.
Later in the afternoon, we checked out the Webber Natural Pool– first of its kind in the country!
It's also free, FYI, so if you want to check it out, there's not much of a commitment.
We sunbathed and swam for a little over an hour before stopping by Betty Danger's Country Club for a cold drink and a bite to eat.
It was a fun week and an even better weekend.
I hope you had a great, hot July weekend as well!
(Visited 284 time, 1 visit today)