Girlfriends. Aren't they great?
I have four girlfriends that I have known for my whole life (see below pics with 3 out of the 4 of them!)
Yep, my sisters.
Many years ago, I gave my sister a magnet that read, "Sisters by Chance. Friends by Choice."
Blah. So corny!
But so true!
I feel #blessed (yes, I just did that…) to have these four people as lifelong friends. They knew me back in the day and they'll be with me in the future.  Recently, with my mom's health scares, I have come to appreciate these four girlfriends even more.

When something good happens or when something bad happens, these are the first people I want to call. They're pretty awesome.
Other than my sisters though, some of my best girlfriends are girls I have met through running. Our friendships have developed by being active together.
I have met some seriously strong, amazing women through my run club, through the broader running community, and even through this blog! (You guys are my friends, right?)
So it's time to celebrate all these awesome girlfriends!
August 1 is National Girlfriends' Day. I encourage you to celebrate this day by doing something healthy with your girlfriends. Take steps together to live healthier lives!
Here are some ideas.
Split a weekly or monthly CSA!
Swap your favorite healthy recipes!
SUP together! Get out and enjoy the summer on the water while getting some exercise. Just be sure to wear your sunscreen.
Seriously though. One of my favorite ways to catch up with a friend is on a run.  For me, it is THE best way to be active while having fun and catching up with your girlfriends.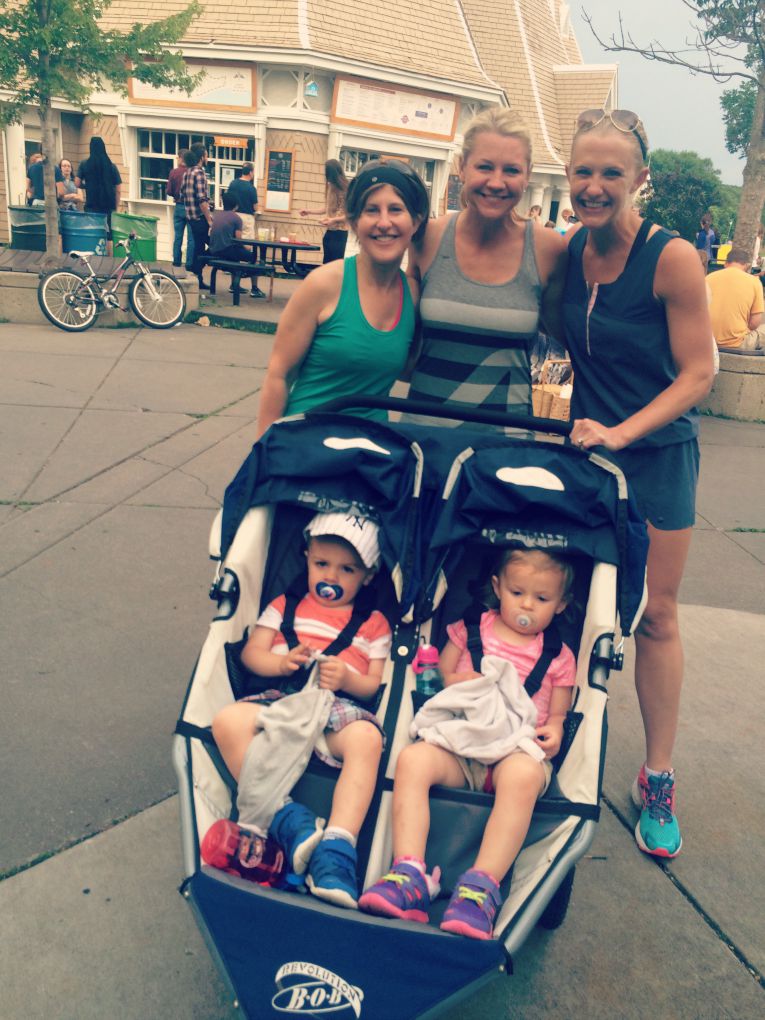 Not a runner? Just take a walk! Walks are the best too, aren't they? Take the time to talk and connect and do something for your mental health!
If you ARE a runner, you and your girlfriends could sign up for one of these local women races together:
Upcoming "Women" Races in the Twin Cities:
The Esprit de She 5k. It's next Thursday, July 30th. I have done this one the past two years.
And I'm doing it again this year! Hope to see you there friend!
There are so many different ways to celebrate National Girlfriends' Day in a healthy way with some of your favorite girls!
I first heard about National Girlfriends Day from Oscar Health Insurance, where I received the below graphic. There's a lot of really useful information on here about staying healthy at any age. I don't want to get too preachy with you guys, but please make sure you're taking care of yourself! Check them out if you're interested in learning more about these check-ups or even their new type of health insurance plans.
I'm all about regular checkups at the doctor; physical exams, yearly ob/gyn appointments, dermatologist checks of any new moles , trips to the dentist, etc. These are all important ways to make health a priority; maybe not quite as fun as the Esprit de She 5k, but just as important for overall well-being for you and your girlfriends. Of course, in order to pay for these appointments, a good insurance plan is vital. Oscar Health Insurance is one good option for you to consider as you make health a priority for you and your girlfriends!
Take a look at these helpful reminders from Oscar Health Insurance:
 Now, I don't want to leave any male readers out. You are my friends too, so make sure you're taking care of yourselves on National Girlfriends' Day, okay?
How do you like to celebrate your friends? Phone calls? FaceTime? A run? A walk with a cup of coffee?  Who do you want to celebrate & recognize on August 1?
(Visited 527 time, 1 visit today)