Hi all! Hope your weekend is going well. I stopped by yesterday with 10 Signs You're on a  Hot Run in case you missed it 🙂
I'm here today with a weekly recap of training for the Anthem Richmond Marathon in Richmond, Virginia! Yep, if you missed it, I have registered for my 20th marathon. It will be on November 14th.
The Anthem Richmond Marathon is flat and fast and ideally, it will be my chance to qualify for Boston. I ran a 3:41:52 at Grandma's Marathon. All I need is a 3:39:59 to qualify for Boston…to QUALIFY that is. Registering will be a whole different ballgame. I'll need something more like a 3:38:30 to potentially register for Boston 2017.
So, that's my new goal, and the Anthem Richmond Marathon is 18 weeks away, so let's call this week 1 of training.
Monday: I ran with the Calhoun Beach Club after work. It had been a little while (since before Grandma's Marathon) I had 6x1200m repeats on the schedule at a 7:45 pace. I started off strong, but the high heat and humidity caused this workout to be a big ol' FAIL. That humidity/heat will get you. Or at least me. It got me.
Tuesday: Easy 5 miles with Matilda the vizsla in the morning. I went super slow and let Matilda take a lot of breaks.
Wednesday: Easy 5 miles with a few friends in the morning. In the evening, I hosted a belated potluck for all the Grandma's Marathon ladies from my run club. What an awesome group of strong women.
Thursday: Rest day from running. I squeezed in a 1-hour barre class at The Barre in Edina (LOVE that place) That evening, the awesome folks at Sound Probiotics took Dustin and me out to dinner at Burch restaurant, along with Erin from sweet sweat life and her man Nick. It was a BLAST. If you like steak, Burch is the place to go, but I'll be honest, I went with a pizza. I couldn't help it! Put arugula and some cheese on some crust and I'm sold.
Friday: My first Flapjack Friday at Mill City Running! My friend Monica and I have been trying to coordinate a Friday that we could go check this out. Every Friday morning at 6:30 am, Mill City Running hosts a free run followed by fresh pancakes.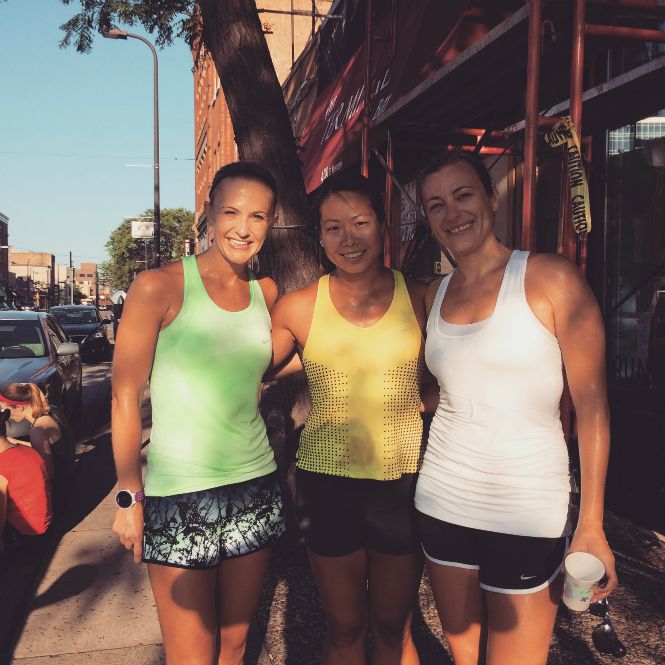 There were a ton of people there this week, partly because it was the two-year anniversary of Flapjack Friday. I ran into Sara from Sweaty Ponytail (who wrote this awesome post about where to run in Philadelphia, in case you missed it), Meggan from the Yoga Garage, and Nathan from Minneapolis Running. What a great Friday morning! I wish I could do it every week, but it was a little stressful trying to shower and still make it to work at a reasonable time. Worth the rush/stress though!
Saturday: 13 mile long run. HOT, HOT, HOT. Minneapolis had a huge storm Friday night and a lot of people lost power, including us. I didn't sleep that well the night before (no air conditioning, no fans = no sleep). I couldn't even do my normal morning long run routine since we couldn't make coffee or use the toaster…AH! With no power, we "had" to head to brunch after the run at Blackbird (yum!). Fortunately, by early afternoon, our power was back…thank goodness! Yet our air conditioner is broken, so it's been a hot weekend. Hoping that it gets fixed tomorrow.
By the way, when we get bad storms, Matilda likes to hang out in the bathtub. So strange!
Sunday: 3 mile easy recovery run with Matilda, another 1-hour barre class at the Barre in Edina. I'm on a roll- two times in one week! I forgot how much I love the Barre. I wrote THIS POST all about why runners should take barre classes. There are so many reasons why its a perfect complement to running.
Total: About 37 miles, 2 barre classes
It was a good week of training!
Later this afternoon, we met some friends at Red Barn Pizza Farm to enjoy the beautiful weather.
Though we had quite a long wait (it was so busy there!), the fresh pizza was definitely worth it, and the company was awesome. Happy birthday Christie!
Have you been to a pizza farm?
Any strange dog behavior during a storm?
(Visited 312 time, 1 visit today)