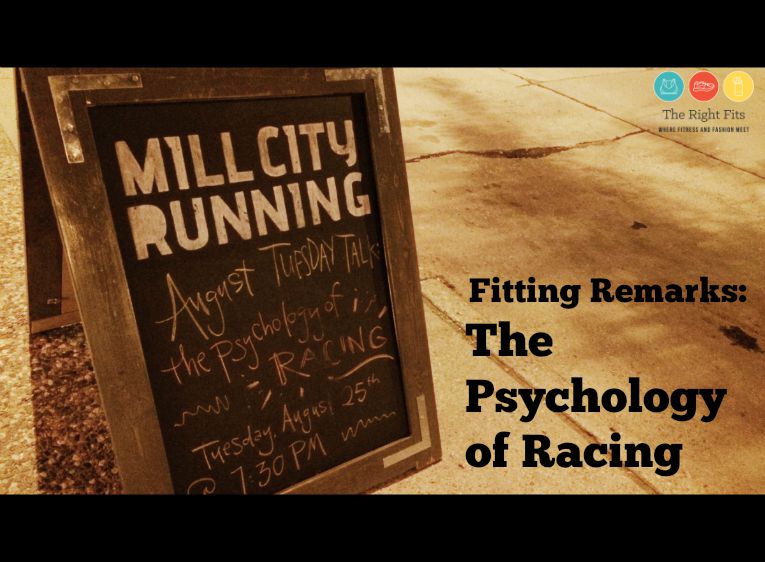 Last Tuesday night, I attended a "Tuesday Talk- The Psychology of Racing" at the Mill City Running store.
Have you been to Mill City Running? What a cute "boutique" running store!
If you haven't been, definitely check it out. They host "Flapjack Friday" runs every week at 6:30 am. I went to one a few weeks ago and it was a blast!
Back to the Tuesday Talk:
This was a free seminar last Tuesday about the psychology of racing hosted by Dr. Allie Wagener, a Licensed Psychologist with a specialization in sport and performance psychology.
If you have been reading for awhile, you might remember that I went to a similar seminar at TC Running Company last fall. Read all about that one HERE.  I found a lot of value in that seminar, so I was excited to attend this one at Mill City Running.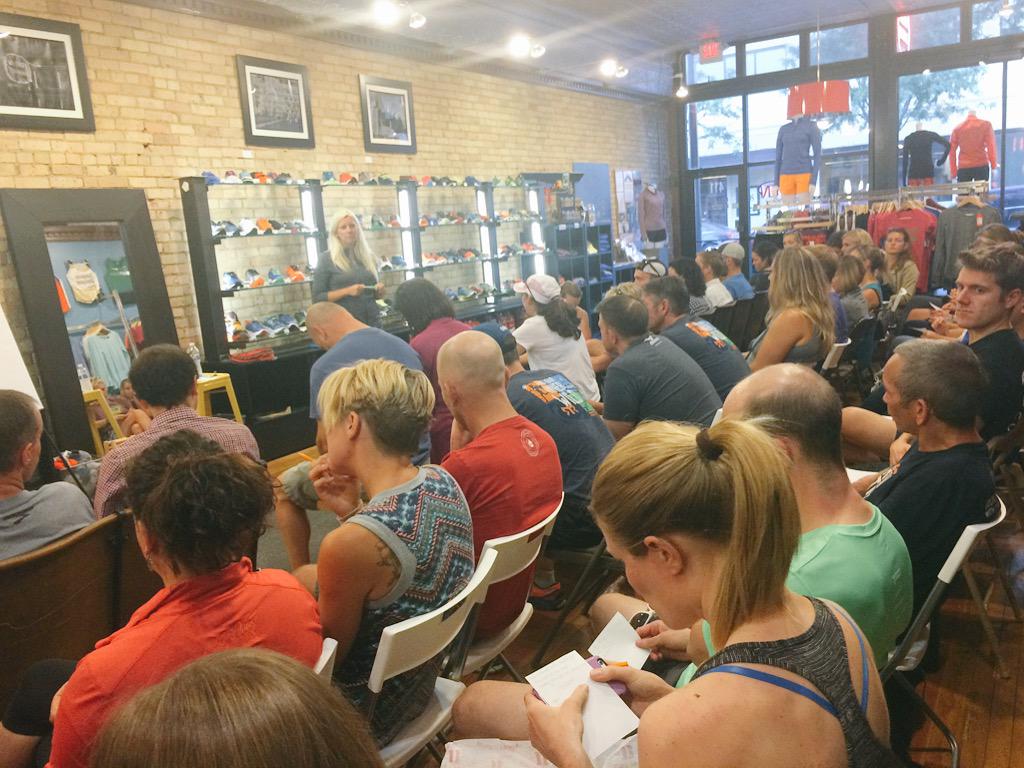 picture from Mill City Running Twitter
Tuesday Talk: Psychology of Racing
This post is my recap of what was discussed and what I learned; however, I highly recommend attending a seminar in person, as I think it's more valuable than reading about my experience second-hand…(um, but please still read about my experience, ha!)
The seminar was broken up into 3 different themes
1. Staying connected to why we run
2. Staying focused during a race
3. Goal-setting
1. Staying connected to why we love to run:

Allie started off the night by having us write down all the reasons that we love running. She had us share one of those reasons with our neighbor and talk about the feeling that came up when we shared our reason for running.
Personally, there are so many reasons why I run, but I listed the following:
Social
The opportunity to be outside
Endorphins
Feeling of accomplishment
Calorie burn/exercise
Makes me feel strong
Pride
What are the reasons you love to run?
Of course, when sharing my reasons, I felt joy, pride, and excitement.
Next, she told us to think back on our last race. What feelings came up leading up to, and then at that race?
People started sharing their answers…
All of a sudden the feelings about running changed to negative. What happened? What happened to running, that it went from all these positive awesome things to negative stressed out feelings?
All of a sudden, it became an obligation
"I have to."
"I need to."
"I expect to."
"I should."
Allie explained that we need to change our perspective about racing. She suggested consciously using phrases like the following:
"I have the ability to."
"I want to."
"I get to."
"I believe that I can".
"I have the opportunity".
"I have the opportunity to be great today."
By changing our phrasing, we can get back to the positives, the reasons we love running. We need to re-focus our approach to running and reconnect with those reasons we run even when racing.

2. How do we stay focused during a race?
Microsoft did an attention span study on humans and determined that our true average attention span was 12 seconds in 2006. In 2013, when they redid the study, it had decreased to just 8 seconds!
As a point of comparison, goldfish have a 9 second attention span. Clearly, we are very easy to distract. It is so easy to get lose your focus when racing. Our thoughts are distracting. That nagging discomfort? Totally made you lose your focus, right? But its important to know how to stay focused on the race and the goal in front of you.
We know that its human nature to become distracted. How can we be mindful and live in the present moment? It is possible to increase mindfulness. Take the time during your run to bring the focus in. Mantras are a really helpful to keep the focus. Short phrases or even one word repeated again and again can help you remember why you're racing.
Allie also explained that being mindful will allow us to detach from the pain and discomfort. After all, pain is part of the process. There will be pain. (This reminds me of the last seminar I attended where they said you need to name your discomfort. If you name it something fun, like "Ryan Gosling" you can welcome the pain when it arrives on your run. Oh, hey, Ryan Gosling is here! I figured you'd show up.")
We should put our pain and fears out there to help us deal with them in a rational way.
Change your relationship with the pain.
(Of course, you must remember there is a difference between pain and discomfort. We're talking about discomfort here, not pain from true injuries.)
Rework your negative thoughts. Go from "I can't run this pace," to "I am having the thought that I can't run this pace, but I can."
Allie also suggested using a funny voice when you have negative thoughts to separate yourself from these and recognize them as crazy thoughts. Her example was a Valley Girl girl voice-  "I like, totally can't do run a 3:35! OMG!"
Stop your crazy thoughts by acknowledging that they are crazy by speaking of them in a crazy way!
3. Goal Setting- Barriers to Inches
The final topic that Allie discussed was goal-setting.
She started by instructing us to REACH YOUR HANDS ABOVE YOUR HEAD AS HIGH AS YOU CAN!
We all raised our hands up high.
Then she told us,  "Reach them higher."
We did. We raised them up a little higher.
Then she told us again, "Reach them EVEN higher."
And you know what? We all did. We all were able to reach our hands a little higher.
Even though Allie has instructed us the FIRST TIME to raise our hands AS HIGH AS WE COULD, we didn't. We didn't raise them as high as we could the first time, even though we might have THOUGHT we were raising them as high as we could.
Why not? What are our barriers to inches?  Why didn't we raise our hands as high as we could the first time?
People at the seminar offered up a variety of reasons…
Underestimated how high I could go
I only wanted to go as high as was comfortable
I didn't have a marker as to how high I could expect
The unknown of truly reaching is scary
Nobody wants to fail. What if we can't reach higher?
Sometimes it hurts to reach high.
I bet you can see where this is going right? This little exercise was clearly about running. We don't perform to our potential for so many reasons, even though in reality, we can reach higher.
Even though you think you're running as fast as you can, you can run faster.
You can push harder.
This all seems like common sense, right? Sure, but I still think its valuable to hear it!
I felt really motivated afterwards. I was all pumped to REACH HIGHER at my half marathon the following Saturday. And I did!
The power of the mind is pretty amazing.
Success Journal:
One other useful tip Allie gave us was to keep a "Success" journal. A lot of runners keep running journals with all their runs, paces, etc, but those journals or tracking devices include all the runs, even the bad ones or the so-so ones. She suggested creating a scrapbook of GREAT runs. You can include pictures from races where you were successful, or notes about times that you felt AMAZING. Then when a bad run happens, you can refer back to your "Success" journal and get your confidence back!
I hope this recap was helpful to you! Do you keep a running journal? What about a "success" journal?
(Visited 311 time, 1 visit today)