Another week of training for the Richmond Marathon is complete!
Here's how it all went down.
Monday: 2 mile warmup, 8x300m sprints, 90 second recovery in between each, 2 mile cool down. The 300m repeats were supposed to be at a 7 min/mile pace, but I was closer to a 7:15. 7 miles total.
Tuesday:Morning run with my friend Monica, 8:35 average pace, 6.5 miles total. Evening run with Matilda the vizsla 5 miles total at a 9:30 pace. What a difference from the morning run. 11.5 miles total.
Wednesday: 7 miles easy with a few run club friends, 9:15 recovery pace
Thursday: 2 mile warmup, 10 x 100m sprints, 1 mile cool-down, 5.5 miles total
Friday: Easy 4 miles
Saturday: The Women Rock Half Marathon. 2 miles to warm-up, 13.1 mile race, 1 mile cool-down. 16 miles total. Great day for a race! The temperature was in the low 60's. It was still plenty humid, but so much better than the 15k. I will have a race recap up shortly.
Here's a post-race picture when I got back home after the race:

We were dog-sitting our friend's golden retriever again. Such a great dog! (Notice my Sound Probiotics hat and Run MSP tank from Gear– representing two of my favorite Minneapolis brands!)
Sunday: 8 mile recovery run. My legs were pretty spent from the half marathon on Saturday, so these recovery miles were super slow. After the run, we walked another 4 miles at the Minnesota State Fair! LOVE the Minnesota State Fair and Sunday was such a great day there.
Summary: 59 miles.  Both of my two speed workouts this week were relatively "easy" with short sprints. This was in preparation for the half marathon on Saturday. I went into Saturday's half feeling a bit skeptical about how I would do, but I was happy with my time (sneak peak on the PR tab if you can't wait for the recap)
So…the fair…The Minnesota State Fair is not particularly healthy or along the lines of the Right Fits, but its something that I LOVE. You can read about previous trips to the State Fair here, here, and here. I won't do a full post dedicated to our day at the fair, but I would like to share a few pictures with you.
First of all, my most favorite State Fair animals, the alpacas! 
They are so cute.  I just love those smiley faces.
I also love the Creative Activites barn. This year, the Snickerdoodles were on special display!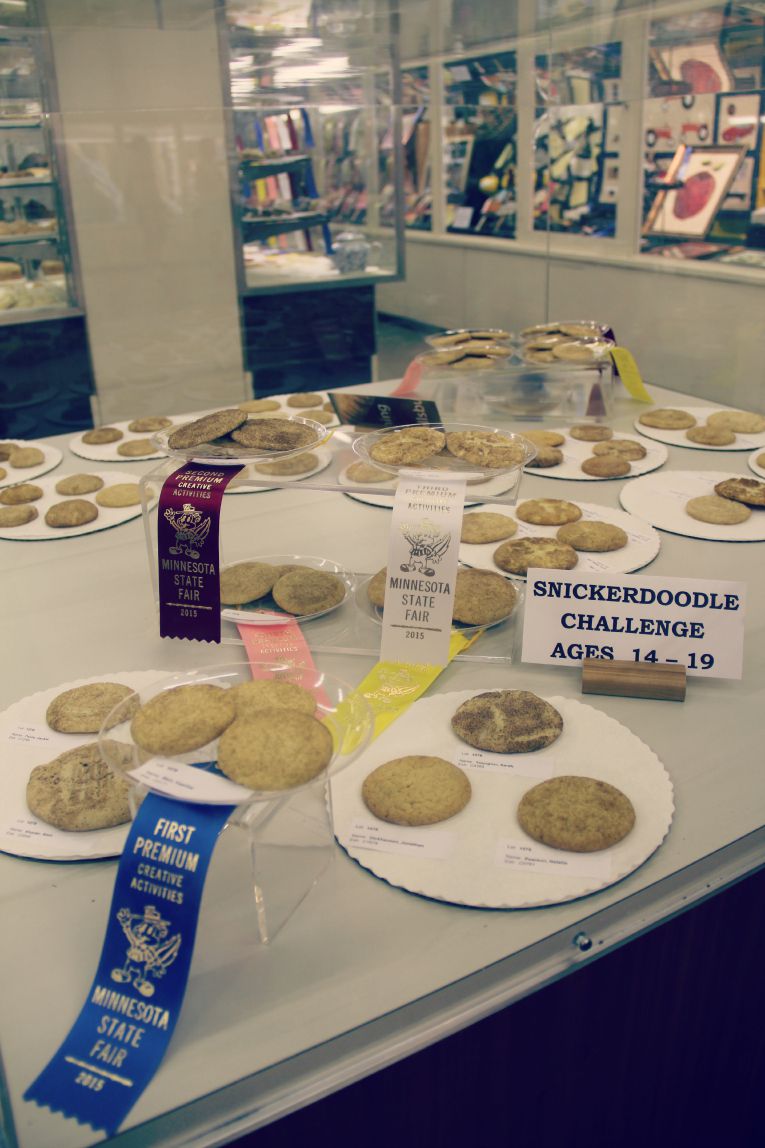 And look at all those fine looking mint jellies!
Another State Fair tradition for Dustin and me is the Giant Slide. I loved just watching other people- all ages, shapes, and sizes, but they all had huge smiles on their faces. Everyone has fun on the Giant Slide!

We also stopped by the Horticulture Building for some local craft beers! (By the way, my tank top is from here and its supposed to be a picture of the lakes- Calhoun, Harriet, Isles, etc!)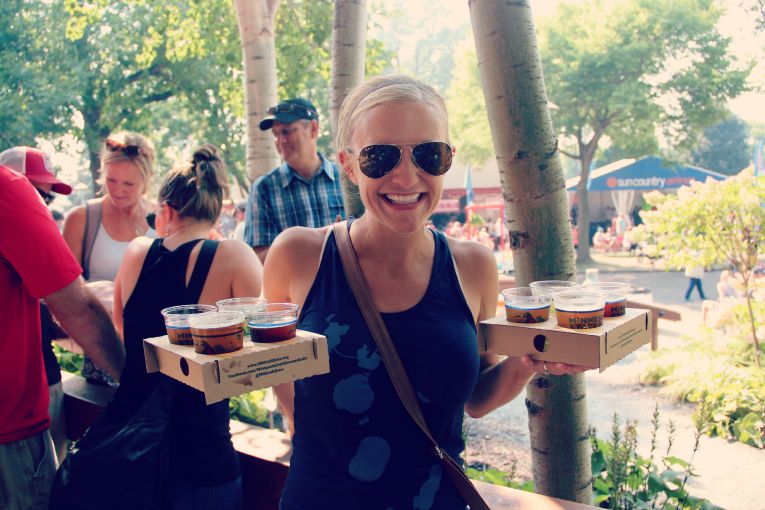 The crop/seed art in that building is always impressive.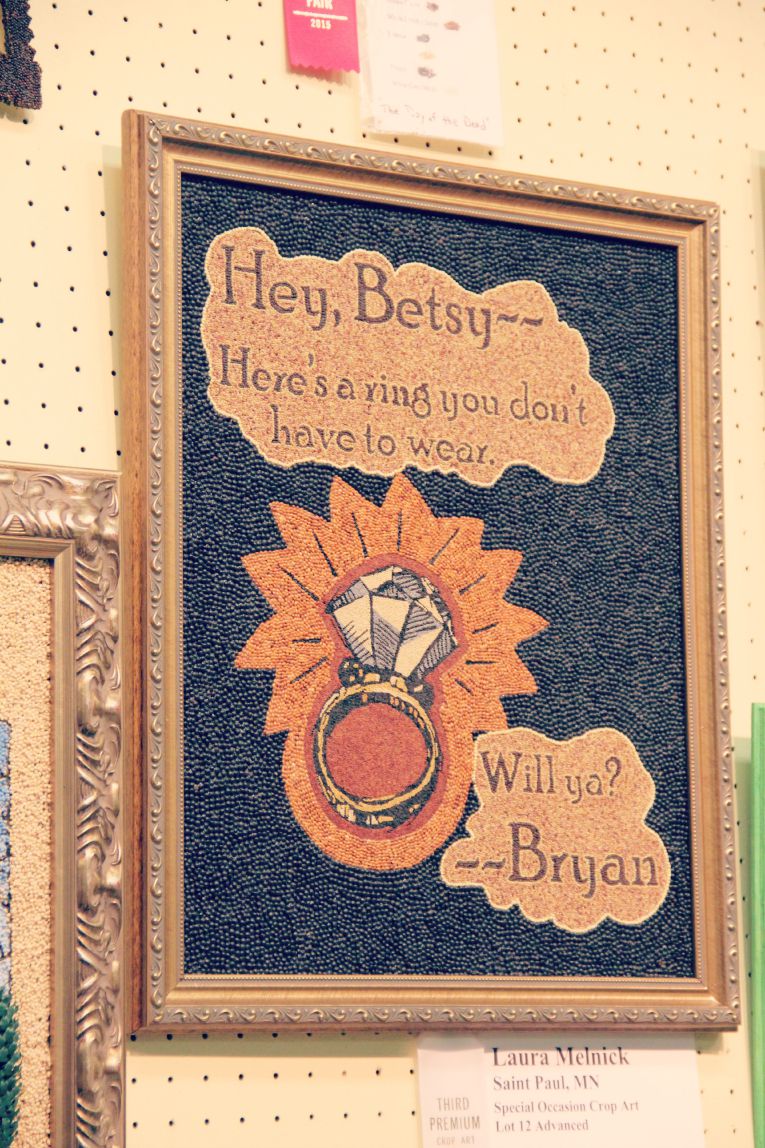 We made a special visit to our neighbor's new spot at the fair. He is the guy behind the food truck Hot Indian (which also has a brick-and-mortar restaurant now in the Midtown Global Market.) We tried the Tikka-on-a-Stikka and a Mango Lassi. They were awesome!
We visited plenty of other barns throughout the day as well. It was a fun, fun day!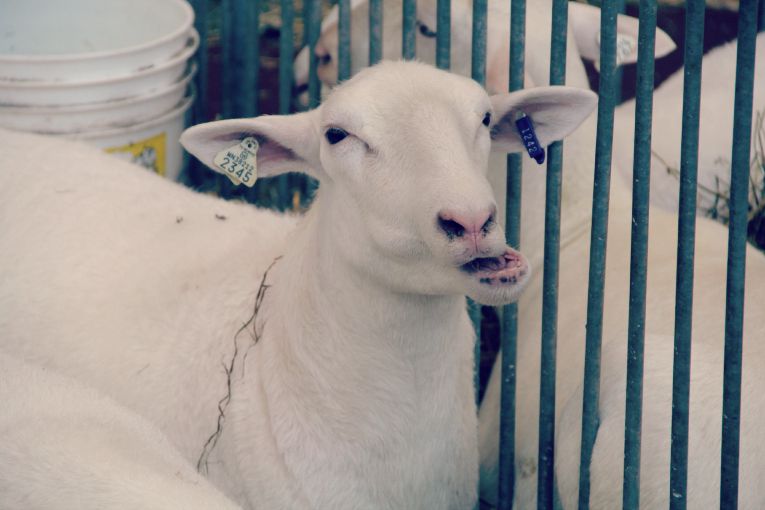 The Minnesota State Fair is a summer tradition for my "family." What about yours? What are your favorite things at the fair? The rides, the animals, the food, the people-watching? Please share!
(Visited 452 time, 1 visit today)