By Cool J
The "Great Minnesota Get-Together" started last weekend. This two week event is quirky, kitschy, entertaining, and tasty. My husband
loves
it, and it wouldn't be a true summer for him without a day at the
second biggest fair in the country!
We usually spend a day here after a long run on the weekend, but this year, we had to squeeze in our fair time on a weekday. The D-man and I took a 1/2 day of vacation from work to head to this special place (that's how much he loves the fair..and how much I love him, I guess!)
After last night's 10+ miler, my legs were pretty tired today. Yet we wanted to squeeze in a little cardio before the caloric extravaganza of the fair, so we took Matilda for a quick run around Calhoun from our house before heading to the fair. Even though it was only 4 miles, I could tell my legs hadn't recovered yet, and I was not feeling all that strong. Failed Fit #1 of the day!
Then it was off to the Minnesota State Fair!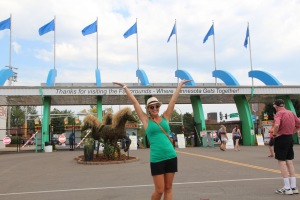 Not unlike Wisconsin Dells, the Minnesota State Fair is full of failed fits….
For example..fair hair! i.e. a fair do?
Here's an up close look:
All you moms out there…how do you ever wash that out?
We saw lots of cutoff jean shorts, topless guys, bikini tops with shorts, inappropriate tees (one 60 year old man's shirt read, "I'm not a gynecologist, but I'll have a look"…)…Dusters calls the fair "the greatest show on earth" and sometimes it definitely seems that way.
But in addition to all the great people watching, we also consumed more than our share of calories.
We started with a tasty "walleye roll", which was supposed to be Minnesota's version of the lobster roll.
Then we headed to the horticulture building, where the Minnesota Craft Brews were being sampled. For $8, you received four different 4 oz samples of local brews, with the choice of 3 different themes: light, hoppy, and Belgian.
Dusters chose the Belgian and I went with the hoppy.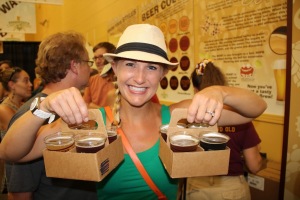 The D-man loves his sweets, so next up, he tried out the fried cookie dough….
I don't even want to consider how many calories were in this one, but luckily it was too sweet for me.
We took a little break from the food frenzy to ride on our favorite fair ride, the Giant Slide!
After the slide, we caught the tail end of the parade.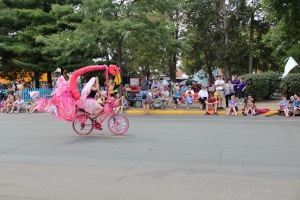 Then we closed out the day with some "Blarney Beans" at O'Gara's Irish Pub,
paired of course with another brew.
When all was said and done, we were at the fair for nearly 7 hours! It was a lot of walking, paired with a lot of eating. Tomorrow it's back to the pavement to burn off all those excess calories!
Several Failed Fits for the day, but it was worth it!
I think it's okay to splurge every once in awhile. That's why we run, right? For beer and cookie dough!
(Visited 201 time, 1 visit today)