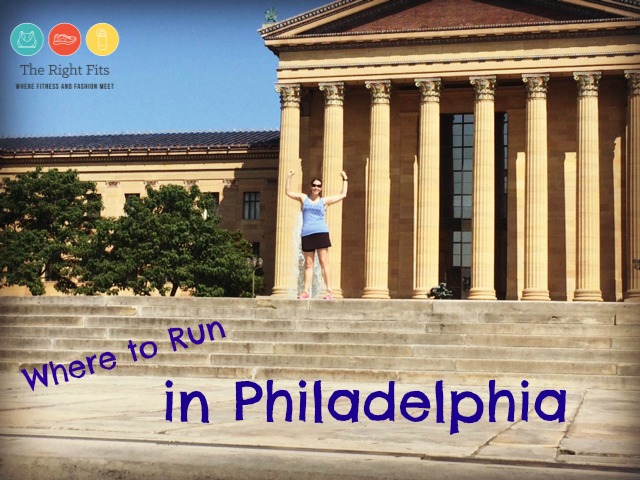 If you're new to the Right Fits, I have been slowly putting together my "Where to Run" page. This page is your one-stop site for personalized tips on where to run in a variety of locations across the world! I welcome any guest posts about a place that you know well. Just shoot me an email!
Today, I have a guest post from the lovely Sara Welle from Sweaty Ponytail and Minneapolis Running. She was kind enough to write this post about where to run in Philadelphia. Thanks Sara!
---
Philadelphia.  What comes to mind?
Cheesesteaks, the Liberty Bell and Rocky. Maybe the Penn Relays, if you're a track and field geek. Things that did not come to my mind when I decided to go to Philly: amazing, plentiful vegan food, tasty craft beer and miles upon miles of running trails.
Where to Run
The number one place to run in Philadelphia is along the Schuylkill River (pronounced "skool-kill," not "shy-kill").
This wide, paved trail starts at South Street on the east side of the river in Philadelphia, near the Center City neighborhood. It curves around the bottom of the Philadelphia Museum of Art (better known to many as the home of the Rocky steps), travels past Boathouse Row and all the way up to Valley Forge. I did not have time to run to Valley Forge, but I wish I could have!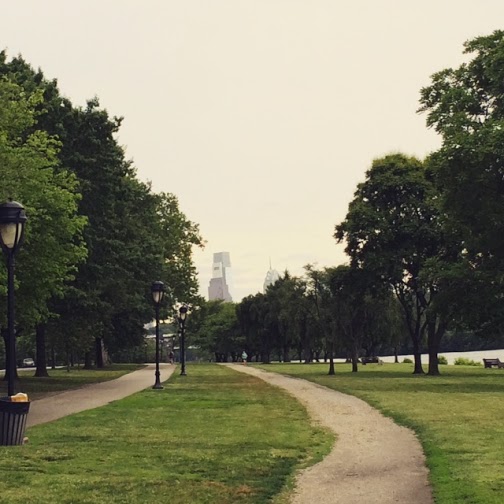 There is so much scenery along this path. You get a great view of the river, of downtown Philadelphia and of Fairmount Park. It is a busy path that is shared with cyclists and rollerbladers, so be courteous and aware of your surroundings. Don't wear your watch. Be ok with stopping to read the informational and historical signs along the route. Enjoy the sight of the rowers on the river.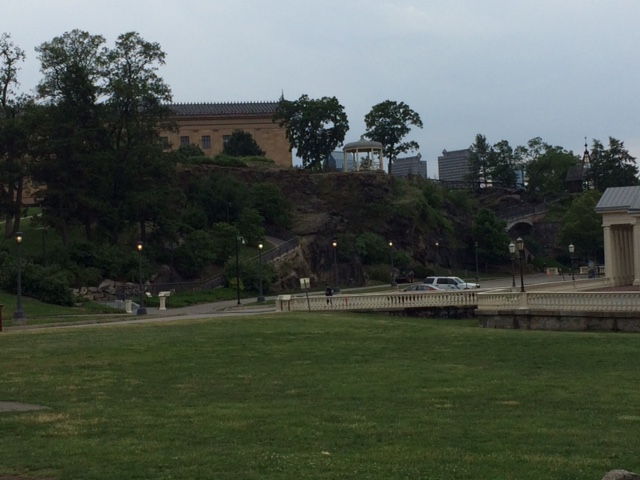 Take one of the winding paths up the cliffs to the art museum, and run and up and down the steps of the Philadelphia Museum of Art, a la Rocky Balboa. If you're staying in Center City, run back to your hotel down the wide, tree-lined Benjamin Franklin Parkway to Love Park and City Hall.
I highly recommend stopping at food cart near City Hall for a post-run breakfast sandwich before you return to your hotel. They'll ask if you want ketchup on your egg, cheese and turkey sausage sandwich. Trust me, you do.
If running with people in a strange city is your thing, check out November Project Philadelphia. They meet Wednesday and Friday mornings at 6:25 am. Philadelphia Runner, a local running store, has 3 locations and many group runs.
Speaking of Philadelphia Runner, within in two hours of landing in the city, I had already made a trip there. I had forgotten to pack my Nuun! Those tasty, effervescent tabs have become an essential part of my pre-run and post-run hydration scheme, so I did not want to be without it. I also picked up some Picky Bars, which became the perfect pre-run breakfast.
I promised my husband I'd be quick in the store, so I didn't get much of a chance to look around.  Everyone in the Center City store was super helpful, and appreciated Abe's Minneapolis Running t-shirt! I asked the guy at the check-out counter about places to do speedwork in town, and he recommended Franklin Field at the University of Pennsylvania, home to the Penn Relays. I did some recon the following day, and discovered the field was closed for construction. Sad. I did appreciate the sign by the Philadelphia Historical and Museum Commission describing the history of the Penn Relays.
If you happen to visit Philadelphia when Franklin Field is closed, but 200 meter repeats are on the training schedule, check out Washington Square Park. It is officially a national park and features a Tomb of the Unknown Soldier from the Revolutionary War, tree-lined wide paths, a central fountain and many benches.
I went over early in the day to map out a 200 meter course and spent a delightful 24 minutes zipping back and forth. I got a few strange looks, some unwelcome advice about how to do my workout, and a few "you go girl!" shouts.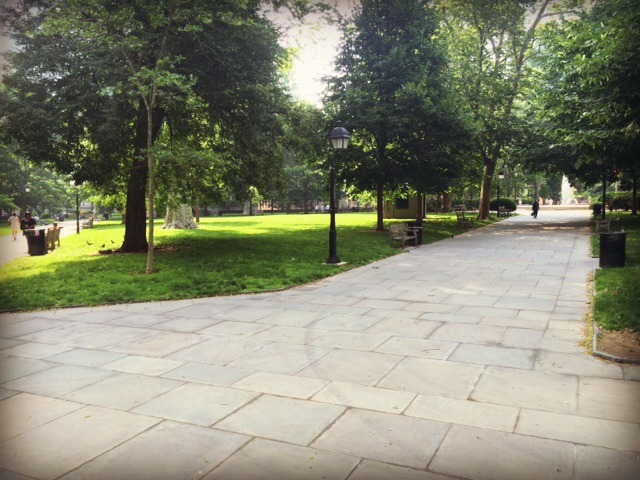 Where to Stay
We stayed at the Sonesta for our first two days. Located in Center City, in the financial district, it was a short walk to the Schuykill River, to City Hall and Rittenhouse Square. The hotel was hosting the conference that my husband was chairing and it was absolutely beautiful. But without the special conference rate, it was a little spendy, so after the conference, we moved about a mile away to The Independent. This hotel is a charming brownstone converted into 24 unique rooms and is located in the heart of Philadelphia's Midtown Village. We could walk to shops, restaurants, and all the historic sites like the Liberty Bell, Independence Hall, and even the Delaware River. If you go to Philadelphia, I highly recommend The Independent. The rooms are clean and beautiful, and they offer a free continental breakfast delivered to your room at a time of your choosing. The items are simple (croissant and jam, fruit, juice, yogurt), but I appreciated having them waiting for me when I returned from my run. Each room also features a microwave, a mini-fridge and a Keurig coffee maker.
Where to Eat and Drink
I must admit, I did not eat a single cheesesteak while in Philadelphia. I had no desire to! One thing that amazed me about the areas of Philadelphia I visited was the bountiful options for vegan food. I'm not eating 100% vegan anymore, but I do appreciate the option and I like to support those that offer it.
A trip to the running store, and then dinner at a restaurant called Marathon. I'm crazy. Marathon is committed to the local food movement, as well as having tasty dishes in plentiful portions. The vibe is hip, yet unpretentious. They feature many vegetarian and gluten-free dishes and have a good selection of local beer. We shared a housemade veggie burger and a baby kale quinoa salad. The burger was good, but the salad was amazing. If I could eat one salad for the rest of my life, it might be that one.
I was beyond excited to visit Hip City Veg. I had discovered it a year ago, when Abe went to Philadelphia (solo) for the same conference. I drooled over the entirely plant-based menu and dreamt of trying the $5 shake myself some day. I finally did! (In fact, I ate there twice in two days.) For my first meal, I had the Fajita Wrap and a chocolate shake, and we split some sweet potato fries. It was a large amount of food; I would've been ok with either no fries (but they were so good!), or sharing a sandwich. For my second meal, I had the Chopped Med Salad and a Green Lemonade. (It's kale juice mixed with lemonade, and it's really good!).
We stumbled upon Strangelove's, a "beer bar," after visiting our new hotel. As soon as we walked in, I knew it was a very Abe-and-Sara place. They had a wide variety of local and national craft beer on tap, plenty of vegan food options (again!), and a low-key, laid-back vibe. Our server was friendly, attentive and helpful and made several recommendations on beer and food. It's conveniently located near The Independent Hotel.
Other things to see
Philadelphia is a city full of history. You can easily make a day or more of the historical sites like the Liberty Bell, Independence Hall, the Constitution Center and other sites. Be prepared to pay for entry to pretty much everything, including Benjamin Franklin's grave. Entry to Independence Hall is technically free, but you must register for a ticket beforehand. Tickets had already sold out by 1pm on the day we stopped by, so I recommend reserving online at least a day before you plan to go. Wear good walking shoes.
If I were to name my top 3 favorite things in Philadelphia, they would be: 1) The Schuykill River trail, 2) Hip City Veg, and 3) Eastern State Penitentiary. Located on 11 acres smack-dab in the middle of the city, Eastern State was the world's first true penitentiary. All prisoners were essentially in solitary confinement, all the time. This was to inspire true penitence in the hearts of inmates and help them see the errors of their criminal ways.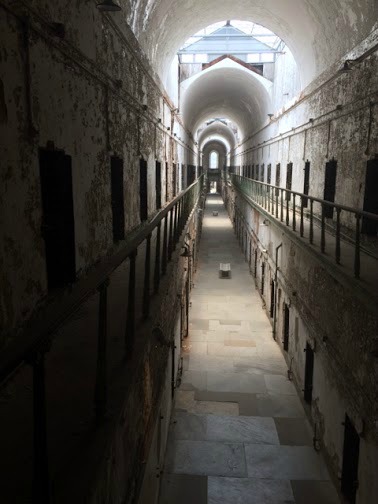 The prison population quickly outgrew this method of incarceration, and Eastern State turned into more of a "regular" prison that operated until 1971. It was purchased by the city in 1980, with the intent of reuse or development. After a bit of back and forth with the city, the Pennsylvania Prison Society opened Eastern State for the first season of regular guided interpretive tours in 1994.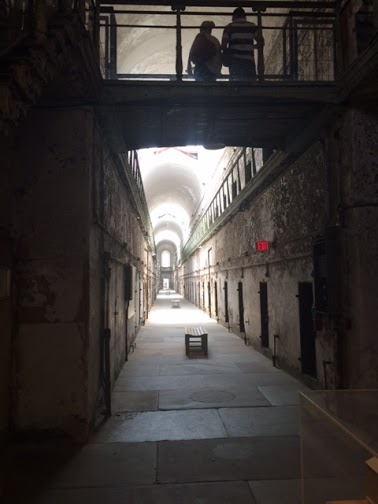 It is now presented as "stabilized ruin." You can go on a tour with a tour guide or do a self-guided tour narrated by Steve Buscemi. We chose the latter and spend 4 hours exploring every part of the penitentiary and grounds that we could. In addition to the narration, Eastern State features Hands-On History, where a tour guide will take you to special parts of the prison that have an interesting story. We were fascinated to learn about an early scandal in the prison's history, as well as what punishment was like at Eastern State. There are also special historical and artistic installations, such as a recreation of Al Capone's cell and The Big Graph, which hopes to spark a dialogue about the skyrocketing rate of incarceration in the United States.
I thoroughly enjoyed running, walking, learning, eating and drinking my way around Philadelphia. I hope you get the opportunity to do so, too!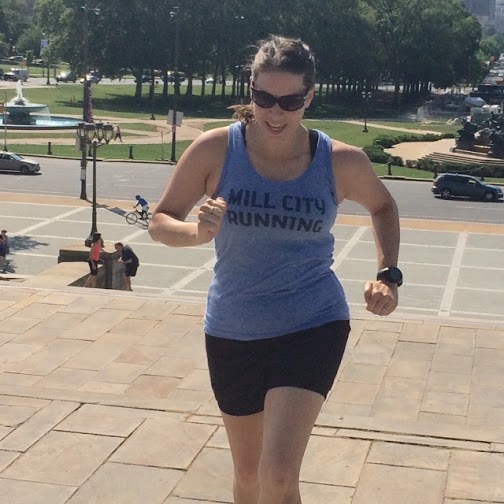 (Visited 416 time, 1 visit today)