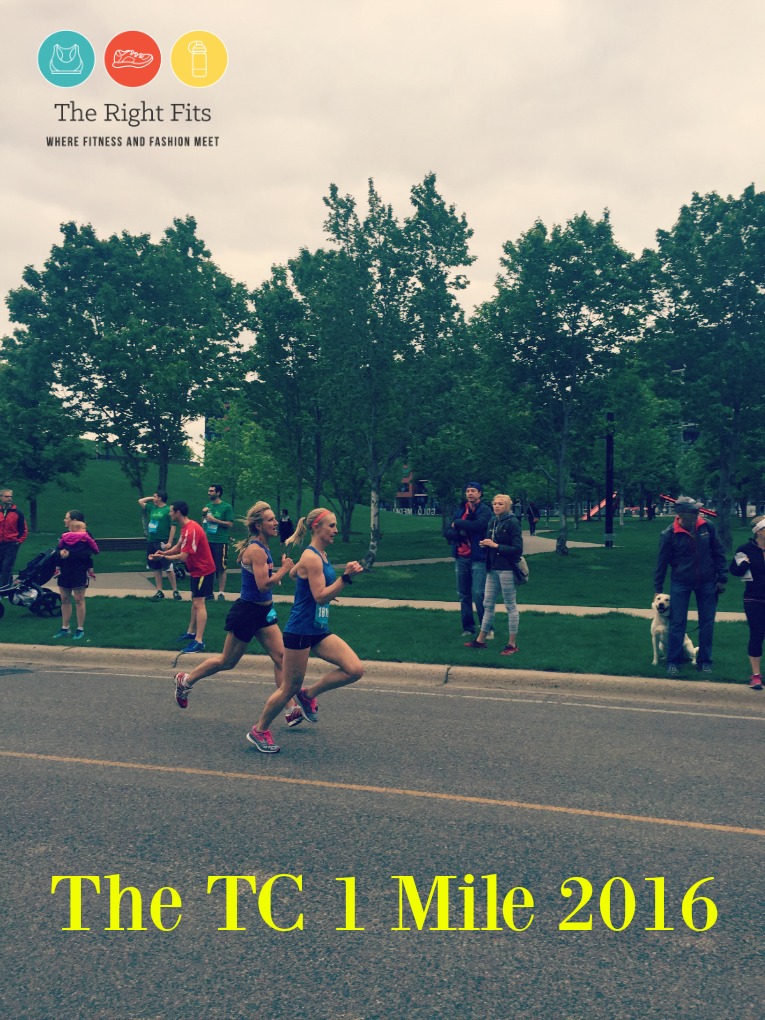 This past Thursday, I raced the TC 1 Mile!
This is my fifth time running this race; I ran this race in 2011, 2012, 2013, and 2015. In 2014, the race was cancelled due to the weather, otherwise I would have run it then too!
Every year, as I nervously wait for the starting gun to go off, I curse this race and say I'll never do it again…why? Because it's hard! It HURTS to go as hard as you can for a mile.
I'm a distance runner. I love the marathon.
But a one mile race, as hard as you can??? Yikes. Scary.
Minneapolis Running did a great recap of the race, sharing the details of Heather Kampf and Ben Blankenship's wins for the evening.  The race attracts some very fast runners. They race in the final wave of the evening,  so you are able to watch them after you're done with your own race- it's a perfect little evening of racing!

Waves:
The first wave of the night was the Corporate Challenge wave at 6:30 pm, then our USATF wave, then Friends & Family, then Masters (over 40), the Open wave, and then finally at 8:15 were the elite waves.
I had organized a team at work to participate in the Corporate Challenge but I personally ran as part of the USATF wave with my running club (but I was proud of the 8 coworkers I convinced to participate- way to go!)
I think racing in the USATF wave was good for my performance, as I was surrounded by some incredibly fast runners.I felt a little competitiveness come out and was pushed more than I might have otherwise been.
The Start Line:
There was a gear check at the start for your sweats. There was also plenty of water and porta-potties.
I ran a few miles to warm-up with my running club before lining up for the USATF wave at 6:50 pm sharp. Our wave lined up with women in the left lane and men on the right; opinions on this set-up were mixed. The men on my team said that the fastest men were much faster than the fastest women, so even though it was only a small merge, there was a merge of different paces on the course. Some of my friends thought that the lanes should have been switched, with men on the left and women on the right.  It didn't affect me, but I can see where they were coming from.
USATF rules go by gun time, so I probably was a little closer to the start line than I normally would be. I think the difference between my gun and chip time was four seconds.
Course:
It was an awesome new course this year, with the start near the Mill City Museum and the finish by Gold Medal Park.
The course was gorgeous; it showed off a great part of the city, and I liked that the start and finish were very close to each other. I really hope they use the same course next year. I loved it so much for so many reasons: the spectators, the start/finish close together, the beauty, the proximity to plenty of locations for food/drink after, and the slight decline in the second half of the mile.

Additional Incentive to Run the TC 1 Mile:
If you are hoping to get into the TC 10 Mile race in October, finishing the TC 1 mile will increase your chances drastically. Every year, I have received a guaranteed entry into the TC 10 mile after participating in the 1 mile, but I never use it. (If I'm in town, I'm out on the marathon course that day cheering!) However, if this is what you're hoping for, participating in the TC 1 mile will help.
 My Performance:
My previous PR at the TC 1 mile race was a 6:40. My coach thought that a 6:30 was an achievable goal for me.
Spoiler alert-I did it. I ran a 6:27.8!
I was pretty proud of myself. I am not a short distance runner/sprinter. Leading up to the race, I was really nervous. The whole day at work I stressed about everything I ate. I don't really get nervous about marathons anymore, but I was quite nervous for this race.
But the best part about racing a mile? It's only a mile. It's over pretty quickly.
…and it did go quickly! Yes, it was painful, but just when I thought there was no way I could possibly keep up that pace, it was done.
There were clocks at each quarter mile. I knew that in order to run a 6:30, I needed to be at 3:15 at the half. I got there a little too early, so I definitely went out too fast, but the downhill in the second half helped compensate for my slowing pace.
Man, that was tough for me!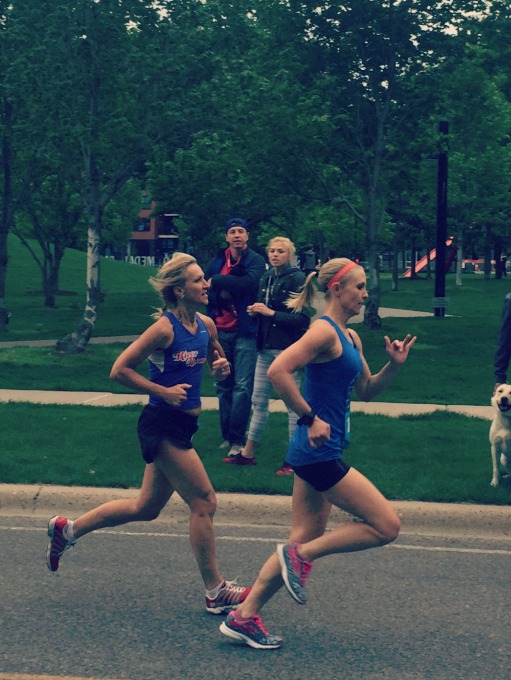 After the race, it was a crazy coughing fit. What is it about pushing yourself like that that makes your lungs go nuts? I did about a mile to cool down, before eventually joining my work group at Day Block Brewing Company for the official Corporate Challenge post-race party. Our work team included some people who had never done a race before. That's the great thing about the TC 1 Mile- it appeals to all kinds of runners, from first-timers to experienced runners. Everyone is there with a different goal or purpose.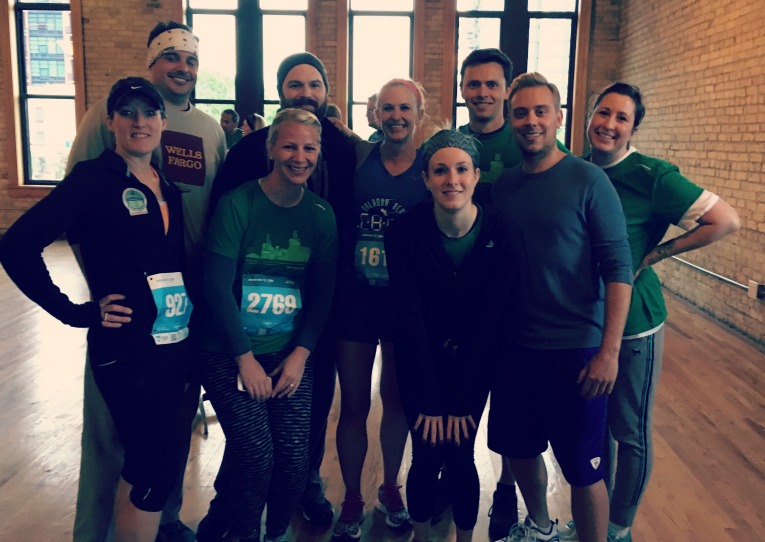 Twin Cities in Motion really does an amazing job organizing this race (special kudos to my friend Sara Welle– she snapped the below picture of my friend Lindsey and me at the start. She's full of all kinds of positive running energy, glad I got to see her on our 1-year "friend-inversary!")
…and I'm also glad to have Lindsey (pictured below) as a friend for future running adventures. We are both on the waiting list for the Antartica marathon in 2018. Fingers crossed!

Even though I swear it off each year before I race it, afterwards, I love the race and I am excited to do it again next year…maybe faster!
(Visited 387 time, 1 visit today)