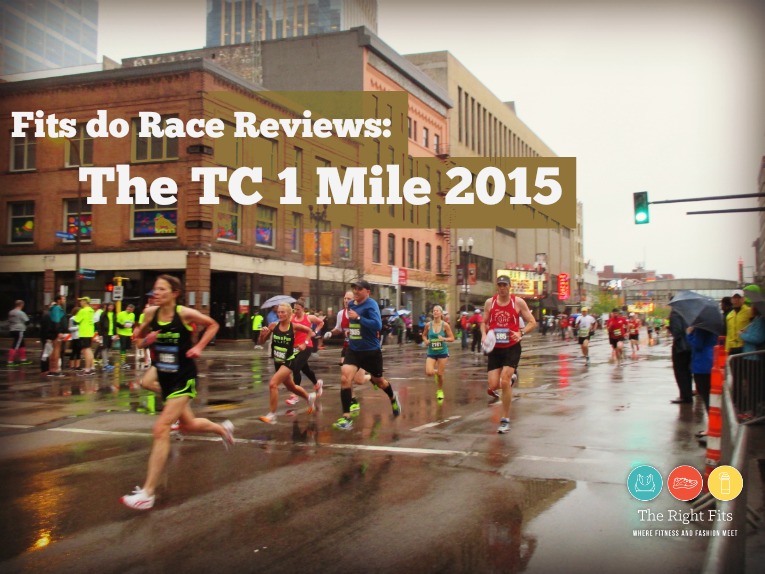 Last Thursday evening, I ran the TC 1 mile race. I ran this race in 2011, 2012, and 2013. In 2014, the race was cancelled due to the weather. Last week, I ran it my 4th time!
Minneapolis Running did a phenomenal recap of the race, sharing the details of Heather Kampf and Garrett Heath's wins for the evening. Definitely go check out that article here (Nice article, Sara!)
The race attracts some very fast runners. They race in the final wave of the evening,  so you are able to watch them after you're done with your own race- it's perfect!
Actually, normally the race has even more waves, but due to extenuating circumstances this year (a potential march/protest happening right on the race course) some of those waves were combined (i.e. the master's, open, and USATF waves). I had registered to run as part of the USATF wave with my running club, but decided to run with my corporate team instead in an earlier wave. I had rallied six other runners from my work team to participate as part of the corporate challenge, so I figured it made more sense for me to run with them. Our USATF running club team had more than enough women running the mile who were faster than me, so they didn't need me for the team anyways.
The corporate challenge wave started at 7 pm, right after the Friends and Family wave. It was a new course this year, with the start on Dunwoody Parkway and the finish on Hennepin Avenue. There was a significant incline after about the first 1/4 mile, which was definitely a challenge compared to previous year's flat and fast course down Nicollet Avenue! I have to imagine the logistics of closing Hennepin created a challenge for Twin Cities in Motion as well this year, versus running the race on pedestrian/bus only Nicollet Avenue in the past.
Race day weather was a rainy mess, with big puddles on the course. However, it wasn't too windy or cold; I actually warmed up pretty quickly during my warm-up miles (I ran about 3 miles to warmup)
It was really great to have gear check at both the start and the finish of the race. I warmed up by running to the finish to drop off my bag (clear plastic bags were provided) and then headed back towards the start to wait for the race to begin. It was so nice to have my warm sweats to put on right away after finishing, especially on such a rainy day!
Twin Cities in Motion really does an amazing job organizing this race, (even when they are met with different challenges like the inclement weather and the potential protests!)

My performance:
I'm a distance runner, with 18 marathons under my belt. I'm by no means a fast distance runner, but I like distance running and that's what I'm used to. Racing a 1 mile is definitely very different for me, but different is good, right?
My mile PR is 6:40 and my coach had told me he thought I should be under 6:30 this year.
That didn't happen…I ran a 6:44 this year.
I think I am capable of a sub-6:30 mile, based on my training for Grandma's, and my coach seems to agree. But last Thursday was just not my day. I'm not too torn up about it. I still had a blast at the event!
Looking back, I probably should have raced with the USATF circuit rather than the corporate wave, as I think the faster people in that wave would have helped to push me harder. It's not that there weren't plenty of fast people in the corporate wave, but I think I do better when pushed by my peers. My friend Lindsey finished a few seconds ahead of me, but in the USATF wave; I have to wonder if I would have had her right by me during the race if we both would have run even faster? A little competitiveness is good for you!
I think my head wasn't in it; I was too focused on coordinating/finding all my work team members and making sure they had a good time. I wasn't focused enough on my race. In a race as short as 1 mile, you need to be focused from the get-go!
Post-race, like many others, I went through quite the coughing fit. Is the pollution downtown or just the strenuous effort?
My work team met at Kieran's for the official post-race party, which was a blast.

There were drink specials and a private room for the runners, though we opted to stay in the main bar area, so that we could watch the presentation of awards to the winners.
I tried to snap a few pictures, but the camera I carried with me doesn't take the best photos (apologies).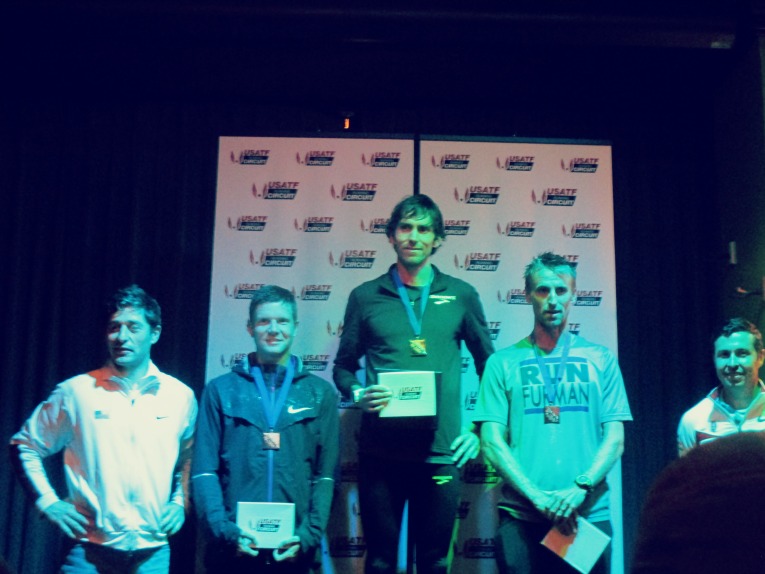 Since I didn't obtain my personal goal, I'm looking forward to the opportunity for redemption this summer at the USATF Midsummer Mile at the State Fairgrounds! This event sounds really fun. Mark your calendars for July 8th!
Despite the rain and other challenges, the TC 1 Mile remains a top-notch fun event for the city! I will be back next year for #5!
(Visited 311 time, 1 visit today)