I have a couple race recaps coming your way- the TC 1 mile and the Citytrail Loppet 10 miler. It was a busy week! But I don't want to get behind, so here's my quick weekly recap of training. Only 5 weeks until Grandma's Marathon. I'm getting excited!
Monday: My parents were in town for a visit, so I had the day off of work. That didn't stop me from getting up early to get my miles in! 8 miles easy before my parents had even woke up.
Tuesday: Parents were still in town- no work again! I could get used to this…I ran an early 8 miles with 12×1 minute "fartleks." Later that evening, I did 3 easy miles with Matilda before dinner for 11 on the day.
Wednesday: 6 miles easy in the morning.
Thursday: 3 mile warmup for the TC 1 mile, race, and about 1/2 mile to cool down. 4.5 miles total.
Friday: 7 miles easy in the morning with my friend Lindsey, 5.5 miles easy after work for 12.5 miles on the day.
Saturday: 20 mile long run with the Calhoun Beach Running Club. My coach had me do 10 miles at goal marathon pace in the middle of this run. Those miles went okay, but I was really struggling during the final 5 miles of the "cool down." The heat and humidity were a big factor, I'm sure, but this run sort of knocked me out for the day. I was really tired afterwards. It's strange, because I ran 20 miles last weekend too and felt just fine afterwards, but this time it took a lot out of me. I may have to rethink my goal marathon pace- especially if its hot and humid, that's for sure.
That afternoon, I took quite the nap before meeting up with my cousin for a few drinks downtown (Hi Kate!) She was in town to receive an award for her quilting store in Shelbyville. Check it out HERE!

Sunday: Dustin and I joined a few friends for the CityTrail Loppet 10 mile trail run. I knew I wasn't going to race this, since I had such a full week already. My schedule from my coach just had 10 "very easy recovery" miles for the day.
This trail race was SO. MUCH. FUN. Stay tuned for a full race recap soon, but I have to say it definitely had some challenging terrain (where did all these hills and trails come from??) but I just enjoyed the course, which ended in the Sculpture Garden downtown. Loved it!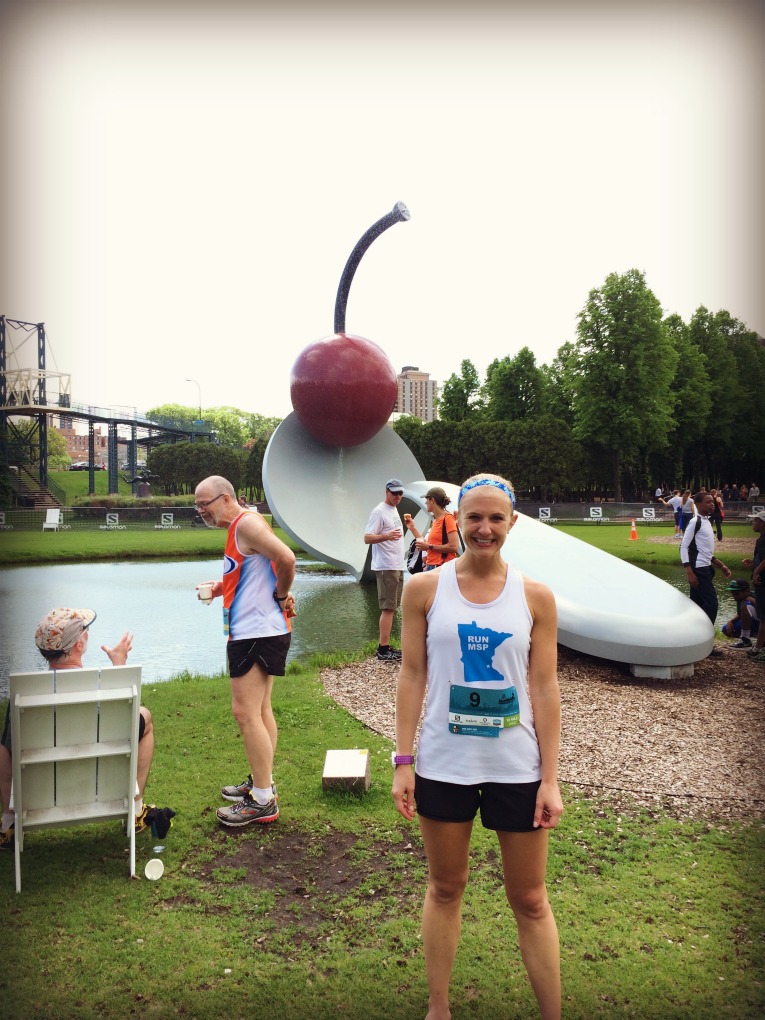 Summary: 71 miles! AH! I have never run this much. Some of you may be thinking, whoa, that's too many for a middle-of-the-pack runner. I understand your concern. I know that high mileage doesn't work for everyone. But I also know that low mileage (Run Less, Run Faster) doesn't work for me. I tried that, and it didn't work (read about it here)…. Who knows, when June 20th comes around, I might be saying that high mileage doesn't work for me either! But for now, I'm willing to listen to my coach with the hopes that his plan and his knowledge of marathon training will work for me come June 20th. It does seem that a lot of success stories from my fellow run club friends involve higher mileage, so I'm sticking with it! 🙂
Other than running this week….We are dog sitting the cutest golden retriever this weekend. It has been a blast! It makes me want to get a second dog…
I hope you had a great week in fitness and/or fitness fashion!
Don't forget to sign up for my giveaway of two Kat Perkins tix and Q.Cumbers picnic HERE!
(Visited 304 time, 1 visit today)