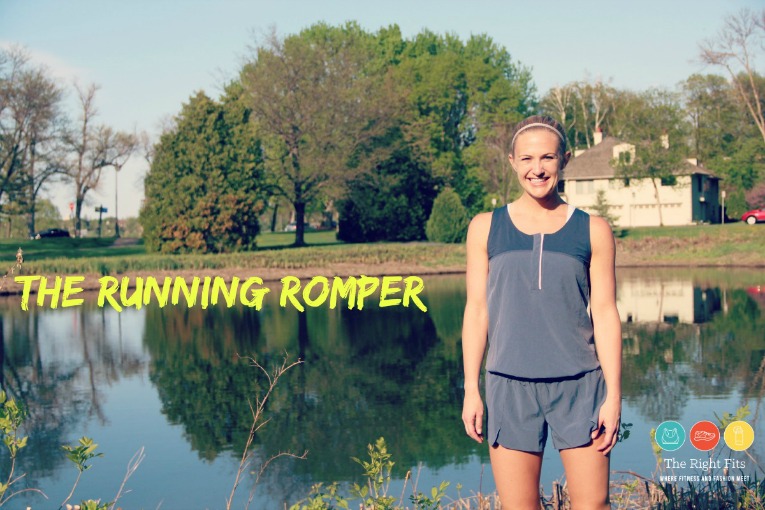 I did it you guys…I bought a running onesie. A "runsie" according to Lululemon. Mine's from Brooks, so they are calling it a "jumper." A running jumper.
Pretty ridiculous right? Or genius?
I actually really like it! I have worn it for a few  runs so far and it felt great.
I did get a few strange looks…I think the whole romper idea is a bit new to Minneapolis!
The lululemon version got quite a lot of press when it first hit the market. This article from Bustle refers to the runsie as "the workout gear you never wished for." Huffington Post had a funny post, "Lululemon Makes a Romper for Runners, Gives us a Wedgie Just Thinking About it." And I LOVE this article from HuffPost with "9 Things We'd Rather Do in a Running Romper than Run in it!"
And the best one? Mark Remy from Runner's World tested it out in this video. Hilarious!
With all this bad press, why did I buy it? For you guys! I mean, aren't you dying to know if it's the RIGHT FIT? Or a failed fit?
You might not believe me, but I think it's the right fit…..
What are the "pros" of the running romper?
– You don't have to pick out a top and a bottom. Just one piece! And you'll always match.
-You only have to remember one item for your run gym bag (well..plus a sports bra. And socks. And shoes. But still! One less item!)
– You don't have to worry about a loose tank blowing up in the breeze and showing off your muffin top (maybe you don't worry about that…but I do!)
– It's light.
– It doesn't chafe.
– It's super breathable
– It's FUN.
The cons?
Well, I understand that a running romper inherently seems kind of silly.  Definitely not "old-school" runner. And if you have to go to the bathroom mid-run, you have to basically take off the whole thing; probably not ideal when there's an emergency bathroom situation!
And yes, there is the potential for a wedgie, (though that wasn't an issue for me)
Sizing:
I bought my romper in a size medium. I go between a small and a medium in Brooks apparel, but I think the medium was a good choice as its supposed to fit a bit looser. I think the romper would work well even if you have a longer torso, as there is a bit of extra material at the waist, to create that "tucked-in" look. The shorts sit a bit lower than your natural waist.
From Brooks:
According to Brooks, "the women's PureProject running jumper "adds playful style to your run. The four-way stretch-woven main body keeps you cool and comfortable while the fitted knit shoulders and back panel make for a secure fit. The stretch mesh liner and bonded seams feel good for the long haul. Two drop-in back pockets help you run hands-free."
More details:
* Fit: relaxed
* Relaxed stretch-woven main body
* Stretch mesh liner adds cool comfort
* 360-degree tonal reflectivity
* Main body: 90% polyester, 10% Spandex
* Upper body: 75% nylon, 25% Spandex
* Liner: 88% nylon, 12% Spandex
Neither the lululemon version or the Brooks version are cheap, but you have to remember, its two pieces in one, so think of it as a nice pair of shorts and a top!
Let me know if you have tried a running romper…or would you try it? Failed fit or the right fit- what do you think?
(Visited 1,831 time, 1 visit today)