First things first- the winner of the Kat Perkins tickets is Lori Peterson. Lori, please email me at therightfits@gmail.com so I can get your tickets to you. Congratulations!
Secondly, I don't have anything for you today for Fitness Fashion Friday. I mean, how can I top the running romper from last week?
Instead, I want to talk about National Running Day!
Did you know that National Running Day is June 3rd? That's less than two weeks away!
You can bet that I will celebrate by doing one of my favorite things…running! Last year, I ran with my friend Kelly:
Unfortunately, she'll be out of town this year.  Hopefully I can find a running partner…there's always Matilda. She looks pumped, right?
I'm guessing you're probably going to start seeing a lot of these buttons on social media soon as we approach National Running Day, asking you to fill in the blank as to why you run.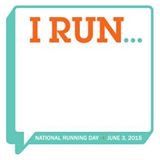 I thought I would give this holiday the Right Fits spin in the form of a link-up, asking for your 5 Reasons Why Running is the Right Fit!
In order to link-up, just copy the html code at the bottom of this post to your blog. Don't have a blog? I'd love for you to share this picture on social media with YOUR 5 reasons! As we approach National Running Day, tell me why running is the right fit!
5 Reasons Why Running is the Right Fit for me:
1. Running allows me to explore.
From Singapore to the country roads of northern Wisconsin, running lets me see and experience the world like no other.
2. Running builds friendships.
I love the bond you develop with other runners. I love the social side of it. Be it with one of my sisters or one of my other running friends, I love the connection of running, the undivided attention, the opportunity to talk about anything and everything. Or nothing.
3. Running exercises my dog.
Vizslas have a ton of energy, and I love being able to exercise Matilda and myself at the same time. "Two birds with one stone." Isn't that the saying? It's efficient and I love running with her.
4. Running makes me "hardier" to the weather.
I run in the rain, the snow, the wind, the heat. If I can run in it, it makes the rest of "living" in that weather seem more bearable.

5. Running makes me feel strong.
I love how I feel after a run- proud, strong, fit. All those things.
The other day at the Calhoun Beach Club (where my run club is hosted) an older lady who had just finished her workout said to me, "You know what? I'm 80. But after I workout, I feel 40."
Yes. THAT. That is what a good run feels like. It feels like you're 40 when you're 80.
Okay- now  tell me 5 Reasons Why Running is the Right Fit for YOU in honor of National Running Day! Let's gather up all kinds of reasons as we approach June 3rd and then we'll all celebrate (virtually) with an awesome run!
(Visited 292 time, 1 visit today)