(pictured above: our friends from THIS post who met at a trail race and are getting married this fall!)
Last Sunday, I ran the Salomon CITYTRAIL Loppet 10 mile race! There is also a 10k option with this event.
Let me tell you, this was such a fun race! It was probably one of my favorite trail races so far, and that is high praise considering there are a lot of options in the Twin Cities these days!
The Start Line:
The Salomon CITYTRAIL Loppet starts in Robbinsdale and ends at the Sculpture Garden in Minneapolis. There are shuttle buses from the finish line to the start and then multiple wave starts for the races. The first wave, the "wing" wave, was for people who could run a 1:30 ten-mile on the road…I can do that, but I think I should have been in the second wave, as everyone else in the wing wave was much, much faster than me! There was a lot of passing in the first few miles. Lesson learned for next time!
There was plenty of street or paid parking at the finish line, though they encouraged runners to bike to the finish instead. The school bus shuttles started at 7 am with the first wave of the race starting at 9:30. We got to the start a bit too early with a lot of waiting around…in the rain. The rain seems to be a common theme at my races these days!
The Course:
What I loved about this race was the course- it was such a fun route! According to the race website, the course is a  "challenging mix, with rocks and roots and even railroad tracks to circumnavigate around. There are narrow trails and hills. The trail goes under and over highways and interstates, and through old train yards. It starts in downtown Robbinsdale and finishes at the Spoonbridge and Cherry in the Sculpture Garden. Probably the one word to describe the CITYTRAIL Loppet is VARIETY. Narrow trails, city views, wooded corridors, railroad yards. Asphalt paths."
Could you get lost?
The course was seriously well-marked, and that is coming from a girl with a terrible sense of direction. Even I didn't get lost! There was a combination of blue ribbons, arrows, and flour to mark the route. With 700 total runners, there was always someone leading the way (for me).
"The 10 Mile and 10K courses diverge after passing underneath Highway 55. The 10K passes through the old Glenwood Springs water plant and into the Bryn Mawr Meadows area before following railroad tracks to Bryn Mawr Park. Runners then head up and across an overpass that takes runners over the City of Minneapolis public works area, with a fantastic view of the downtown skyline. Coming off of the overpass runners merge onto the Cedar Lake Trail for a brief trot before joining up with the 10 Mile course again. Picking up the 10 Mile course again – from the 5K mark, where the 10K and 10 Mile courses diverge – runners head back west along Bassett Creek and then over a boardwalk suspended above Wirth Lake. Next stop – the Quaking Bog area! Narrow trails, big hills, and maybe an angry fox or a giant gopher, waiting to devour slow or injured runners. Runners who make it through the Bog will end up crossing Interstate 394 at about 7 miles, and then descending to Brownie Lake. Around Brownie and Cedar Lake, then Cedar Lake Park and back onto the Cedar Lake Trail, this section of trail is mostly flat, with a fast mix of wooded trails and asphalt paths. With a little less than a mile to go the two courses re-merge. Runners head under Interstate 394 one final time, take one final section of gritty singletrack, and then head into the Sculpture Garden for the grand finish and a Surly Beer."
Yes, free Surly beer at the finish! Runners also received a ticket for free food at a food truck:
Back to the race- the trail was actually pretty technical and it was made even more challenging due to the rain the night before. There was one section where we had to hold onto a rope and slide dangerously down a muddy hill. There was also some slick gravel in spots and wet slippery cement under a few highways that was a bit treacherous. City trails= danger!
Support:
The 10 mile passed by two water stops, with Gatorade, water, and Hammer Gels (and maybe oranges, etc, I can't remember). It was a hot and humid morning after the rain stopped, so those two water stops were a very welcome sight! I actually came to a complete stop at the aid stations and took my time to recover a bit. I wasn't racing this 10 mile, just doing it for the experience (and the miles), but what an experience it was! I really loved the course. It kept you interested and was quite an adventure for a city trail race!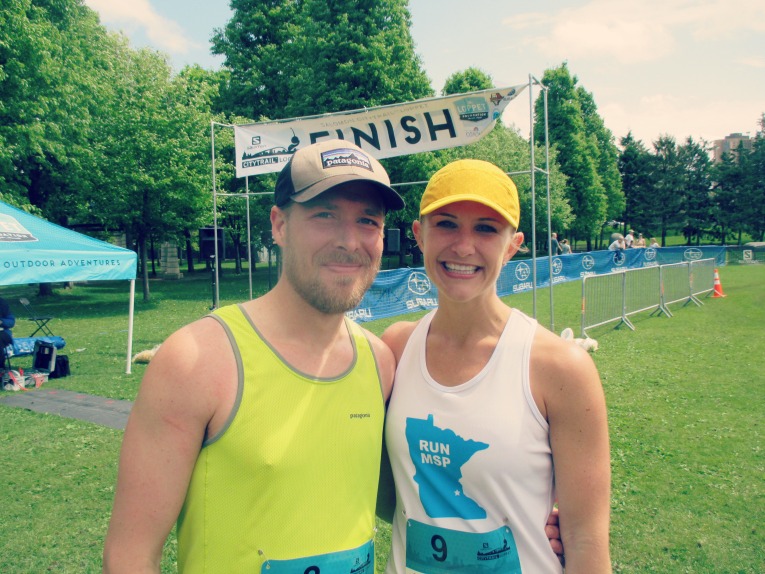 The Finish Line:
The finish line took you around the pond by the Spoon and Cheery in the Sculpture Garden for an awesome finish line! It turned out to be a beautiful day and there were crowds cheering for you as you headed towards the finish line.
The SWAG:
The SWAG included some nice running shirts from Salomon, a pint glass, as well as a ticket for a Surly beer and a hotdog or brat.
Here's a picture of the men's Salomon shirts. Sorry, mine was in the wash at the time of this "photo shoot," but I actually like the women's version too! (Shocking, I know!)
Post-run, the sun was shining and we had such a great little afterparty with our friends! So fun.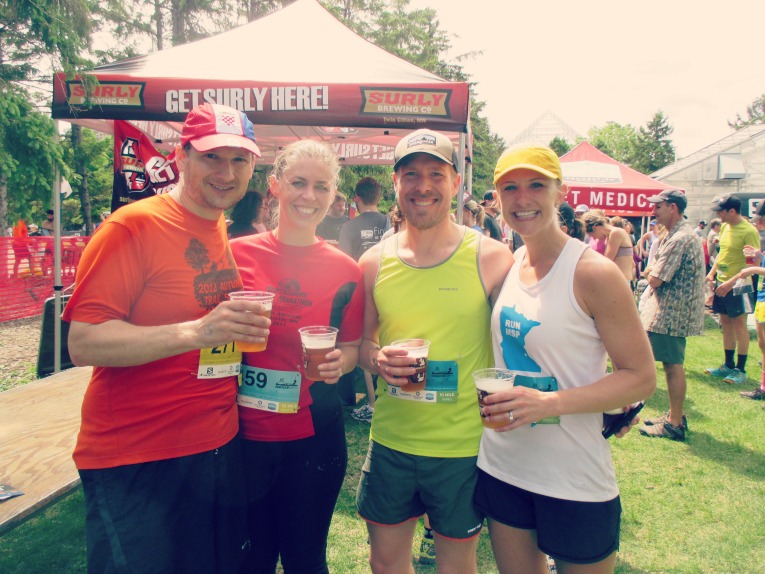 My Performance:
I finished this race in 1:32, or a 9:14 min/mile pace. That was exactly where I should be for my 10 miles of "recovery" at the end of a 70 mile week. But this 10 mile run was a lot more fun than 10 miles on the same old trails all by myself. It was a great end to a fun week of running!
Salomon CITYTRAIL Loppet- see you next year!
(Visited 454 time, 1 visit today)