By Jessie
I participated in the TC 1 Mile last week, which was the second time that I ran this unique event.
It was a hot, windy Thursday evening. When I met up with two run club friends for a few miles of warmup beforehand, we could tell the conditions were not ideal.
The race included multiple "waves," the first of which was the "Friends and Family" wave. Since we were at the start line and ready to go at 6:50, we decided to go ahead and run with this heat. Unfortunately, the casualness of this wave (i.e. lots of little kids and parents) left us feeling a little less than our "most competitive" selves, and my mile time reflected that. However, it was nice to run in the first wave so we could cheer for all the others!


I was supposed to run in the Corporate Team Wave, but since the event is chipped-timed, it doesn't really matter which wave you go in (though I could not have participated in the Masters Wave, the Open Wave, or the two championship waves of course). The D-man ran in the Open Wave, our run club coach, Paul, ran in the MN Team Circuit Championship, and my coworkers ran in the Corporate Team Challange wave.
It was amazing to watch the Championship wave. The winning man ran in 4:04. Last year's time was a 3:58, so it was definitely a slower day, but the time was still quite impressive!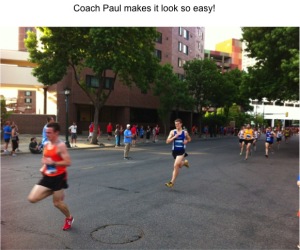 I would give this race a 9/10. It's only $20, which includes a dry-fit shirt. It's a nice event, because runners of all levels and abilities can participate. Though I prefer a longer distance event, it's fun to occasionally push myself a little harder for a short amount of time.
Pros:
Price- only $20
A wave for everyone! The Friends and Family, Corporate, etc allow all types of runners to participate.
Location- there are plenty of pubs along the course for a post-run beverage
Opportunity to cheer for some amazing runners
Cons:
Parking– getting downtown and finding parking can be challenging. I suggest running from Uptown or elsewhere as your warmup if possible.
Air Quality- for some reason, we all were coughing like crazy after the race. Some people thought it was the cottonwood in the air or the humidity, but it seemed like maybe the air quality was bad at that time of day downtown. My cough lasted until the next day- ugh!
I would definitely recommend this event to others for next year. Stay tuned to this website for more details!
(Visited 148 time, 1 visit today)