By Jessie
In the past, I had tried several different methods for keeping my hair out of my eyes while running or working out, and nothing seemed to work. Clips, bobby pins, other types of headbands…they all seemed to slip off, and I would be left with annoying fly-aways distracting me during a run.
Then, about two years ago, I discovered
BIC bands.
These headbands have a velvet interior, which sticks very well to your hair, meaning these babies don't slip off!
They come in different sizes- skinny, medium, and thick, and there are all kinds of fun prints to choose from.
Over two years I have accumulated quite an array of different bands:
I am sure I have mentioned
BIC bands
many times on this blog. This brand was started by a woman in California, who first start selling these on Etsy. There are other similar brands out there (i.e. Sweaty Bands) but a nice thing about BIC bands is that $1 of every band goes to charity.
BIC stands for "Because I Can". i.e. I run because I can, while others cannot. And $1 of each band goes to helping those who can't. Read more at the end of this post about this cool company!
Sandy, the owner, has grown her business exponentially, but I was fortunate to find out that she was still willing to make customized bands for our running club. She sent me a few examples of font, etc, and we decided on simple white wording on a red background.
The actual color on the bands is more of an orange/red, but I'm still quite pleased with the results!
I only ordered 25 bands to start, and will sell them for $10/piece.
Let me know if you're interested, CBRC'ers!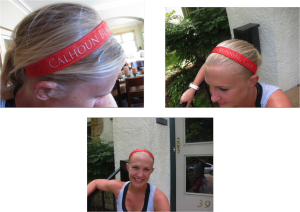 More About BIC Bands:

From Sandy:
These amazing headbands started all as a fundraiser for my run with Team In Training. I was looking for a way to raise the necessary funds to run my first half marathon. I had started to make some handy dandy headband that didn't slip because I was cheap and crafty~ friends said they'd buy them, so I decided to try my hand at making and selling them. My small little venture began and I started sewing. I donated the profits to The Leukemia and Lymphoma Society. OVER $1000 was raised through the sale of B.I.C. Bands!
B.I.C. Bands~ Because I Can Bands ~We raise funds because we can…for those who can't so that one day they will!


Because B.I.C. Bands were been such a hit after my race, I decided to keep making and selling the bands, and keep giving back to those in need!
From the beginning days of making B.I.C. Bands for my run with Team In Training, giving back has been at the heart of the business.
Each month we donate from the sale of every band to a different charity. Check out the facebook page to see who we're helping this month!
These bands don't slip- SERIOUSLY!!! The magic lining of these little guys stick to your hair. And as an added bonus~ they're soft and stretchy, working hard to not give you a headache
While the major majority of customers fit perfectly into a 20″ B.I.C. Band, a small handful of customers need a larger size (21″) or smaller size (19″). The beauty of these is that they are all handmade and can easily be custom made to fit you! (Kids love B.I.C. Bands too!!)
If your not sure which size to order, measure your head where you'd wear your B.I.C. Band~ you're looking for an inch to two inches of stretch (i.e. head measures 21.5″, order a 20″) If you don't specify a size in the notes at checkout, your band will be a standard 20" B.I.C. band.
YES! B.I.C. Bands are washable. It's recommended that you hand wash it. Or, you can wear it straight into the shower after your workout! Rinse it out and hang it up to dry =)
(Visited 149 time, 1 visit today)