FlyFeet Running is a brand new studio located in downtown Minneapolis (next to the iconic Bob Dylan mural.) It was founded by an ex-Target VP / marathoner Kristin Shane.
"Fly Feet, which offers group running classes in a setting similar to spin classes, plans to open this fall in about 5,800 sq. ft. on the building's first floor, fronting Fifth Street South and adjacent to the world-famous Bob Dylan mural on the exterior wall of the building's west side. 
"Minneapolis is such a fit city with a huge running community, it just made sense to be the place we launched," said Kristin Shane, founder of Fly Feet Running. "We will do for running what spinning did for cycling." – source
We are currently in the middle of FlyFeet's "soft opening", so classes are free. (Thanks again to Rita for commenting here on the blog and giving me a heads up!)
Registering for a class online is super easy. The only problem for me was that I had limited options as most of the classes filled up really quickly.  I was left with a 5:15 am class, which is so darn early. But that's okay, I'm an early bird!
My experience:
I had trouble finding a place to park, so I was a few minutes late to the class, but the instructor quickly helped me get settled and explained what I had missed and the general idea of what I was about to experience. I was so relieved that I was still able to take the class even though I was late!
There was one primary instructor in the class and another instructor making the rounds to give form tips, demonstrate moves, and provide encouragement.
The Studio:
The reception area was very new and so bright and clean. I didn't explore, but apparently they have showers and nice locker rooms.
The studio itself has about 15 treadmills. Opposite the treadmills is an area with TRX bands, dumbbells, etc.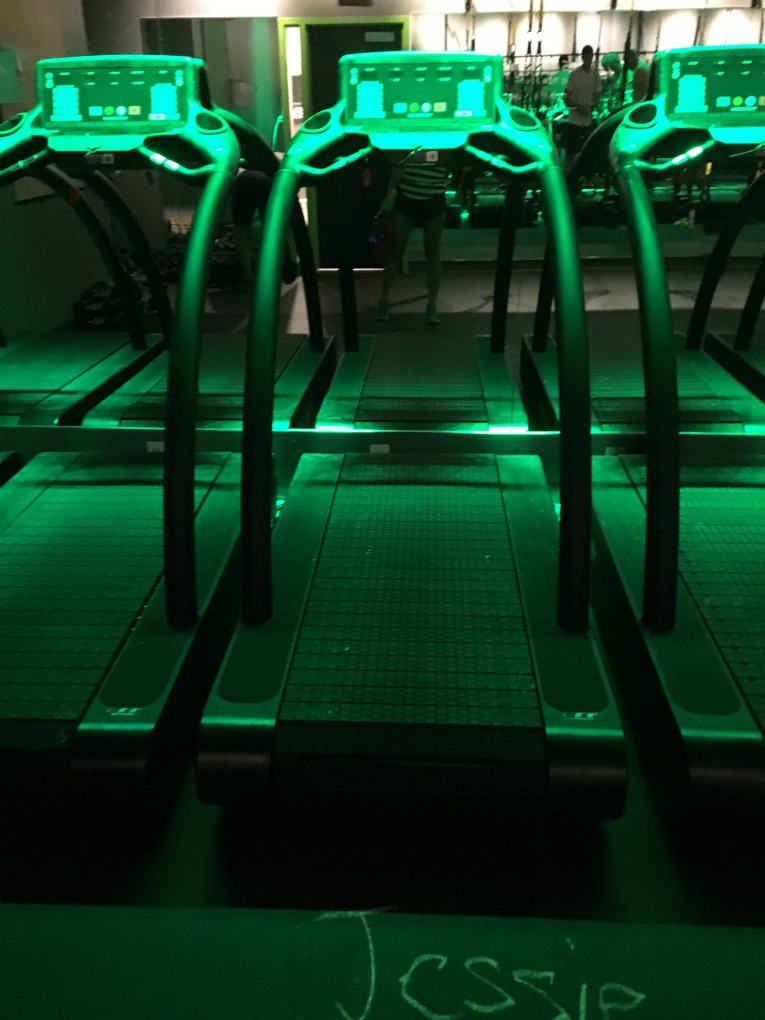 Though I have only taken one class, I have heard that each class offers a slightly different workout. The one that I attended included 2 minutes sprints on the treadmill at faster than your one-mile pace (which is crazy hard), 1 minute recovery, followed by a strength workout/set of several moves.
There were 3 different sets of strength workouts that we did; they included things like knees-to-elbows on the bar, TRX pull-ups, push-ups, dumbbell push-presses, butterfly sit-ups, squats, lunges, lunge jumps and more (I don't remember all of it).
After the strength, it was back to the treadmill for another 2 minute all-out-sprint, then back to the strength portion again!  For each set, your goal was go just a little bit faster on the treadmill and fit in just a few extra sets during each strength move. You'd write down your number in chalk in front of your treadmill to see your progression. The final set was half the time (only 1 minute sprint) so the goal for the treadmill part was faster still, and then for the strength reps, you wanted to shoot for at least half of your max. Tough workout!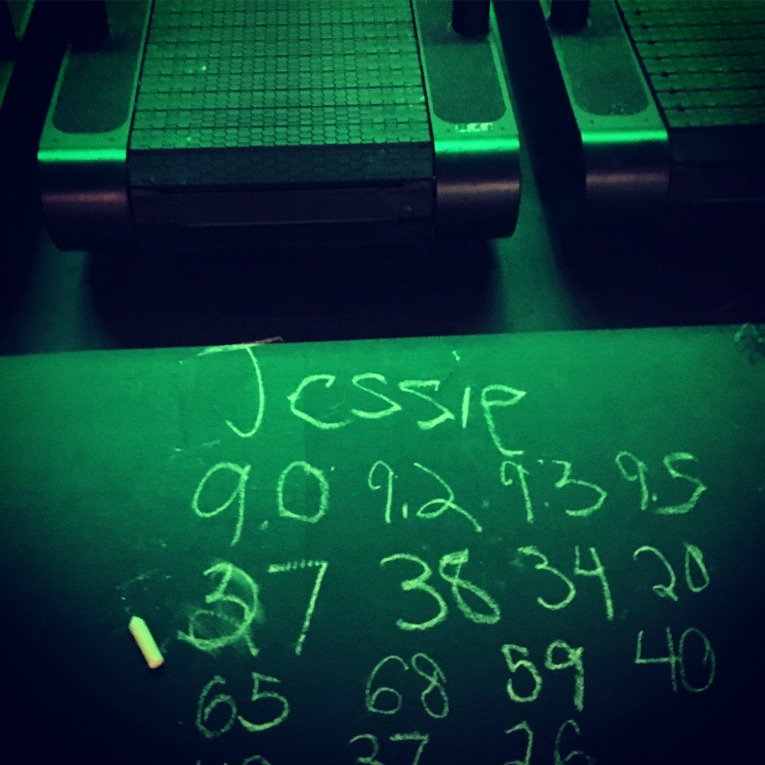 What I liked:
The studio itself was definitely a 'plus'- very cool vibe.
As for the workout, the running part was intense and I usually don't push myself that fast. Ever. Well, except maybe at the TC 1 mile. So it's probably very good for me to switch things up like that and stress my body. The strength part was well-rounded. The instructors demonstrated and explained the moves very clearly.
Overall, I had a very positive experience and would recommend this class. However, there are always a few small things that I aren't exactly for me; that doesn't mean that the class isn't perfect for you!
That thing for me at FlyFeet is that I don't always like to be rushed to do "as many as you can."  I start to get competitive and lose focus on form. It starts to feel like quantity over quality.
I also had trouble finding the studio and then finding parking, but if you live or work downtown, you won't have that problem. That's just my personal lack of a sense of direction. 🙂
"This sounds a lot like Orange Theory Fitness."
I was really into Orange Theory Fitness for awhile, in the early days of this blog. It's a good workout too and its definitely somewhat similar. The biggest difference is that FlyFeet doesn't include rowing in the cardio part of the class, just running. In FlyFleet, you don't wear a heart rate monitor to try to stay in certain zones; rather its up to you to figure out what pushing yourself feels like.
Could FlyFeet replace a running coach?
I don't think it could replace a training program or coach for long distance/marathon training. I think it would be more helpful for shorter distance training. For marathon training, I still need the long, slow distance, the tempo pace, the goal marathon pace and the MILES. I need the miles. And I like to run. A lot. And I prefer to run outside.
Yet, I think it's a perfect class going into the winter. Not as many runners are training for marathons right now so FlyFeet timed their launch very well!
You could get in really great shape with FlyFeet. I bet it could help you set a 5k PR or a 1 mile PR. And it's a nice complement to distance running.

With that said, I think FlyFleet is very much for runners.
The owners are runners and the vibe was "cool hipster runner." Very friendly. Like I said, it's a great complement to a training plan, especially to add in on short interval days. It incorporates strength training moves that are great for runners.
It might be challenging to figure out when I could fit it in when training for a marathon, but I plan to ask the instructors what they would recommend.  I will probably buy a class package after the soft opening is done. I'm planning to fit in another free class first!
I also think FlyFeet is very much for non-runners too! 
Each participant is working at their own pace and the intervals on the treadmill are very short so you don't have to be a great runner to get a great workout at this class.
You don't even have to love running, but you may still love this class!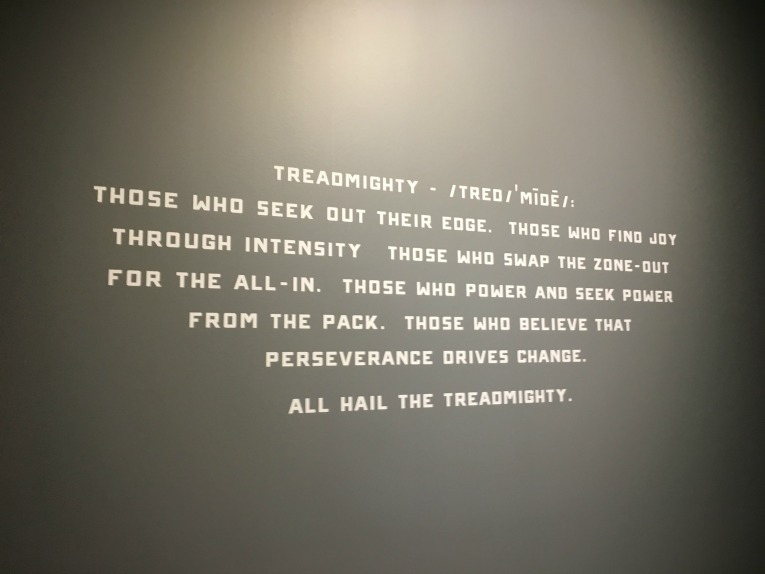 I think FlyFeet Running is a welcome addition to the Twin Cities fitness scene. I follow fitness bloggers in other cities who seem to have a lot of options for treadmill based fitness classes, so it's cool to see Minneapolis add one.
I will do my best to spread the word about this cool studio as I really hope to see it grow and offer up more locations across Minneapolis and St. Paul!
Have you tried FlyFeet Running? How about another treadmill based boutique fitness class?
Let me know your thoughts!
(Visited 861 time, 1 visit today)