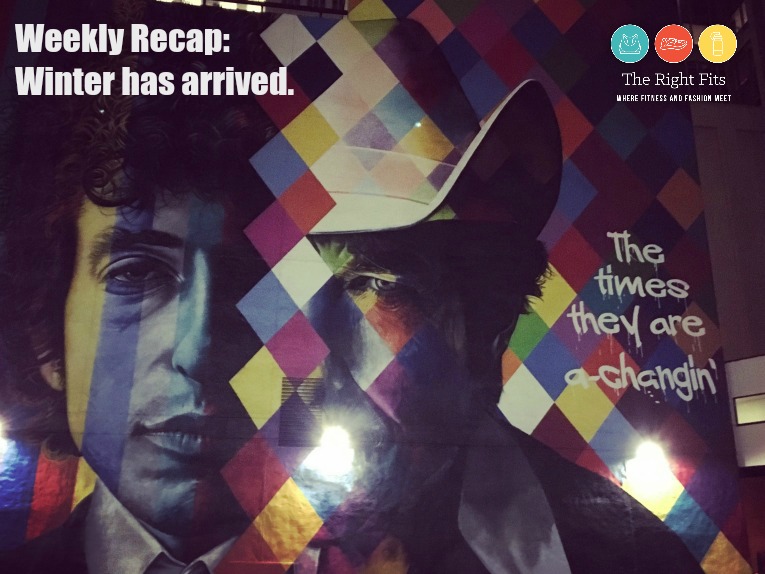 (The above mural is located downtown Minneapolis close to FlyFeet Running. The times do seem to be a-changin'…as well as the seasons.)

Monday: 7.4 miles after work, 9 min/mile pace. It was dark, but I was still in shorts! Beautiful night.
Tuesday: 5.4 miles with Tilda before work, 9 min/mile pace.
Wednesday: FlyFeet Running with my friend Christie at 5:30 am. With the warm-up and the workout part on the treadmill, we covered about 3 miles. The strength component of the class included a LOT of push-ups. My chest was SO sore the next day.
Thursday: 7.2 miles with my friend Nordica before work, 9 min/miles. STILL IN SHORTS. But alas…the forecast told me that was about to end.

Friday: 4-ish miles on the treadmill. I wore my Garmin, which only said 4 miles, but the treadmill said 4.4. I've read that the Garmin 225 will become more accurate the more you use it; I don't want to have to use it that much (since that means I'm on the treadmill) so I don't mind the inaccuracy, ha!
I ran over my lunch hour, which I rarely do. One thing that helped make it possible? I took an amazingly fast shower and then used this dry shampoo, Living Proof.
It's the only dry shampoo that actually cleans your hair. You spray it on, let it dry, and then brush away the dirt!
It seemed to work pretty well for me; I asked Dustin after work if my hair smelled bad and he said it smelled really good, and I did not think it looked greasy or dirty. Living Proof dry shampoo might be my new favorite time-saver.
The reason for the treadmill run? Blizzard like conditions. I went from wearing shorts on Thursday's run to snow and crazy winds on Friday.
Saturday: Time to pull out the winter running clothes for my long run with the Calhoun Beach Running Club. Gloves, an ear warmer, these tights, this Nike top, and this Oiselle top as a base layer. The temperature was 27 degrees with a "feels like" of close to 16 with the wind chill.
I only had time for 10 miles (9 min/mile pace) as I had plans to meet my friend Monica at an 11 am arms & abs class at [solidcore]. I didn't think an arms & abs would be that hard after a run since it was totally different muscles. Also, my coach often recommended strength training after a run, but on the same day. But yesterday's class post-long run felt extra tough. I think my energy level must have just been depleted. In hindsight, I should have brought a snack to eat between the run and the class.
The class itself was a good one; the teacher was Courtney, who's fantastic. My abs are sore every time I sneeze!
My friend Monica that I met up there was recently at a quilting conference and she made me these awesome coasters as a thank you for watching her dog while she was out of town.
Aren't they cool? Talented girl.
Sunday: 45 minute 'hip-hop' spin class at Surge cycle with my friend Christie. I hadn't taken a spin class in quite awhile and today's class was a great reminder of much fun they are, especially with a hip-hop theme.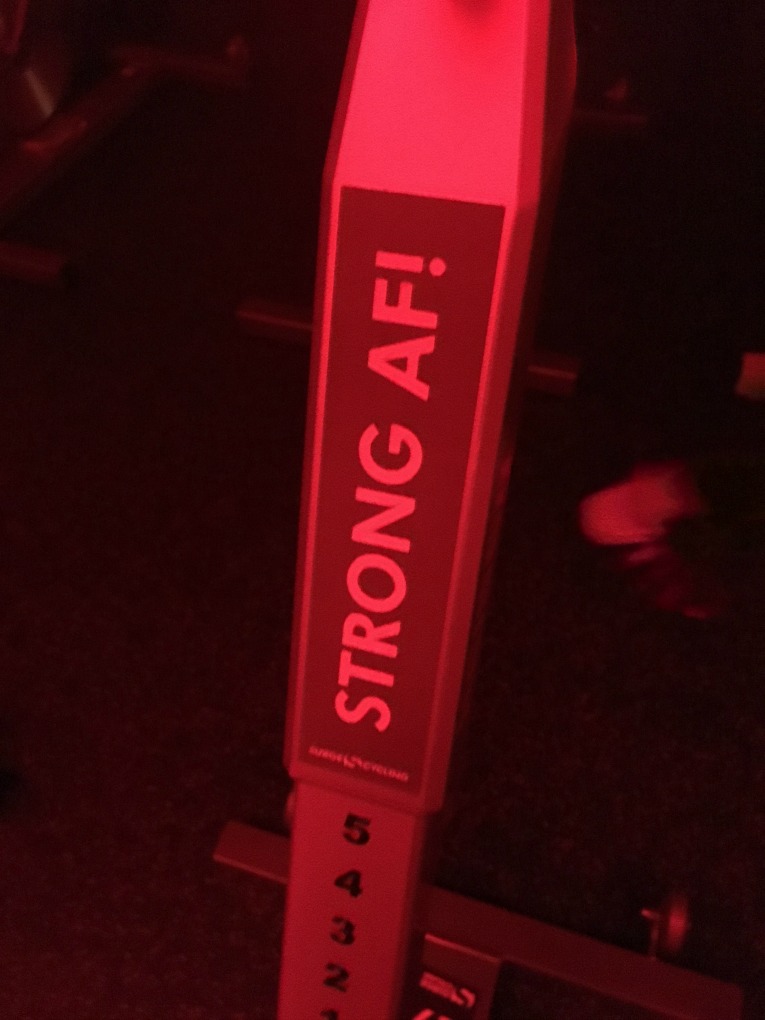 After the class, I went for a quick run with Matilda and Dustin. 4.1 miles at an 8:15 min/mile. Crazy to think I ran 26.2 miles at that pace in September. I have a bit of work to do to get back to that!
Summary: 42 miles of running, 1 FlyFeet class, 1 spin class, 1 arms & abs class at [solidcore]. It felt like a decent mix. Last week, I had close to 50 miles of running. Boston training hasn't started yet, so this week I cut back a little bit. I'm getting excited to start training again though…when can we start coach??
In other news, we finally hung up the carving Dustin's dad made years ago. I love it so much!

Have you watched the Barkley Marathon on Netflix? I listed it as one of my Five Favorite Running Documentaries. If you haven't watched it, definitely do so, it's awesome!  My sister is hosting Thanksgiving this year and organized our our own 5k version of that race. I'm excited to see what all she has planned!

Speaking of Thanksgiving, Matilda got a bath to freshen up before the holidays. Vizslas don't need baths very frequently, but she's generally pretty tolerable of them when we do give her one. But she sure does milk up the 'I'm so cold and miserable' afterwards, which always gets her lots of extra cuddles and treats.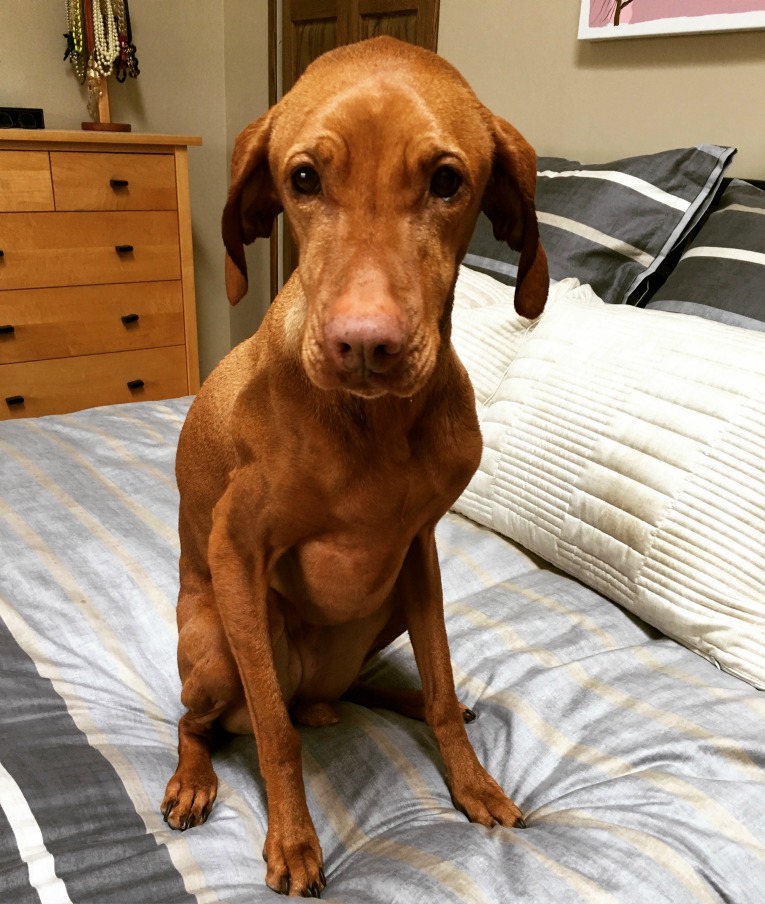 Are you doing a Thanksgiving race? Big plans for the holiday?
Please share!
And then join Jess at Jess Runs ATL for our weekly link-up. Details below:

(Visited 359 time, 1 visit today)