Last fall, I tried my first [solidcore] class. I LOVED it. Read all about it here.
Since then, I have tried to take a class a week. I would love to do it more often. But it always leaves my legs pretty sore, so I found it challenging to fit it into my marathon training.
Solution? [solidcore]'s Arms & Abs class!
As a quick refresher…
[solidcore] is a fitness studio offering classes that follow the "Lagree Fitness Method."
This method uses slow and controlled full-body movements with constant tension to work your muscle fibers to failure. The idea is that if you're working your muscles to failure, you will force them to rebuild a more sculpted and stronger you. The solidcore classes are small, with only about 12 students in each, as each student is on a  "Megaformer."  A Megaformer is a cross between a Pilates reformer and a Total Body Gym.
What sets [solidcore] apart from other reformer classes?
At [solidcore],  they exhaust and break down one muscle group then move on to the next one, never going back to the same muscle group. The intensity is much higher as well compared to a normal Pilates reformer type class.
Back to Arms & Abs!
I took my first Arms & Abs class at [solidcore] last Monday with my friend Monica. The class was just as crazy hard as the regular class…maybe even more so! The Arms & Abs class is 50 minutes long, just like the regular [solidcore] class, but it focuses entirely on your core and upper body, which are two areas I definitely need to strengthen.
My core was shaking right away and I couldn't believe all the different exercises you could do on the Megaformer just for abs and arms. It was an awesome workout, and we were both pretty sore the next day. But even though we were sore, it didn't affect our next morning run. It gave me a really "solid" workout without trashing my legs for marathon training.
Just a note- when I tweeted solidcore about my love of the Arms & Abs class as an option during marathon training, they did remind me that if I went to the standard class more regularly (i.e. 3 times/week) I wouldn't be quite as sore after each one. I'm sure they're right, but I can't fit it in 3 times a week right now. So when I'm only able to go once a week tops, each class leaves me in rough shape for a run the next day. However, the Arms & Abs class is a perfect alternative to still get most of the benefits of the solidcore workout while still marathon training.
I really enjoyed the Arms & Abs class and I hope to fit it in as my primary strength training throughout the rest of my training for the Richmond Marathon! I went again today (Sunday) and my arms are pretty shaky right now…and I have feeling my core will feel it tomorrow!
MORE INFORMATION:
Where is solidcore located?
We are lucky that we have the only [solidcore] studio outside of Washington D.C. It's located at the Shops at the West End at 1653 Park Place Blvd, St. Louis Park. The Shops at the West End is a perfect location for a studio like [solidcore]; before class, you can purchase some cute fitness apparel at lululemon. After class, you can refuel at any of the nearby restaurants (Crave, Rojo, Raku, Yard House, Bonefish Grill, Cooper Pub, and more!) If you want to switch it up from [solidcore], Haute Barre is located at the Shops at the West End too.
So, I'm a fan of the current [solidcore] location, but guess what? Now there is a second Twin Cities location in Wayzata. It just opened, so I haven't been there yet, but I'm sure its just a 'solid' as the St. Louis Park location!
What's the right fit for a [solidcore] class?
You can wear grippy socks, but most people go barefoot.  For apparel, yoga pants/capris and a tank (you will sweat!) work best. The guys in the class were wearing shorts and t-shirts (and there are always guys- this class is not just for women!)
Be sure to bring a water bottle. Towels are provided.
Look at those arms and abs!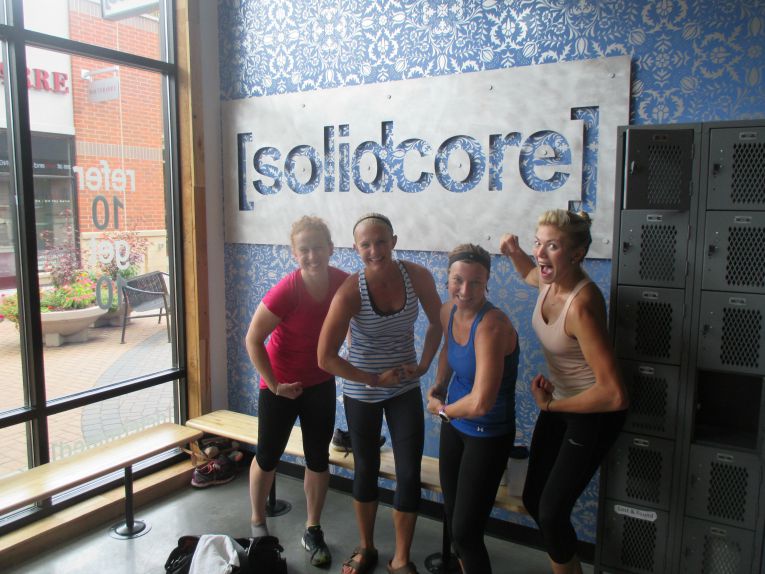 The classes aren't cheap, but they offer a lot of bang for your buck.
For pricing and packages go to this site: http://www.solidcoremsp.co/
Have you tried [solidcore]?
If you do try out [solidcore] for the first time, be sure to tell them Jessie at the Right Fits sent you! They have a referral program where if you refer 10 people, you get 10 free classes and become an "ambassador." I'm so close to getting my name up there!
(Visited 4,537 time, 1 visit today)