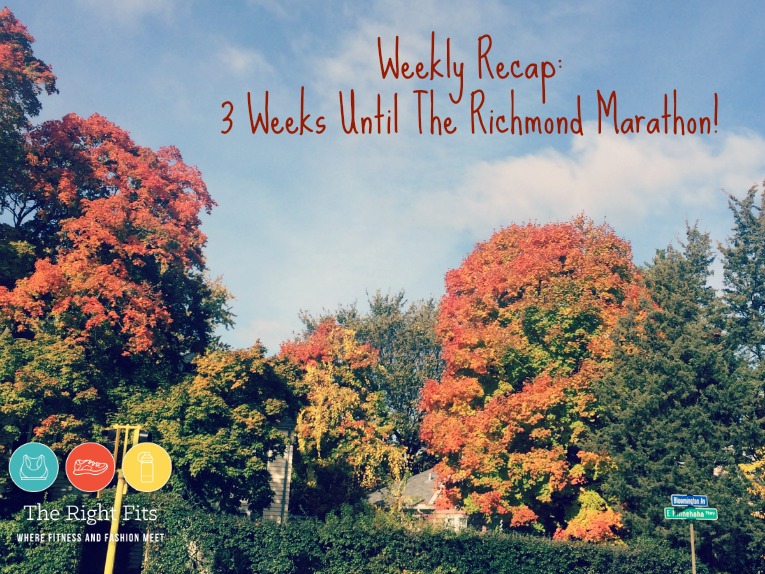 After last week's 76 miles, this week was the beginning of THE cutback- it's basically taper time! This week was still a tough one though but mostly good! My coach usually has given me a two-week taper, but he said after already running two marathons this year (Tokyo and Grandma's) he thought it might be good to give me a longer, more gradual taper.
Here's how it all went down:
Monday: The workout was "15-10-5"- 15 minutes at a 7:30 pace, 5 minutes recovery jog, 10 minutes at a 7:10 pace, 5 minute recovery jog, 5 minutes "as fast as you can" with 2 miles to warm-up and 2 miles to cool-down for a total of about 8.5 miles. I have run distances longer than that before work, but I just couldn't muster up the energy to do this one before work. Another reason I chose after work is because I sometimes struggle to hit the paces in the morning vs. in the evening, even though I much prefer morning running! Anyways, I was pretty close to these paces for each interval, with my "fast as you can" being "as fast as I could at the end of a workout and after a 76 miles week!" Ha! That translated to about 7 min/miles.
Tuesday: Recovery miles! I had 8 easy miles in the morning and 5 more easy miles after work. 13 miles total for the day. I tried out these glow shoelaces on my "dark" morning run- they didn't light my way like a head lamp, but they actually looked pretty cool and I felt like it helped other people see me!
Plus, well, they're fun. And cheap. I bought this pair. And they are supposed to last 70 hours. They have an "off" button so you're not wasting energy when you're not using them. I recommend them!

Wednesday: Complete rest.
Thursday: Yasso 800's! Another workout that I decided to do after work. 2 miles to warmup, 6 x 800m (i.e. Yasso 800's) with 2 minute recovery in between, 2 mile cool-down. You can learn more about Yasso's here. They are supposed to be a "predictor" workout for the marathon, but I only did 6 of them- I think to be a predictor, you're supposed to do 10 or so. So even though I did do them in "3:30" or a 7 min/mile, I'm not going to pretend that's my goal. My goal is just to BQ!
Friday: 6 miles recovery in the morning. I was supposed to have a second run in the evening, but the cold rain and a long day at work led me to skip this run. I felt a little guilty, but I figure one skipped easy run isn't going to make-or-break this marathon.
Saturday: 15 mile long run with 10 miles at goal marathon pace. Keeping my pace under 8:20 was easy on this run, but its hard to think about doing that pace for another 16.2 miles! But I need to trust my training. The idea is that I will be tapered and fully rested on race day though, so hopefully I CAN keep that pace!
After the long run, we took Matilda to the dog park, just like most Saturdays post-long run. But on the way, we stopped by Starbucks and they offered her a "puppichino." I had never heard of this, but its on the "secret" menu. Its just whipped cream in a mini-cup, but Matilda LOVED it. She went nuts!
Its definitely not something we'll be giving her every time we go to Starbucks, but it was a fun treat for her.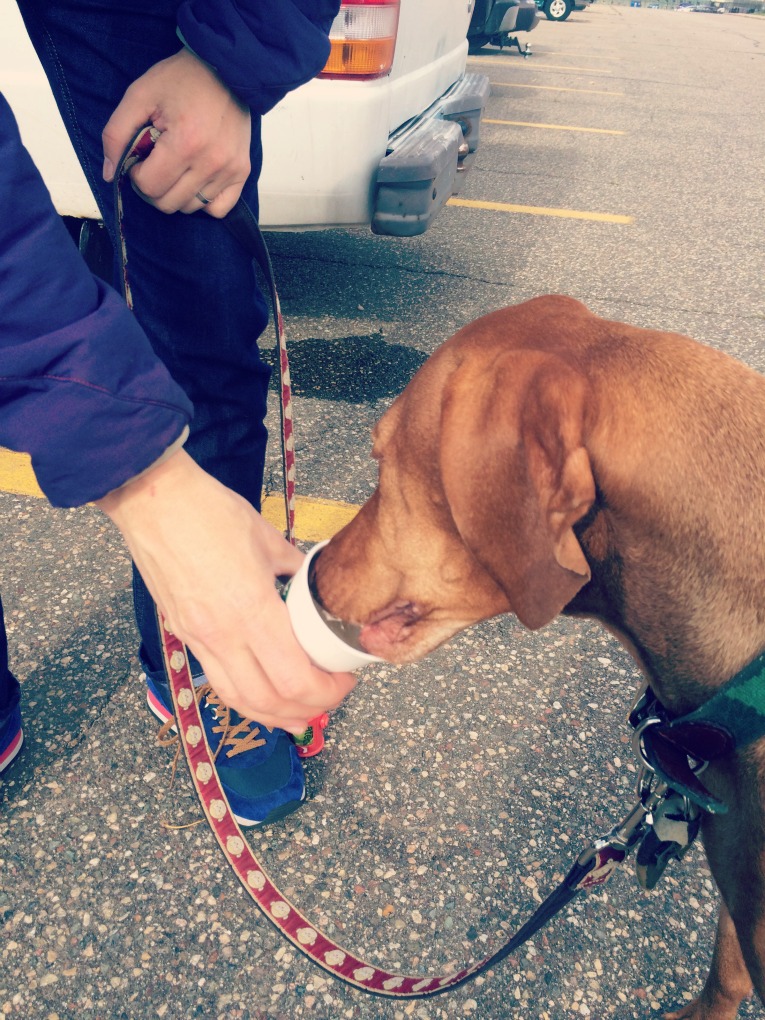 Sunday: Arms & Abs at [solidcore], 8 miles easy with Dustin and Matilda the vizsla, then a second run of 5 miles in the evening. Full day of exercising- and I thought Sunday was a day of rest? Arms & Abs was a blast as always, and both of my runs were super easy.
Summary: 64 miles, 1 solid core class. On the decline now from the 76 miles last week!
Just the other day, I posted a picture on Instagram of my lovely Garmin 220 color coordinating with my Moving Comfort bra and lole hat.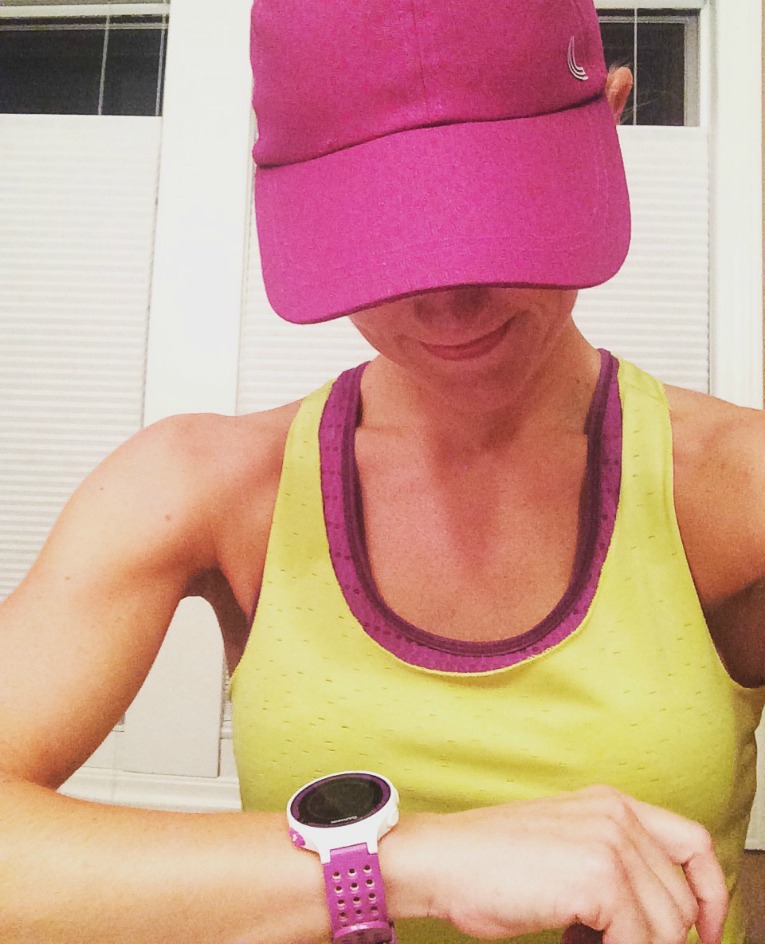 I loved that Garmin 220, so I was very sad when it died a few days ago. I have had it for less than a year – it was with me for the Tokyo Marathon and Grandma's Marathon. I figured it would be with me for Richmond as well but it was definitely dead. It wouldn't charge no matter what- even if I put it on Dustin's charger. Dead.
So, I returned it to REI (they have the BEST customer service/return policy) and they replaced it with the Garmin 225 (I had to pay the $50 price difference). They only carry the 225 right now in black/red. I know this is such a silly thing to care about, but I really loved that purple and white 220! The black/red looks just like Dustin's 220.
I guess I will learn to love the 225….
The biggest difference that I noticed so far is that the 225 has an integrated heart rate monitor (on the wrist). It also can track your sleep, though I have to look into how that works.
Anyone else have the 225 and have some tips for me?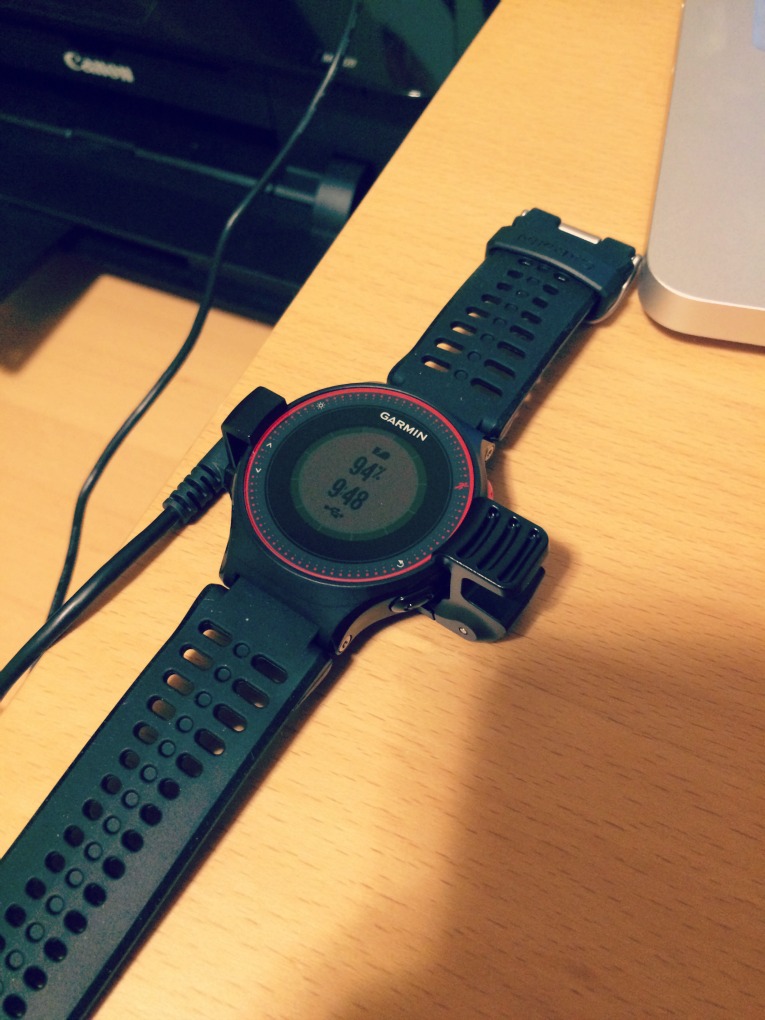 (Visited 288 time, 1 visit today)