Today's fitness fashion post isn't really fashion, but its definitely something I am wearing on nearly every run these days…it's my Garmin 220!
The Garmin 220 is considered a "mid-range" (price-wise) running watch. I received this as a gift right after I returned from Singapore. My first race with it was the Tokyo Marathon.
Opinion? I LOVE this Garmin!
Why do I love it so much?
Well, my old Garmin, the 210, was okay for a few years. It was with me for about 5 marathons, but it was time for a replacement. My biggest complaint about the 210 was getting it to charge! For some reason, I had a lot of trouble getting it to charge. It would take several attempts to get it to rest correctly on its holster, and even when I thought it was charging, it wasn't! When I was traveling abroad, I had a few mornings when my old Garmin 210 was completely dead when I woke up and I ended up having to run on the treadmill until it charged. (I didn't know Singapore well enough to just wing it in terms of miles.)
Here are the basic features of the Garmin 220 according to the website:
Auto Pause
With the Auto Pause feature on, the 220 automatically pauses when you pause your run (at an intersection for example) and starts again when you start your run.
Workouts
Design your workout or get a free training plan on Garmin Connect then load it on to your 220 for real-time coaching on pace, time and distance.
Personal Records
220 keeps you motivated by letting you know when you've achieved a personal record from the mile to the marathon.
Color Display
220 features a high-resolution color display putting essential features at your fingertips and in vivid colors for quicker comprehension.
Vibration Alerts
Get vibration alerts so you know when you are ahead or behind the pace you set your watch to track. You can also get vibration alerts for your mile split, lap, or customize alerts for various other information.
Connectivity
Wirelessly link to Garmin Connect Mobile anywhere on your smartphone through Bluetooth. Upload your 220 data to Connect on your home computer with a USB connection.
And here are the things I really love about it:
1. It picks up the satellites WAAAY faster than my 210 did.
2. The display is big and easy to read.
3. I like the vibrating feature when you clock a mile.
4. It's SOOO much easier to charge. I don't have to worry about it being dead when I wake up in the morning for a run!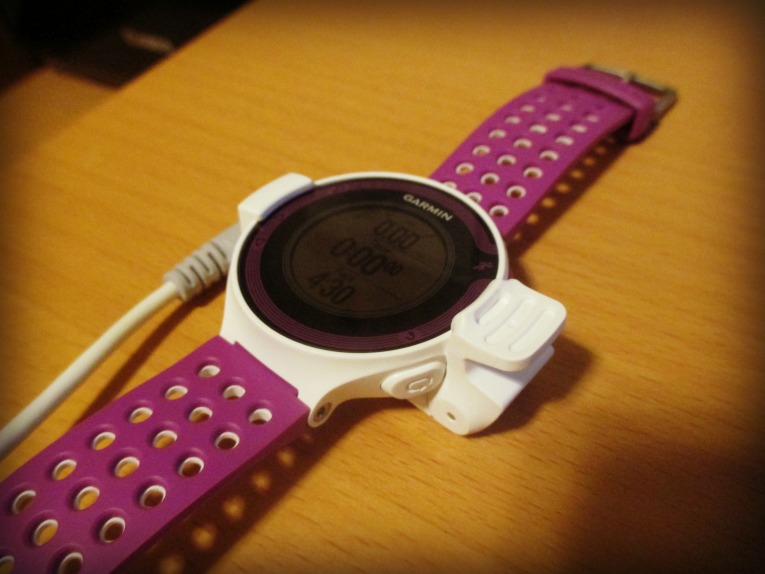 5. What can I say, I like the purple and white. It also comes in red/black.
6. It's light and doesn't bother my wrist. (According to this review, my 210 was 11 grams heavier than the 220, which is 41 grams.)
7. It's really easy to use. You don't have to read the entire instruction manual to figure stuff out.
8.  And Dustin's note, "No touch bezel!" His old Garmin had a touch sensitive bezel that would go nuts in the rain or on an extra sweaty run.  "Can't go wrong with good ole' fashioned buttons."
"Cons" of the Garmin 220?
There is one sort of "downside"- in the middle of a mile, it will round your current pace to the nearest 5 seconds, i.e. if you're running an 8:47, the display will show either 8:50 or 8:45. Your mile total pace will still be correct at 8:47. It's just the current pace that's rounded. It's not really a big deal for me, but I could see how it might be annoying for some.
For a full review that is much better than mine, read THIS ARTICLE!
Do you have a Garmin and if so, which one? Or do you run with a good old fashioned watch? Or an app on your phone? Please share!
(Visited 612 time, 1 visit today)