Yes, that is snow in the above picture. Winter returned to Minneapolis and made for some colder runs the past two weeks. It definitely was hard to handle after such nice weather earlier this month!
Anyways, I missed my weekly recap for the week of March 16-22, so I'm filling you on the past two weeks.
Week of March 16-22
Monday: About 7.5 miles with my friend Monica; I met her downtown for a change of scenery. I really enjoyed this run- it was great to catch up with a friend over some morning miles!
Tuesday: I ran with the CBRC tonight; it had been quite a while since I went to run club during the week. There's a big group of runners close to my pace that are running the Grandma's Marathon, so it should be a fun training season!
Wednesday: 4 miles easy with Matilda in the morning, vinyasa yoga at Corepower with instructor John after work
Thursday: Back to the CBRC! Second time in one week…We did 8 minute tempo intervals, 3 sets, 7 miles total.
Friday: 6 am barre class at The Barre
Saturday: 13 mile long run with the Calhoun Beach Running Club. I had to get ready in record time after this run as we had a funeral to attend that started at 11 and then I was helping a friend move. By the time I finally got home, I was STARVING. Definitely not the right way to recover after a long run but sometimes that's how life goes.
Sunday: Irish Run 8k! Great day.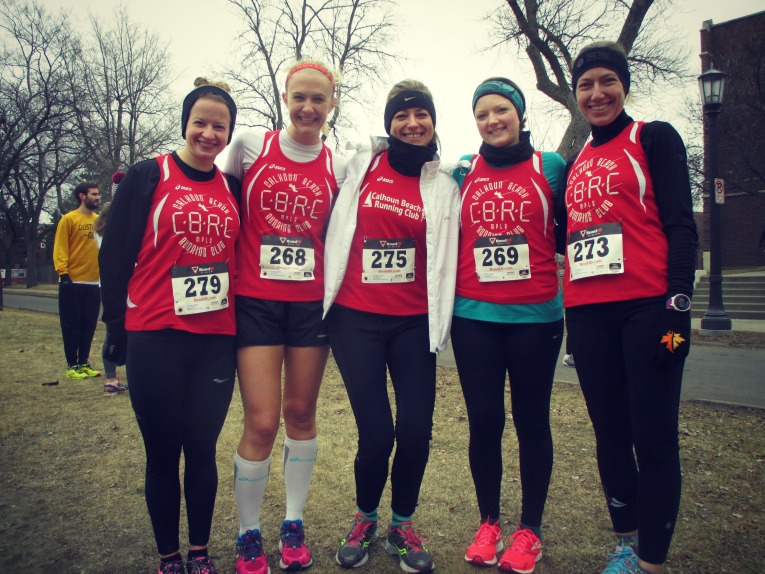 Total for March 16-22: About 45 miles, 1 barre class, 1 yoga class. Another week where I achieved my goal of 1 yoga class and 1 strength class- woo-hoo!
March 23-29:
Monday: Complete rest. This was unplanned, but I was stuck at work until 8:30 pm and couldn't muster up the motivation for such a late night run.
Tuesday: Hill repeats! My workout was supposed to be 20x 100m hill with a 5% grade. I went to our run club's normal "summer hill" and repeated the top portion (the steepest portion) 20 times. Apparently, that steep part is a 12% grade. No wonder it felt so hard!
After 10 repeats, I thought about calling it quits, but I figured I was halfway…why not do at least 5 more? Then at 15, I knew I could do 5 more. I just needed to break it down into pieces. 8 miles total with 2 mile warmup and 2 mile cooldown.
After work, I decided last minute to take a [solidcore] class. Antonio (my coach) had suggested that if I am to do a tough strength training class (like solidcore), I should do it on the same day as a tough running workout, not on an easy day. He wants my easy days to be truly easy, but he believes a strength day can be combined with a workout day, as long as its done after the run. It was a great class at solidcore and I could definitely feel it for a few days afterwards!
Wednesday: 4 miles easy with Matilda. In the evening, my work team (+ a few spouses/partners) volunteered at Second Harvest Heartland where we packed sugary Scooby cereal into 1-pound bags. Does that count as a workout? Ha!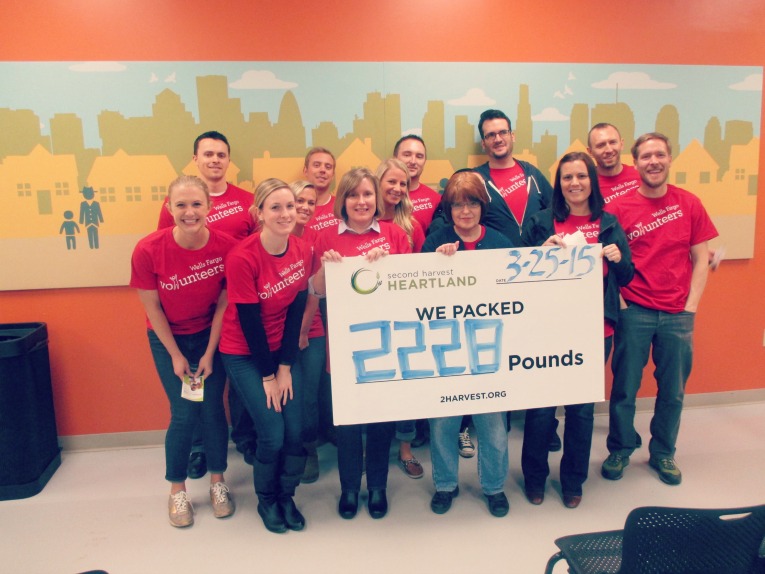 Thursday: I went to running club this day; most of the people there had a hill workout for Boston, but my coach had me doing what he called a "Change of Pace" workout. 1.6 mile warmup, then 3×1 mile repeats with the recovery 400's at goal marathon pace. The idea is that I'm mixing in hard effort with minimal recovery- i.e. recovery at goal marathon pace instead of a slow jog. This workout felt tough, even though I had run faster at the race on Sunday. 7.5 miles total.
Friday: 4 miles easy with Matilda
Saturday: 15 mile long run at the Calhoun Beach Running Club– nice and easy and pretty uneventful. After the run, our friend had a 40th birthday party planned, which included a 9 mile run from different locations that had special meaning in his life. Dustin had run 22 miles for his 50k training, so he wasn't up for an additional 9, but we still were able to join up for most of the party. There was a super hero theme, so we were The Incredibles!

The "run" ended at Du Nord Craft Spirits. It was my first time there- fun place with great cocktails!

Sunday: 4 mile run with Matilda before it started to rain; poor Dustin had 10 miles for his ultra training and got caught in the pouring rain! After the run, more [solidcore]! My friend Monica was interested in trying this studio, so we met for an 11 am class. BTW, if you are interested in trying this class, please put me down as your referral! I am SO CLOSE to becoming an ambassador, which means I get 10 free classes! Help me out, thanks 🙂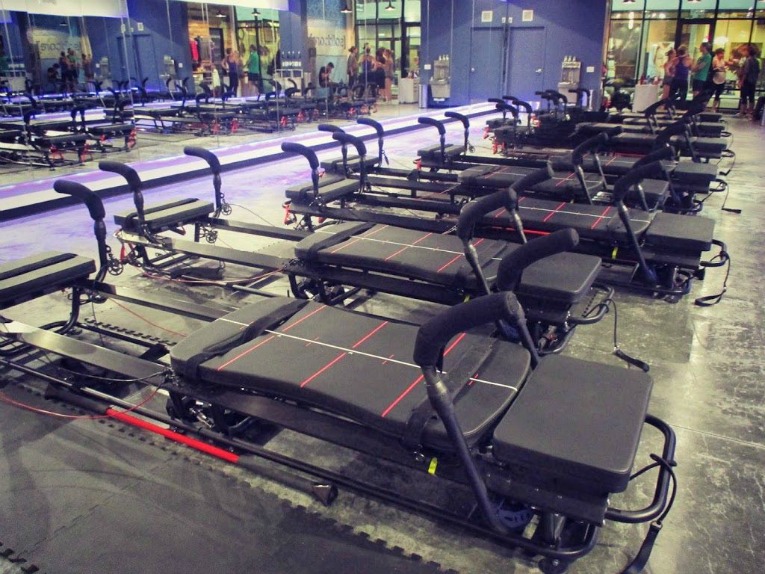 Total for March 23-28: 43 miles, 2 strength days. No yoga, but two solidcore classes
In other news, I feel like everyone around me at my office is sick, but so far, I have avoided it. I know there's no such thing as a magic potion, but I really believe my daily Sound Probiotics are strengthening my immunity. I have not had a cold since I started taking them! I know that by posting such a bold statement online, I am probably jinxing myself and I'm about get the worst cold ever, but I'm hoping that's not true. Sound Probiotics – try them out!
Of course, I'm doing plenty of foam rolling and stretching too to try to keep myself healthy! Matilda likes to keep me company too:

Have you been to Du Nord? What do you think?
Favorite super hero costume for running? The Incredibles was a pretty easy last minute option for us, one that we could still "run" in.
Hill repeats? Love 'em or hate 'em? I kinda love them- especially when they're over! I love them because I know how good they are for making me a stronger runner. Check out this post about why hills are so important.
(Visited 289 time, 1 visit today)