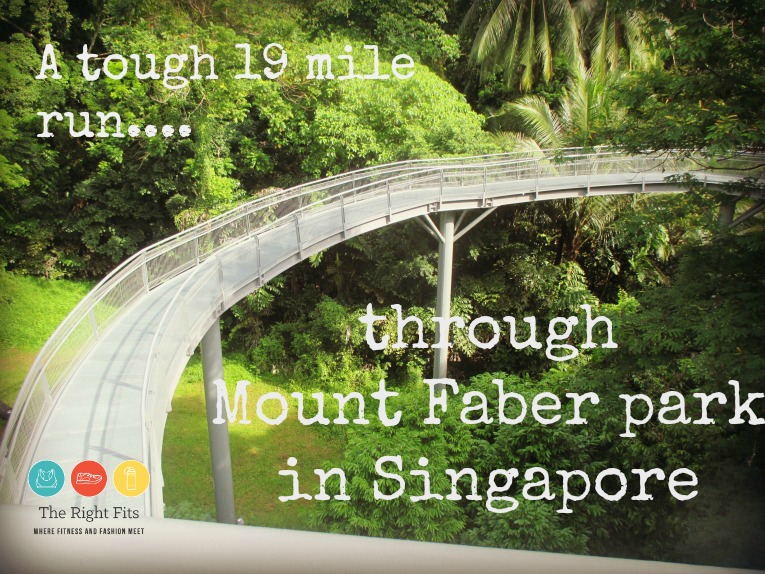 Well, that was ugly!
I'm two weeks behind in my weekly recaps of workouts (I plan to catch up tomorrow) but this was a big week in training for Tokyo with over 60 miles of running. Next week, I will cut back pretty drastically before getting up over 60 again.
So I went into today's long run on tired legs with some tough workouts and lots of miles.
Additionally, I went out for dinner and beers last night with my coworker Adeline for my last day at the Singapore office. Korean BBQ- so good! The rest of the team took me for dim sum for lunch…so much good food yesterday.

I was still home and in bed by 10:30 so I don't think that was a factor. I woke up around 5:30, had my regular English muffin with peanut butter, coffee, and water. I felt ready to face the 19 miles and grabbed my Garmin…only to find out it hadn't been correctly plugged into the charger and was completely dead.
I probably shouldn't rely on my Garmin so much. But I don't really know the distances of routes here in Singapore and I'm running alone so I needed it to tell me what 19 miles was (er, 30.5 kilometers for my Singapore friends who are now reading- hi there!)
I plugged it into the charger correctly and waited about 45 minutes, debating whether I should just jump on the treadmill to get started or save my treadmill time for next week in Manila. Eventually around 7:30, the Garmin still wasn't charged enough so I ran 7 miles on the treadmill. Those miles were just fine- 9 min/miles, nice and easy.
I zipped back to my apartment, changed into dry running clothes (yep, was already super sweaty), took a GU and some water, grabbed my fully charged Garmin and headed out.
By then, it was getting close to 9 am and the sun was hot and strong. I only had my two small bottles in my Nathan water belt, but I had plenty of money to buy more along the way.
The past 5 weeks, I have been running along the river. Other runners had told me about Mount Faber park, but I was told that it was too far away from my apartment and that I would need to take a cab or bus to run there.
It took me 5 weeks to question this information. You guys, Mount Faber was only about 2 miles away from my apartment- definitely runnable with a pedestrian path the whole way! (The below picture was on the path about 1/2 mile from my apartment)
It's funny how much "smaller" everything is once you run there! Now a whole different part of Singapore was opened up for me to explore. I was particularly excited to explore this area because I had seen awesome pictures of the Henderson Wave Bridge.
This bridge is much cooler when it's dark as its lit up with LED lights.  I plan to run there tomorrow morning for better pictures now that I know how close it is!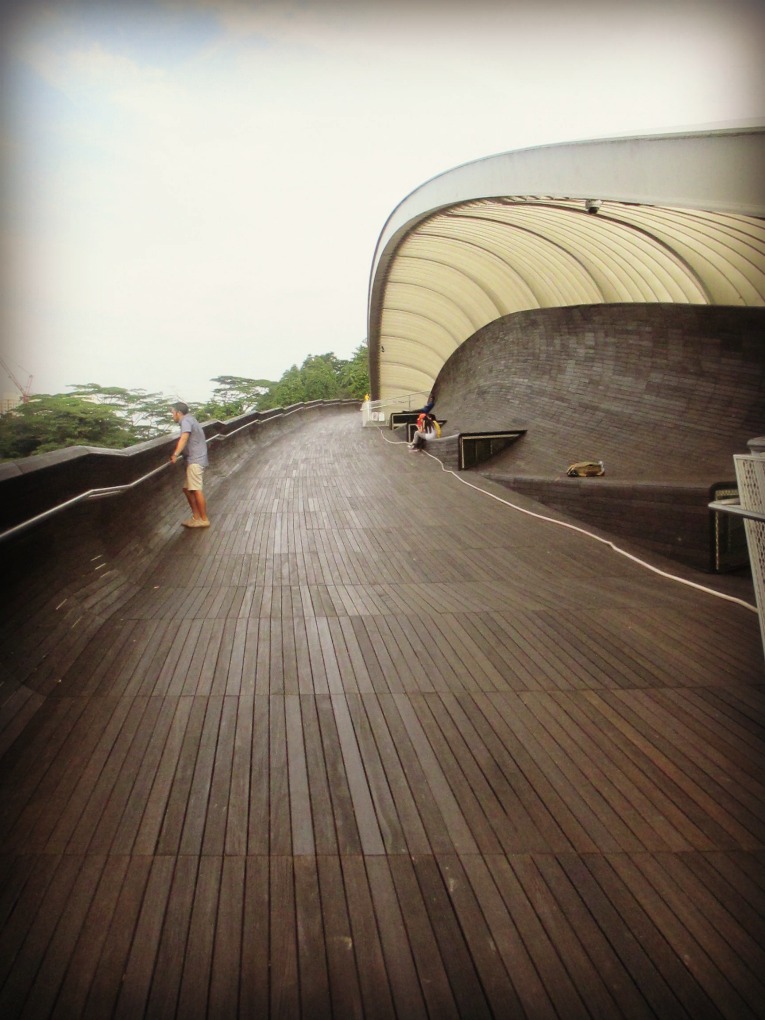 The bridge is wooden so you can see the traffic through the cracks, which is kind of scary if you're afraid of heights. Here's the view down over the side…
It's a pretty cool bridge. According to this source, "the bridge was designed in the shape of a wave, curving and twisting along its entire 274-metre length. Its form is anchored by steel arches and filled in with curved 'ribs' – slats of Balau wood, a dense hardwood used in heavy construction and which is found only in Southeast Asia. Its shape allows it to have hidden recesses and shell-like niches, where pedestrians can sit and observe their surroundings. Because there's privacy and room to rest, the bridge is a popular spot on weekends with couples, families with children and joggers."
The view from the bridge was pretty cool, though I don't know what this building is.
There were quite a few stairs to climb to get to the bridge. In fact, there were quite a few stairs to climb on my run today period; that could have been part of my problem!
No, I know what my problem was. My problem was that I was SO hot and I felt like I couldn't cool down and I couldn't stay hydrated. I came upon a couple of different vending machines:
But of course, all the water and "sport drink" were sold out. I was desperate though, so I went with whatever was cold…which happened to be this tea. It wasn't actually that bad.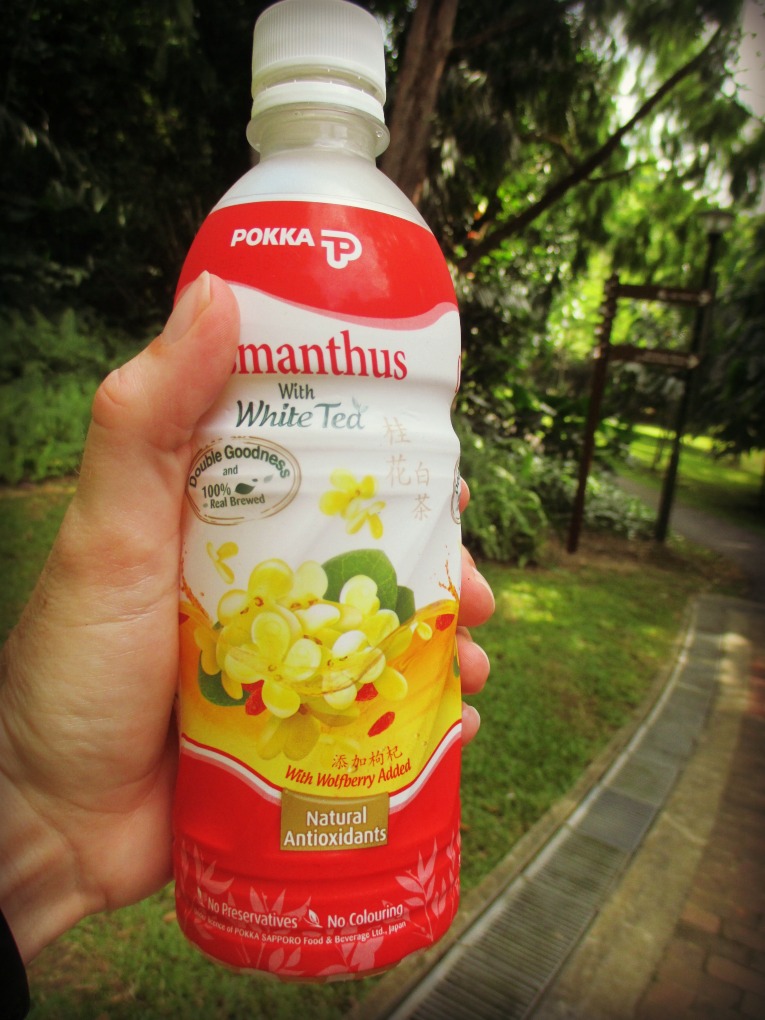 After crossing the bridge and buying my refreshing tea, I headed towards the Forest Walk. This was another cool designed "bridge" made of steel that went for about a mile through the jungle.
Fortunately, part of this path was shaded which was a huge relief. 
I did have to keep my eye out for monkeys though. Apparently, they are common in this park!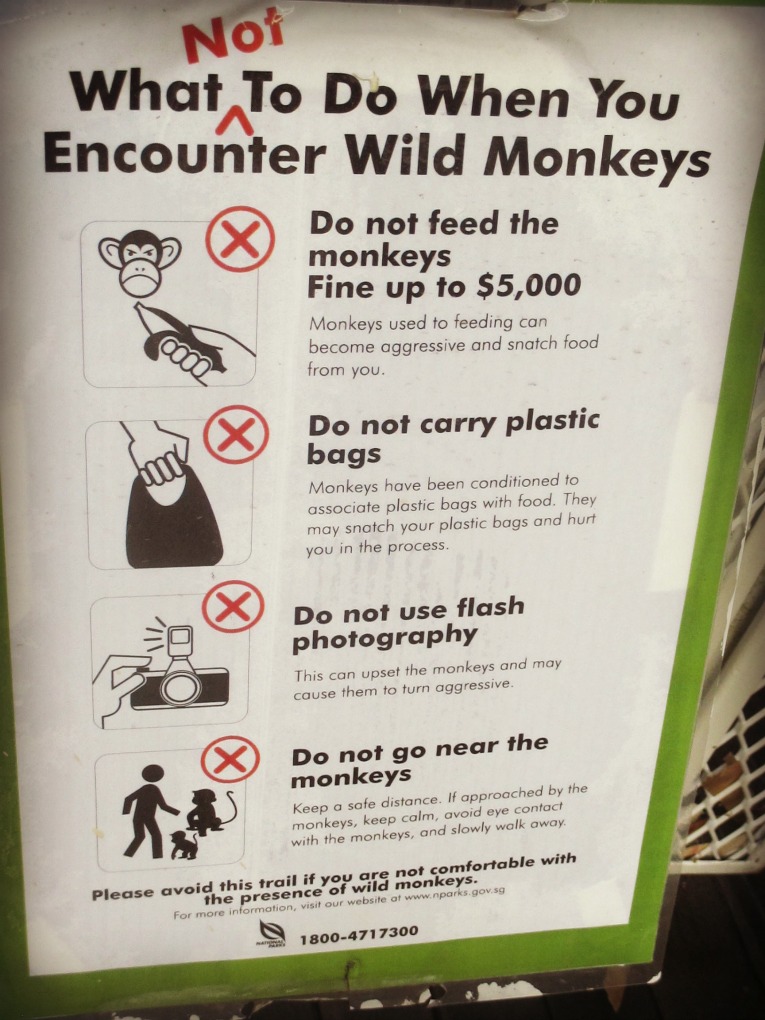 I didn't encounter any monkeys, but I did encounter these beautiful birds.
I kept shuffling along through more parks (with occasional walk breaks). I think there were four distinct parks in this area. One was called "HortPark".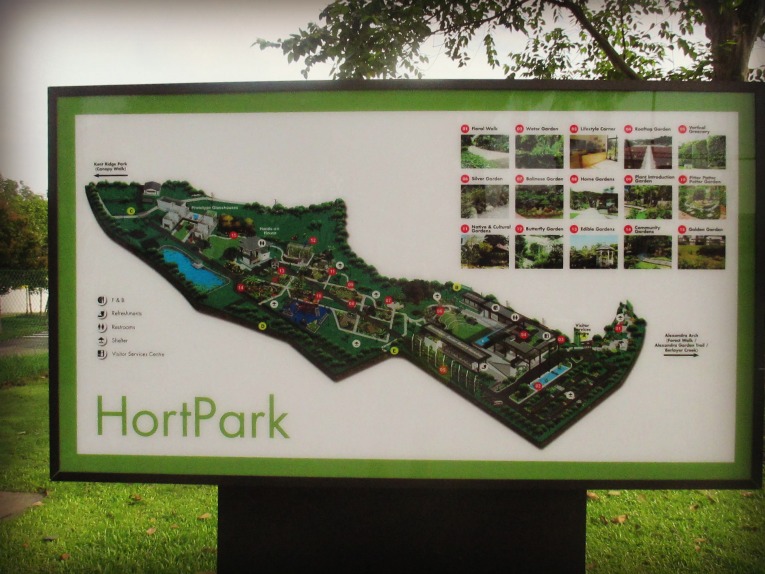 There was a lovely canopy walk at this park…anything for some shade!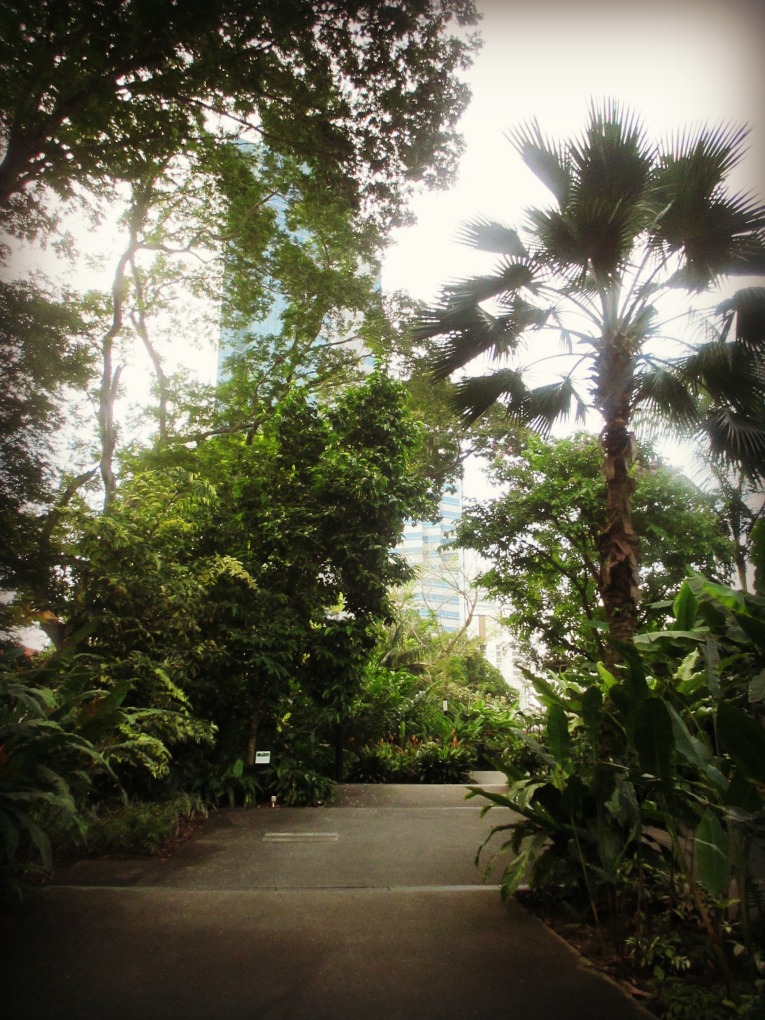 Singapore does a pretty good job with all their green space and parks, especially considering how condensed and heavily populated the city-state is. Their parks and green space are almost as nice as the Twin Cities!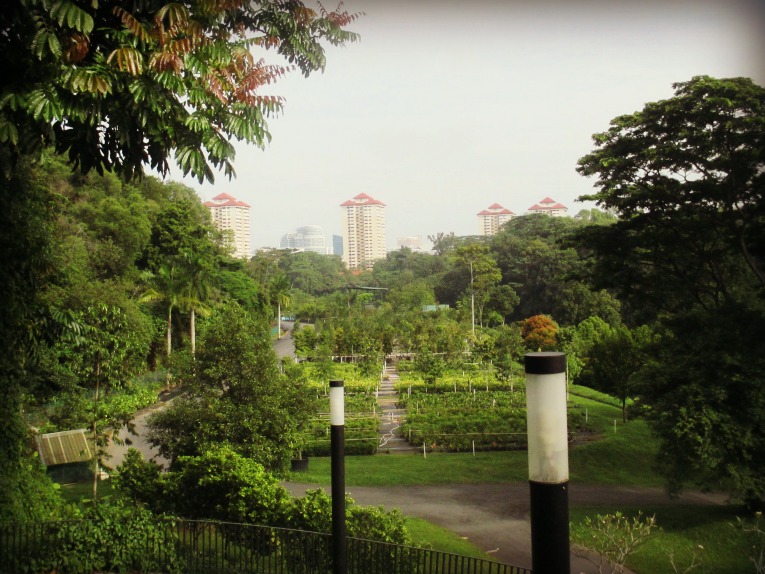 After Hortpark, I meandered through Mount Faber park and up more stairs, until I came to this view of the marina. There's that building again!
A little farther up the stairs at Mount Faber, I came upon the cable cars that take you to Sentosa.
Fortunately, there was a gift shop at the cable car station so I was able to purchase another overpriced water (desperate and I needed another GU!) At that point, I had finally hit 7 miles (14 total with the treadmill miles), so I figured it was safe to turn around and start to head back to my apartment. Back through Mount Faber park and more hills…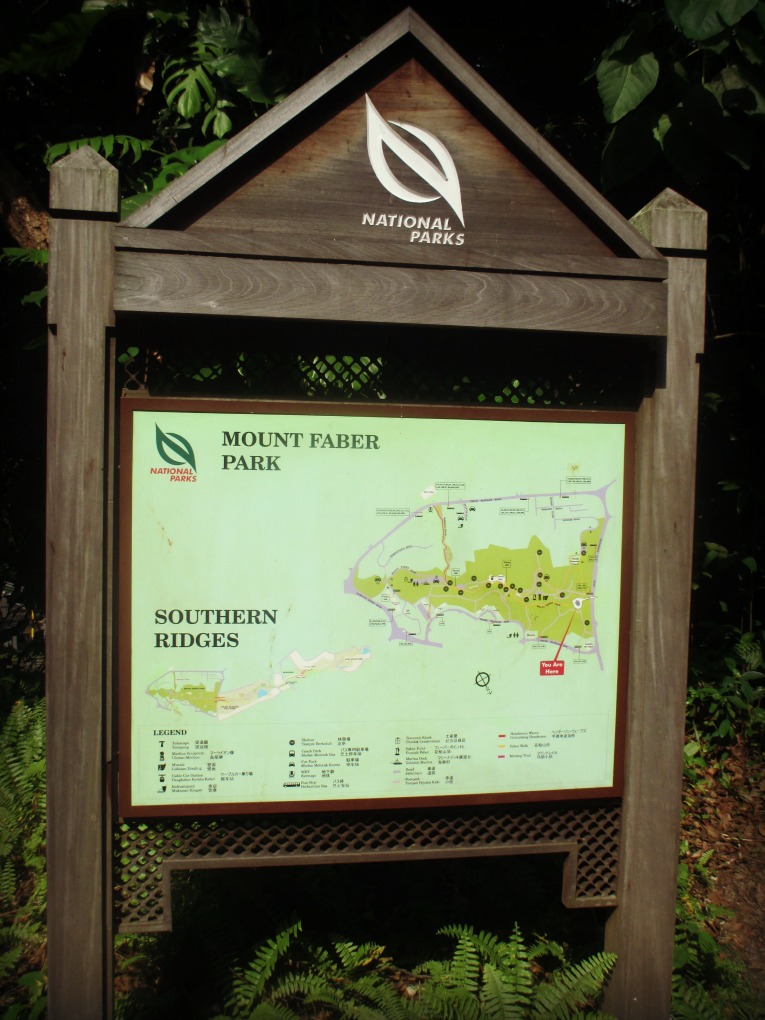 I made it back to my apartment and still had two more miles to go. Those were a long, slow, hot two miles but I pushed through. Slowly.  My back was started to cramp the way that it often does during a hot marathon and my quads were really tight.
…And then it was over. YES!
After the run I  grabbed a bottle of 100PLUS at the "Fair Price" grocery store. This  is THE Singapore power drink. I had to try one before I leave.
I have to be honest, I didn't really like it. It wasn't super sugary like Gatorade, but it seemed slightly carbonated, which was odd. I guess it was okay.
WOW, that was a lot of pictures for one long run!
I was just excited to have found a new running route, even though my time here is coming to an end. But if I get to come back in the future, now I will know of other places to train!
Maybe you didn't click on this post to see a million pictures from my long run in Singapore. Maybe you wanted to hear about why it sucked so badly!  Like I mentioned earlier, I went into this long run on very tired legs. My coach said that was this idea; he wanted it to be like how it feels at the marathon. Except I don't think he realized just how much I melt in the heat. I just could not hold it together. I took so many walking breaks, especially on the stairs. I was barely shuffling along with 1o+ minute/miles and it felt really hard.
I sent a discouraged email to my coach after the run. He calmly reminded me that one bad long run does not define my entire marathon training cycle. Bad runs do happen. Its better to get them out of the way during training. He said I should step back and look all of the great workouts that I have already completed.
Wise words…but sometimes hard to follow! It's hard not to feel discouraged. I've said it a million times, but my biggest struggle is me. My mind. So I'm going to listen to his advice. Tomorrow, when I share my weekly fitness recaps, I'm going to reflect on those runs where I felt really strong!
Besides, even though it wasn't easy, I still completed 19 miles all alone in the heat.  Sure, it didn't go as great as planned, but I will rest now and recover, to make sure the next run is a better one.
(Visited 524 time, 1 visit today)