"Travel is the only thing you can buy that makes you richer."
I have really enjoyed my travels so far in SE Asia (in the past and on this trip.) It's such a fascinating and beautiful place.
If you missed my previous post about my short Christmas trip to Phuket (pronounced POO-KET), you can catch up here. I promised you pictures from the boat tour I took to the Phi Phi Islands (pronounced PEE-PEE), so this post will definitely be picture heavy.
I booked the tour through my resort, Cape Sienna Phuket Hotel & Villas. I could have reserved a tour while in Patong for a 1/3 of the price, but it was a lot easier to go with the company that my resort trusted. Also, they picked me up and dropped me off at my resort, which is more than the other tours would do.  The company, Phuket Adventures, had great reviews.  Lunch was included as well at a random restaurant on the beach. They also provided plenty of beverages and snacks on the boat. The guides were friendly and really helpful- I definitely would recommend this company to others.
Anyways, the resort pickup was at 8 am and the shuttle/van ride to the harbour actually took quite a while and it was crazy bumpy.  I brought a book to read, so I wasn't really paying attention to the other passengers on the shuttle. We were all from different parts of the world and we were all speaking different languages. There was a really nice couple from Italy who befriended me, but their English was limited as well, so most of the time I just read during the drive. We stopped suddenly and I assumed we had arrived at the harbour…Nope! One of other passengers got motion sickness and was throwing up outside the van. Poor thing!
Motion sickness was a big part of the morning.
We arrived at the harbour and loaded onto the speedboat for the tour. There were several other tours leaving at the same time, but everything was very organized. We loaded into the boat and headed for Phi Phi Islands. The ride was quite bumpy, but that sort of thing doesn't bother me. Unfortunately, it did bother another passenger on the boat. I smelled the puke this time before I heard/saw it, but the poor kid- he just KEPT throwing up! The nice Italian couple was sitting next to me and they were pretty disgusted. I thought she was going to throw up as well!
Now, Dustin will tell you, I complain about smells A LOT. I call myself a super-smeller, but he calls it a super-complainer, ha! But for whatever reason, this didn't bother me that badly. I guess I have grown a thicker skin with regards to smells while traveling! (Nothing against the places of my travels, but they don't always smell that great.) I was sitting pretty close to the kid too, but I guess I was able to block it all out.
Moving on!
I honestly don't remember all of the names of the different islands that we went to, but they were all part of the Phi Phi island chain.
We pulled up to "Monkey Beach." I was pretty impressed because our tour guides didn't let us get off on the beach to hang out with the monkeys.
They said that there are so many tourists feeding the monkeys that they have become quite aggressive. Phuket Adventures has decided its best to just watch the monkeys from the boat, and I agree. Dustin and I went to a monkey village on our honeymoon in Bali, Indonesia and the monkeys there were SUPER aggressive and it made me kind of sad. On this tour, we just took pictures of those crazy guys from the safety of the boat.
Plenty of other tours were letting their passengers go on the beach to harass the poor little guys.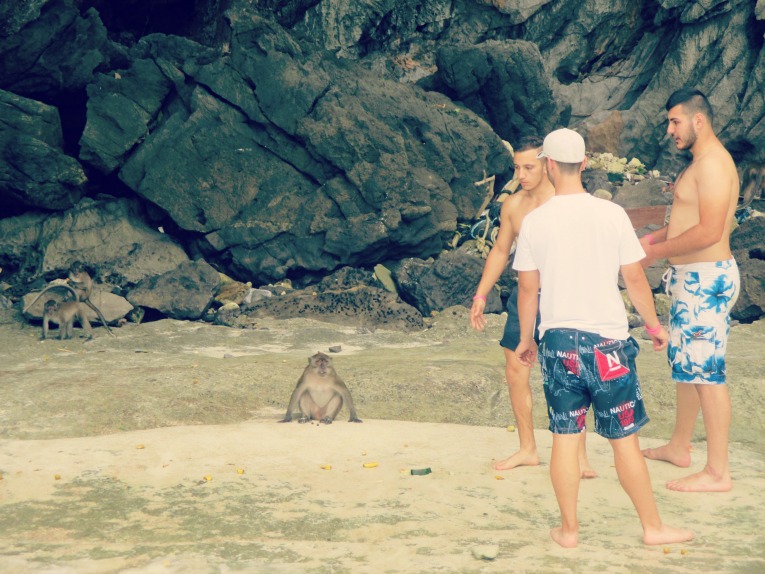 I was happy watching them monkey around (get it?) from the boat.
Monkeys weren't the only wildlife we saw on the tour. On one of the beaches, there was this monitor lizard hanging out by us! (Edited to add- I saw one of these lizards today in Singapore as well. They are everywhere! And huge!)
Okay, no more animal pictures…on to the beauty of the Phi Phi Islands!
Anyways, as you might know, the Leonardo DiCaprio movie, the Beach, was filmed on the Phi Phi Islands.
This is the exact beach from the movie.
I brought my friend's daughter's picture with me too!


She's getting a little worse for the wear from all her traveling.
The Phi Phi Islands were seriously breathtaking and I really lucked out with the gorgeous weather.
I didn't even need my selfie stick that often. Even though the other passengers on the tour didn't really speak English, they were more than willing to help take pictures with me in them.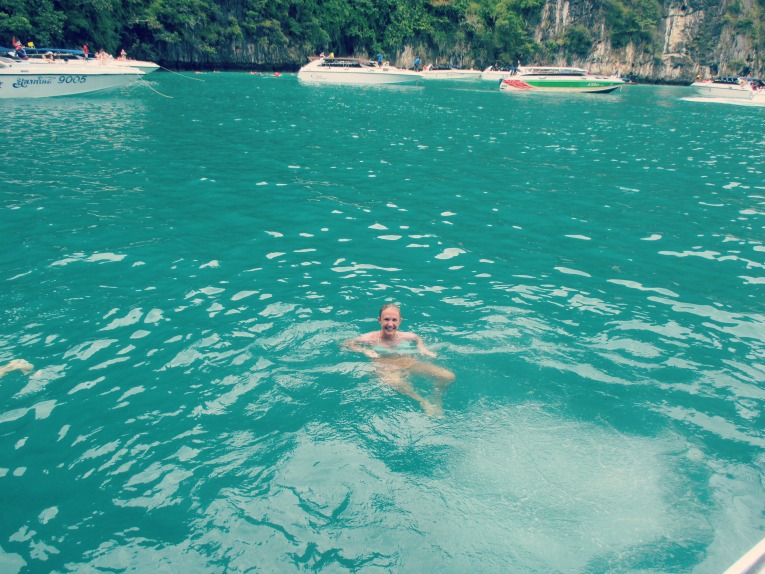 The tour included a couple of stops for snorkeling, but I didn't bring an underwater camera. It was all very beautiful, but you'll just have to take my word for it!
The below picture is of Viking Cave, which is a cave where "swifts"- similar to swallows- nest. Apparently, the Chinese are fond of swiftlet nests, which are supposed to boost virility.  The eggs are sold for quite a lot of money!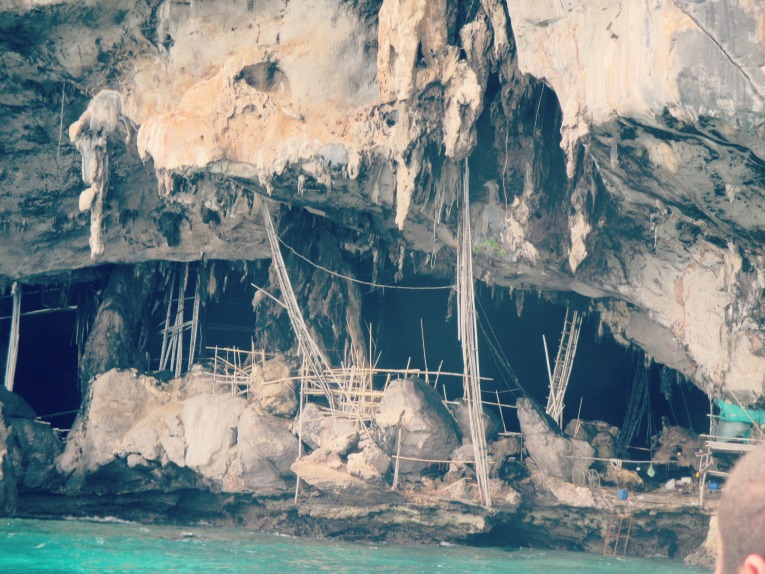 The boat tour was definitely a highlight of my short trip to Phuket and if you ever go, I highly recommend checking out the Phi Phi Islands. They really are even more beautiful in real life!
(Visited 534 time, 1 visit today)