Phuket, Thailand was pretty amazing. Beautiful beaches, cheap and amazing food, friendly people, fascinating culture…I only got a quick taste of it, but I definitely recommend it.
Before I left Singapore to fly to Phuket, I was second guessing whether I should have spent the money to go there on my own. It seemed like kind of a waste. But now that I am back I can say it was totally worth it. I would love to go back with Dustin, as I think there is so much more to see and I was only there for such a short time. I know that there is a lot more to Thailand than just the bit of Phuket that I explored, though I still had a great time!
I arrived Christmas day around noon. My hotel, Cape Sienna Hotel and Villas, was about a 45 minute drive from the airport. I arranged for transport via the hotel; since I was traveling alone, it seemed like a good idea. The airport taxi area was nuts, so I am really glad I did secure transport. If I were not alone,  a local taxi would have been fine, but I know my parents felt better knowing that I was safe.
I quickly settled into my hotel, which was WAY too big for one person, with two bathrooms, a living room, kitchen, jacuzzi on the deck…I had no idea what I was booking, I guess. I actually didn't do that much research since coming to Phuket was kind of a last-minute trip. I went with my friend's recommendation from her recent trip to Thailand. The hotel was really nice though, but much more than I needed on my own.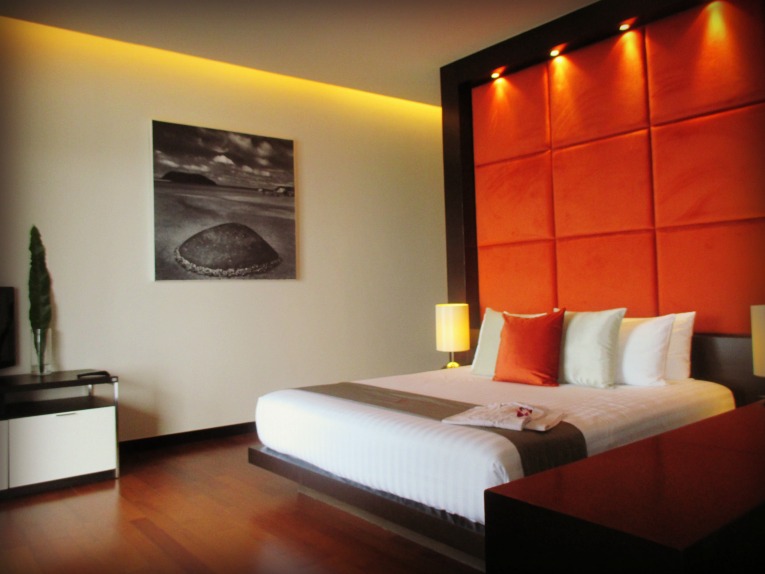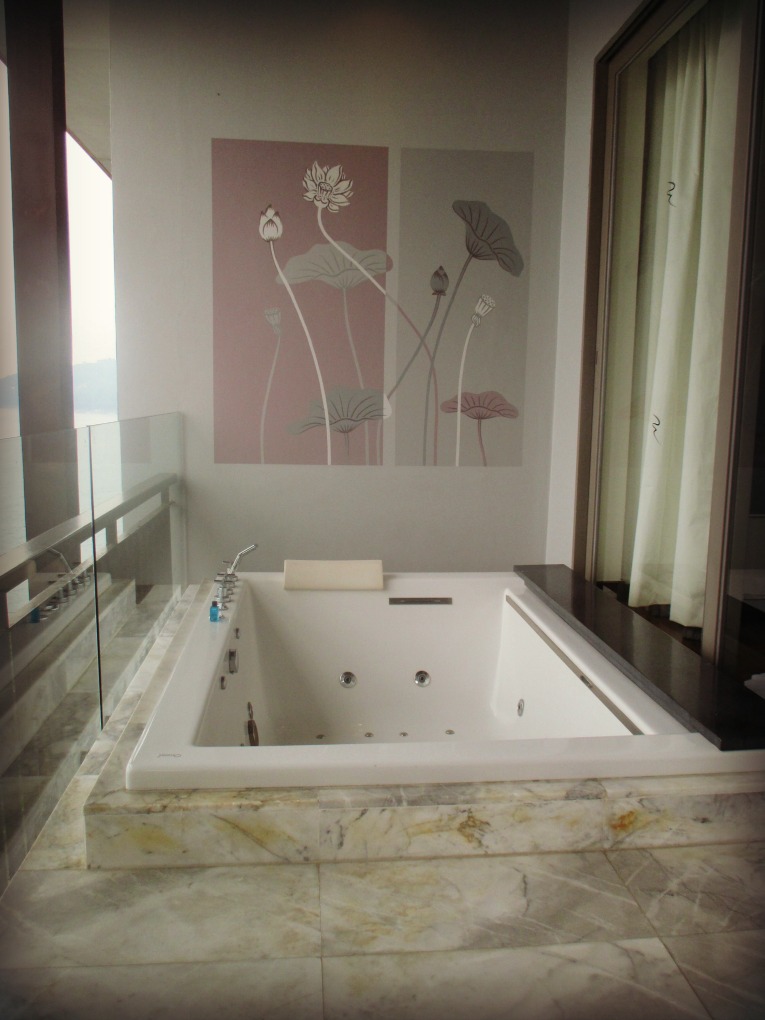 After I arrived, I headed right to the treadmill to get in my training  miles for Tokyo. #firstworldproblems #tokyotraining #ugottadowhatugottado
After the run and a shower, I headed straight to a lounge chair in the sun for some relaxing. I had just a few hours before the sun went down, but it was plenty of time for my first day. I also took the time to arrange a boat tour to Phi Phi Islands for Saturday as well as sign up for the free shuttle bus to Patong beach for Friday.
It was Christmas Day, but I'll be honest, it didn't really feel that way…even with some Christmas lights at the resort.

I ate some Thai food at a local restaurant and then headed to bed. The time difference in Thailand was still 13 hours ahead (vs. 14 in Singapore). which made it difficult to talk to my friends and family on Christmas, so it didn't really feel like Christmas.
Anyways,…since I was going on the Phi Phi tour on Saturday, I had to get my long run done Friday morning. The hotel gym didn't open until 7 am, but I was there right at  7 am to get started on my 25 kilometers! I had 15 miles (or about 25k on the treadmill) to run, with the first 10 easy and the final 5 at goal marathon pace.
The wifi wasn't working in the gym, so I couldn't watch Netflix. All that was on the gym TV were Thai shows so ended up watching old episodes of the Mindy Project on the laptop that I propped up on the treadmill (precariously.) It helped make the time pass much more quickly!
After the long run, I was pretty beat. I lounged by the pool for awhile…
…until about 1:30 when I took the free shuttle to Patong beach.
Patong is the main beach area of Phuket, whereas my hotel was on Kamala beach up on a cliff. Patong is where you'll find all the ladyboys, massage parlors every 5 feet (some stating "no sex" outside…others, not so much), crazy party vibe- honestly, Patong was like a dirtier Las Vegas with better beaches.
Don't get me wrong, there's definitely more to Phuket than the party scene, but the party scene is definitely intense. I was able to avoid it by visiting Patong during the day and staying away from the bars and clubs.
The hotel shuttle dropped me off at a little mall. From there, I had to walk about 20 minutes to Patong Beach. I needed to purchase a beach towel for the Phi Phi Island tour the next day. I ended up negotiating with a ladyboy who ran a little stand by the beach. He wanted to charge me 400 THB, but I had just read that you never pay what they quote you. I am so not good at negotiating…especially on my own! I said I only had 200 THB with me. I ended up paying him 250 THB for the towel (about $7 USD).
I had my beach towel and was ready to lounge…not before a quick picture with my adventure buddy!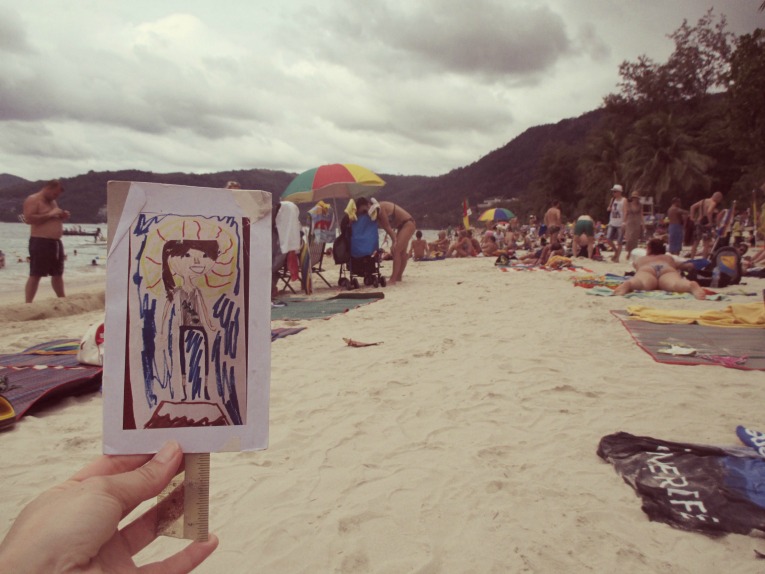 I arrived at Patong and settled in with my book- one of many books. Over this trip I have read Beautiful Ruins, What Alice Forgot, Where'd you go Bernadette, Eleanor & Park, and For Whom the Bell Tolls. I know that Hemingway doesn't really fit in with the rest, but I just grabbed a book from our "study" before I left and really enjoyed it! I actually really enjoyed all of them. Have you read any of these? Thoughts?

I do need a few more books for the flight to the Philippines and then the flight home- any recommendations??
Patong beach is huge and it was packed! Lots of great people-watching and beach activities going on, as well as cheap Thai food and cheap massages on the beach.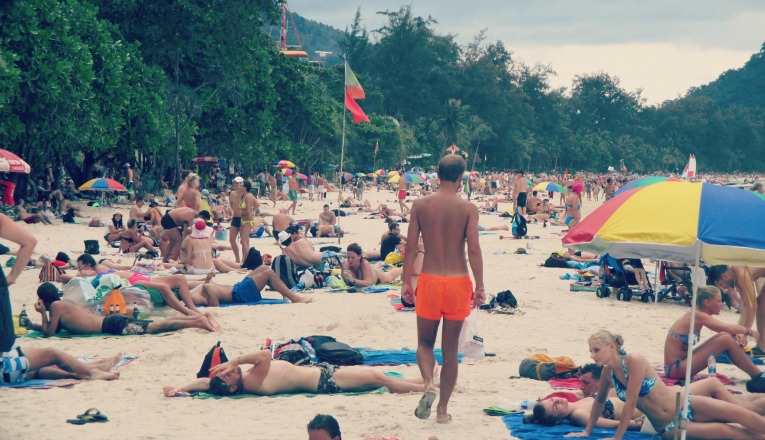 It did start to rain a bit after I had been at Patong for about an hour. I took cover for awhile in a nearby restaurant. After about 30 minutes, the sun came back out, but it was time for me to make my way back to catch the return shuttle to the resort. I had just enough time to get a "Japanese facial massage" which was more like a regular old facial to me, with a little more scalp massaging AND they shaved my face! Yep. That was interesting! I asked my brother-in-law in Tokyo about that, and he said its very common for women to get their faces shaved. But am I going to have to keep it up? I didn't even know I was in need of a facial shave!
Anyways, stop by in a day or two for lots of gorgeous pictures from the Phi Phi Island tour! It was absolutely the highlight of my short trip to Phuket. The tour took up my entire Saturday, and then this morning I flew back to Singapore. It was a quick adventure in Phuket, but I really enjoyed it. I would love to come back with Dustin and explore more with him!
I have to be honest that traveling alone is limiting. I didn't realize how much of a difference it makes to have someone with you- male or female- versus being on your own. I know that my mom is reading this and saying "THAT'S WHY I DIDN'T WANT YOU TRAVELING ALONE!!!" but it really is challenging not to have the security of a friend looking out for you. I constantly worry that I'm getting ripped off or that I'm putting myself in an unsafe situation when I'm completely alone. Most of the time, I don't have any cell phone service or any way of contacting anyone if something did happen. I consider myself rather independent, but exploring in Phuket on my own made me very aware that it really helps to have a friend. I'm feeling a little friendless these days.
So Mom, I know you're reading this and don't worry- I was very safe. I never did anything stupid and never felt unsafe. I just would have felt better with a friend.
Even so, it was a good time. I'm back in Singapore for my final week of work here until a week in Manila. Now I guess I should start thinking about NYE plans! I wanted to run a 10k here, but its already filled to capacity. Perhaps I will just run a 15k for 2015 on my own instead to ring in the new year!
What about you? Any fun plans for New Year's? A New Year's day run, perhaps? I would love to hear!
(Visited 479 time, 1 visit today)