When I ask around as to what I should do while in Singapore, a lot of people suggest Sentosa Island. I didn't make it there the last time I was in Singapore, so I figured I probably should go.
The thing is, I wasn't really all that excited about checking out Sentosa Island, as it just didn't seem like my cup of tea. But nonetheless, last Saturday, I figured out what buses to take and made my way there. Verdict? I guess I'm glad I checked it out, but unless you have kids, I don't think its a must-see in Singapore (at least not for me.)
What is Sentosa Island?
"Sentosa is a popular island resort in Singapore, visited by some twenty million people a year. Attractions include a 2 km long sheltered beach, Fort Siloso, two golf courses, 14 hotels, and the Resorts World Sentosa, featuring the theme park Universal Studios Singapore." source
Basically, Sentosa is a recreational island full of theme parks like Universal Studios and things like a simulated sky-diving center. There are all kinds of attractions for families- splash pads, playgrounds, and more. Read all about the different attractions here.
(Simulated sky-dive center pictured above.)
There are multiple ways to access Sentosa from the main island of Singapore- via a monorail, a cable car, or just by walking across the boardwalk.
The cable cars might have been fun, but I decided just to take the free boardwalk.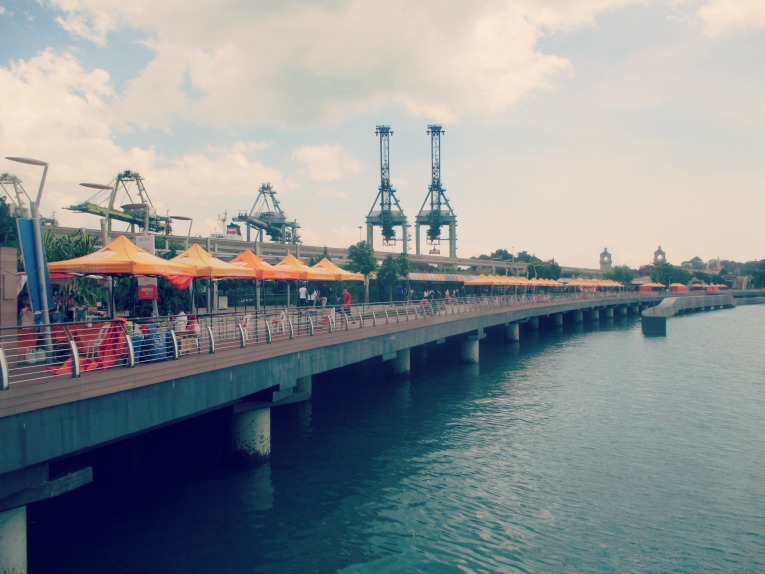 There were multiple vendors along the boardwalk. I caved in and bought a selfie stick. I went with one for my camera, as my camera has a timer on it whereas the Android I am borrowing from a coworker does not. There are versions for your smart phone as well. I know, I know- a selfie stick. I feel pretty silly pulling it out. But it works pretty well!
Practicing with my selfie stick! Pretty handy, right?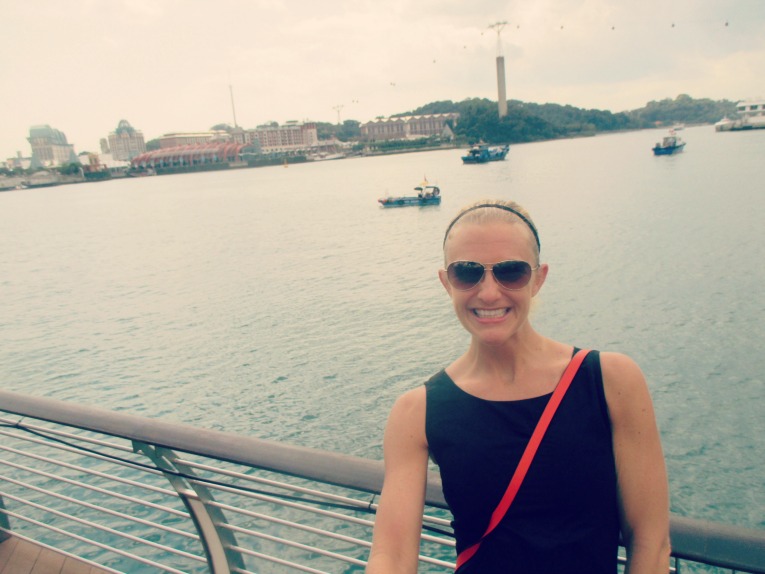 After purchasing the selfie stick, I wandered around "Resort World" on Sentosa but wasn't about to buy tickets for any of the attractions, particularly because I was alone.
PS- my romper and my orange purse are both recent purchases from Kate Spade Saturday here in Singapore!
After passing through Resort World, I came upon the man-made beaches. There were plenty of restaurants and "beach clubs" here as well.
I was pretty hungry at this point, so I decided to stop at one of the beach-front cafes for lunch. What a bad idea…Basically, I can eat local food for 5 SGD. But on Sentosa, this tiny Greek salad was 18 SGD and the beer was 12 SGD! So not worth it…Eat local when in Singapore!
Sentosa's redeeming quality? A well-maintained biking/running path. You can bet that it caught my eye!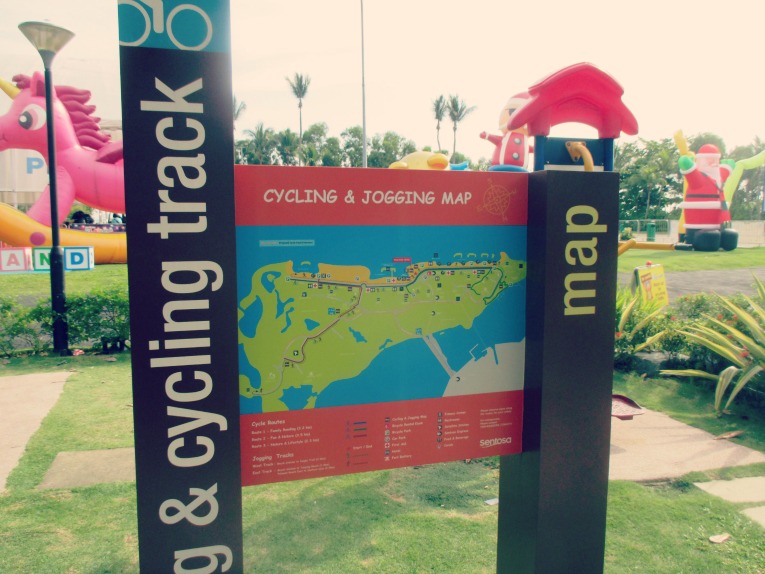 I hate to be such a downer on Sentosa, as I am sure it is a blast for kids and families. It just was not a blast for a 33 year old girl traveling/exploring on her own. But if you are in Singapore with kids, this is the place to be.
Speaking of kids, my friend Gina's daughter is doing a project for school about the world. She sent me a picture she drew of herself that I am supposed to take pictures of with me here in Singapore (and whenever else I go.) So fun- I can't wait to share my travels with her!
I mentioned in my weekly recap post that I also went to Johor Bahru, Malaysia last Sunday with my co-worker Adeline. I thought I took more pictures, but I guess I only had a few, so I'll share those here.
Just some background- my coworker said Singaporeans go to Johor Bahru (or JB as they call it) quite a bit for shopping, eating, and more. However, it isn't as safe as Singapore. It wasn't advised for me to explore on their streets by myself, so I was glad to have Adeline along to tell me what to do and where to go.
To get there, I took the train to Kranji in the north of Singapore, where I met her. From there, we took a bus to customs at the border.
We met quite early in the morning, so crossing the border was easy. However, on the way back, the line was over 2 hours long! Fortunately, my co-worker knew a "shortcut" (nothing illegal, just a different line) and got us on a bus and across the border in half that time.
When in Malaysia, we spent most of the day shopping at two malls right across the border.
There was a Doraemon exhibit going on at one of the malls. Apparently, this is a very popular Japanese character. I have been told I should expect to see lots of him in Tokyo!

She did take me out onto the streets for lunch of fish head curry soup at a place that is well-known. I never would have gone there on my own. I was very grateful to have Adeline with me as a guide.
No one spoke any English, so Adeline took care of everything. The fish head curry soup was very spicy but I enjoyed it.
I also enjoyed watching "sticky" candy get made from scratch while in Malaysia:
We were in Mayalsia from about 9:30 am until 4:30 pm. It was a full day! We ate plenty of other good food (laksa, a special mango drink, and more). By the time I made it back to my apartment, I was ready for a shower and a nap!
That was one of my last full weekends in Singapore. I found out this week that I will be spending my last week of this work trip in Manila (in the Philippines). That will be a much different experience than Singapore; there won't be any running outside there.  I think by the end of that week, I'll be more than ready to head back to Minneapolis!
Anyways, I hope you had a very merry Christmas! I am in Phuket, Thailand, and just finished my long run on the treadmill. Time to lounge in the sun!
Thanks for sticking with the Right Fits during my travels! I know that a lot less of you are reading lately, so I'm guessing its been a bit of travel overload. For those of you who are still reading, thanks- you're the best!
Just a few more weeks before things get back to normal.
(Visited 424 time, 1 visit today)