This past week was a bit of a bust…Every training cycle has its highs and lows. I'd classify this past week as a "low." I didn't have any runs where I felt strong and my paces were so far off of where they should be. I know that it was the heat and humidity; of course it was…But it was still hard.
I still love running…I just am feeling a little disheartened with my runs this week.
Monday: 10 miles at the cabin at a 9:12 min/mile pace. This was supposed to be split into a double of five miles each, but it was my last full day at the cabin. I just couldn't stomach having to head out later in the heat of the day, so I got it all done at once in the morning.
I know that I should listen to my coach, as one run of 10 was harder on my body than two of 5…but sometimes you have to do what works for your life, right? I try my best to follow his schedule, but I'm not perfect. Sometimes life gets in the way, like time with family.

Tuesday: 4.4 miles with 30 second strides at the end (9:11 min/mile average). This was supposed to include strides to get me ready for the Torchlight 5k. However, I already knew the forecast for Wednesday night was going to be brutal. I decided not to worry about that race so much, as there was no way I was going to be able to perform in that heat.
When we got back to Minneapolis in the afternoon, I went to a solidcore class.
I LOVE solidcore, but I wouldn't recommend doing it the day before a race because its tough on the legs. But I didn't take my own advice- I basically did EVERYTHING wrong leading up to this race…
Wednesday: Easy 5 miles in the morning at a 9:30 min/mile pace. I had a double scheduled for Thursday but knew I couldn't do it that day, so I moved it to Wednesday. A double run before a race? Again, not smart. But I also wasn't sure if I would make it to the race on time since work has been crazy and I wanted to try to follow the schedule the best I could.
Fortunately, I did get out of work on time for the race. Dustin and I arrived in time to do 3 miles to "warm-up."
"Warm-up" is generously used, as it was seriously so, so HOT- a heat index far over 100 degrees!

I started the 5k at 7:30 pm with hopes of at least keeping up my tempo pace (7:30 min/miles) for the 3 miles, but I couldn't do it. I finished in over 24 minutes (7:57 min/mile), which was a far cry from my 21:45 at the Brian Kraft this past May (a 7 min/mile pace). Big surprise, right? That's what happens when you do everything wrong!
I shuffled through one mile to 'cool-down.' It was so, so sweaty. I love the Torchlight 5k, but this was probably the worst year for me.
Race performance aside, it was still a really fun evening- it coincided with my friend Christie's birthday, so we stuck around for a few Michelob Ultras and socializing. The Torchlight 5k is a fun summer tradition!
12 miles on the day.

Thursday: I woke up to a thunderstorm. I also woke up very tired and dehydrated, but we had company coming in the evening, so I really wanted to get my run done before work. I'm fine running in the rain, but it was lightning pretty badly.
The storm broke around 6 am, so I started running then, which is much later than I normally would. I covered my 7.5 miles very slowly (9:45 min/mile). I still felt tired and dehydrated from the night before and I was in need of a rest day…
In the evening, Dustin's brother and his family were in town from Japan on their way out to Colorado for a hockey camp for their boys. They stayed at our house- our first overnight guests since we updated the kitchen!
But we didn't cook for them in the new kitchen, but instead took them to our favorite neighborhood restaurant, Tilia.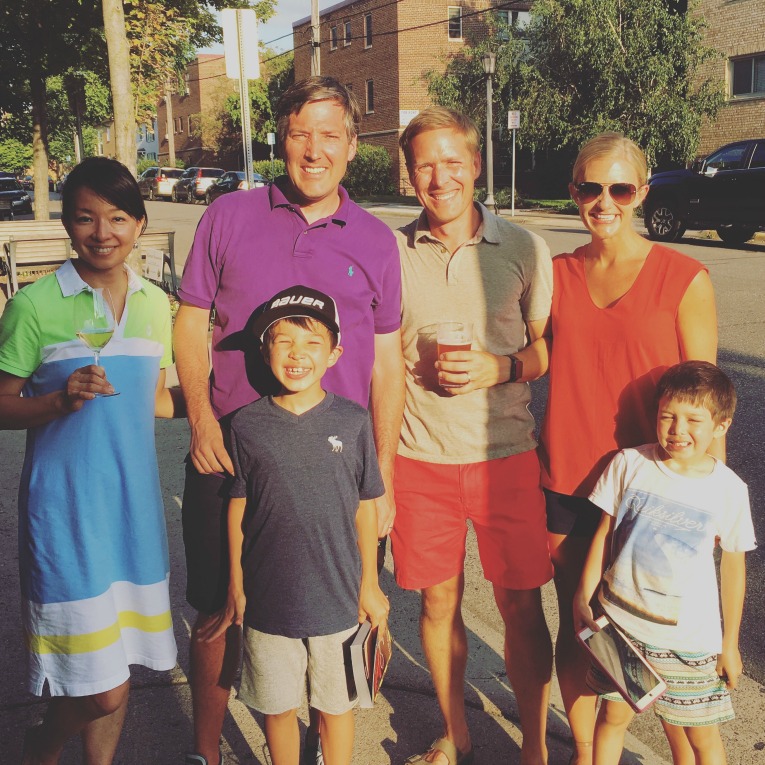 Friday: COMPLETE REST! I had planned to swim after work, but was stuck there until about 8 pm.
Saturday: 15 mile long run. I was supposed to pick up the pace after 8 miles to a tempo pace of 7:30 min/miles (i.e. some of the tempo I was supposed to do on Wednesday!) But guess what? I couldn't do it. It was just too hot and humid. It was all I could do to keep up at 9:30 min/mile. This long run felt as bad as the long runs I used to have to suffer through in Singapore (remember those runs? Yikes.)
After the run, I was pretty beat. I tried to hydrate and rest, but we had a three hour walking tour to do! But fortunately, there was FOOD involved with the tour. My sister had bought Dustin a gift certificate to the Twin Cities Food Tour!

The tour was SO fun- we started at 1 pm at Kramarczuk's. The tour hit up seven different restaurants/shops, while covering about 2 miles of walking. I LOVE this sort of thing. I love learning about the history of a location (including the city I call home!)
It's fun to be a tourist in my own city. I learned a lot of fun new facts about Minneapolis history and was introduced to some restaurants I didn't previously know.
If you have the opportunity to do a Food Tour, you should! The company is putting together a St. Paul edition that will launch soon. I hope to attend that one in the future.
Sunday: 5.5 miles in the morning and then a birthday brunch/ housewarming party for my friend Christie! She had quite the spread of all kinds of awesome breakfast foods, as well as mimosas. Unfortunately, I had a second run on my schedule so I abstained from those, but ate my fair share of egg bake!
After the brunch, we spent the afternoon at Bachman's figuring out some landscaping. #adulting
Around 4 pm, I went out for my second easy 4 miler. The lakes were packed with Pokemon chasers!
Speaking of Pokemon GO, I am officially crediting that game with my discovery of the "bunny's" real name.
My running friends and I always call him "the bunny." I had no idea that he had an official name, but he's also a Pokestop (of course) and was identified on the game as "Cottontail on the Trail!"
I researched online and validated that yes, his official name is Cottontail on the Trail! So fun.
I have probably run "to the bunny" a thousand times, never knowing his proper name. But the artist, Jeff Barber, gave him a very cute and appropriate name.
From this day forth, I will refer to the bunny by his proper name, Cottontail on the Trail!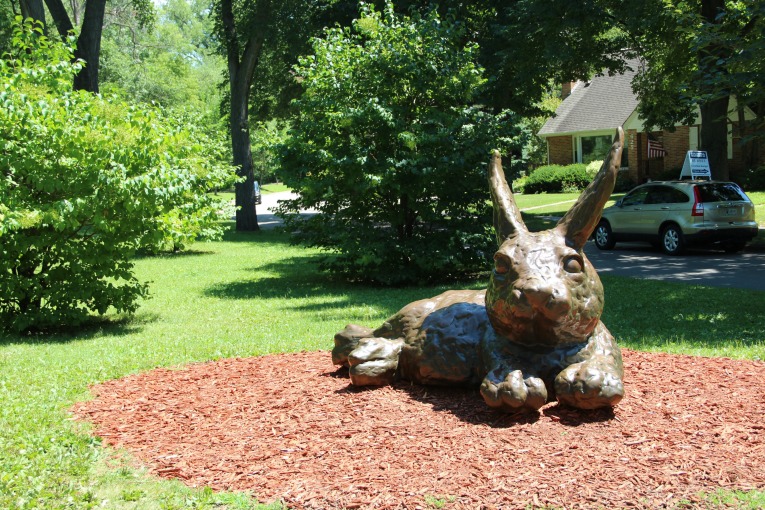 Summary: 58 miles, 1 solidcore class.
A tough week, but this article from Runner's World (Should I Avoid the Heat During Summer Training?) was really timely. It gave me hope that even though my paces are a lot slower lately, my training might still be working to prepare me for the Big Cottonwood Marathon.
How has your training been going?
I'm sure we're all suffering in this heat…Let me know how you're surviving!
(Visited 413 time, 1 visit today)