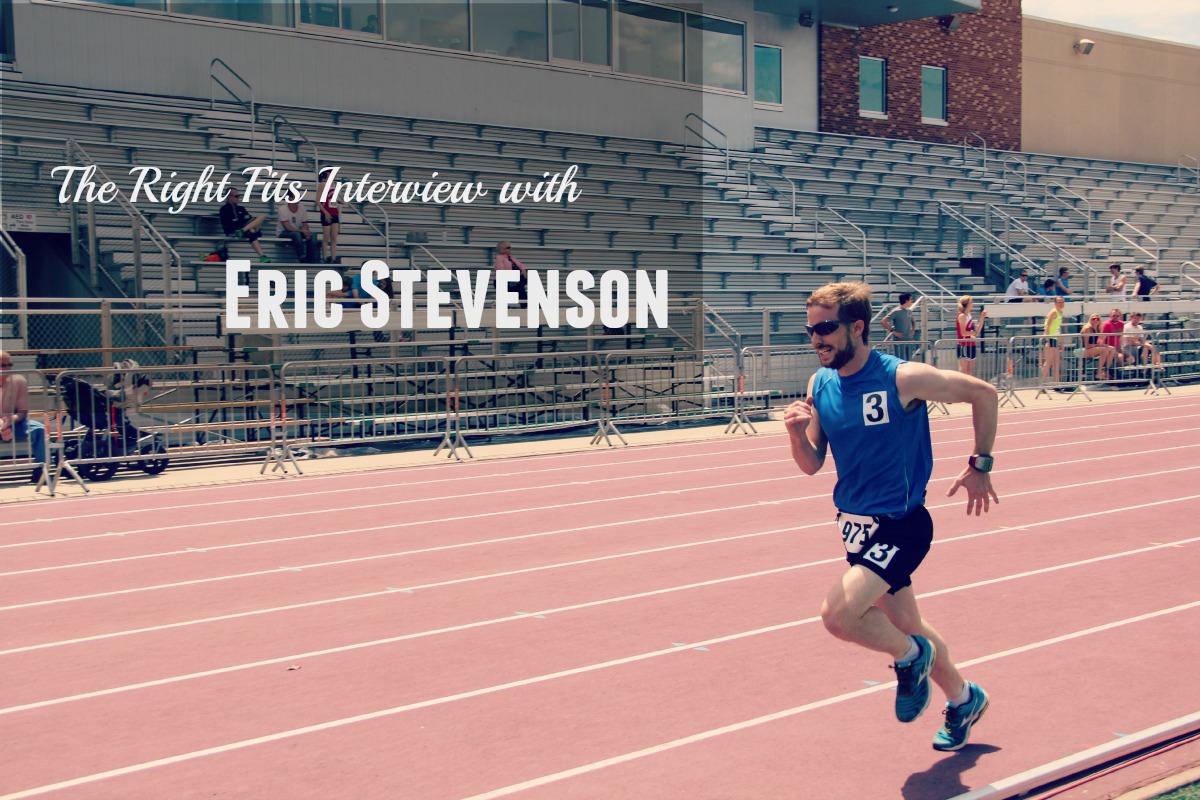 I have an interview for you guys today with an awesome local athlete named Eric Stevenson!
Eric Stevenson is one of the coaches at the Calhoun Beach Running Club– he's a really nice guy and a really accomplished runner!
Like me, Eric is on a quest to run a marathon in every state. Read on to learn more about this awesome guy!
Basic Running Stats:
Marathon PR: 2:46:45
Half-marathon PR: 1:19:47
Hometown: Bloomington, MN
Occupation: Assistant Scientist
Education: BS in Microbiology from the University of Minnesota
When did you start running and why?
I began running in high school for conditioning for wrestling and baseball.  After I was done with high school, I stopped running for ten years.  In 2009, I decided to start running for some cardio to go along with my weight lifting.  It started out with just running a mile or two. Slowly it became more and more.  I decided with all of this running that I would sign up for a race to have a goal in mind.
After that first race, I was hooked!
What motivated you to register for your first full marathon?
I have always loved finding things to push myself to new limits.  I had signed up for a half marathon and I told myself that if I liked doing that distance that I would sign up for a marathon the following year.  It was the best decision I have made because I have been able to see so many cool places!
What are you training for now?
I am doing the Go! St. Louis Marathon in April.  I battled through a knee injury at the end of 2014 so it has been feeling good to get back to where I was before the injury.
How many marathons have you completed? What was your favorite one? Least favorite?
I have run 22 marathons in 13 different states.  My favorite one was the 2014 Boston Marathon.  It meant so much to me to be out there with what happened in 2013.  It was a very emotional experience.  My least favorite was probably my first one but that was because I was running undertrained and injured.  It was at the 2010 Grandma's Marathon so the course and race are awesome but it wasn't fun running in pain.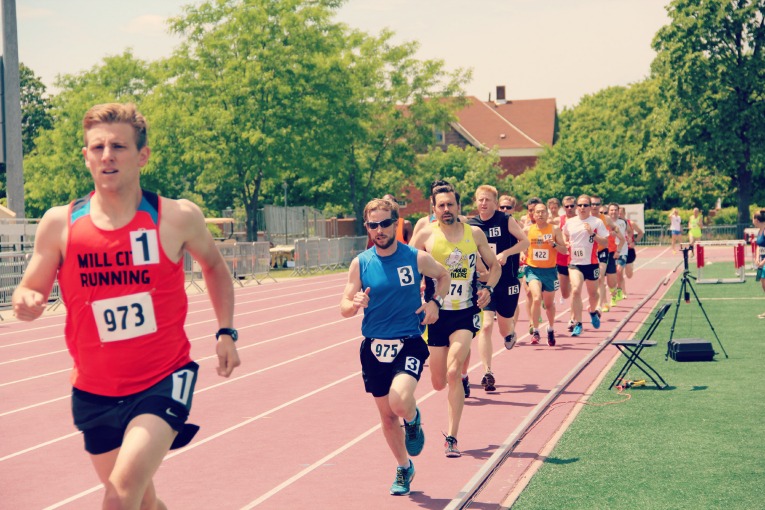 What are your running goals?
I want to run a marathon in every state and to do all of the world majors.  I feel it is the best way to see different places!
What's your favorite distance race?
I enjoy the half marathon distance the best.  It just doesn't have the same effect on your body that a marathon does.  I can race a half marathon and usually be back to running after taking one day off.
Do you run with a running club or alone?
I run with the Calhoun Beach Running Club.  I used to train alone and I would never go back to doing that again.  I love training with people because it helps push yourself and gets you through those grueling workouts.
What is your running shoe of choice?
I have two pairs of shoes that I run in. I have a regular easy run shoe which is the Asics Gel Kayano.  My speedwork and racing shoe is the Mizuno Wave Sayonara.

Is there any other gear that you can't live without?
I have a pair of bright yellow calf sleeves that I always race in.  It makes me stand out so I am more noticeable to people that are watching me race and it gets people to comment while I am running.  I highly suggest wearing colors that stand out so people can see you coming!
Tell me about your first marathon experience.
My first marathon was not fun.  I was suffering through an IT band injury through the last 2 months of training that limited my miles.  The last half of the race was spent in a lot of pain.  It was a mental battle with myself to finish it.  I was glad when it was done but I knew that I had to do another one because I couldn't let that race be the only marathon I would do.
What is your favorite thing about running in Minneapolis?
I love running around the chain of lakes!  I enjoy running by water so having all these lakes so close together makes for some really nice longer runs.  You can run 10 miles by running Cedar Lake, Lake of the Isles, and Calhoun!
What is your training like- how many miles? Any rest days?
I have been able to up my miles in training for this marathon because I have been feeling better physically then I did for my fall marathons.  I have been peaking in the mid 70's for miles and not taking many rest days.  I started training by running 5 to 6 days a week but after a month I began running all 7 days.  I wanted to see how my body would handle the higher mileage and it has been going well so far.
What is your favorite way to recover after a race?
I usually take some time off of running and try to do some low impact cardio to still keep the legs moving.  I feel doing some biking or swimming after running a marathon gets some of that soreness out of my legs.
Let's talk nutrition. How do you fuel yourself for such high mileage? What are your nutrition challenges?
I try to eat a lot of protein and carbohydrates to fuel me for my high mileage.  I love pasta so I end up having a lot of it especially before races.  I love having chicken parmigiana before running a marathon!  I definitely struggle with having too much ice cream and cookies.  I am a bit of a sweet tooth so I usually have a lot of junk food but I clean up my diet and limit the bad food when I am within a month of the race.
What's your best advice for preventing injury?
The best way to prevent injuries is to do the small things before an injury occurs.  Stretching and foam rolling are good things to do after running and are both very beneficial in helping to prevent injuries to your muscles.  Ten minutes of stretching can do your body wonders for preventing injuries from occuring.
What is your favorite type or running workout? Least favorite?
I love doing interval workouts.  I enjoy getting up to a quicker pace and trying to improve and to be hold a faster pace for longer time periods.  My least favorite workout is hills!  They are really tough to do but they are very important to any training plan.  They are a lot better when you can run them with other people!
What is your most EXTREME running experience?
Last year I did back to back marathons on the same weekend in two different states.  I wanted to get both of the states done and it seemed like a good challenge to see how I would do.  It was a very tough but I am glad that I did it.  My legs were sore for a very long time after that many miles!
Personally I struggle to push through during a race when it gets tough. What's your advice for staying mentally strong?
During the later miles in a race it is going to get tough if you have pushed yourself hard.  I try to focus on the race that you have left.  When it gets tough just try to think about that mile you are running.  Don't think about how you have 5 miles left and walking would be easier.  Just keep your feet going and get that mile done and then focus on the next one!  Also, stay positive when you are out there!!  Don't let any negative thoughts into your mind.
How do you cross-train? What other exercises/strength training do you do to supplement your running?
I have done some triathlons in the past so I usually bike and swim a few days a week for cross-training.  I also have the option of biking into work because it is only 7 miles from where I live.  I also feel that strength training is very important in running so I usually am lifting weights 3 to 4 times a week.  I have a 3 day lifting rotation where one of the days is a leg day and the other 2 are different upper body muscle groups.  I have recently started adding some more explosive strength building exercises to my leg routine to try and work on my explosiveness to aid in my running.
If you weren't a runner, what sport would you do instead?
If I wasn't a runner I probably would be a cyclist in the summer and do a lot of skiing in the winter.  I have always wanted to get into cross country skiing but it is hard for me to find the time with all of my other activities that I do.  Hopefully next winter I can give it a try because it definitely would be good cross-training!
Thanks so much Eric for taking the time to answer all my questions and good luck at Go! St. Louis!
(Visited 514 time, 1 visit today)