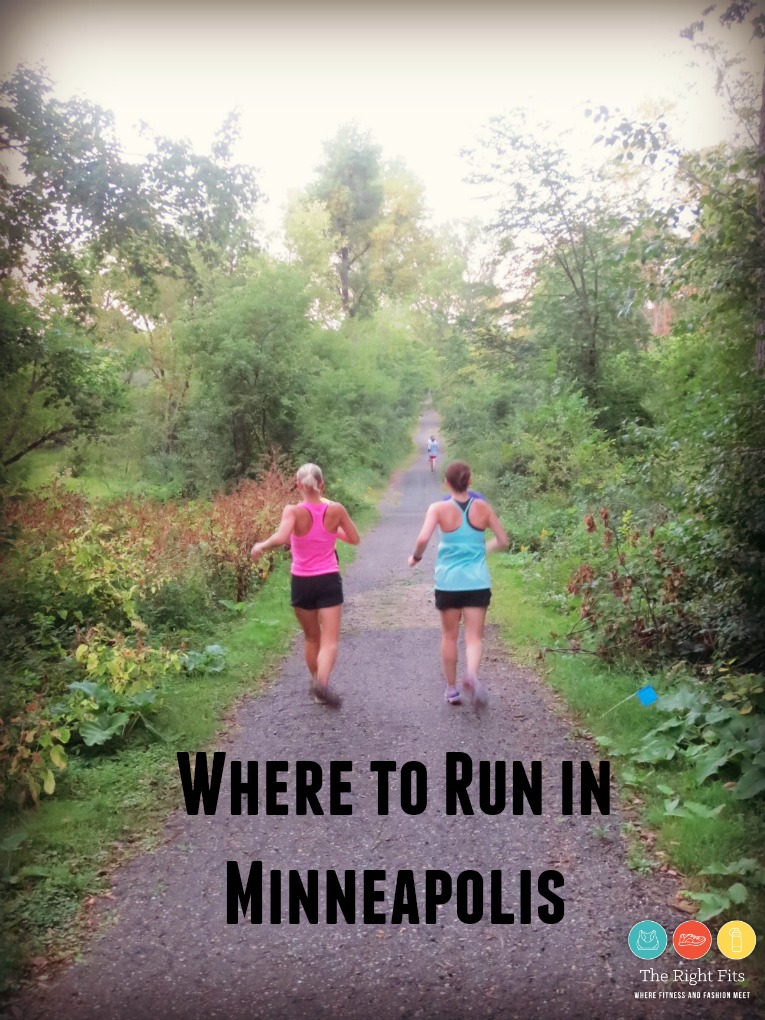 I was hesistant to write this post in the "Where Should I Run" series because I know that a lot of you are Minneapolitans. Most likely, you already have your favorite running routes; you will read this and say to yourself, "How could you not include X or Y?" And you're right! There are so many awesome places to run in Minneapolis that I couldn't possibly cover them all.
Instead, I'm going to write this post as though you have just found yourself in Minneapolis for the first time- perhaps for work- and you need to know the basics of where to run.  I know I missed some things, so I welcome guest posts on routes and places within the Twin Cities that I missed! Please share your Twin Cities "Where to Run" posts and I can add it to the Where to Run page to make it more complete. Do you know St. Paul really well? How about Edina? St. Louis Park? Please let me know if you'd like to share your insider scoop!
Where to shop for running gear:
So you find yourself in Minneapolis and you lost your luggage. Where should you go to get the gear?
If you're downtown, you should head to Mill City Running to outfit your run.
Where: 411 E. Hennepin Ave. Minneapolis, MN 55414
If you can make it to Uptown, you have a lot of options:
Run n Fun
Running Room
Marathon Sports
Gear
..and though its not in Minneapolis, I still highly recommend my friends at TC Running Company in Eden Prairie!
Running Clubs:
I only have personal experience with the Calhoun Beach Running Club.
We meet on Mon/Tues/Thurs at 6 pm and Saturday mornings at either 8 am in the winter or 7 am in the  summer, always in the stretching room at the Calhoun Beach Club. We welcome new runners to come try out the club, so come check us out.
There are many other run clubs too- I don't even know all of them, but here are just a few:
Minnesota R.E.D.
Lifetime Run
Club Run
Running Room
Where to run:
First of all, if you are totally new to Minneapolis and/or a tourist, you can "sweat and sightsee simultaneously" with our City Running Tours. My friend Jenna is actually one of the guides and this is such a fun way to explore a city while getting in your miles.
If you are staying downtown, you can run to the lakes or to the river. Here is an option that takes you from Nicollet Avenue to the river to the Cedar Lake trail (past Target Field) all the way to Cedar Lake:
http://www.gmap-pedometer.com/?r=6551133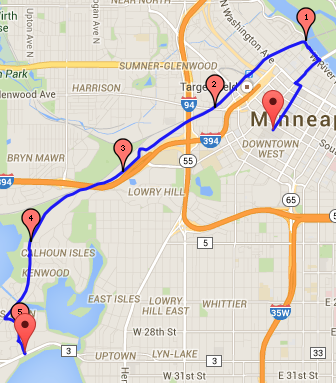 Here is an option to get you to Lake of the Isles from Nicollet:
http://www.gmap-pedometer.com/?r=6551136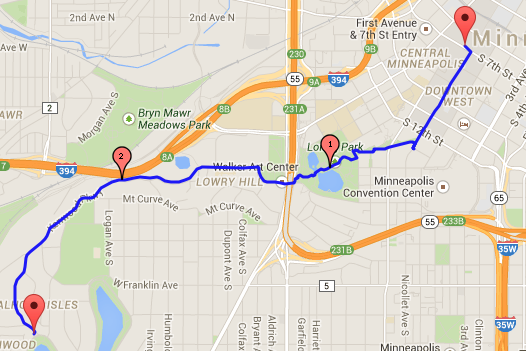 The Chain of Lakes: Minneapolis is often rated as one of the best cities for runners and the chain of lakes is definitely one of the reasons for that. You can combine most of these lakes via the "connectors".  You won't be stopped by stoplights while running around any of the lakes, only when connecting to the next one. Most of the lakes have a bike lane on the outside and a running lane on the inside. There will be signs indicating which path you should use.
Bathrooms: Portapotties are available all year around the chain of lakes. Water fountains are only working from around Memorial Day to Labor Day.
Lake Calhoun: 
Distance around: About 3.1 miles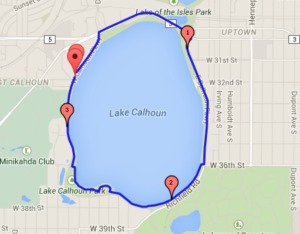 http://www.gmap-pedometer.com/?r=6551021 
The connector from Lake Calhoun to Lake Harriet is approximately 0.5 miles.
Lake Harriet:
http://www.gmap-pedometer.com/?r=6551025
Distance around: 2.75 miles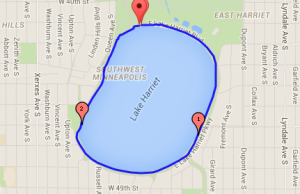 The connector from Lake Calhoun to Lake of the Isles is about 0.25 miles.
Lake of the Isles:
http://www.gmap-pedometer.com/?r=6551029
Distance around: 2.75 miles

This lake is the most accessible from downtown. You can easily run through Loring Park, past the Walker Sculpture Garden (i.e. pause at the spoon and cherry for your requisite Minneapolis picture)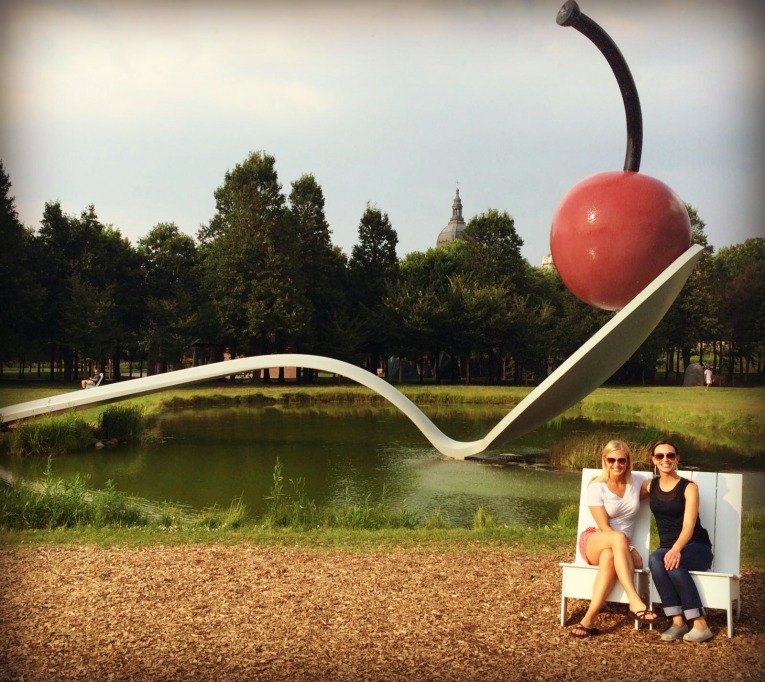 …down Kenwood Parkway to Lake of the Isles. Then you can connect to Lake Calhoun and then to Lake Harriet.
You can connect to Cedar Lake from Lake of the Isles or from the river on the Cedar Lake trail.
Cedar Lake:
http://www.gmap-pedometer.com/?r=6551076
Distance around: On the Cedar Lake trail, it will be about 3.2 miles (the trail isn't right along the lake all the way around on Cedar).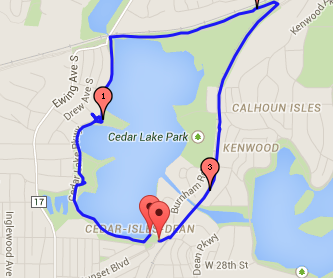 Minnehaha Parkway (connects Lake Harriet to Lake Nokomis)
http://www.gmap-pedometer.com/?r=6551044
Distance from Lake Harriet to Lake Nokomis: About 4 miles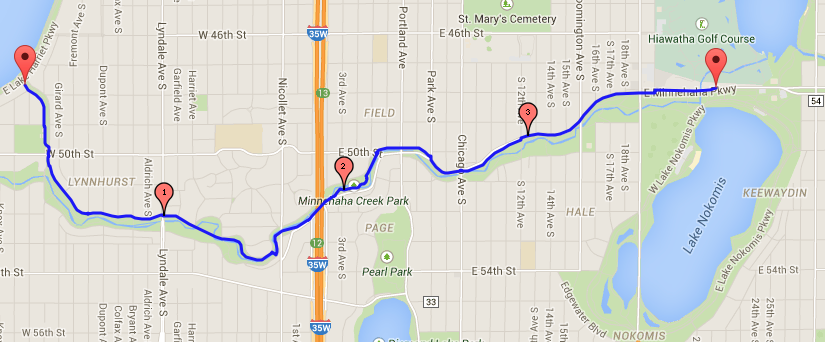 Lake Nokomis:
Distance around: If you cross on the Cedar Avenue bridge, it will be about 2.7 miles
http://www.gmap-pedometer.com/?r=6551045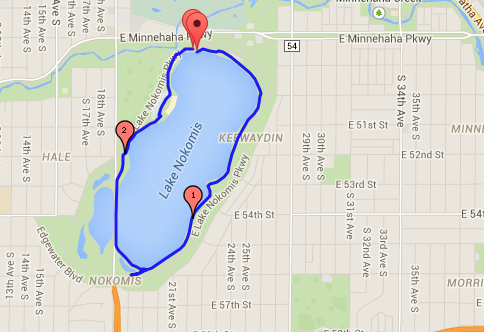 West River Parkway:
From Lake Nokomis, you can head towards the River Road. The river road offers MILES of beautiful paths. There are porta-potties and water fountains along the river as well.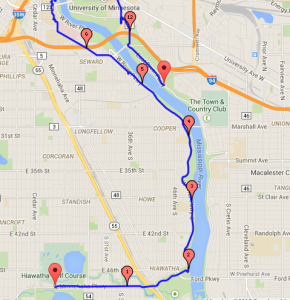 The river road is especially beautiful in the fall but this road is an awesome way to explore Minneapolis any time of year!
Theodore Wirth Park
Theodore Wirth Park is another great place to run within the city limits. You can connect to Theodore Wirth Park from Cedar Lake without leaving the trails. Once you get to the park, there are plenty of trails for running, with some "off-road" options as well.

Is it safe to run in Minneapolis?
Generally, Minneapolis is quite safe but "low crime" does not mean "no crime." I'd say you should practice the same basic precautions in Minneapolis that you should practice in any city. During the light of day, you're safe pretty much anywhere you run. Of course, you're always safer with a running buddy. If you are running alone, I recommend leaving the headphones behind so you are aware of your surroundings. If you do decide to run when it's dark, a handheld mace and your cell phone are both good ideas, though ideally, you'll never need to use them.
I know this post included a LOT of information and yet there's so much I missed. I'll try to keep adding to this post as I think of things or as you give me feedback, but at least this is a good place to start!
If you have any specific questions or comments, please feel free to send them to me at therightfits@gmail.com.
(Visited 1,409 time, 1 visit today)